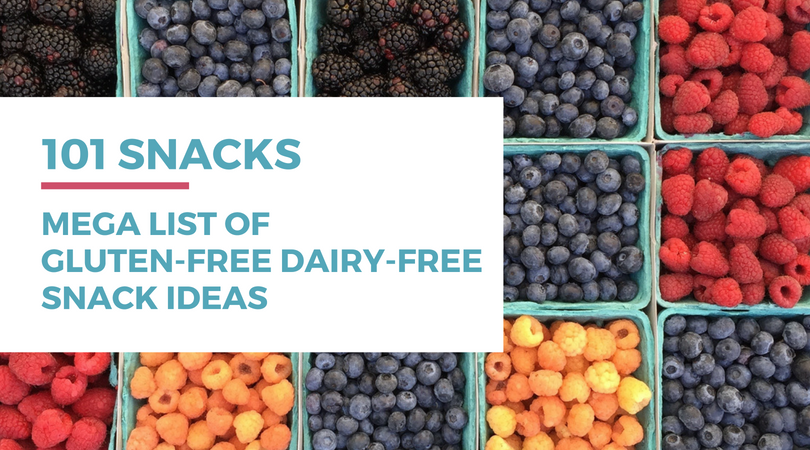 Did you know that snacking throughout the day is a healthy way to curb cravings, keep your moods balanced, and keep your energy levels high throughout the day?
Note: I am a proud Amazon, Chomps, MunkPack, and Thrive Market affiliate and am happy to recommend their service and products to you. Please know that as an affiliate, I may receive a small commission on the products you purchase after clicking through my links. For more info, please see my disclosure policy here.
If you're like me, snacking has become a staple of my gluten-free dairy-free diet.
Whether I'm on-the-go with my son during the day, in the car getting to and from activities, traveling with my family, hiking, or enjoying some at-home time – having gluten-free dairy-free snacks on-hand is one of the number one things I recommend to anyone taking on or maintaining a dairy and gluten-free diet.
One place I've found that snacking has had to come into center stage in my life is when I know I'll be out of the house or around friends who don't eat in the same way that I do.
I can't tell you how many times having a snack in my car, in my purse, or stashed in my pocket has helped me out of a pinch. Particularly when finding myself at events with limited or no options for my gluten-free dairy-free diet.
Yeah, a blueberry muffin Larabar isn't the same as a blueberry muffin from a coffee shop – but it sure beats feeling sick for 3 days after you make that choice, because you have no other options.
Read on: Gluten-free protein bars
Whether you have celiac disease, food intolerances, gluten intolerance, a dairy allergy, or a dairy intolerance, this post is for you. I want you to be able to choose from any one of these and take them into your life right away.
So what are some good snack ideas?
In this post, I want to share 101 (!!!) gluten-free dairy-free snack recipes and ideas to help inspire you to stick with this diet and lifestyle even when it seems impossible.
This snack list is categorized into flavors and textures since many of us tend to decide what were in the mood for based on what sensory experience we'd like to have.
>> Looking for snack ideas for kids? Check out these 50 gluten-free dairy-free snack ideas for kids and toddlers!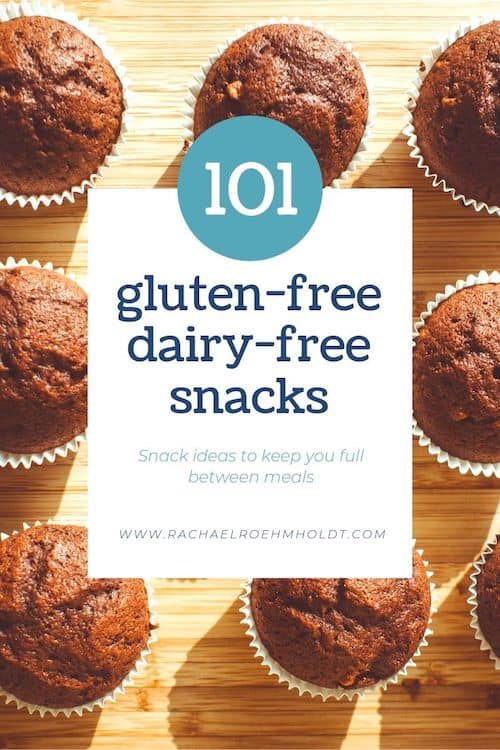 If you're curious where I get some of my snacks that take some help from the store, some of my favorite healthy gluten and dairy-free snacks are from Thrive Market.
Thrive Market also has a TON of great gluten-free dairy-free snack and pantry items that are their own specific brand and you can't find anywhere else.
If you aren't familiar with Thrive Market, they have amazing gluten and dairy-free foods, as well as supplements and probiotics.
You can check out all the great things I have to say about this service, AND get a 30% off your first order AND a free gift (up to $24 value) when you sign up for either their monthly or annual plan.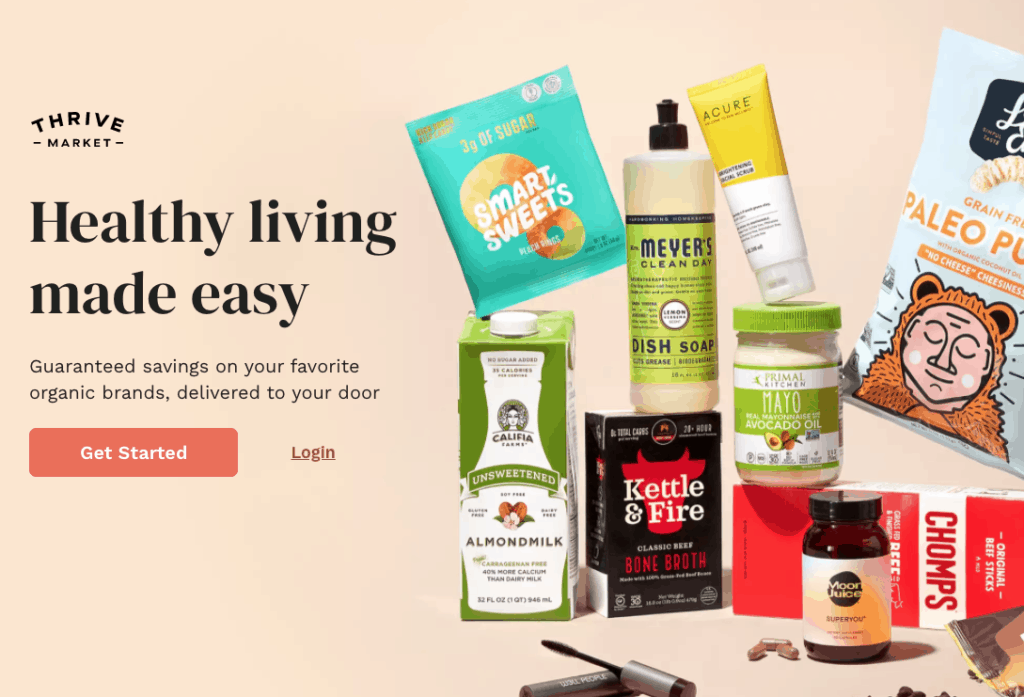 Sweet Snacks
I love to reach for sweet snacks. And while it's really tempting to opt for something like gluten-free dairy-free cookies, gluten-free rice krispie treats, or dig around in my pantry for gluten-free candy, sometimes it's a better idea to opt for some healthier options.
Here are a few ideas of some store-bought and some homemade sweet snack ideas that are gluten-free and dairy-free.
1. Apples & your favorite nut butter
Slice up your favorite variety of apples and dip in nut butter. Use whatever nut butter you like the most – peanut, almond, cashew, etc.
My local grocery store has a peanut butter dispenser that crushes peanuts into a container in the bulk area of the store, which I love, because it's just nuts and no added sugar.
Read on: Is peanut butter gluten-free?
2. Fruit smoothie
If you have a blender, mixing up a fruit smoothie couldn't be easier than throwing in some fruit, dairy-free milk or water, and blending away. For some extra protein, add a scoop of gluten and dairy-free protein powder.
Don't overthink it – you don't need a recipe. Just add whatever you like and blend it up!
3. Dairy-free yogurt & fruit
Dairy-free yogurt is a tasty sweet snack you can keep on hand. While they aren't as nutrient dense as the normal dairy version of yogurt, you can boost it's nutritional value by stirring in some fresh fruit or gluten-free granola.
Read on: Is yogurt gluten-free?
4. Gluten-free toast & jam
Top gluten-free toast with jam or whole fruit preserves for a simple and healthy snack. Check out my top gluten-free bread recommendations here.
5. Dried fruit
There are a ton of different dried fruit options out there! Find one that is simply dried fruit and no added sugar for a sweet and healthy snack.
I love these bare snacks with apple chips and banana chips.
6. Healthy chocolate "shake"
This is a fun homemade recipe: In a blender, combine 2 cups ice with 1 cup almond milk (or other milk), a splash of vanilla, one tablespoon of raw cacao powder or cocoa powder, and a squeeze of honey. Blend it up and enjoy!
Read on: Is almond milk gluten-free?
7. Banana "ice cream"
Okay, so it's not real ice cream. Simply blend frozen bananas with a squeeze of honey in a food processor or blender until silky smooth. Top with dairy-free chocolate chips if you want a little extra sweetness!
Read on: Are bananas gluten-free?
8. Fresh fruit juice
Get out your juicer and hand-squeeze some oranges. Or grab one of those fancy juicers and push through some of your favorite fruits.
I know people who have found great deals on juicers at second-hand stores, and I got mine as a hand-me-down from a friend.
9. Roasted sweet potato chunks
Peel and cut sweet potatoes into chunks, then drizzle with cinnamon and a bit of melted coconut oil and bake at 375 degrees for 45 minutes.
I love to make this in a batch and have the leftovers as a grab-and-go snack in the fridge.
Read on: Are sweet potatoes gluten-free?
10. Stuffed dates
Dates are one of my go-to healthier candy options. Stuff dates with almond butter or peanut butter. Take it a step further and put some dairy-free chocolate chips inside if you're feeling extra sweet.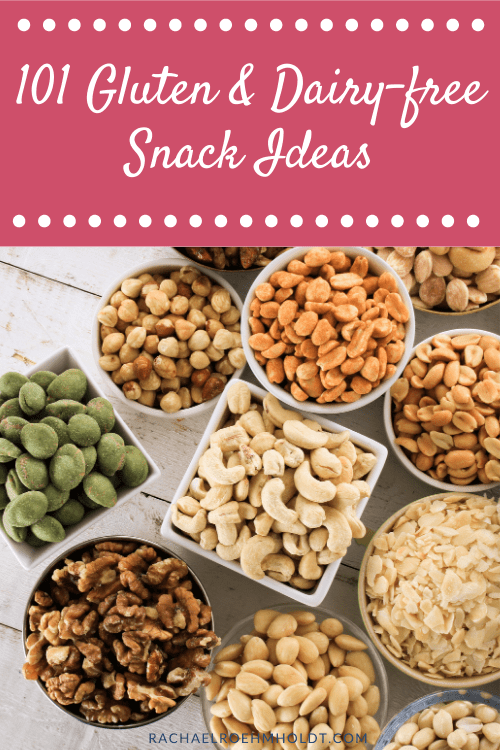 11. Organic dark chocolate
What's there to say? Bars of organic dark chocolate are a straight-forward and delicious sweet snack.
Make sure to check ingredient lists for dairy. My favorite brands are Endangered Species and Theo. Check out my full post on dairy-free chocolate.
Read more: Dairy-free Chocolate: The Ultimate Guide
Read on: Dairy-free chocolate chips guide: brands & options
12. Chia pudding
Chia pudding is easy to make and is great for breakfast, dessert, and yes, even a snack. Check out this recipe to make your own!
13. Dark chocolate dipped strawberries
Who doesn't love fruit dipped in chocolate? Grab some of your favorite dairy-free dark chocolate and melt it in the microwave in 30-second intervals (stirring in between), then dip the chocolate.
You can let them harden in the fridge or treat your chocolate like fondue. Yum!
14. Chocolate dipped frozen banana slices
Here's another chocolate-dipped sweet snack idea. Cut up a banana into slices, then dip them in melted dairy-free chocolate.
Place them on a parchment-lined sheet pan for a few hours to harden up. They're like chocolate covered ice cream balls. So delicious in the summer!
15. Grapefruit drizzled with coconut sugar
If you're a grapefruit fan, topping a grapefruit with a little coconut sugar is a sweet and slightly sour bite that you'll love.
I know some folks go a step further and brule the coconut sugar with a torch. Get fancy or not, the choice is yours!
If you'd like to learn more about taking on a gluten and dairy-free diet, I highly recommend checking out The Gluten and Dairy-free Diet: A Beginner's Guide. You can find more information on that here or below.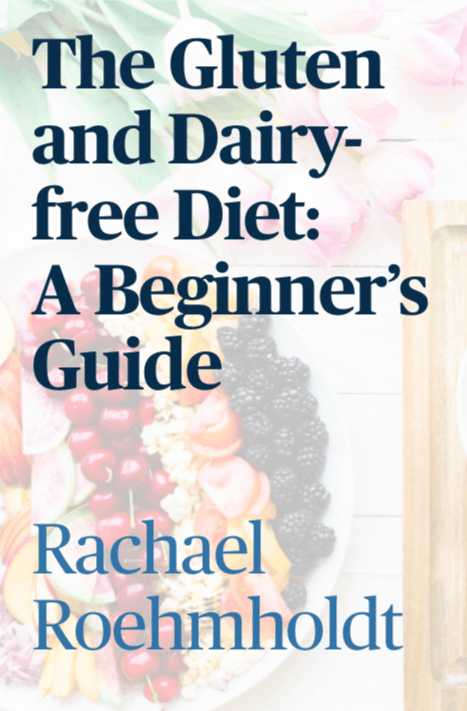 16. Frozen yogurt dipped fruit
In the summer, nothing is better than a cool treat. Grab your favorite fruit – berries are awesome here – and dip them in your favorite dairy-free vanilla yogurt.
Place them on a parchment-lined sheet pan and freeze for a few hours. Any dairy-free yogurt will do, but I particularly love the coconut yogurt.
Get the recipe here: Instant Dairy-free Frozen Yogurt
17. Homemade latte
I'm not sure coffee qualifies as a true snack, but I treat it as one sometimes.
Make up a cup of coffee with almond milk and a drizzle of maple syrup and you're getting a boost of caffeine, some healthy fat, and a sweet craving satisfied all at once.
Read on: Is Maple Syrup Gluten-free?
18. Banana chips
Buy them or make them using a dehydrator or your oven on a super low heat. Banana chips are delicious on their own or mixed into homemade trail mix!
19. Homemade "jello"
Grab some high-quality gelatin and a low-sugar fruit juice that you love to make some homemade jello or gummies. Use a recipe like this one to have them come together.
I have cute little silicone molds that I bought for just this purpose, and we have gut-healing and sweet snacking going on at the same time!
Read on: Is Jello gluten-free?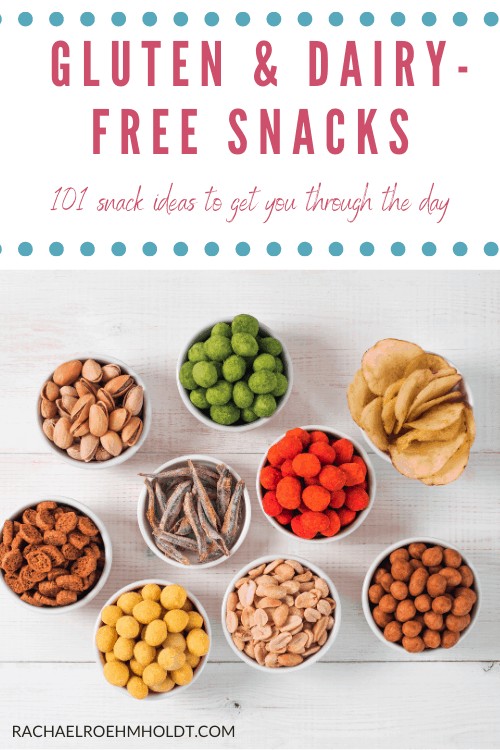 20. Homemade popsicles
Homemade popsicles are as easy as finding popsicle molds at the dollar store or grocery store and getting creative. I love to mix up fresh raspberries, coconut milk, and honey in my blender for some super tasty popsicles.
But if I'm feeling a little on the lazy side, I'll grab a bottle of my son's favorite grape juice and use that straight into the molds. They're surprisingly good – and an awesome way to control the sugar in your sweet treats.
21. Chocolate popcorn
Chocolate popcorn is a decadent treat I came up with a few winters ago when I was tired of plain old popcorn. Mix popped popcorn with melted coconut oil, a few spoonfuls of coconut sugar and some cocoa powder.
I like to put it all in a big bowl with a cover, and shake the dickens out of it. It's super easy to make your own gourmet popcorn at home!
22. Fresh fruit & dairy-free yogurt dip
Mix up your own dairy-free yogurt dip by combining dairy-free vanilla yogurt and peanut or almond butter. Cut some fresh fruit, like apples or strawberries for dippers – and you're set for a high-protein sweet snack you can feel good about.
23. Cocoa coconut melts
Mix cocoa powder or raw cacao powder, melted coconut oil, and add maple syrup or honey in a bowl. Fill small candy molds and freeze until solid.
These homemade candies are maybe a little too easy to make at home! We eat them almost all up in a day when they're made in our house!
24. Fruit leather
You can buy fruit leather at most grocery stores. You'll want to look for a low or no-sugar option. Fruit is sweet enough as is it is, you don't need a lot of extras.
Of course, if you want to be adventurous, you can follow tutorials like this one to make your own at home too.
Read more: Gluten-free Dairy-free Snacks: 21 Healthy Snack Ideas from the Store
25. Homemade muffins or bread
Muffins are a really easy breakfast AND snack option, plus you can find all kinds of gluten and dairy-free recipes out there. Check out my 101 gluten and dairy-free muffin recipe roundup for inspiration.
You might also love gluten-free banana bread, gluten-free banana muffins with chocolate chips, gluten-free pumpkin bread, or gluten-free zucchini bread too.
26. Homemade trail mix
Homemade trail mix is as easy as finding a few things you love in the bulk area of the grocery store, bringing them home, and putting them together.
One of my family's favorite trail mixes include pistachios, dried cranberries, cheerios, and dairy-free chocolate chips. We take these trail mixes hiking and when we go on a road trip.
Read on: Gluten and dairy-free hiking snacks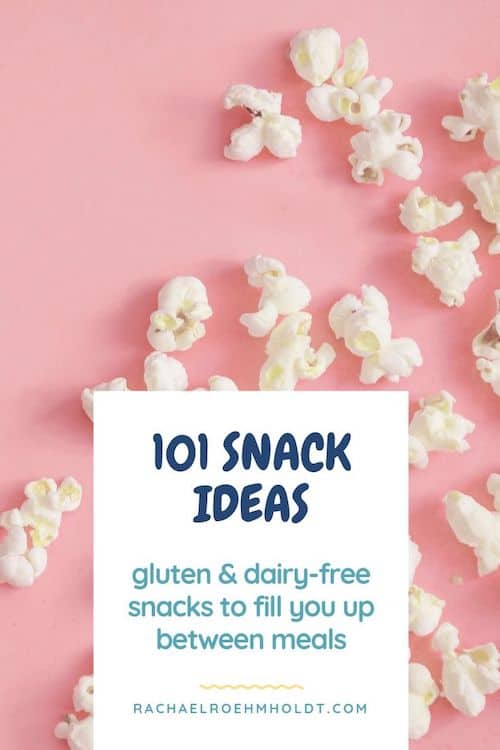 Salty Snacks
Some of obvious choices for salty snacks are potato chips, pretzels, and crackers, but there are a number of healthy choices that are gluten-free too, like nuts, vegetables, olives, and dips.
Get inspired with. this group of gluten and dairy-free salty snacks when you want to mix up your snacks from the store with some whole food options.
27. Roasted pumpkin seeds
Roasted pumpkin seeds are a super yummy salty snack, because they're full of protein and good for you fat.
You can find them in the bulk section at grocery stores. Or you can make your own by combining raw pumpkin seeds, some coconut oil, and your favorite seasonings.
I like both sweet and savory flavors for mine, like pumpkin pie flavored or salt and garlic powder.
28. Olives
Olives are an easy snack idea – they're salty but full of good-for-you fats.
You probably don't want to eat too many of them with the high sodium content, but they are both gluten and dairy-free, so you can feel good about this option.
29. Pickles or pickled vegetables
I'm a huge fan of pickles and pickled vegetables. When I'm in the mood for a salty bite, I love reaching for pickles, pickled asparagus, kimchi, or sauerkraut.
30. Tabouli
Tabouli is a Meditteranean salad dish made traditionally from bulgar (not gluten-free) and tons of flavorful herbs, tomatoes, and lime juice.
I love making my own at home using quinoa, and have even found a gluten-free option at Costco before!
31. Sauerkraut
I feel like sauerkraut could be it's own food group in my diet. I love the salty bite.
I love knowing I'm getting some good probiotics in my diet. And I feel good getting some extra vegetables in my diet. Win-win all around!
32. Raw veggies & dairy-free ranch dressing
Slice up some of your favorite raw veggies, like carrots, celery, or broccoli and enjoy with dairy-free ranch dressing.
You can make your own dressing or buy one of these great dairy-free options from the store.
5 Best Dairy-free Ranch Dressing Brands
Gluten-free Dairy-free Egg-free Ranch Dressing
33. Hard-boiled eggs
Lucky for us, eggs are naturally dairy-free. Hard boiled eggs are another great high-protein snack idea, and while they might not be truly a salty snack on their own, you can add a little salt and pepper to yours to make them that way.
34. Mixed nuts
Mixed nuts are an easy store-bought salty snack idea for a gluten and dairy-free diet. Grab a jar from the store and stash them in your pantry or in your car for an on-the-go easy snack.
Read on: Are nuts gluten-free?
35. Gluten-free crackers with olive tapenade
Olive tapenade is really just a fancy way of saying olive dip. Chopped up olives mixed with herbs and maybe a bit of vinegar is what makes tapenade so delicious.
Grab your favorite gluten-free crackers and have a fancy snack with olive tapenade from the olive bar at your grocery store or make your own at home!
36. Beef or turkey sticks
Beef or turkey sticks are probably one of my favorite snacks for eating on-the-go.
Whether it's stashing snacks in the car, for hiking or camping, or just having something that doesn't need to be refrigerated, I love having these around. Find a gluten-free option you love, like these Chomps Sticks, and keep some handy.
I love the Chomp Sticks brand, because they come in both a larger size and smaller kid-friendly sizes called Chomplings, which pack up well for hiking or the beach – especially for kids.
You can find them in a variety of flavors like Original Beef, Jalapeno Beef, Italian Style Beef, Sea Salt Beef, Cranberry Habanero Beef (super spicy!), Original Turkey, Jalapeno Turkey, and Salt & Pepper Venison.
37. Organic turkey or beef jerky
Organic turkey or beef jerky is another great shelf-stable salty snack option to keep on hand for on-the-go. Find a brand and flavor you like and stock up. I love these.
38. Tuna on gluten-free crackers
Tuna is high in protein and has no gluten or dairy – yay! Make your own tuna salad – I love adding mayo and pickles, and turning it into a dip for a few gluten-free crackers at snack time.
39. Sahale nut mix
Sahale nut mixes are one of the most flavorful snacks I've had in years. They combine nuts, dried fruit, and spices that make the flavors pop.
Check out your local store or Amazon to get your hands on these tasty gluten and dairy-free snacks.
40. Miso soup
Miso soup may not be an obvious snack option, but if you're in the mood for a salty snack, it can be truly satisfying.
Miso is made using fermented soybeans, and mixed with water, it's super easy to prepare. You can even take it a step further and add a few veggies or rice noodles to bulk up this snack option and turn it into a meal.
Read on: Is miso soup gluten-free?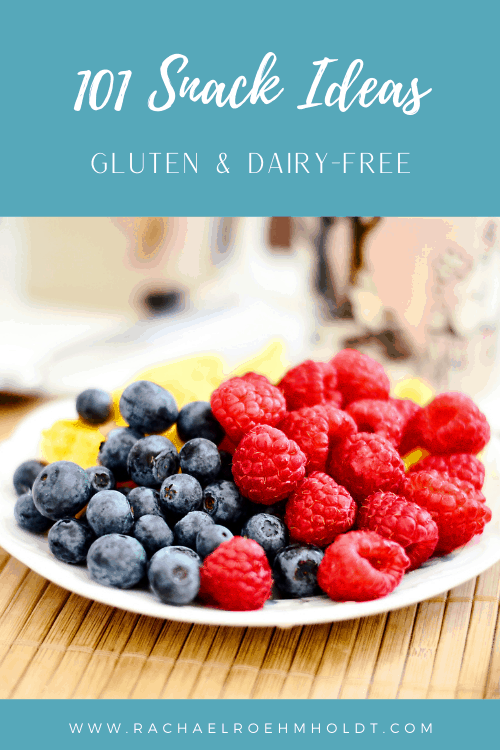 41. Rice crackers and hummus
Rice crackers are easy to find in many health food aisles at the grocery store. They even carry them at World Market!
I love pairing rice crackers with hummus – and my favorite lately has been olive tapenade hummus from my local grocery store. So good!
Read on: Is hummus gluten-free?
42. Kettle brand potato chips
I think we all know potato chips aren't the healthiest snack option, but once in a while, they just hit the spot and soothe a salty craving. Kettle brand offers gluten-free potato chip options – but be sure to check the ingredient lists, not all are dairy-free!
Find out exactly what brands and flavors of chips are gluten-free here: Gluten-free Chips
43. Gluten-free pretzels
Gluten-free pretzels are a tasty salty snack that you can find at many grocery stores or online. I love the Trader Joe's brand, because they taste good, are cheaper than other options out there, and easy to find.
Read on: Are pretzels gluten-free?
44. Dairy-free pesto stuffed mushrooms
If you love mushrooms, try stuffing some with homemade dairy-free pesto and baking. Not sure how to make dairy-free pesto? Make normal pesto and leave out the cheese. Easy peasy!
If you're not up for making it, Trader Joe's has a kale pesto that is dairy-free and super yummy!
45. Dried nori snacks
Dried nori snacks are a great salty bite with a crunchy texture. These are great to pack for on-the-go, because they're dried and don't need any kind of refrigeration or special attention to keep them tasting good.
46. Kale chips
Kale chips are another great salty snack you can buy or make at home. To make them at home, simply remove the kale from the stems, tear into pieces, place in a bowl, add some olive oil and salt.
Mix everything up with your hands, lay out on a parchment-lined sheet pan and bake.
47. Roasted sunflower seeds
Sunflower seeds are easy to find at almost any grocery store -you can find the ones in shells or without. Either way, these are good for you and super delicious.
48. Deli turkey & pickle roll-ups
These are one of my family's favorite things to eat in the summer when it's too hot to cook.
Find some deli meat that's gluten-free (Boar's head has some great choices) and roll up some pickles in it. It's as simple as that.
49. Homemade tomato or veggie juice
Make your own tomato or veggie juice by blending some fresh tomatoes and other veggies you love in a blender. If you don't want any extra fiber, strain it through a cheese cloth.
50. Stuffed figs
If you love dried figs, stuff a few with cooked bacon and drizzle with some maple syrup. These are a sweet and salty bite that are easy to whip up with leftover bacon.
51. Homemade potato wedges
Make your own potato wedges by cutting russet potatoes into slices, then coating with olive oil, salt, and pepper.
Place on a parchment-lined sheet pan and bake at 375 degrees for about 45 minutes, turning a few times throughout.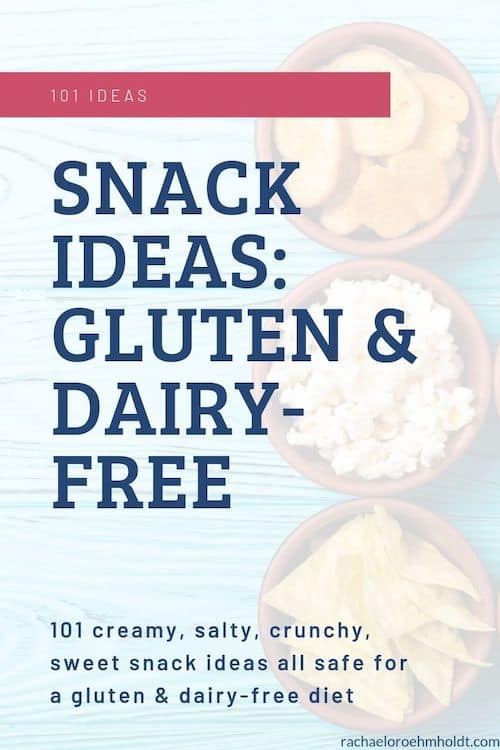 Crunchy Snacks
Crunchy snacks are one of my go-to options when it comes to finding a midday snack. Try fresh fruits and veggies, snack bars, gluten-free cereal, homemade gluten-free chex mix, and even popcorn to satisfy your crunchy snack craving.
You might choose to use these for game day snacks or gluten-free appetizers for other occasions too.
52. Frozen grapes
Remove grapes from their stems, put them in a freezer-safe dish, then throw them in the freezer until solid. These make a super yummy candy-like treat especially in the summer months.
53. Carrots & hummus
Who doesn't hear about carrots and hummus when they're looking for snack ideas? It's obvious, but a healthy choice nonetheless. Let's not reinvent the wheel – good things are meant to be repeated.
54. Popcorn
Popcorn is a great healthy snack for a gluten and dairy-free diet. Make sure you make your own using plain kernels, or find a brand that has no dairy added. This is my go-to popcorn option.
Read on: Is popcorn gluten-free?
55. Celery sticks & nut butter
Nut butter is high in protein and fat, which is great for filling you up. I like to pair peanut, almond, or cashew butter with celery sticks for a crunchy/creamy snack combo.
56. KIND bars
KIND bars are delicious! All are gluten-free, but not all are dairy-free so be sure to check the ingredients lists before buying.
For a few more ideas, check out the 5 Best Gluten-free Dairy-free Snack Bars.
Another alternative for refined sugar-free bars are MunkPack bars.
57. Corn tortilla chips & salsa or guacamole
Corn tortilla chips and salsa or guacamole are my jam. If I could live off Mexican food, I would. All three of these foods are gluten-free and dairy-free – yay!
Read on: Are tortilla chips gluten-free?
58. Homemade spiced nuts
Make your own spiced nuts at home. Get creative with your favorite spices and flavors. Here's a recipe of pumpkin pie spiced nuts I like to make in the fall and winter months.
59. Fruit & nut trail mix
Trail mix is a great option to buy from the store – but if you don't like everything in the mixes, you can easily make your own by buying things you love from the bulk bins at your grocery store.
60. Roasted chickpeas
Chickpeas are a great source of protein, which means they'll fill you up as a snack. You can buy roasted chickpeas at the store – they're not always cheap – or make your own at home.
Read on: Are chickpeas gluten-free?
Need some weeknight dinner inspiration? Check out my weekly recipe and menu planning service GFDF Weekly! Click here or the image below for more info.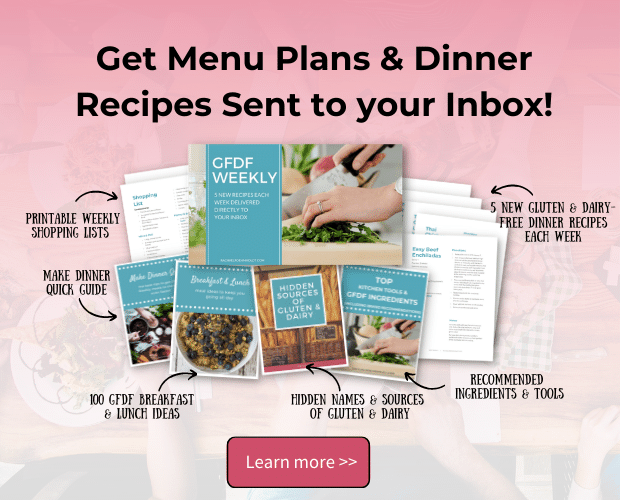 61. Hummus on gluten-free toast
Take a piece of your favorite gluten-free bread, toast it, then slather it in hummus. You can eat it as is, or top with some crunchy veggies.
62. Fake-out fruit crisp
If you want the flavors of fruit crisp without the effort, mash up some of your favorite berries and top it with gluten-free granola. Super easy and yummy!
Looking for the real thing? Try one fo these dairy-free gluten-free apple crisp recipes
63. Roasted almonds with chili powder
Roast some almonds on a parchment lined sheet pan with some coconut oil, salt, and chili powder at 350 degrees for about 10 to 15 minutes. These are crunchy, spicy, and tasty!
64. Goji berries & slivered almonds
Goji berries are known for being a good immune boosting "superfood." Combine these with almonds – slivered are my favorite for a uniform size – for a quick and crunchy snack with simple ingredients.
65. Baked apple chips
You can buy or make your own apple chips for a tasty crunchy gluten and dairy-free snack. You can use a dehydrator or your oven on a low temperature. Just be sure to slice the apples pretty thin for them to bake quicker.
66. Granola
Granola is a really great and simple snack, especially if you're on the go a lot. You can eat granola as is by the handful or buy granola bars, which are an easy gluten and dairy-free snack to take wherever you go.
Read on: Is granola gluten-free?
67. Sugar snap peas
I love sugar snap peas so much that I started growing them in my garden every spring. They're really flavorful and you can eat them on their own or dip them in hummus or dairy-free ranch.
68. Pear slices
Slice up some pears for another naturally gluten and dairy-free snack idea. These are sweet and crunchy at the same time.
69. Rice cakes with hummus and cucumber slices
Rice cakes on their own don't offer a ton of flavor, but topped with hummus and cucumber slices, they make a really delicious crunchy snack that are naturally gluten and dairy-free.
70. Larabars
Larabars – or any fruit and nut bar – are another great go-to snack option that are gluten and dairy-free. I love Larabars especially, because most of them don't have any added sugar and have whole food ingredients.
71. Toasted walnuts
Toasted walnuts are easy to make on your own at home. All you need is a pan over medium heat and toss in some raw walnuts.
After a few minutes, you can swish the pan around to get all sides of the nuts toasted. Once they start to smell, you'll know they're done. Let them cool completely, then take them on the go anywhere you go.
72. Red pepper slices & bean dip
Slice up red peppers and enjoy with homemade bean dip. I like to make my own bean dips (aside from hummus) using garbanzo or cannellini beans, lemon juice, olive oil, and fresh herbs. It's really light and the red peppers are a nice vehicle for the bean dip.
73. Apple slices & cashew butter
For a crunchy high protein snack option on your gluten and dairy-free diet, try slicing some of your favoirte apples and dipping in cashew butter. You can use cashew or any other nut butter you love.
74. Frozen edamame
You can buy frozen edamame in the freezer section of the grocery store. These are surprisingly tasty on their own and provide a healthy crunchy snack – especially on warm days.
75. Broccoli & cashew cream cheese
If you've never made cashew cream cheese, you should! Try this recipe, then serve with raw broccoli or your favorite veggie sticks.
76. Tamari seasoned rice cakes
Take a twist on plain rice cakes and try out the tamari seasoned flavor. It doesn't sound very interesting or exciting, but they're quite flavorful. You can enjoy them as is or top with roasted red peppers.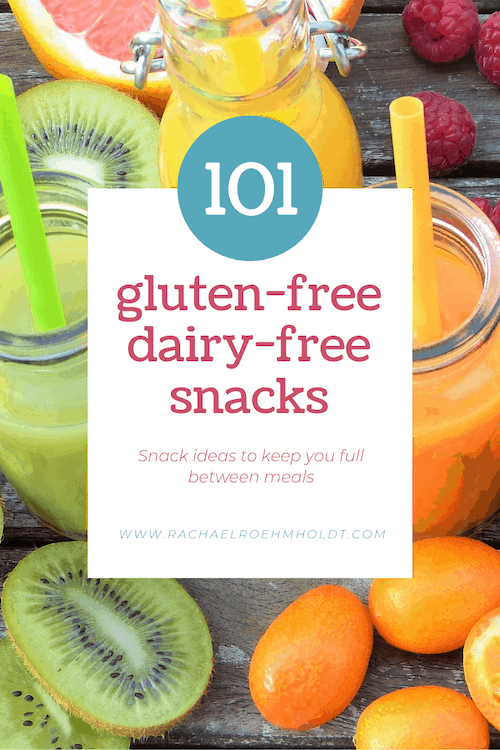 Creamy Snacks
There are lots of yummy creamy snacks to chose from if you're in the mood for this type of snack often.
Try store-bought options like hummus, applesauce, and dairy-free yogurt or homemade ideas, like smoothies, pureed soups, homemade dairy-free frozen yogurt, or dairy-free hot chocolate.
77. Stuffed avocado
Stuffed avocados are one of my favorite breakfast, lunch, and snack ideas. You can stuff them with just about anything you love. I like hummus or salsa. You can also stuff them with eggs, taco fixins, tuna salad… really the options are endless.
78. Green smoothie
Green smoothies are one of my go-to snack (and breakfast) options. I like to create mine with fresh or frozen fruit, spinach or other greens, almond or coconut milk or water.
You can add a little extra protein with peanut or other nut butter, hemp seeds, or flax meal to give you an extra boost.
79. Hummus & gluten-free crackers
We love hummus in our household, especially the olive flavored one we get at our local grocery store. You can obviously pair hummus with veggies, but corn tortilla chips or gluten-free crackers are also a great choice.
80. Pureed soup
If you're in the mood for something healthy, you can make a quick pureed soup by boiling some of your favorite veggies in water or chicken stock.
Puree using an immersion hand blender for a warm and super healthy snack. You can also buy creamy soups, but be on the lookout for hidden gluten or dairy in these on ingredient lists.
Get some great gluten-free dairy-free soup recipes here.
81. Mashed sweet potatoes or other squash
Sweet potatoes and squash are always great in the fall and winter months. They're grounding, but have a sweet flavor that you can spice up to your liking. Enjoy them sweet or savory with fresh herbs, toasted nuts, vegan butter, or even maple syrup on top.
82. Coconut milk steamer
Want a creamy drink for a snack? Try a coconut milk steamer by combining 1 cup coconut with 1/4 tsp cinnamon, a dash of vanilla, and a squeeze of honey or maple syrup. Heat until warmed through and serve. So good on a cool day!
Read on: Dairy-free milk alternatives and how to choose what's right for you
83. Veggie sticks & bean dip
Make your own bean dip by mixing up some canned beans with some olive oil and spices. Cut up some veggie sticks to dip in the bean dip.
84. Applesauce
Applesauce is an awesome go-to healthy snack for a gluten and dairy-free diet, and kids love this one too.
Of course you can make your own applesauce at home if you're up for it (it's surprisingly easy, honestly) or you can buy it at the grocery store for a packable snack.
Read on: 21 gluten and dairy-free store-bought snacks for kids
85. Peanut butter & jelly sandwich
Who doesn't love a good old fashioned PB&J? Swap out the normal bread for gluten-free bread and you're set with a filling and tasty snack that's great for a gluten and dairy-free diet.
86. "Banana cream pie" in a bowl
This was an accidental creation from my kitchen. Banana cream pie in a bowl is made by mixing up vanilla coconut yogurt with slices of banana and top with chopped walnuts. It sounds too good to be true, but it's absolutely delicious!
Take it up another notch with gluten-free graham cracker crumbs.
Read on: Are graham crackers gluten-free?
87. Roasted veggie hummus & veggie sticks
Take your normal hummus up a notch by blending in some roasted veggies, like beets, garlic, or red peppers. Not only do you add tons of extra flavor, but lots more nutritional value too. Enjoy this dip with veggie sticks or gluten-free crackers.
88. Homemade deviled eggs
If you love deviled eggs, this is a healthier take on it. Instead of using mayonnaise for the yolk filling, swap out avocado for some healthy fat to go along with this high protein snack. Best of all, eggs aren't dairy, so you don't have to worry at all about this snack idea.
89. Creamy smoothies
The easiest way to turn a smoothie into a creamy one? Add some nut butter for a super creamy and luxurious texture. You can thank me later! 😉
90. Homemade hot cocoa
Hot cocoa is perfect for the cold-weather months, but most cocoa packets you get in grocery stores are made using dehydrated milk.
Make your own at home by combining coconut milk (or other dairy-free milk), cocoa powder or raw cacao powder, maple syrup, and a splash of vanilla. Super easy to make whenever a craving strikes! Try my dairy-free hot chocolate mix recipe.
Or add a little peppermint extract for some dairy-free peppermint hot chocolate.
91. Instant "frozen yogurt"
I LOVE frozen yogurt in the summer, but at my local froyo shop there is usually only one flavor that is dairy-free on any given day (if I'm lucky).
I've come up with a nice alternative – that's probably way healthier and lower in sugar to make at home. Mix up frozen fruit and non-dairy yogurt in a blender for a cheaper and healthier dairy-free frozen yogurt option. Best of all, you can make whatever flavor your heart desires!
Try my instant dairy-free frozen yogurt recipe.
Read on: Is frozen yogurt dairy-free?
92. Peanut butter & chocolate chips
Sometimes you just need something sweet to cure your sweet tooth – so dip your spoon in some peanut butter, throw a few dairy-free chocolate chips on top, and go to town!
Seriously, this is my go-to snack late at night when I want something sweet but know I need to make a healthy choice.
Read on: Are chocolate chips dairy-free?
93. "Cheesy" queso dip & tortilla chips
Think you'll never have queso dip again on a dairy-free diet? Try this idea: blend soaked cashews with salt, nutritional yeast, chili powder, onion powder and garlic powder in a food processor or blender. Serve with corn tortilla chips or veggie sticks. Sooo yummy!
94. Mango sorbet
If you love sorbet, but don't love the loads of sugar, try making this mango sorbet at home. It's only two ingredients: frozen mango and honey.
Blend these two up in a food processor until smooth, then serve. If your mangos are sweet enough as is, skip the honey entirely. So easy and naturally dairy-free!
95. Pumpkin pie yogurt
Are you a "pumpkin everything" type of person like I am? Try making your own pumpkin pie yogurt by mixing a few tablespoons of pumpkin puree with vanilla coconut yogurt & a dash of cinnamon or pumpkin pie spice. It's easy and loaded with flavor!
Read these for more pumpkin recipes: gluten-free pumpkin chocolate chip cookies,gluten-free pumpkin cookies, gluten-free pumpkin muffins.
96. Peanut butter fruit dip & fresh fruit
Make your own fruit dip by mixing up some peanut butter and coconut or cashew yogurt in a food processor. Cut up your favorite fruit to serve – I like strawberries, bananas, and apples.
97. Homemade fudgesicles
You can easily make your own fudgesicles at home by blending together coconut milk, maple syrup, and cacao powder or cocoa powder.
Pour into popsicle molds and freeze until solid. If you want an even creamier texture, you can add some avocado to the mix as well.
Get my recipe for homemade fudgesicles.
98. Mashed avocado & gluten-free crackers
I love mashed avocado and would put it on anything and everything if I could. I love to mash up an avocado in a bowl, stir in some lime juice and salt, and serve it with gluten-free crackers or tortilla chips. So simple and yummy, plus no dairy or gluten!
99. Avocado pudding
Another favorite snack or dessert recipe in my house is avocado pudding. It's super filling, but really flavorful and just about impossible to get wrong.
Blend one avocado with honey or maple syrup and a splash of almond milk – you can also add cocoa powder for a chocolate version! You can add whatever toppings you like to make it your own – my family loves dairy-free chocolate chips or raspberries on ours!
100. Oatmeal & fresh fruit
Oatmeal isn't just for breakfast. If you need a little carbohydrate boost, whip some up (or better yet, make a big batch at the beginning of the week and store it in your fridge for easy breakfast or snack options) and serve with fresh fruit and almond milk on top.
Here are a few more oat-based snack ideas: gluten-free oatmeal chocolate chip cookies andgluten-free oatmeal cookies
Read on: Is oatmeal gluten-free?
101. Berry sorbet
Make your own berry sorbet by blending frozen berries with a bit of honey in a food processor until smooth. Sorbet is impossibly easy to make at home, and best of all there's no dairy or gluten! I'd happily take a frozen sweet treat as a snack any day of the week!
I hope this list has been valuable for you to find ideas for different snacks to make at home and take with you on-the-go. If you loved this post, I'd love for you to share it with friends or save it for later on Pinterest.
If you've been wondering how to go gluten and dairy-free, you might want to check out my book The Gluten and Dairy-free Diet: A Beginner's Guide.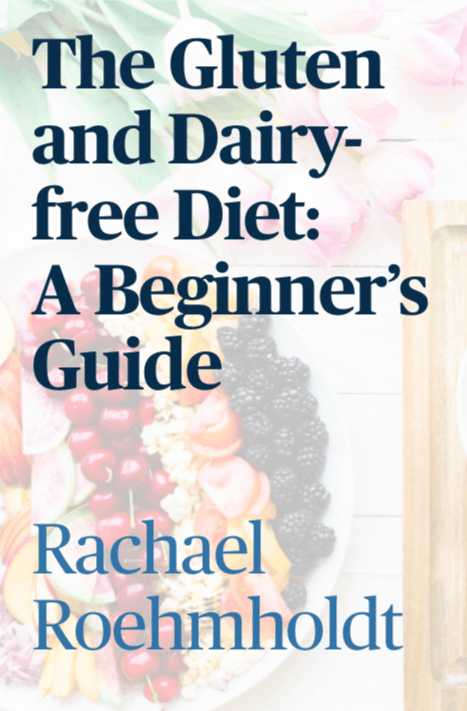 Love these snack ideas? You might also want to check out these posts!
Get tons of snack ideas from this list of gluten and dairy-free posts all about snacks!
For a free gluten and dairy-free shopping list, plus 5 sample recipes, enter your details for instant access and weekly updates from me.