Chia pudding is simple, requires very minimal time or prep. Best of all, it's gluten-free dairy-free, and is extremely versatile – so you can flavor it however you like!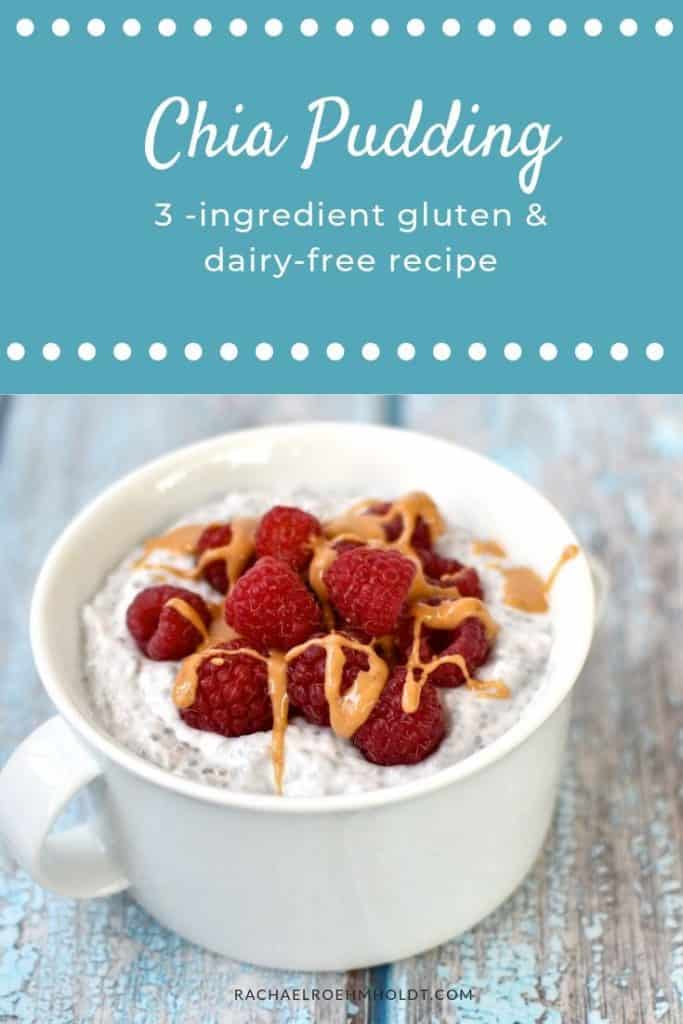 Note: I am a proud Amazon affiliate and am happy to recommend their service and products to you in this post. Please know that as an affiliate, I may receive a small commission on the products you purchase after clicking through my links. For more info, please see my disclosure policy here.
Chia pudding is one of my favorite breakfast and dessert recipes to make on my dairy-free diet. I love it because it's:
Simple
Takes less than 5 minutes to prep
Only uses 3 ingredients for the basic recipe
The fridge does all the work for you
Is great for breakfast
Is great for dessert
Super versatile for making whatever flavor you like
It couldn't be simpler with only 3 ingredients – chia seeds, full-fat coconut milk, and maple syrup or honey. Even the sweetener here is optional, if you'd like it less sweet.
Read on: Is Maple Syrup Gluten-free?
When you have just 3 ingredients, all you really need for this recipe is a jar and a whisk – and honestly, you don't even need the whisk if you have a lid for your jar. You can just as easily add the ingredients to the jar, put the lid on, and shake the dickens out of it before putting it in the fridge for the night.
The prep time honestly takes less than 5 minutes the night before you want to eat it for breakfast, or in the morning if you plan to enjoy it for dessert. Have I said how versatile it is? Make it healthy for breakfast, make it decadent for dessert… how can you go wrong with a recipe that you can enjoy for breakfast AND dessert??
Read on: Are chia seeds gluten-free?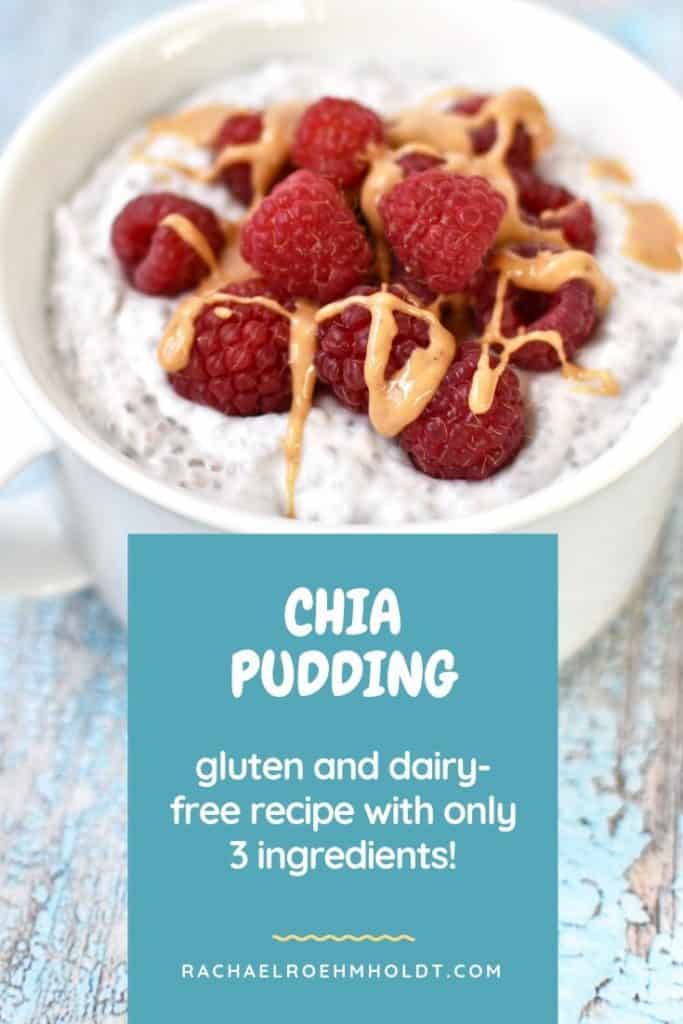 Here's the best part… You can truly make it your own with different flavors like cocoa or cacao powder, vanilla extract, spices, any fresh fruit, nut butter for some extra protein, and you can even swap out the dairy-free milk for whatever YOU like.
There are really no rules, just ratios to follow. Which might be why I love these most of all I love being able to make things of my own!
Read on: 101 Gluten-free Dairy-free Snacks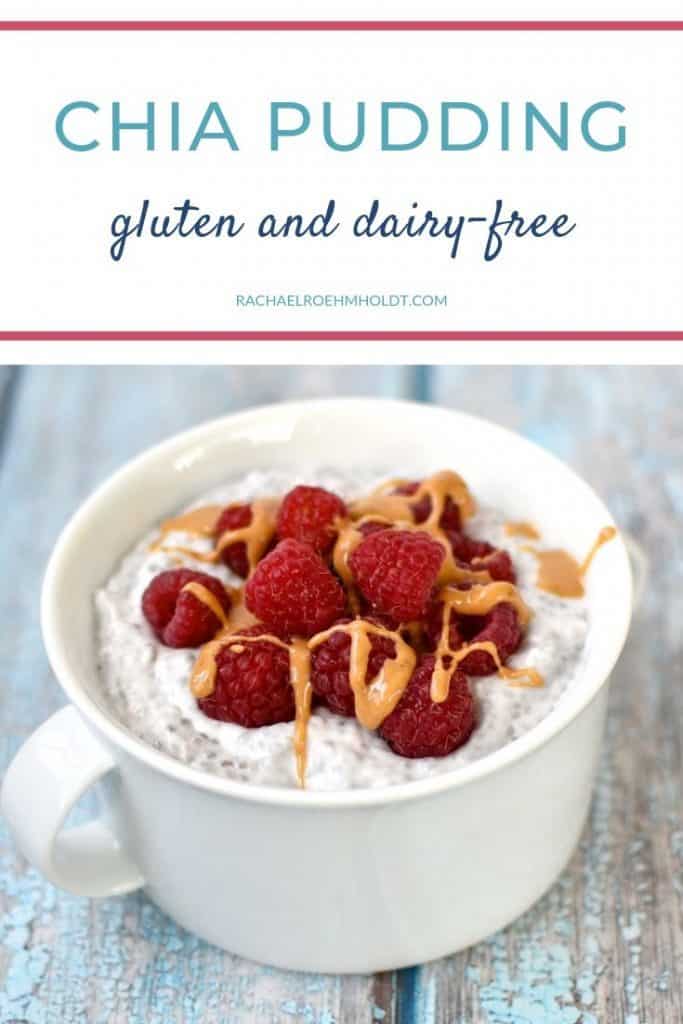 Some of my all-time favorite chia pudding topping combinations are:
Cacao powder stirred in + sliced bananas + toasted walnuts
Vanilla extract stirred in + chopped strawberries or whole raspberries + a drizzle of peanut or almond butter on top
Vanilla extract and cinnamon stirred in + chopped fresh peaches
Peanut butter stirred in + fresh blueberries + a dollop of jelly on top
Chopped pineapple + toasted coconut
Chopped mango + chopped strawberries + toasted pistachios
Vanilla extract and cinnamon stirred in + baked chopped apples + toasted pecans on top
Read on: 25 Gluten and dairy-free easy dessert recipes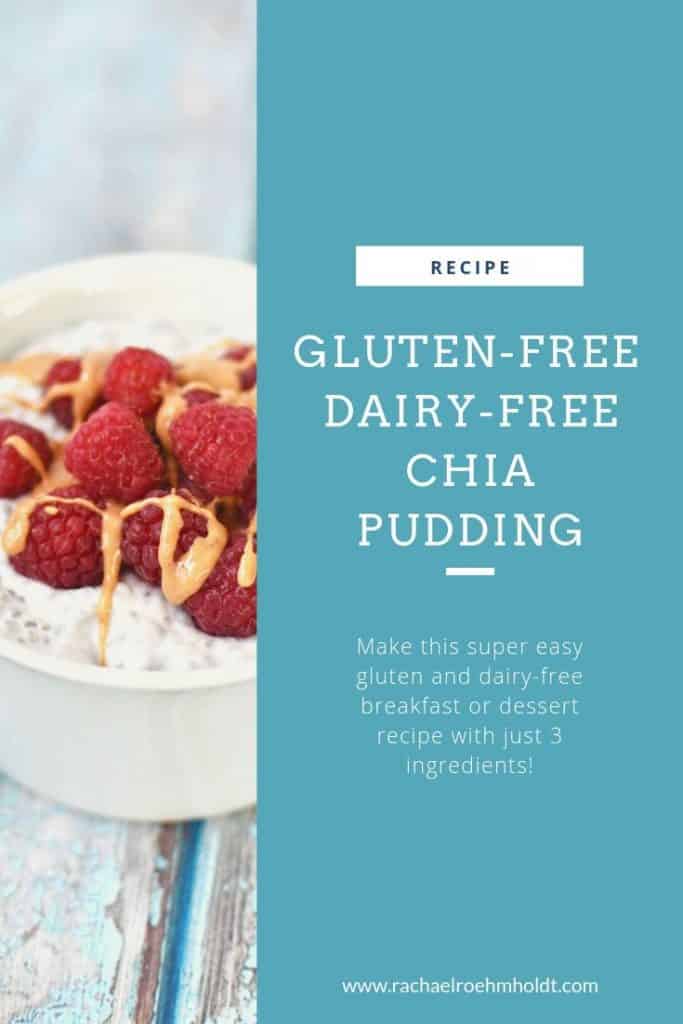 With those tasty topping ideas, I bet you're wondering how to get started making this delicious breakfast – or dessert – treat ASAP, amiright?? So let's get to it!
Yield: 2 servings
Chia Pudding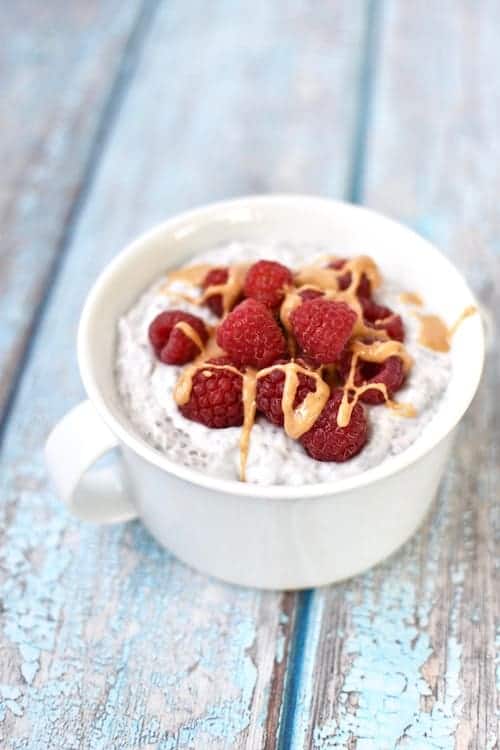 Chia pudding is simple, requires very minimal time or prep and only 3 ingredients. Best of all, it's gluten-free and dairy-free, and is extremely versatile - so you can flavor it however you like!
Ingredients
1/4 cup chia seeds
1 can full-fat coconut milk
1 tbsp maple syrup or honey (optional)
Instructions
Combine all ingredients in a bowl.
Whisk to combine.
Place in the refrigerator for at least four hours, overnight is better.
When ready to serve, divide the pudding into two serving dishes. Add your choice of toppings and enjoy!
Recommended Products
As an Amazon Associate and member of other affiliate programs, I earn from qualifying purchases.
Whether you love to save time in the morning, are looking for something quick and easy as you head out for the day, or want to wow your family members with a healthy AND delicious dessert, this chia pudding won't disappoint! Give it a try and let me know in the comments what you think!
Love this post? Be sure to check out some of my other great breakfast posts!
Not sure what to make for breakfast on a gluten and dairy-free diet? These posts will give you loads of ideas!
f you loved this post, I hope that you'll share it with your friends on Facebook and pin it for future reference on Pinterest.