Make the most of zucchini in your garden with this gluten zucchini bread recipe – it's dairy-free with an egg-free option too!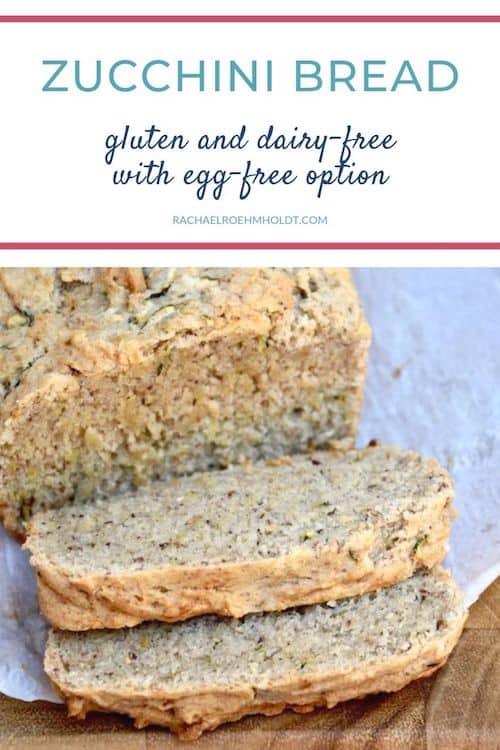 Note: I am a proud Amazon, Chomps, MunkPack, and Thrive Market affiliate and am happy to recommend their service and products to you. Please know that as an affiliate, I may receive a small commission on the products you purchase after clicking through my links. For more info, please see my disclosure policy here.
I don't know about you, but come mid to late summer, I've got zucchini coming out my ears. Ironically, I don't ever plant zucchini in my garden. It just happens to find itself in my kitchen each and every summer.
My mom and stepdad plant zucchini every year in one of their 4 feet by 6 feet planter boxes, and it grows like crazy.
One year I attempted to grow my own zucchini, and still came home every time after visiting with them with at least two or three in my hands. It was impossible to say no, even if I didn't know what to do with it.
We joke that they send oodles of zucchini my way, and I send boatloads of raspberries theirs. I grow raspberries in my backyard and it becomes like a part-time job picking – and trying to find homes for them before going bad every summer.
Over the years, I've learned to love zucchini in the summer, because it's always been so plentiful. I love to saute it in olive oil with a little garlic and onion.
I love to use it as zucchini "boats" and fill it with just about anything delicious (pizza toppings, bolognese sauce, southwest-inspired ingredients). You get the idea.
But my family's favorite thing for me to do with the zucchini is to make zucchini bread.
Just this week while I was hemming and hawing over what to do with the two foot-long huge zucchinis sitting on my counter, I had informed my husband that we were having bolognese stuffed zucchini boats for dinner and he made a sad face at me, telling me he was hoping for zucchini bread.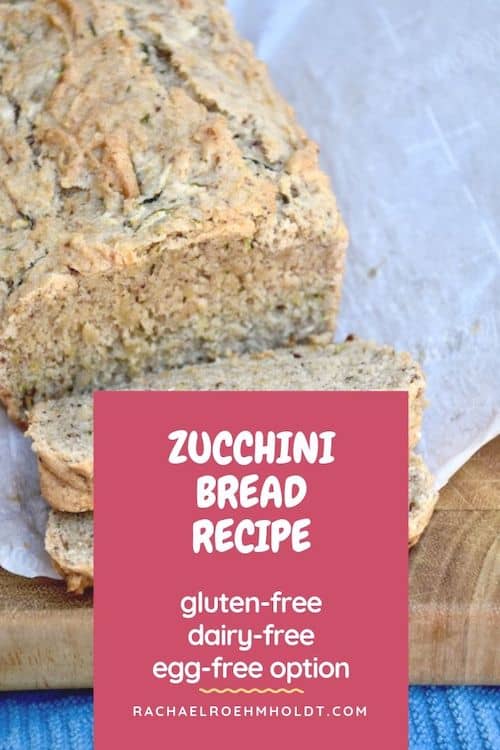 Luckily, I had more than enough zucchini to make both recipes with. And even MORE to shred up and freeze for a few months from now when we're all craving zucchini bread again. In the cooler fall months when we all start craving homemade treats, I'll be ready!
When it comes to making gluten and dairy-free zucchini bread, the biggest swap you'll need to make is swapping out regular all-purpose flour with a gluten-free flour option.
You can go two different ways when it comes to swapping out all-purpose flour with gluten-free flour:
You can make your own gluten-free flour blend, like this one from Minimalist Baker
You can buy a gluten-free flour blend from the store
In my experience of having tried both of these, it's much simpler and straight-forward to buy a gluten-free flour blend.
In fact, after a few years of trying my hand at mixing up my own gluten-free flour blends, I'm pretty much a believer that it might be cheaper to make my own blend at face value.
But once I consider how many packages of unused different and separate gluten-free flours I've thrown away… I have likely spent more trying to make my own mixes.
These days, I rely pretty heavily on King Arthur Measure for Measure Flour. It has suited all my baking needs since I started using it, and use it for quick breads, muffins, cookies, cakes, brownies, pancakes, and waffles. I like that even though it's gluten-free, it has a lighter texture without being too crumbly.
A lot of gluten-free flour blends I've used in the past have either tasted too earthy or cardboardy, or everything seems to just crumble and fall apart. This gluten-free flour blend has stood up to most of the recipes I've made with it.
The very best part of King Arthur Measure for Measure Flour is that you can actually replace ANY normal recipe that calls for all-purpose flour with the exact same amount of this flour blend.
There's no need to figure out ratios, do math, or cut back on ingredients. Everything in a recipe is the same, except you're scooping flour of this bag instead of the all-purpose one. It's extremely convenient and a product that has become a mainstay in my gluten-free pantry.
Read on: 101 Gluten-free Dairy-free Snacks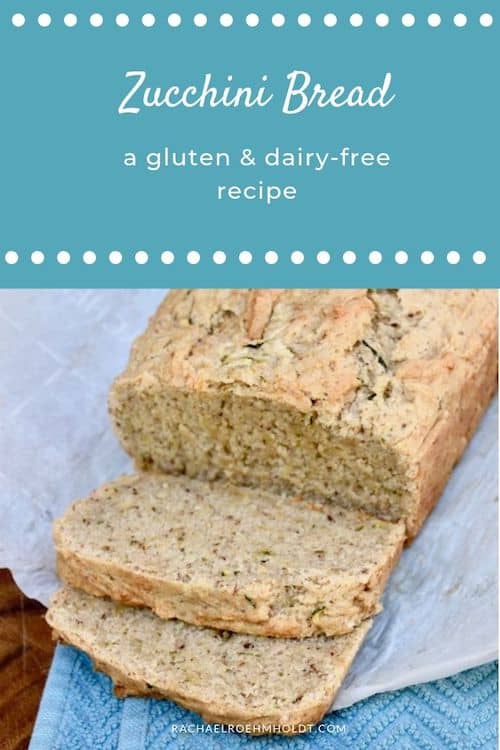 Another substitution that I make in a normal traditional zucchini bread recipe is swapping out a regular egg for a flax egg. In addition to having both gluten and dairy intolerances, I also don't digest eggs well, so I avoid them the same as I do gluten and dairy in recipes.
Luckily, replacing an egg for a flax egg is extremely simple. In a small dish, combine 1 tablespoon ground flax meal with 3 tablespoons warm water. Stir and let sit for about 5 minutes, until the texture becomes a little gluey and goopy.
You'll know it when you see it. After that 5 minutes, you can put it into your recipe and it functions the same as a normal egg would, by helping bind and keep your baked good together.
Read on: Does bread have dairy?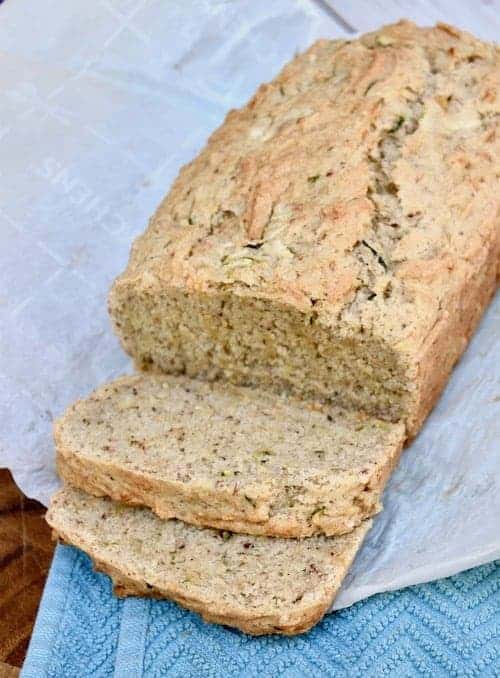 For the sweetness in this recipe, I call for two sources: a banana, white sugar, and coconut sugar. Now I know white sugar is not healthy, which is why I've done my best to cut back on it while still not sacrificing the flavor.
My two guys in my household are purists when it comes to sweetness in baked goods. So I do my little magic of adding some mashed banana and coconut sugar to sneak in the sweetness and don't let them know that it's any different than any other typical zucchini bread recipe.
We love this gluten and dairy-free zucchini bread recipe, because it's:
Moist
Flavorful
Perfectly sweet
Goes well with coffee first thing in the morning
Is easy to make
Using up the zucchini we have on hand
Helping us get our veggies – even if they're cloaked in sweetness
Do you love zucchini bread too? Try out this recipe to use up your zucchini surplus this year!
Yield: 1 loaf
Dairy and Gluten-free Zucchini Bread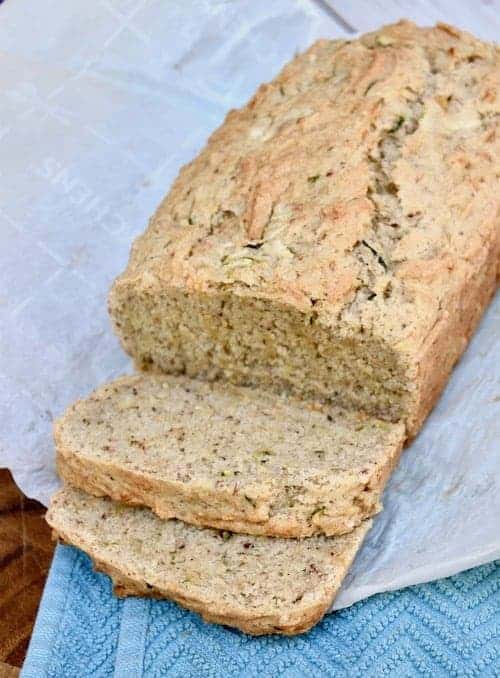 Do you love zucchini bread? Try out this dairy and gluten-free (egg-free option) recipe to use up your zucchini surplus this year!
Total Time
1 hour
10 minutes
Ingredients
2 cups King Arthur Measure for Measure Gluten-free Flour
1/4 cup White Sugar
1/2 cup Coconut or Brown Sugar
3 tsp Baking Powder
1 tsp Cinnamon
1/4 tsp Nutmeg
1/2 tsp Salt
1 cup Shredded Zucchini
1 small Banana, mashed
1/4 cup Coconut Milk
1/4 cup Coconut Oil, melted
1 tsp Vanilla Extract
1 Egg or Flax Egg (1 Tbsp Ground Flax Meal + 3 Tbsp Warm Water)
Instructions
Preheat the oven to 350°F.

Prepare your flax egg (if using) by combining ground flax meal and warm water in a small bowl. Set aside for 5 minutes.

In a large mixing bowl, combine the gluten-free flour, white sugar, coconut sugar, baking powder, cinnamon, nutmeg, and salt. Mix together.

Add the shredded zucchini, mashed banana, coconut milk, melted coconut oil, vanilla extract, and egg or flax egg. Mix together, then set aside. The batter might seem very dry at this point. Set it aside while you do the next step for now.

Prepare your loaf pan by placing parchment paper in the bottom, pressing it in. This will allow for easy removal later after your zucchini bread has baked.

After a few minutes, come back to your batter and mix again. The zucchini will have softened a bit and more of the dry mixture will absorb now. Mix everything together well, then transfer to the loaf pan lined with parchment paper. Smooth down the top.

Bake for 60 minutes at 350 degrees F in the oven. You'll know the zucchini bread is done when a toothpick inserted into the center comes out clean.

To remove the bread, lift out the parchment paper. Allow to cool at least 10 minutes (I know this will be hard!) before slicing.
Recommended Products
As an Amazon Associate and member of other affiliate programs, I earn from qualifying purchases.
Gluten-free Zucchini Bread with Chocolate Chips
Want to make your zucchini bread with chocolate chips? Fold 1/2 cup dairy-free chocolate chips, I like Trader Joe's or Enjoy Life brands, into the batter before transferring to the loaf pan. Bake as directed in the recipe.
I hope you enjoy this zucchini bread recipe and are able to make use of any extra zucchini you may have from a summer surplus or leftover in your freezer.
Enjoy this gluten and dairy-free zucchini bread still warm, plain or with a spread of Earth Balance vegan butter on top.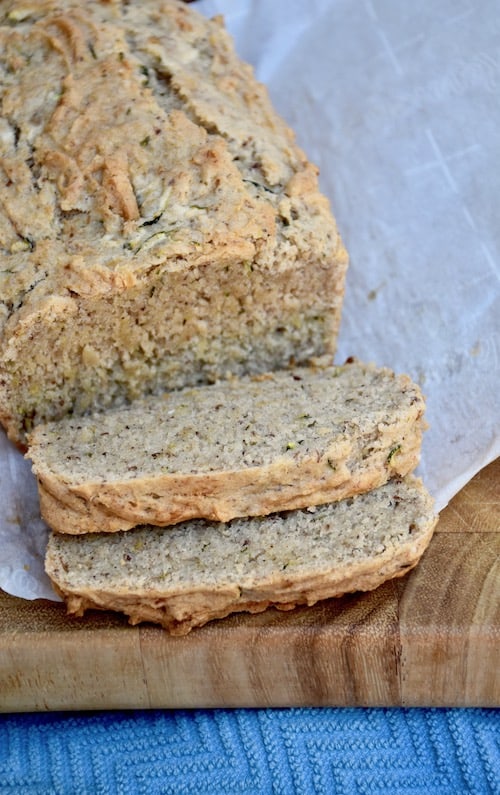 And hey, if you don't get around to eating the whole loaf (who are you?!?!), this gluten and dairy-free zucchini bread recipe freezes very well.
All you need to do is wrap the cooled zucchini bread in plastic wrap, then in aluminum foil before storing in the freezer.
You can enjoy it up to a year later, or better yet, hand it off to friends as a last minute gift you already have on hand!
Love this post? Be sure to check out some of my other great breakfast posts!
Not sure what to make for breakfast on a gluten and dairy-free diet? These posts will give you loads of ideas!
If you love this post, be sure to share it on Facebook or Pinterest. And if you'd like to hear more about living a gluten and dairy-free diet, be sure to check out my free shopping list plus 5 gluten and dairy-free recipes by entering your details below.