Wondering which brands of chocolate chips are dairy-free? How do you know if your chocolate chips are dairy-free? Find out in this post, where I'll share my favorite dairy-free chocolate chip brands.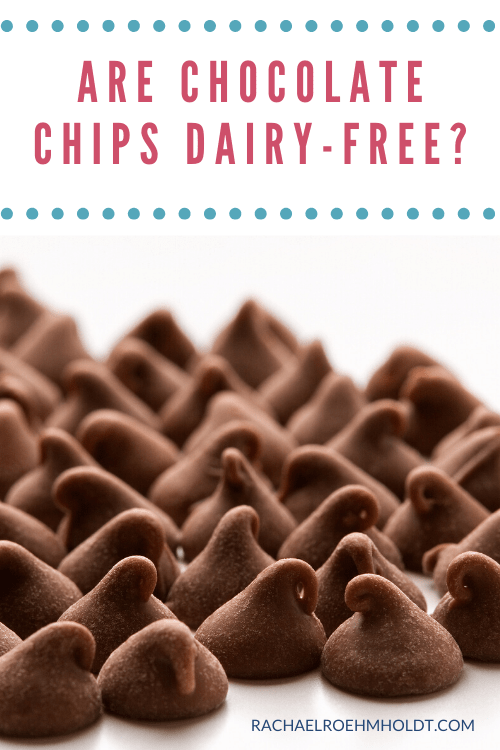 Note: I am a proud Amazon and Thrive Market affiliate and am happy to recommend their service and products to you. Please know that as an affiliate, I may receive a small commission on the products you purchase after clicking through my links. For more info, please see my disclosure policy here.
Chocolate chips are a baking essential. I always keep a bag of chocolate chips on hand for when the mood strikes to make up a batch of gluten-free chocolate chip cookies, chocolate zucchini cake, or to top some dairy-free ice cream. But if you're following a dairy-free diet, you'll know that most chocolate usually contains milk of some kind, in some form.
Chocolate chips are no different. There is certainly milk lurking in some chocolate chip brands, so in this post I thought I'd share how to know if there are dairy ingredients in your chocolate chips. I'll also share which brands you'll want to look for, and answer a few other pressing questions on this topic.
In this post, you'll find out:
How do I know if my chocolate chips are dairy-free?
Do chocolate chips have milk in them?
What brands of chocolate chips are dairy-free?
Are Nestle chocolate chips dairy free?
The best dairy-free chocolate chips
What to look for in dairy free chocolate chips
How do I know if my chocolate chips are dairy-free?
The easiest way to know if chocolate chips are dairy-free is to read the ingredients list on the back of the package. Most likely, if you have "milk chocolate" chocolate chips, then you know these will contain dairy.
Look at the ingredient list (learn how to read ingredient lists) to find any of the common names for dairy. Sometimes it will be under "milk" or "milkfat," and other times it will be under less common names. You can see a full list of names dairy is hiding under in my GFDF Take-Along Cards.
One of my little secrets is that I carry around a copy of my GFDF Take Along Cards so that I always have a point of reference when I can sneak a peek at the ingredient list of a food.
>> Get your copy of the GFDF Take-Along Cards to make this easy on you.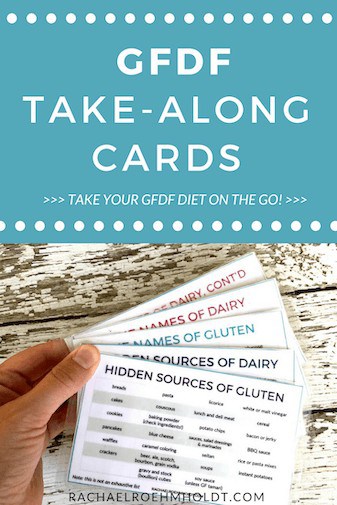 Do chocolate chips have milk in them?
Many chocolate chips do contain milkfat or other dairy products, which means it's important to read ingredient lists and find out if the package you are looking at contains dairy. If you are dairy intolerant or lactose intolerant, learning to read ingredient lists is extremely important for avoiding these ingredients.
However, there are a few brands that offer dairy-free chocolate chips AND are really easy to find at grocery stores and online.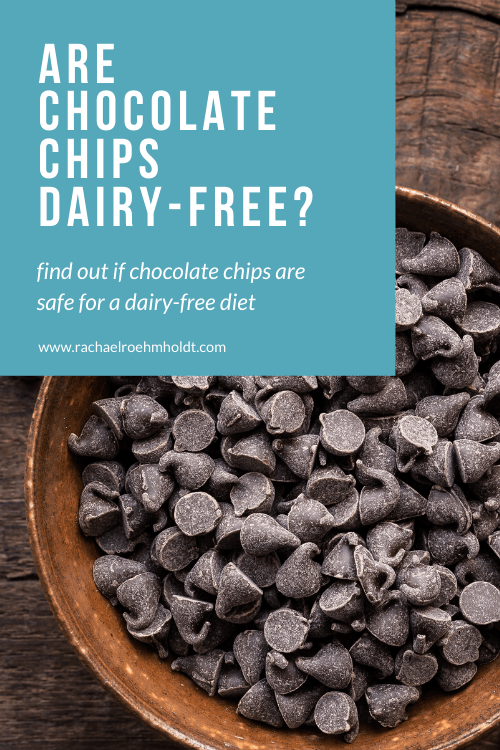 What brands of chocolate chips are dairy-free?
There are a few great brands of chocolate chips that are safe to eat on a dairy-free diet, let's go through a few of my favorites below.
Enjoy Life
Enjoy Life brand of chocolate chips are well known as one of the few brands of allergy friendly chocolate chips on the market. I love this brand and keep them on hand regularly.
They have a great flavor and come in mini chips, chocolate chunks, and dark or semisweet flavors.
Kirkland Signature
A friend of mine told me that Kirkland signature offered dairy-free chocolate chips a few months ago, and I couldn't believe I'd been missing out on this vital bit of information for so long.
The ingredients in Kirkland Signature brand of chocolate chips are: chocolate liquor, sugar, soy lecithin, and vanilla. These are easily accessible at any local Costco store and at a much smaller price point than the Enjoy Life brand.
Find them at your local Costco.
Trader Joe's
Trader Joe's is another brand that took me way too long to learn were dairy-free. In fact, it was only this past holiday season that I looked at the back of the package and couldn't believe how long I'd bypassed them on an aisle without thinking if they contained dairy or not. I just assumed they didn't.
Trader Joe's brand of chocolate chips contain cane sugar, chocolate liquor, cocoa butter, soy lecithin, and vanilla extract. They even have a statement on the back that assures buyers they do their best to avoid cross contamination: "Our vendors follow good manufacturing practices to segregate ingredients to avoid cross contact with allergens."
Find them at your local Trader Joe's.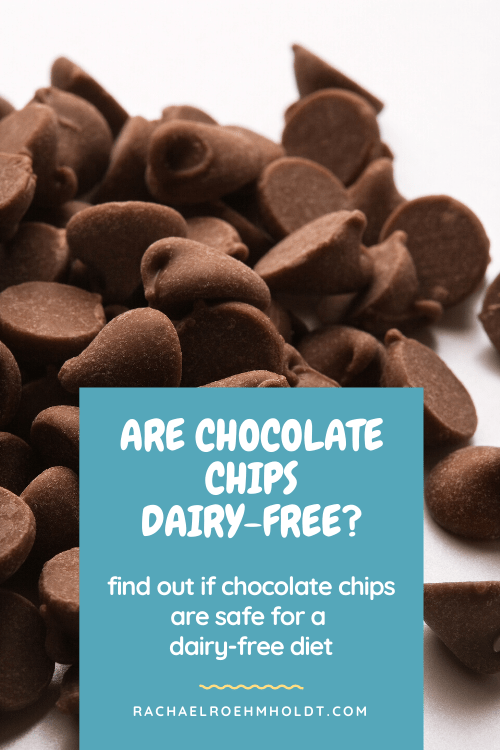 Are Nestle chocolate chips dairy free?
I've received a few notes about Nestle chocolate chips being dairy-free, so I decided to add a note about it. While the "normal" yellow bags of Nestle chocolate chips DO contain dairy from milkfat, Nestle put out a line of chocolate chips in 2018 with only 3 ingredients.
This Simply Delicious Morsels by Nestle brand contains only organic ingredients (which is a big plus in my book): organic cane sugar, organic chocolate, and organic cocoa butter.
The Best Dairy-free Chocolate Chips
Out of these options, which one is the best? Well, I hope you'll do your own painstaking research taste testing the different chocolate chip brands and options.
However, I'll tell you what I buy and what I look for in a good chocolate chip option for my baked goods and treats.
The two brands that I buy most regularly are the Enjoy Life and Trader Joe's chocolate chips.
I've used Enjoy Life chocolate chips for years, and prefer the mini chips in my baked goods now. I also like knowing that they are free from the top 8 allergens, including gluten and eggs (both of which I also avoid). I usually buy the 6 pack from Amazon, as I've found this to be the cheaper alternative to buying locally in my grocery store.
The Enjoy Life brand of chocolate chips are definitely the most expensive that I've come across, however I truly think they stand behind their commitment to keep their manufacturing lines clear and free of cross contamination, which I appreciate.
I love the Trader Joe's brand of chocolate chips, because of the price and convenience. These are almost half the cost of the Enjoy Life brand, which makes them really accessible. I also love that if I'm out of them and need to get dairy-free chocolate chips, I can just scoot down to my local store instead of having to wait a few days to get them from Amazon. The flavor and texture of these is great and I've used them in loads of my baked goods and recipes.
When it comes to enjoying chocolate chips on a dairy-free diet, know that there are a few great options for you. If cross contamination matters a lot to you (if you're extremely sensitive to dairy or have an allergy), then choosing a brand like Enjoy Life or Nestle Simply Delicious Morsels might be great choices for you.
If you aren't as sensitive to cross contamination and feel okay with eating chocolate chips that contain no dairy ingredients and might be manufactured on the same line as other ingredients that contain milk or dairy, then choosing an option like Trader Joe's or Kirkland Signature brands of chocolate chips could be right for you. The good thing about these is that they cost less while still being dairy-free.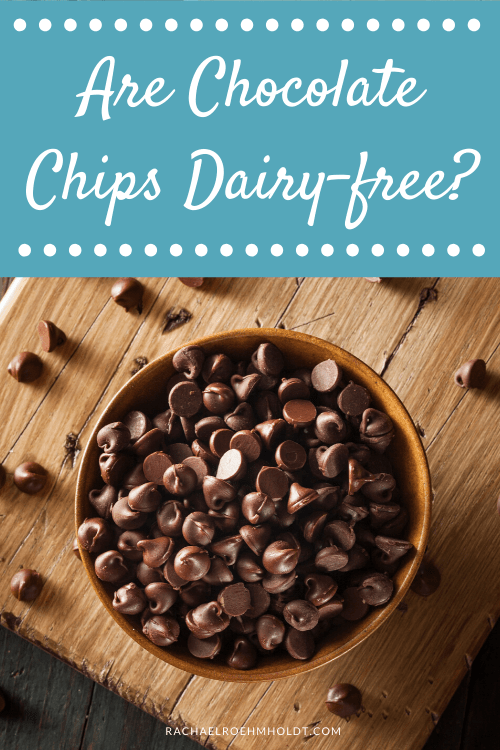 If you've been looking for a great dairy-free chocolate chip brand and option, I hope this post has cleared up any questions you might have had. I hope you feel encouraged and even inspired to go out and get some dairy-free chocolate chips so you don't have to live without your favorite chocolatey treats while eating a dairy-free diet.
Looking for a few more dairy-free chocolate recipes? You'll love these posts!
Check out these gluten and dairy-free recipes and posts featuring chocolate.
Wondering if other ingredients or foods are gluten-free? Check out the FAQ's on my Gluten and Dairy-free Diet Basics Page for more.
Love this post? You might want to check these out!
Find out if your favorite foods and ingredients contain dairy with these posts!