Have you wondered: is chocolate dairy-free? Find out if what brands are dairy-free, where to buy dairy-free chocolate, and more in this ultimate guide!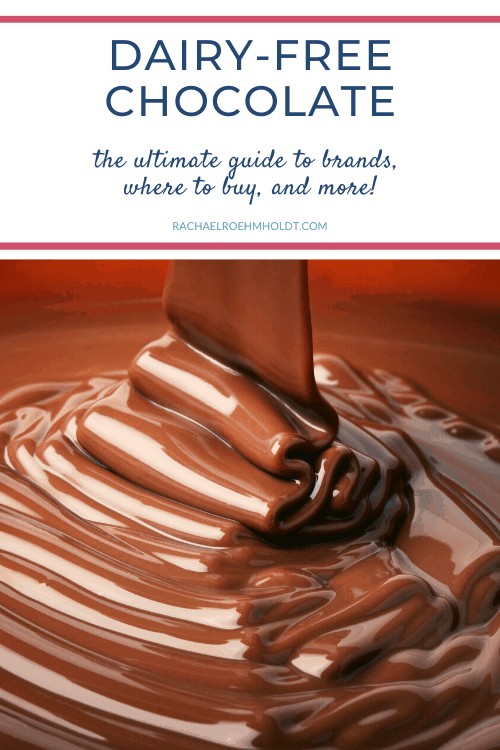 Note: I am a proud Amazon and Thrive Market affiliate and am happy to recommend their service and products to you. Please know that as an affiliate, I may receive a small commission on the products you purchase after clicking through my links. For more info, please see my disclosure policy here.
Chocolate is a treat that most people don't ever want to live without. It's the sweet flavor that is added to so many people's favorite desserts and added to many cakes, cookies, and even coffee drinks.
If you follow a dairy-free diet, you may be wondering if you'll have to give up chocolate forever. In this ultimate guide, we'll go over everything you need to know about chocolate and if this is a good ingredient to keep in your diet if you avoid dairy.
In this post, we'll discuss the basics of chocolate: what are the common ingredients and do those contain dairy. We'll also talk about what you're really here to find out: are all different types of chocolate dairy-free and which to steer clear of.
We'll go over some great dairy-free chocolate brands for you to look into, as well as where to buy them. The post will wrap up with some commonly asked questions around vegan chocolate and gluten-free chocolate.
If you're a chocolate lover like I am, let's get right to the good stuff so you can have the answers you need to get back to enjoying chocolate regularly without having to stress on a dairy-free diet.
Chocolate ingredients
First, when we're talking about any food and determining if it's safe for a dairy-free diet, what we want to do is find out what the common ingredients are. In this case, what are the most common ingredients in chocolate?
According to Cacao, the common ingredients in chocolate are cocoa, sugar, cocoa butter, and milk in various forms, usually a milk powder. Other ingredients you might find in chocolate bars or other chocolate products are emulsifiers, vanilla, flavorings, and palm oil.
The ingredients in chocolate will vary slightly depending upon which brand you buy and what their specific recipe for chocolate includes. It's important to always read ingredient lists before purchasing a food that may contain dairy and review it for hidden sources of dairy.
If you're wondering what the names of dairy are, you can find a comprehensive list in both my book The Gluten and Dairy-free Diet: A Beginner's Guide and my GFDF Take-Along Cards.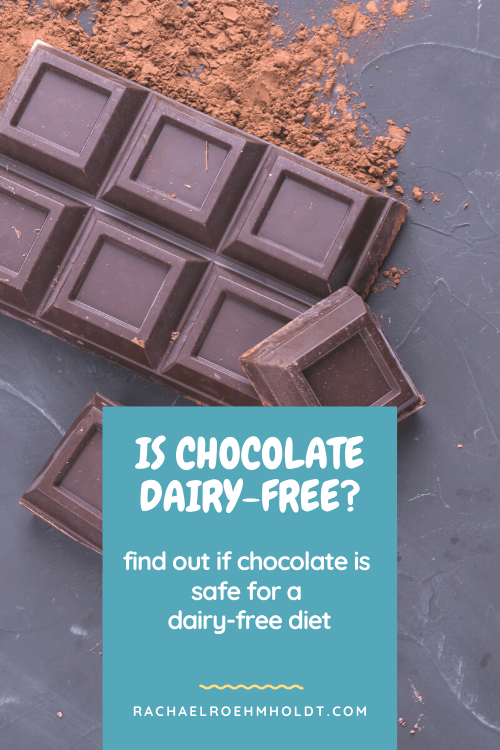 Is chocolate dairy free?
Now that we know the most common ingredients in chocolate, let's talk about if it's safe for a dairy-free diet. The answer is… it depends. Whether chocolate is safe for your dairy-free diet will depend on the brand as well as the unique recipe that each brand uses to make their chocolate.
Learn how to read ingredient lists so you can identify any dairy included in that product.
Is dark chocolate dairy free?
Out of all the different types of chocolate, dark chocolate is the most likely to be dairy-free. If you're following a dairy-free diet, look for dark chocolate, then review the ingredients list to find out if that product contains dairy.
You might be wondering if there is milk in dark chocolate, and again, that will depend. The darker or the higher the percentage of cacao that is in the chocolate, usually that means the less likelihood of milk being in that chocolate product.
Read on: Is dark chocolate dairy-free?
Is milk chocolate dairy free?
As a general rule, milk chocolate is not dairy-free. Based on the name alone, you now that chocolate that's referred to as "milk chocolate" will contain milk, and therefore contain dairy. You can check ingredient lists just to be sure, but it's useful to know that you'll want to avoid most milk chocolate when you're on a dairy-free diet.
Is white chocolate dairy free?
White chocolate isn't actually considered chocolate at all, despite its name. With no chocolate solids, it's not an 'official' or 'real' chocolate, even though most of us consider it to be. White chocolate is commonly made with sugar, cocoa butter, milk products, and vanilla.
The addition of milk fat, skim milk, or dry milk in most white chocolate ingredient lists means it's pretty tricky to find a dairy-free option. However, it's not impossible! In the next section, let's go through some brands you can look for that offer dairy-free white chocolate.
Read on: 101 Gluten-free Dairy-free Snacks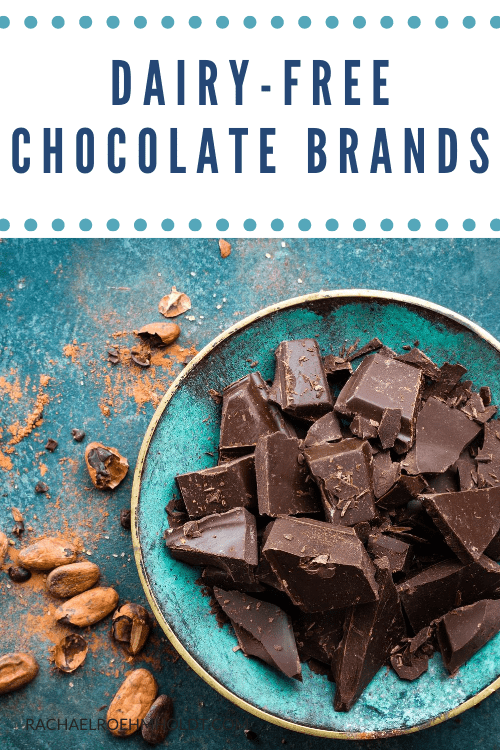 What brands of chocolate are dairy free?
When it comes to finding dairy-free chocolate, you're probably looking for a short list of brands and products to look for to help you save some time in researching these products.
Check out some of the best dairy-free chocolate brands you can look for at grocery stores and online below.
Dairy-free dark chocolate brands
Dairy-free milk or semi sweet chocolate brands
Dairy-free chocolate chips brands
Dairy-free white chocolate brands
Although these brands offer dairy-free chocolate options, that doesn't mean that every product they make is dairy-free. It's up to you to do your research, read ingredient lists, and make your decision after you know there is no hidden dairy.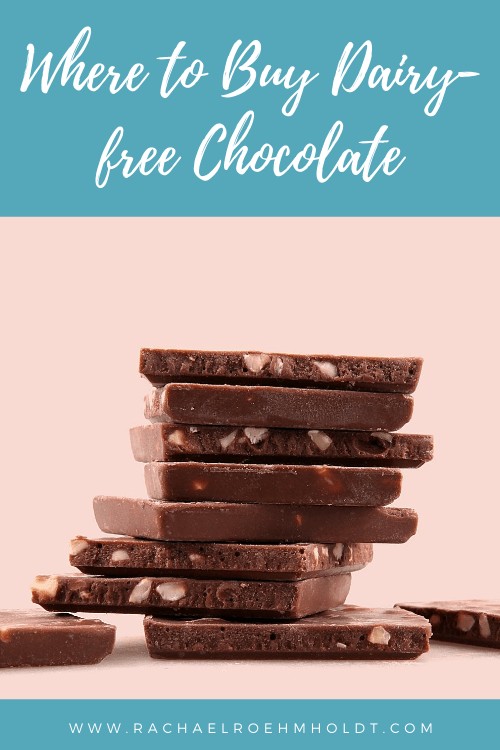 Where to buy dairy free chocolate
Some of these dairy free chocolate options will be available at your local grocery store, and others you may need to find online through Amazon or even through the individual manufacturers themselves.
Another great place to find dairy-free chocolate is through Thrive Market if you have a subscription. I always like shopping through Thrive Market, because they have filters that apply to all their products, so it's easy to search by "dairy-free" after typing in chocolate into the search bar.
Many of the products I listed above are linked off to Amazon or Thrive Market if you can't seem to find them in person locally.
If you aren't set up with a membership to Thrive Market, you can get a free gift when you sign up through my affiliate link.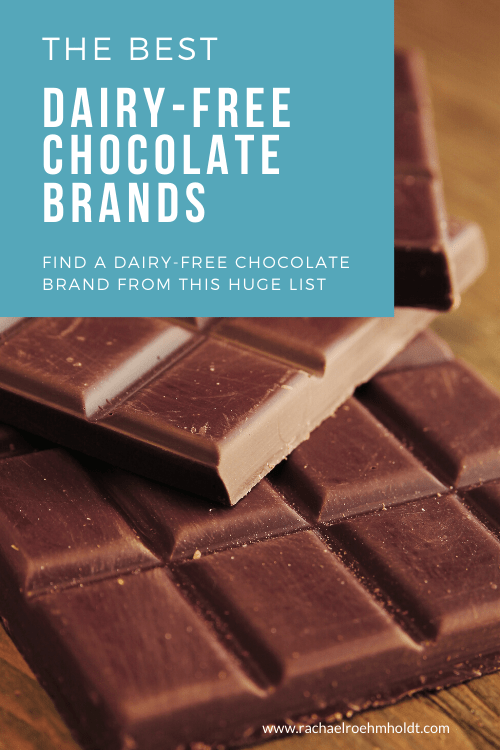 What is the best dairy-free chocolate?
Obviously, this will be subjective based on what you like. Here are my favorites from the list that I've shared above.
Best dairy-free dark chocolate bars
Chocolove, Green & Black's, and Divine chocolate brands are my top three favorites. These are all brands I've been able to find locally, but these are my go-to for when I need a chocolate fix.
Best dairy-free "milk" chocolate bars
Enjoy Life and No Whey are my top two favorite "milk" or lighter chocolate flavored brands. These are easier to buy online, but don't disappoint with the chocolate flavor you're after and are really tasty!
Best dairy-free white chocolate bar
Pascha is my go-to favorite dairy-free white chocolate bar. I've never found them in person locally at my grocery store, but they are easy to find online through Amazon.
Best dairy-free chocolate chips
The best dairy-free chocolate chips I've had are Enjoy Life and Trader Joe's. I like to keep the Enjoy Life brand of mini chocolate chips on hand for baking, but when I'm in a pinch, I can scoot down to Trader Joe's and grab a bag if I'm low and need them ASAP.
I have found that the Enjoy Life chocolate chips are less expensive through Amazon than at my local grocery store, but that may not be the case for you so you might want to price check when you find them.
Vegan Chocolate
When we're talking about dairy-free chocolate, many people wonder if chocolate is vegan. The difference between dairy-free chocolate and vegan chocolate would be the addition of other animal products in the chocolate other than milk or dairy, namely honey or anything else that comes from an animal.
Is chocolate vegan?
Since chocolate really only needs to be made using chocolate solids, sugar, and cocoa butter to be considered chocolate, vegan chocolate is possible – and available!
Many of the chocolates in my list above are in fact vegan. If you follow a vegan diet, you'll want to look for any dairy products or other animal products in the ingredient lists.
Even though a chocolate may be dairy-free, that doesn't mean it's vegan. Read ingredient lists for any other hidden animal product ingredients, like honey to be sure it's truly vegan. Many vegan chocolate bars will list "vegan" on their packaging to make it easy for you.
Is dark chocolate vegan?
As I mentioned above, just because chocolate only really NEEDS chocolate solids, sugar, and cocoa butter, that doesn't mean that all chocolate is vegan or doesn't add dairy or animal products to it.
It's more likely for you to find a vegan dark chocolate than a "milk" chocolate, due to the nature of dark chocolate needing less of a creamy or milky flavor than other types of chocolate. Look at the ingredient lists to determine if the brand you're looking at is in fact vegan and safe for your vegan diet if you follow one.
Gluten-free chocolate
You may wonder if chocolate is safe for a gluten-free diet. Gluten is mostly found in products with grains, but it can also be hidden in other processed foods where flavorings or preservatives have been added, so it's always smart to ask this question before picking up any chocolate brand if you follow a gluten-free diet.
Does chocolate have gluten? Is chocolate gluten-free?
Most chocolate is gluten-free if it is simply just chocolate in its purest form. Most bars and chocolate chips are safe for a gluten-free diet. If you find chocolates with additional flavoring or textures, like crispy rice cereal or have fillings, you'll want to check ingredient lists for any hidden sources of gluten.
Read on: Is Chocolate Gluten-free?
Read on: Are chocolate chips gluten-free?
Not sure if a product is gluten-free? Check out this list of hidden names of gluten to compare on ingredient lists.
If you've had questions about whether you can enjoy chocolate on a dairy-free diet, I hope this post has given you some encouragement that you can still love and enjoy chocolate regularly. With a little research and careful selection of brands that are dairy-free, it's easy to find a brand that you love.
Looking for a few more dairy-free chocolate recipes? You'll love these posts!
Check out these gluten and dairy-free recipes and posts featuring chocolate.
f you loved this post, I hope that you'll share it with your friends on Facebook and pin it for future reference on Pinterest.
Want to find out more places dairy may be hiding in some of your favorite foods? Enter your details below to get the free Hidden Sources of Gluten and Dairy Guide!