This dairy-free peppermint hot chocolate is festive, sweet, and perfectly minty. Enjoy this during the holiday and Christmas season so you can stick with your dairy-free diet with ease.
Note: I am a proud Amazon and Thrive Market affiliate and am happy to recommend their service and products to you. Please know that as an affiliate, I may receive a small commission on the products you purchase after clicking through my links. For more info, please see my disclosure policy here.
What says holidays more than hot chocolate? My family and I love to curl up in the evenings and on the weekends to watch Christmas movies and sip hot chocolate. It's really one of our most favorite things.
In our house, we all like our hot chocolate different ways. My son loves his with marshmallows. I love mine with a little cinnamon mixed in. And my husband loves loves loves peppermint hot chocolate.
Even though both my husband and son can tolerate dairy, everyone in my family drinks this dairy-free hot chocolate mix.
There are a few dairy-free hot chocolate mixes out on the market (check out this post for a list of them), but what I've found is that with a homemade mix, I can…
Save a ton of money on the cost
Control the quality of ingredients (like using organic cocoa powder or raw cacao)
Use a whole lot less sugar and zero additives that come in normal hot chocolate mixes
Make it my own easily by adding some of our favorite flavors
Really, though, the truth is, there just aren't that many dairy-free hot chocolate options out there that have any flavorings to them. Which is knowing how to make your own comes in handy.
This recipe for dairy-free peppermint hot chocolate is really simple. Almost too simple.
This dairy-free peppermint hot chocolate recipe is:
Festively minty
The right amount of chocolatey
The perfect taste of sweet
Creamy
Easy to make
Delicious on a cold day
Great for snuggling on the couch
A nice mixup for a family Christmas brunch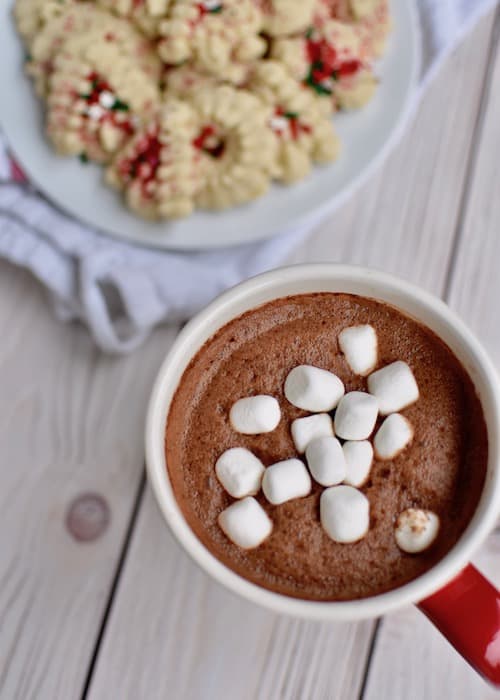 Once you have made up a whole batch of dairy-free hot chocolate mix, you can make it peppermint flavored by adding in about ⅛ of a teaspoon of peppermint extract to the made up cup of hot chocolate.
That's it?!
That's it.
And to think all these years, you've could have been buying store-bought hot chocolate with fancy flavorings for oodles of extra money!
This dairy-free peppermint hot chocolate will allow you to have the best of both worlds: flavored hot chocolate AND dairy-free WITHOUT the extra money spent on it being fancy.
Making dairy-free peppermint hot chocolate
I like to warm the water either on the stove or in our kettle. You can also heat the water in the microwave. Next, in a mug, add one serving of the hot chocolate mix (2 tablespoons) and mix together. Add in ⅛ teaspoon peppermint extract and stir to combine. Stick a candy cane, toss on a few marshmallows, or top with a dollop coconut whipped cream and you're set!
You can now cozy up on the couch, your dairy-free peppermint hot chocolate and the Polar Express, Elf, or some of those cheesy Hallmark Christmas movies. I'll admit that I just can't get enough of these super predictable movies this time of year!
I also plan to serve my dairy-free hot chocolate at my big Christmas brunch for my husband's family this year, and you know I'll be putting out a little peppermint extract so anyone can make their very own peppermint hot chocolate!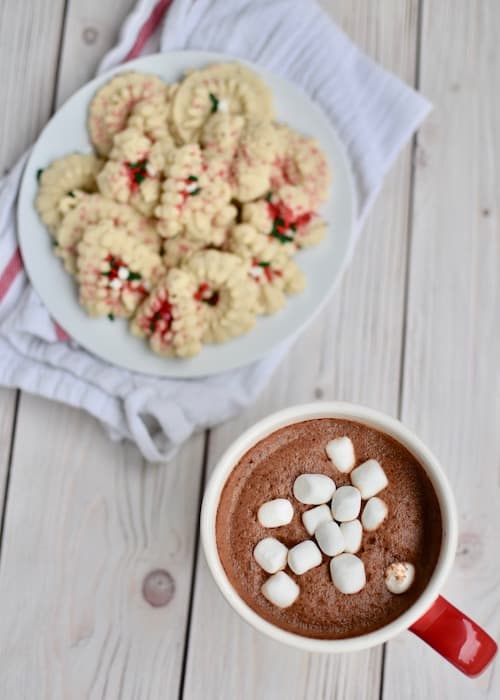 Yield: 1 serving
Dairy-free Peppermint Hot Chocolate
This dairy-free peppermint hot chocolate is festive, sweet, and perfectly minty.
Ingredients
Instructions
In the microwave, a kettle, or on the stove, heat the water until warm to hot.
In a mug, add the 2 tbsp dairy-free hot chocolate mix.
Pour the hot water over the hot chocolate mix. Stir to combine, until the mix and fully been incorporated into the water.
Pour in the peppermint extract. Stir to combine once again.
Top with some marshmallows or coconut whipped cream, and stick in a candy cane if you're feeling extra festive! Enjoy!
Interested to Check out some of my other Christmas posts? Click here for my full Gluten-free Dairy-free Diet Holiday Survival Guide here or by clicking the image below.
If you loved this post, I hope that you'll share it with your friends on Facebook and pin it for future reference on Pinterest.
If you'd love even more inspiration and recipes for a gluten-free dairy-free diet, be sure to grab my free shopping list – plus 5 free recipes – by entering your details below!