Looking for a ranch dressing recipe that is gluten-free, dairy-free, egg-free AND delicious? I have you covered!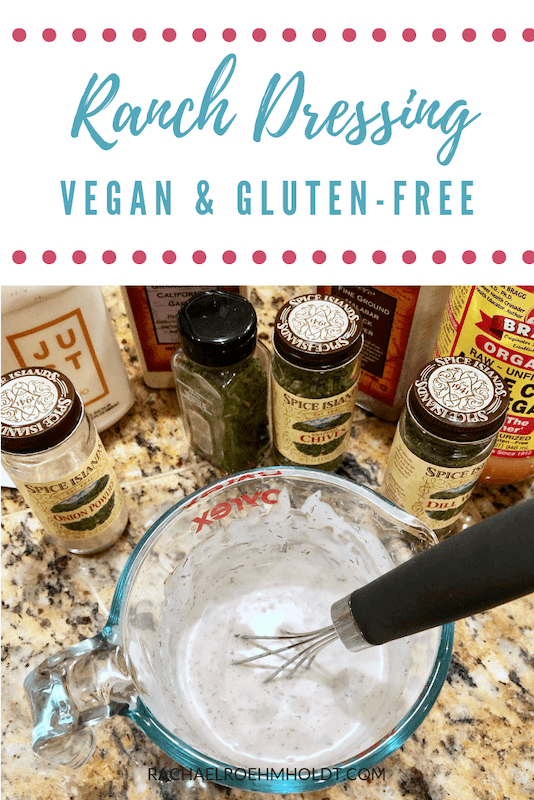 Note: I am a proud Amazon affiliate and am happy to recommend their service and products to you. Please know that as an affiliate, I may receive a small commission on the products you purchase after clicking through my links. For more info, please see my disclosure policy here.
Have you been looking for a dairy-free ranch recipe that actually tastes good? I'll be honest, I have been dairy-free for 5 whole years and have never – not once – tried to make a dairy-free ranch dressing recipe until recently. I have tried just about every brand that I have been able to find locally over the years.
There are a few that I love – Tessemae's is my #1 go-to…
But the problem is that most gluten and dairy-free salad dressing brands have eggs in them too. And if you've been following me for any amount of time, you know that in addition to being gluten-free and dairy-free, I also eat an egg-free diet too. Read more about that here.
So while I used to LOVE ranch dressing long before I gave up dairy… and certainly long after I gave up eggs, I just couldn't really enjoy it. I came to grips with the fact that it wasn't a food that was going to be in my diet if I didn't make it myself.
I was just too intimidated… how could a creamy-based dressing taste good without all the good-tasting stuff in it? For some strange reason, I felt like taking on making my own was just too much work and frankly, just was never going to happen.
Until recently.
I finally gave it a shot. I found a recipe online and doing what I always do… didn't follow it at all. But I did see what the main ingredients were and went about creating my own version.
Before we get going too far, let's make sure we cover a few basics of ranch dressing so we're all on the same page.
Does ranch have dairy?
Unfortunately, most ranch dressing contains buttermilk which is fermented milk. It has a tangy flavor that lends itself to most ranch dressings you'll find on grocery store shelves or in homemade recipes.
Since buttermilk comes from a milk product from cow's, we can say with certainty that yes, ranch has dairy.
Read on: Does ranch have dairy?
Is ranch gluten-free?
Since ranch is most commonly made with buttermilk, garlic, onion, mustard, herbs, salt, pepper, and spices, most store-bought options are likely gluten-free.
Of course with any packaged food, it's a good idea to review all ingredients lists for hidden names of gluten.
That said, you'll always know something is completely safe for you and your diet when you make it at home. That's why I'm using ingredients I've already vetted are gluten-free, dairy-free, and egg-free for this recipe.
Read on: Is ranch gluten-free?
So here's the truth about this gluten, dairy, and egg-free ranch dressing recipe….
It doesn't taste exactly like the ranch dressing you're used to when you're eating dairy.
BUT it IS good to dip veggies in, on salads, and put on burgers or dip your fries into.
Bottom line: It isn't the ranch you grew up with, but it's still delicious and actually probably a little better for you too.
Ingredients for gluten, dairy, egg-free ranch dressing
Here are the ingredients you'll need for your own dairy-free egg-free ranch dressing.
Vegan mayo
The base of this recipe uses vegan mayo. You can find a few different brands of mayonnaise, like Best Foods, Sir Kensington's, or Vegennaise.
What to know about adding vegan mayo to this recipe is that the mayo doesn't have to be vegan for the dressing to be dairy-free. Mayonnaise already is dairy-free, but it's the eggs that make it not work for me.
Choose a vegan mayo you'd use for other recipes in your kitchen to help you get an egg-free ranch dressing that tastes similar to the real thing.
In this recipe, we're using full-fat coconut milk for a creamy texture. Yes, it does have a slight coconut flavor, so if that is going to bug you, you might opt for a different full-bodied dairy-free milk.
Oat milk or cashew milk might work for this, but I personally haven't tested it.
Apple cider vinegar is used in this recipe to help mimic a buttermilk flavor you'd find in a traditional ranch dressing recipe.
I always prefer the Bragg's apple cider vinegar, but whatever you have on hand will work too.
What would a good salad dressing be without proper seasonings? Don't skip the salt and pepper in this recipe for a well-rounded flavor.
Dried herbs
Dried herbs in this ranch dressing make it truly taste like ranch. You can certainly use fresh herbs if you have them on hand or if you have an herb garden in your yard.
I prefer to stick to dried herbs, because that means I can make this dressing any time I want to without having to do extra shopping or chopping.
The herbs and seasonings I use for this recipe are: dried parsley, dried dill, dried snipped chives, garlic powder, and onion powder.
The thing I learned about making my own dairy and egg-free ranch dressing at home is that it's all about the combination of the flavors, not the individual flavors themselves.
I think if you wanted to make this dressing with fresh ingredients – fresh herbs, garlic, and even fresh minced onion – that it would probably be delicious.
But for the sake of making this really easy – and impossible to mess up, I wanted to make this using dried herbs that I know I'll have in my pantry all the time, so I can make it whenever I want.
Instead of making this some huge effort and project that feels daunting, I want this to be a recipe I can whip up any time I get a craving or my salad needs a little ranch love.

How to Make Gluten-free Dairy-free Egg-free Ranch Dressing
Step 1. Combine all ingredients in a bowl.
Step 2. Whisk together.
Step 3. Refrigerate.
Step 4. Enjoy as a dip or salad dressing.
Yep, this recipe could not be easier. I wish I could share some long difficult process with you, because when you're paying $6 a bottle for dairy-free ranch, you hope some kind of big time effort went into it….
But nope! This ranch dressing is really plopping ingredients into a bowl and mixing it up! Super easy, yummy, and SO versatile!
After I made this the very first time, I felt kind of foolish for making it into this big deal that I had made myself live without for so long.
With how easy it was to throw some vegan mayo, coconut milk, apple cider vinegar, and some herbs and spices into a bowl… I was living without a food that I just didn't need to.
Please please please learn from my mistake here: don't be afraid to try to recreate a food that you think won't taste good if it's gluten-free or dairy-free… it may be SUPER simple – and delicious.
You won't have to live without something you love just because you aren't eating gluten, dairy, or eggs anymore.
A few notes on this dairy-free ranch recipe
The dressing ready to serve right away but tastes better as the flavors mingle for a while in the fridge.
You can also buzz this up in your food processor if you want the herbs to break up a little more too.
This dressing will last about a week in an airtight container. I like to save old salad dressing bottles to use for my homemade dressings. It makes things so much easier with the little spout on top!
If you can tolerate eggs, you can use regular mayonnaise in this recipe. Read more about mayonnaise and a dairy-free diet here: Does mayo have dairy?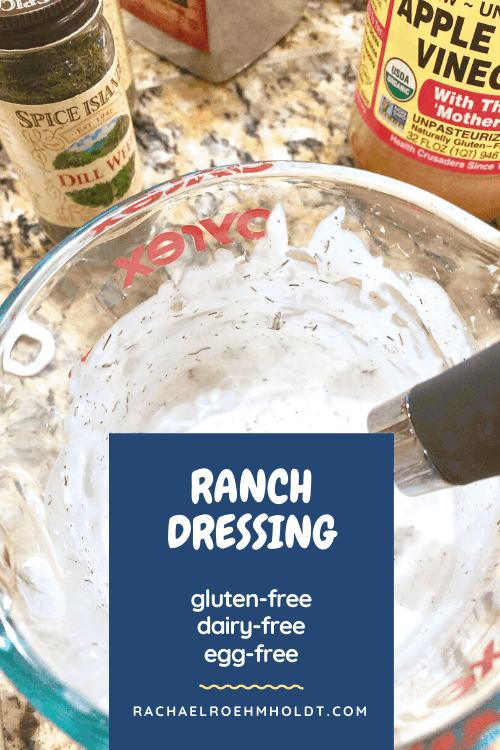 So how do I plan to use this gluten-free dairy-free egg-free ranch dressing now that I've made it? Ahh, let me count the ways…
On salads… so. many. salads.
On stuffed potatoes
As a topping for burgers
In lettuce wraps
On sandwiches
In GF pasta salad
On chicken
Mixed into hummus
On homemade gluten-free dairy-free pizza
With homemade chicken strips
Mixed with BBQ sauce for BBQ ranch dressing
You get the idea… all the ways I've been missing ranch for the last few years of my life, it's going to find it's way back into my diet again, because this recipe is so easy!
Gluten-free Dairy-free Egg-free Ranch Dressing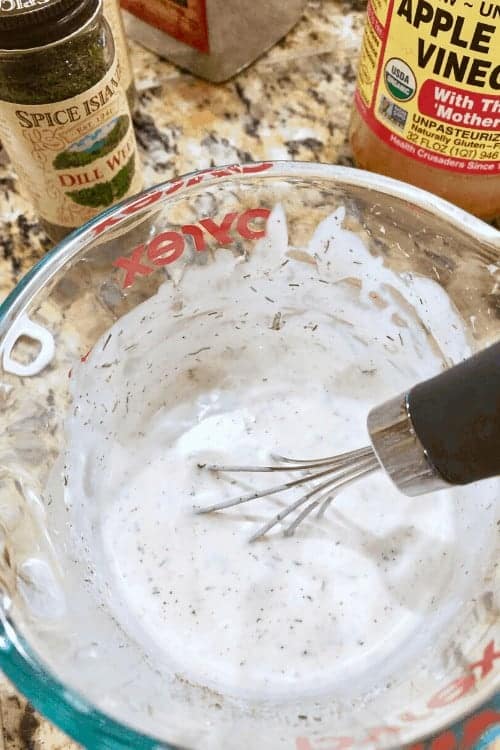 Looking for a ranch dressing recipe that is gluten-free, dairy-free, egg-free AND delicious? I have you covered!
Ingredients
1/2 cup vegan mayo (I use Best Foods vegan brand)
1/2 cup full fat coconut milk
1 tsp apple cider vinegar
1/2 tsp salt
1/2 tsp pepper
1/2 tsp dried parsley
1/2 tsp dried dill
1/2 tsp dried snipped chives
1/2 tsp garlic powder
1/2 tsp onion powder
Instructions
Combine all ingredients in a small bowl. Whisk to combine.
Serve right away or refrigerate for at least an hour to let the flavors combine.
Recommended Products
As an Amazon Associate and member of other affiliate programs, I earn from qualifying purchases.
If you're not into the idea of making your own dressing at home, check out these 5 best dairy-free ranch dressing brands.
Or get a full list of store-bought gluten-free salad dressing brands.
What's your favorite way to eat ranch dressing? Have you been living without it if you're dairy or egg-free? Share in the comments below!
If you love this post, I'd love for you to save it for later on Pinterest and share it with your friends on Facebook.
Want to learn more about what foods are safe to eat on a gluten-free dairy-free diet? Sign up for my gluten-free dairy-free shopping list and get 5 sample recipes to get started right away!