Need a few gluten-free dairy-free protein powder recommendations? Check out the 5 Best Gluten-free Dairy-free Protein Powder picks plus a chocolate raspberry spinach protein powder smoothie recipe at the bottom of this post.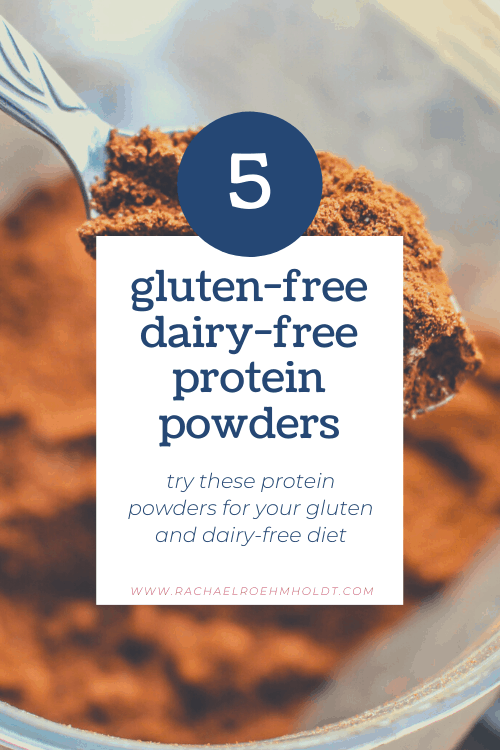 Note: I am a proud Amazon, Thrive Market, and Orgain affiliate and am happy to recommend their service and products to you. Please know that as an affiliate, I may receive a small commission on the products you purchase after clicking through my links. For more info, please see my disclosure policy here.
I don't know about you, but when the spring months roll in, my smoothie consumption starts ramping up. I love drinking smoothies for breakfasts and afternoon snacks.
They're an awesome way to get extra fruits and veggies in my system when I don't have time to sit down for a full breakfast or simply forget to grab something green throughout the day.
While there are loads of natural ways to get a big boost of protein into your smoothie, sometimes convenience wins out. That's where protein powders come in.
Protein powders are a great way to add some extra protein to a smoothie to turn it into a full-fledged meal or hearty filling snack, but finding a gluten-free and dairy-free protein powder if you have food intolerances or food sensitivities isn't exactly easy to come by.
Read on: 101 Gluten-free Dairy-free Snacks
It's no surprise that this is a question I get asked a lot "What are the best gluten-free protein powders? What are the best dairy-free protein powders?"
In this post, I'm going to share my 5 best protein powder picks with you – all are both gluten-free and vegan protein sources – plus one of my favorite smoothie recipes to inspire you to hit the blender for a boost in fruits and veggies anytime you need a pick-me-up.
While others might tell you what the best is based on a large sampling of different powders, I'm just here to share my personal experience and personal preference.
All the protein powders listed here are:
Gluten-free
Dairy-free
Whey-free
Lactose-free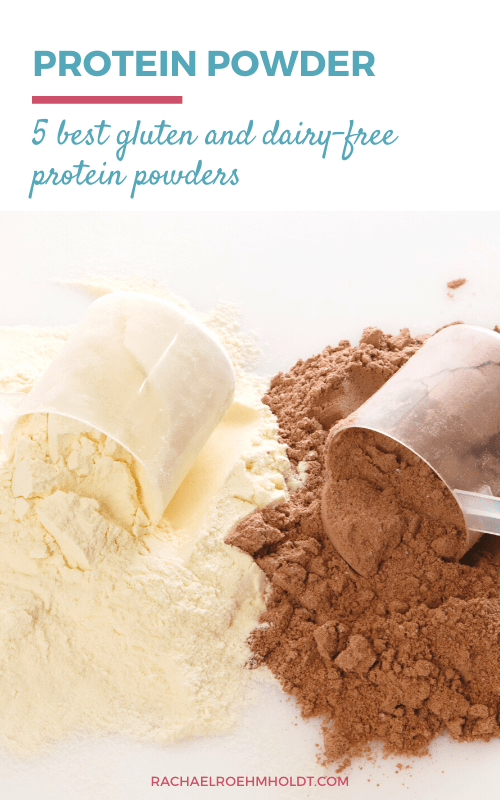 Before we get started, let's cover some of the basics of protein, protein powder, and talk a bit about a big part of protein drinks – the blender.
What is protein?
I can still hear my 7th grade science teacher asking the class "what is protein?" and everyone responding in unison "Protein is made up of long-chains of amino acids." I think we repeated that for weeks until it was drilled into our heads and decades later, I still remember it.
Protein acts as vital building blocks to healthy muscles, hair, skin, and nails. It helps play a crucial role in the immune system to fight off illnesses, and is essential for folks who exercise regularly for muscle recovery and growth.
How much protein do I need?
While there are a number of different ideas on how much is too little, too much, or just the right amount, I personally feel as though your body will tell you how much protein you need.
If you eat too little protein, your body will likely start to feel weak, tired, and fatigued. If you eat too much protein, you can gain weight, have digestive issues, and even kidney problems.
The right amount is likely the sweet spot between those two, but the exact number will depend largely on your body size, shape, composition, weight, and exercise routine. For most adults, it's generally agreed upon that you should eat about 10-35% of your daily calories.
Does whey protein contain dairy?
Whey protein is a milk derivative, which means it contains dairy and is not considered dairy-free. When searching for a gluten and dairy-free protein powder, whey based proteins are not a good choice.
Read on: Is whey dairy?
Does whey have gluten? Is whey gluten-free?
Whey protein itself does not contain gluten and is gluten-free. Whey protein is safe on a gluten-free diet when listed as whey concentrate, whey hydrosolate, or whey isolate on ingredient lists.
If you are eating both a gluten and dairy-free diet, whey protein powder is not a good choice as whey protein contains dairy. There is no wheat in whey and is safe for folks with celiac disease.
Read on: Is whey gluten-free?
Read on: Gluten-free protein bars
What liquid should I use with gluten and dairy-free protein powder?
Most protein powders can be mixed with any liquid, from water to dairy-free milk to coffee. Depending on your goals when you make a protein shake, you might choose one of these ideas:
Water
Coconut milk
Almond milk
Soy milk
Hemp milk
Rice milk
Coconut water
Fruit juice
Iced coffee or cold brew
Green tea
Hot coffee
Fruit smoothie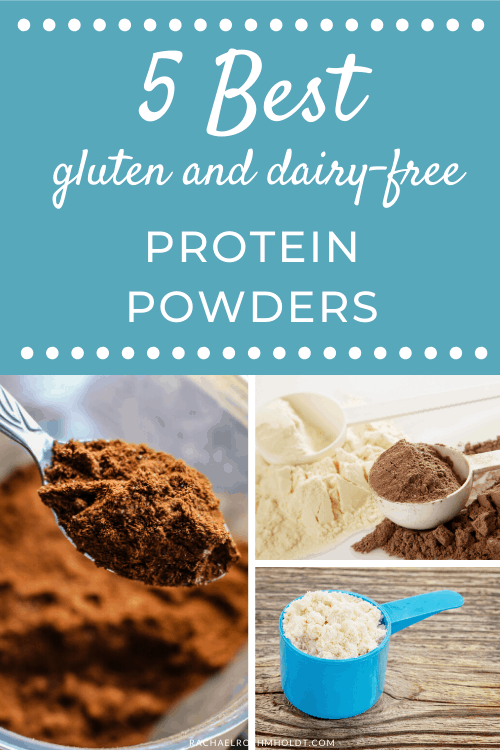 Which blender is the best?
The answer is completely personal and it's up to you to decide what "best" means to you.
I've had my share of mid-tier blenders over the years and while they definitely do the trick, when I made the switch to my high-speed Vitamix blender, I knew I'd never go back.
There are plenty of amazing blenders out there, but the one I use is a Vitamix brand. I've had it for 5 years now, it's going strong, and I use it at least 4 or 5 times a week.
The one that I have is a certified refurbished model from 10 years ago. I was thrilled to find that you can get refurbished options that are significantly lower in price than brand new ones. I have the Vitamix 5300 model and it has held up in perfection condition the entire time I've owned it.
Of course, if a Vitamix is way outside of your budget or even desire, here are a few other blenders that might be up your alley…

Where can I buy gluten and dairy-free protein powder?
You can find many of these brands of protein powder in your local grocery stores, health food stores, or online. I've even seen a few of these at my local Costco on rotation.
If you have a tough time finding these brands in person locally, you can always look on Thrive Market or Amazon.
If you aren't familiar with Thrive Market, they have amazing gluten and dairy-free foods, as well as supplements and probiotics.
You can check out all the great things I have to say about this service, AND get a 30% off your first order AND a free gift (up to $24 value) when you sign up for either their monthly or annual plan.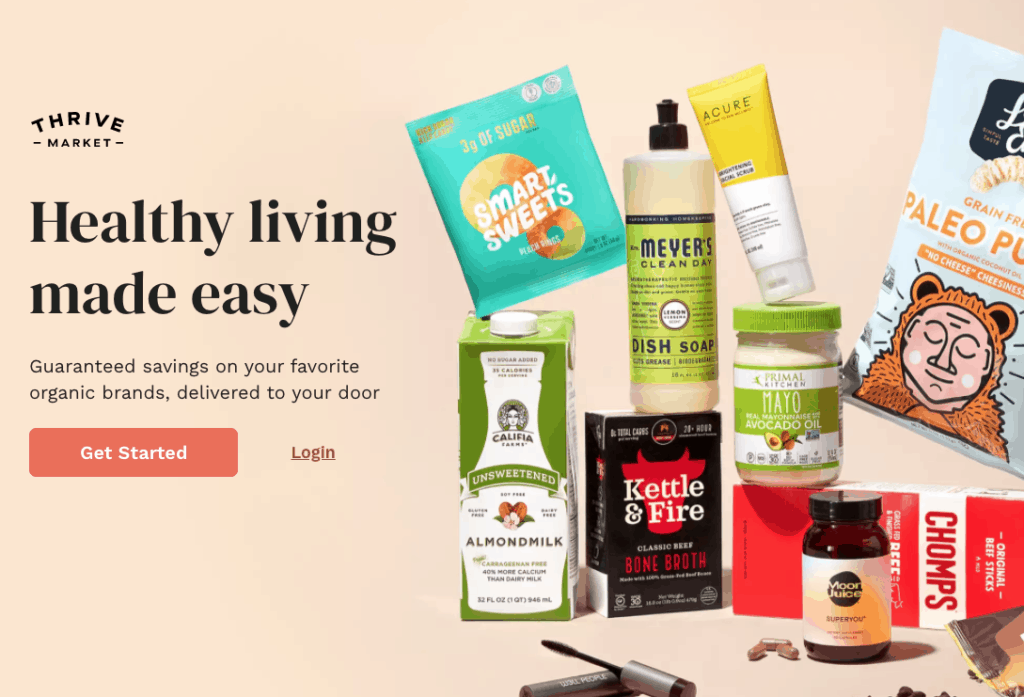 If you still can't find what you're looking for through one of those options, you can definitely go through the manufacturer's website.
They may actually have promotions running or coupons available that offer a better price than what you'd get online or through your grocery store if you look on the right day.
Read on: Is Ensure dairy-free?
Read on: Is Muscle Milk gluten-free?
Read on: Does Premier Protein have dairy?
5 Best Gluten-free Dairy-free Protein Powders for Protein Shakes and Smoothies
With all the protein powders out there, it can be daunting to have to rely on reading ingredient lists to figure out which ones are safe on a gluten-free dairy-free diet.
So let's go through some of the best protein powders that are safe for you, without having to do all the research yourself!
This protein powder is made from plant-based ingredients, has 20 grams of protein in each serving, and ensures you get your greens every time you have a smoothie with spinach powder, organic kale powder, and broccoli.
One serving is no more than 120 calories and contains zero grams of sugar. This is one of the best protein powders, because it has no GMO's and has no artificial colors, sweeteners, or flavors. Best of all, it's a gluten-free product.
Vega Protein & Greens comes in Chocolate, Vanilla, Berry, Plain Unsweetened, and Coconut Almond flavors.
>> Or get it on Thrive Market here.
This protein powder is an excellent choice with 20g of plant-based protein from organic pea protein and organic brown rice.
With no artificial sweeteners, colors, or flavors, you can ensure you're getting high-quality protein from organic ingredients from both fruits and vegetables and are all non-GMO.
This option has 7 grams of fiber, 2 grams of sugar, and 130 calories and blends up easily into a smooth texture.
Purely Inspired Organic Protein comes in Decadent Chocolate and French Vanilla flavors.
>> Grab this protein powder on Amazon here.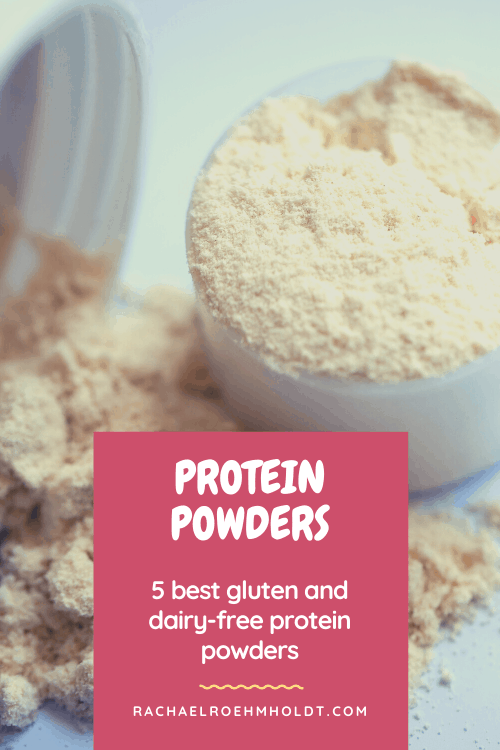 This protein powder option has 22 grams of protein made from peas and sprouts, with no added sugar. It's also organic and dairy-free like the rest in this list. Garden of Life Raw Organic Protein is a certified gluten-free protein powder.
With 110 calories, this protein powder sets itself apart with 3 billion probiotics and enzymes, which makes it is an awesome protein powder choice for optimal digestion.
Garden of Life Raw Organic Protein Powder comes in Vanilla, Chocolate, and Vanilla Chai flavors.
>> Grab this protein powder on Amazon here.
>> Or get it on Thrive Market here.
This protein powder contains 21 grams of plant-based protein with 120 calories per serving. With digestive enzymes included, this option promotes that its good for even those with sensitive stomachs and is free of all major allergens.
This powder is made with non-GMO ingredients, but has 4 grams of sugar per serving.
PlantFusion Complete Plant-Based Protein Powder comes in Creamy Vanilla Bean, Rich Chocolate, Red Velvet Cake, Natural – No Stevia, and Cookies and Cream.
>> Grab this protein powder on Amazon here.
This protein powder contains 20g of protein from organic pea protein, quinoa, hemp, and chia. You can expect 120 calories plus 1 gram of sugar per serving with nutrient-dense fruits and veggies.
This is a great protein powder option for those on a gluten-free dairy-free diet as its certified USDA organic and non-GMO.
Amazing Grass Organic Plant Protein Blend comes in Vanilla and Chocolate Flavors.
>> Grab this protein powder on Amazon here.
>> Or get it on Thrive Market here.
Bonus Pick!
I know this is a "best 5" post, but I had to share this other brand I've been using and loving lately. Orgain organic protein powder has 21 grams of protein per serving with 7 grams of fiber and 1 gram of naturally occurring sugar. One serving has 160 calories, and I can stay full all the way through lunch when I drink this for breakfast.
>> Grab this protein powder on their website here. Get 25% off two of their bestselling flavors when you buy both!
As you can see, there are plenty of high-quality options for a gluten-free dairy-free protein powder out there. I encourage you to try one or a few to find one you love.
You may even consider looking for smaller sample sizes of these protein powder options to test them out if you want to sample them before investing in a whole tub.
If you're interested in learning more about the types of protein powders and how to choose one for you, or if a protein shake is more your style, be sure to check out this post: Dairy-free Protein Powders and Shakes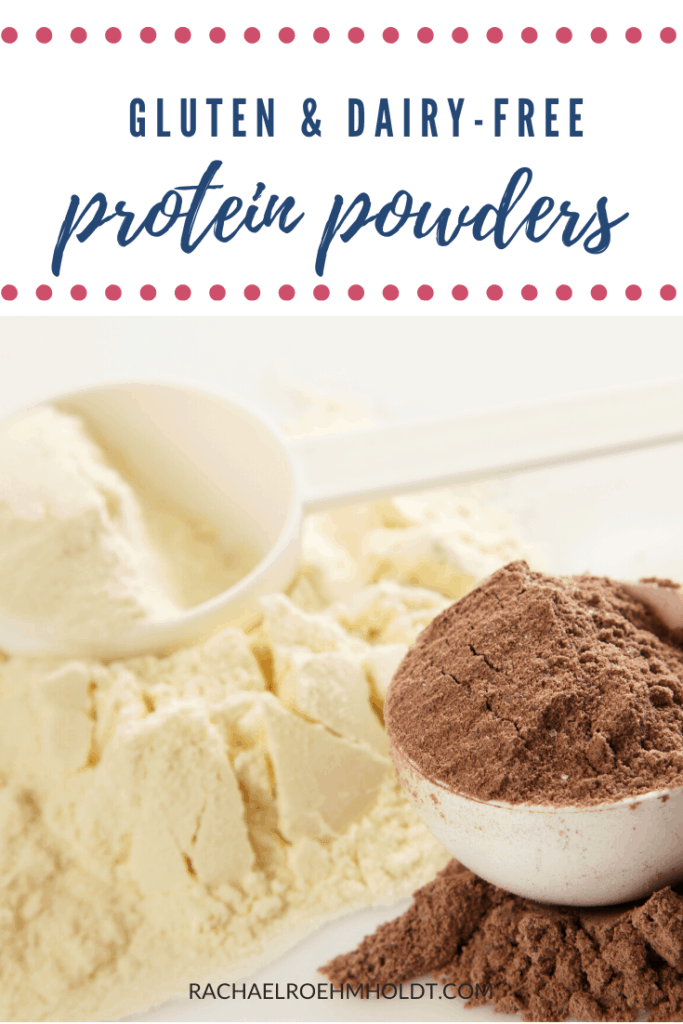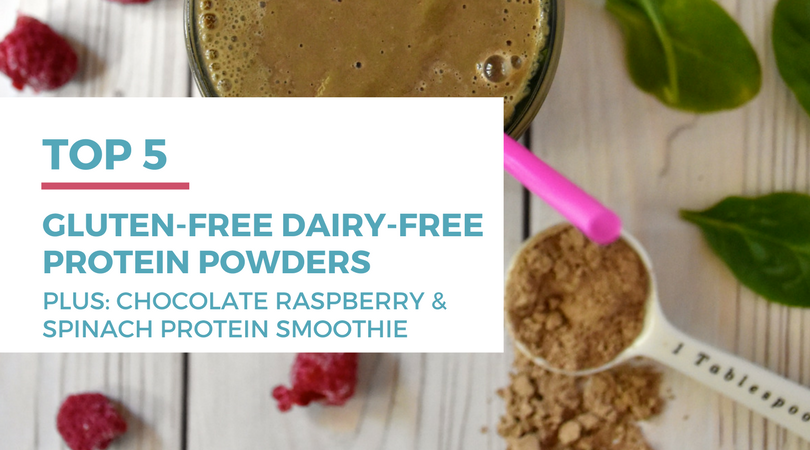 Yield: Serves one
Chocolate, Raspberry & Spinach Protein Smoothie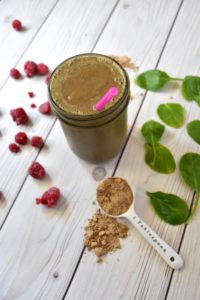 Try out this delicious gluten and dairy-free protein smoothie recipe with chocolate, frozen raspberries, and fresh spinach. Try out your favorite gluten and dairy-free protein powder for this one!
Ingredients
1 cup raspberries
1 large handful spinach
1 cup almond or other non-dairy milk
Ice
Instructions
Add all ingredients to a blender. Blend on high for 30-60 seconds until smooth.
Transfer to a glass and serve.

I hope that with this list of the best protein powder options, you'll find one that suits your tastes and preferences and gets you inspired to start enjoying more smoothies in your diet over the warmer months to come.
Love this post? Be sure to check out some of my other great breakfast posts!
Not sure what to make for breakfast on a gluten and dairy-free diet? These posts will give you loads of ideas!