Is popcorn your favorite movie snack? Find out if this food is gluten-free and safe to continue enjoying on a gluten-free diet.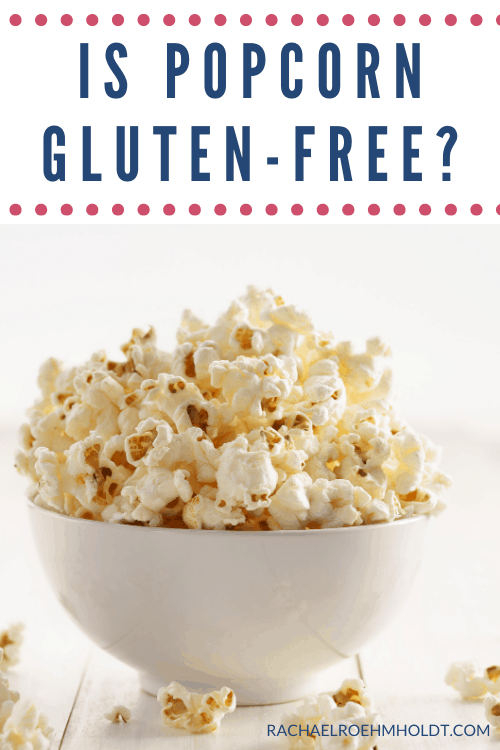 Note: I am a proud Amazon, Chomps, and Thrive Market affiliate and am happy to recommend their service and products to you. Please know that as an affiliate, I may receive a small commission on the products you purchase after clicking through my links. For more info, please see my disclosure policy here.
I don't know about you, but popcorn means movie time. While I don't particularly love popcorn from movie theaters (too heavy, salty, and fatty for my taste), I feel like popcorn is the ultimate snack when it comes to lounging at home and watching movies or my favorite shows.
But if you're like me, you worry about keeping with your gluten-free diet. Is popcorn gluten-free? What is popcorn anyway? Is it safe for a gluten-free diet?
In this post, we'll answer all those questions and get you the answers you need to feel good about enjoying this food and sticking with your diet.
What is popcorn?
Popcorn is a type of corn that when heated pops and expands into a fluffy starchy snack food. It is known as popcorn, because it "pops" from the kernel when the pressure from the moisture inside gets to be too much and the starch from the inside expands and pops out.
What is gluten?
Gluten is a protein found in most wheat products, and acts as the "glue" that helps to hold wheat, barley, kamut, spelt, farro, durum, bulgur, rye, and semolina together to maintain their shape.
Gluten is naturally occurring, and therefore is impossible to strip away from the grain. If a grain naturally has gluten in it, there's no way to make that food gluten-free.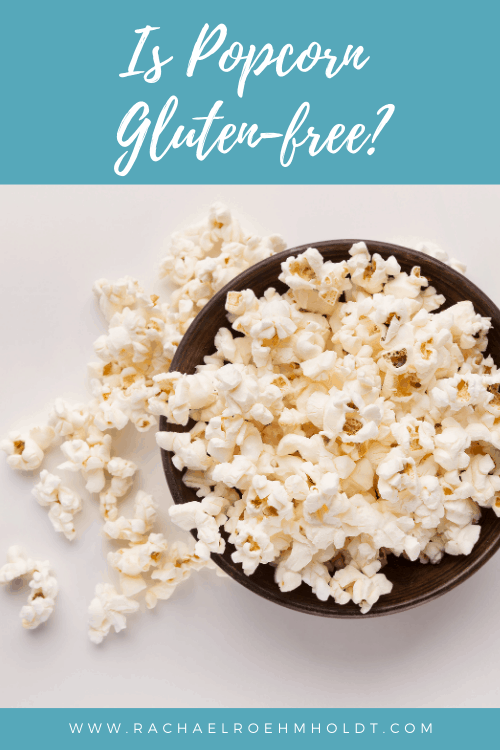 Is popcorn gluten-free?
Since popcorn comes from corn kernels, it is gluten-free and safe for a gluten-free diet when it is in its most natural form.
While the popcorn itself is gluten-free, that doesn't mean that all popcorn is safe for a gluten-free diet. If you buy microwave popcorn or packaged popcorn with seasonings and spices on it, you may run into gluten.
Read on: Is corn gluten-free?
When popcorn isn't gluten-free
Popcorn is gluten-free naturally, but if you buy microwave popcorn or pre made and packaged popcorn, you'll want to be sure that any seasonings or spices that have been added to it do not contain gluten.
The easiest way to find this information out is to read the ingredients list on the package before purchasing. Review the list for hidden sources of gluten, so you know to avoid that product. Most popcorn products are gluten-free, but it is always a good idea to check before buying.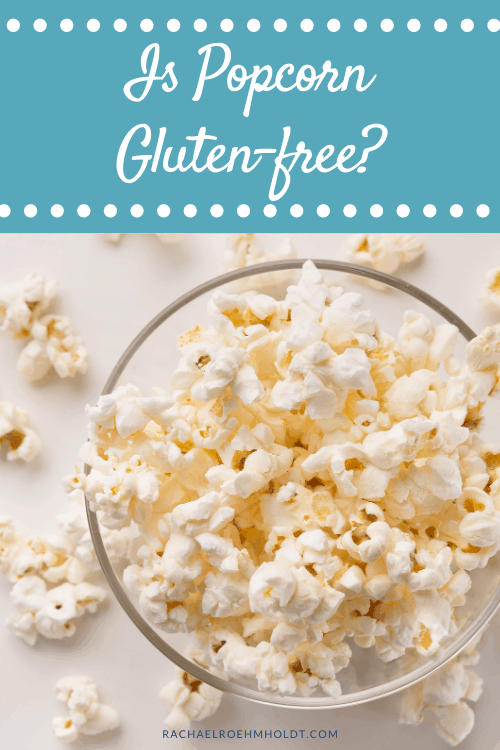 Is popcorn dairy-free?
Popcorn is naturally gluten-free and dairy-free, not all popcorn is dairy-free. Many microwave popcorn and packaged popcorn have butter or other dairy products in them, making them not safe for a dairy-free diet.
Do your research, read ingredients lists, and double check that what you buy is safe for your diet.
I hope if you've been looking to find out if your favorite movie snack is gluten-free, that you can confidently enjoy popcorn moving forward. As always, be sure to check ingredients lists before buying to ensure that what you pick up is safe for your diet.
If you have any doubt, the best way to know if something is gluten-free is to make it yourself at home. Pick up some plain popcorn kernels and pop your own at home, then add your own favorite toppings and seasonings.
If you loved this post, I hope that you'll share it with your friends on Facebook and pin it for future reference on Pinterest.
Love this post? You might also want to check out these!
Find out if your favorite foods and ingredients contain gluten with these posts!