Get a list of popular restaurants and fast food chains and their gluten-free menu options or options with no gluten ingredients.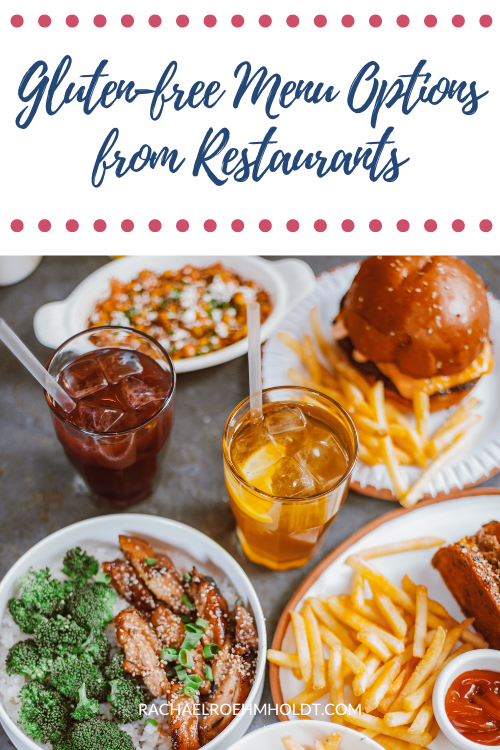 If you are on the hunt for a place to eat out and wondering how you can stick with your gluten-free diet, you're in the right place.
There are so many restaurants out there that it can be overwhelming to think that you'll have to scour through tons of information to find out if a restaurant is an okay choice for you and your diet.
That's why I've done the heavy lifting by doing research on some of the most popular restaurants and fast food chains. I've looked through the allergen statements, reviewed menus item by item, and rounded all this information up into quite a number of different blog posts.
I hope that by using this Gluten-free Restaurant Guide that you will be able to find out which restaurants and which options will work best for you and your diet.
Keep in mind that I haven't found one restaurant that commits to being 100% gluten-free, but there are some that do their best to offer no gluten options. Or even use separate gloves, utensils, and a dedicated prep area for folks who are concerned about cross contamination.
In each link I've posted here, you'll find information on each restaurant, including what the company has to say about how they handle gluten (and oftentimes other allergens), what you need to know about each restaurant's options, and an item-by-item list of which options at each restaurant contain no gluten ingredients.
To get started, you may want to check out my restaurant tips for dining out on a gluten -free diet.
If you are looking for a shortcut for only fast food restaurants and a quick overview of what options might be okay for you while avoiding gluten, check out this post on Gluten-free Fast Food.
Gluten-free Menu Items from Restaurants
Gluten-free Options in Different Cuisines
If you loved this post, I hope that you'll share it with your friends on Facebook and pin it for future reference on Pinterest.
Looking for more information on gluten-free restaurants?
Be sure to check out my Gluten-free Restaurants post or get all the information in one place with my Gluten-free Restaurant Guide!