Find out if almond milk is a good milk alternative for a gluten-free diet, plus which brands to look for at the store.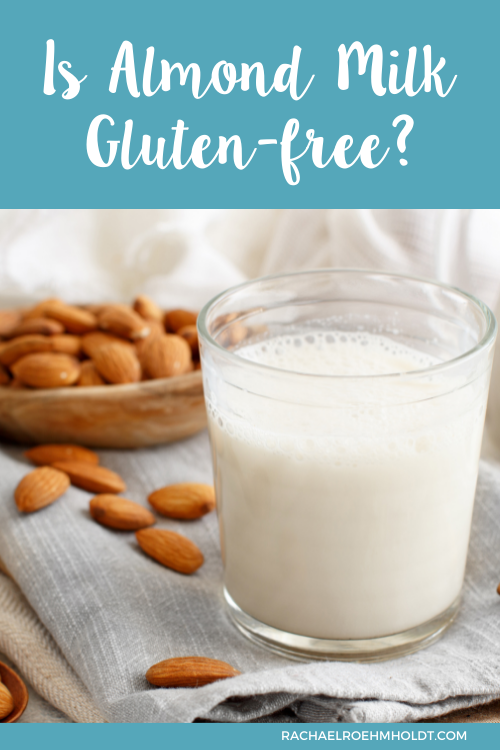 Note: I am a proud Amazon, Chomps, MunkPack, and Thrive Market affiliate and am happy to recommend their service and products to you. Please know that as an affiliate, I may receive a small commission on the products you purchase after clicking through my links. For more info, please see my disclosure policy here.
Are you looking for a gluten-free and dairy-free milk alternative? Almond milk is a popular choice for folks who are trying to cut back on their dairy consumption and eat more plant-based foods.
Almond milk has healthy fats, a little bit of protein, and has a great flavor and a texture that mimics milk. It can be used in a variety of ways just like milk can: in cereal, in baked goods, and stirred into your favorite hot beverage.
If you follow a gluten-free diet, you know that looking at all foods and drinks that go into your body is important so you don't wind up sick. If you plan to try out almond milk, read this post on how it fits in with eating gluten-free.
In this post, we'll talk about what almond milk is, what it's made of, and if it's gluten-free. We'll also discuss if it's dairy-free, vegan, and how to make your own. We'll wrap up the post with a few brands to look out for while shopping and where to find it in the store.
What is almond milk?
Almond milk is a non-dairy beverage that many folks who follow a dairy-free diet drink and use in their cooking and baking. Folks who are also lactose intolerant use almond milk as a dairy alternative.
Read on: Dairy-free Milk Alternatives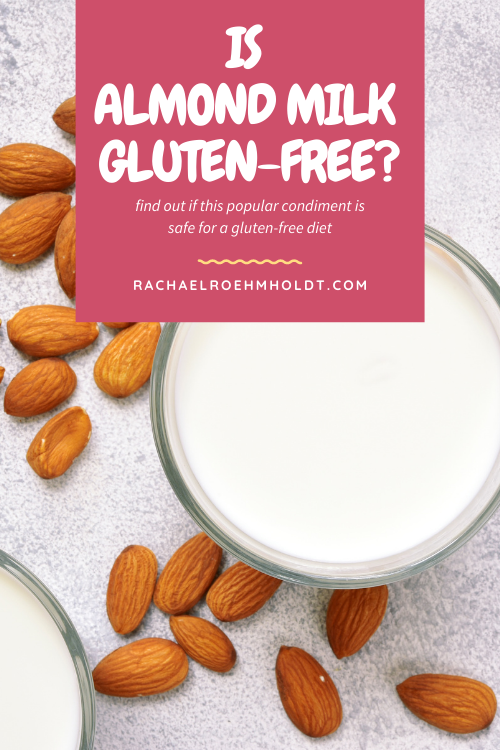 What is almond milk made of?
Almond milk is made with almonds that have been soaked in water. The almonds are drained, then added to a blender with more water, and blended until it reaches a creamy milk-like consistency.
You can buy almond milk or make it at home. You can enjoy it plain or add some flavorings to it, like sweeteners, cocoa, or vanilla for different variations.
What is gluten?
Gluten is a protein found in most wheat products, and acts as the "glue" that helps to hold wheat, barley, kamut, spelt, farro, durum, bulgur, rye, and semolina together to maintain their shape.
Many processed foods have hidden gluten in them in the form of gluten or wheat derivatives. These are also in the form of flavorings, binders to keep ingredients together, or other additives.
Is almond milk gluten-free?
Almond milk is almost always gluten-free as almonds are a naturally gluten-free food. Assuming the only other ingredients in the almond milk you're drinking are water and preservatives, it should be safe for your gluten-free diet.
You can always look for a gluten-free label if you're not certain if the brand you're choosing is a good option for you.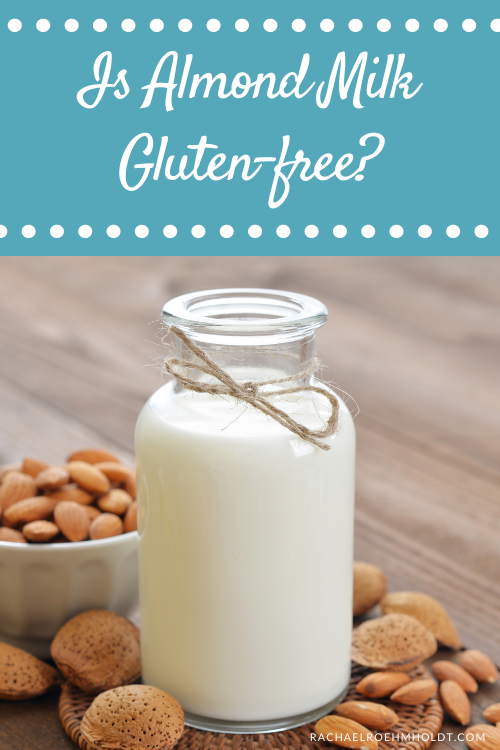 Is almond milk dairy-free?
Almond milk is dairy-free and is great for a dairy-free diet. This beverage allows you to enjoy many recipes and foods that call for milk if you can't or don't eat dairy or lactose.
Almond milk works well with cereal, in coffee, in baking, and really any other place you'd like to replace cow's milk with a dairy alternative.
Read on: Is almond milk dairy-free?
Is almond milk vegan?
Almond milk is vegan and is a great option for folks who avoid animal products. Almond milk can be used in almost all recipes that call for cow's milk by replacing the amount one for one.
Can I make my own almond milk?
Making your own almond milk is easy, especially if you have a blender. A high speed blender like a Vitamix or Ninja work best for this, but even if you don't have one, you can make almond milk at home.
To make your own almond milk, soak ½ cup almonds overnight in a bowl with water covering the nuts.
In the morning or whenever you're ready, drain the soaking liquid and add the almonds to a blender.
Add 3 cups of water to the blender and blend on high for about 30 seconds. If you want to, you can strain the almond milk through a nut milk bag, but if you are using a high-speed blender, you probably won't need to.
Store in a glass mason jar or other sealable container and store in the fridge for up to 5 days.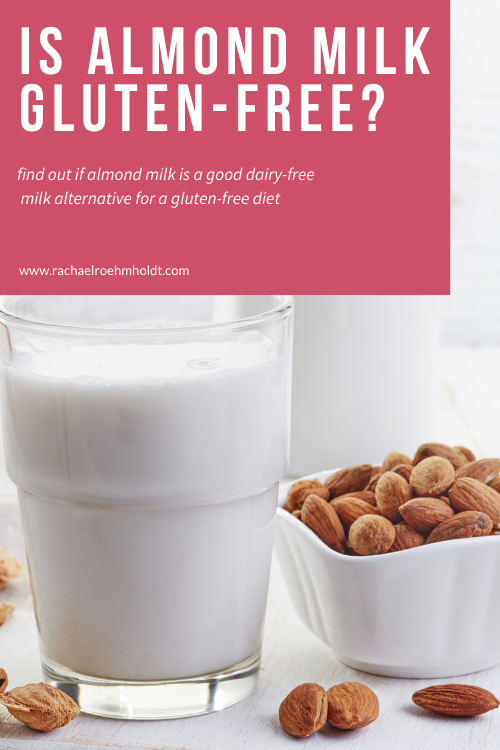 Brands of gluten-free almond milk
Since almond milk is almost always gluten-free, it won't be hard to find an almond milk that works for a gluten-free diet. Just to give you some ideas, here are some brands you can look for at the grocery store next time you're out shopping.
365 Organic almond milk
Trader Joe's almond beverage
Read on: 101 Gluten-free Dairy-free Snacks
Where to buy almond milk
You can buy almond milk at most grocery stores these days, as well as health food stores. Look for it in both the refrigerated section of your grocery store and the area with shelf stable dairy alternatives.
You may need to look for it in the health food section of your grocery store if your specific store has that. Depending on the store, it can be with the cow's milk products or in its own area.
If you can't find almond milk near you, you can also buy it on Thrive Market and Amazon. They both have a number of options that you can have shipped directly to your home.
You can find out how to use almond milk in my 75 gluten and dairy-free breakfast ideas, gluten-free dairy-free breakfast food list, and dairy-free yogurt posts.
If you've been interested in trying out almond milk in your gluten-free diet, I hope this post has been informative for you. Almond milk is almost always gluten-free and safe for your diet, as well as for folks who are dairy-free, lactose intolerant, and vegan.
Pick a brand and try it out in your favorite cereal, baked goods, or with some gluten-free cookies!
If you loved this post, I hope that you'll share it with your friends on Facebook and pin it for future reference on Pinterest.
Love this post? You might also want to check out these!
Find out if your favorite foods and ingredients contain gluten with these posts!