Jello is the wiggly, jiggly, transparent treat that most of us enjoyed as kids. If you eat a gluten-free diet, you might be wondering if it's gluten-free. Find out the details and the answer to that question in this post.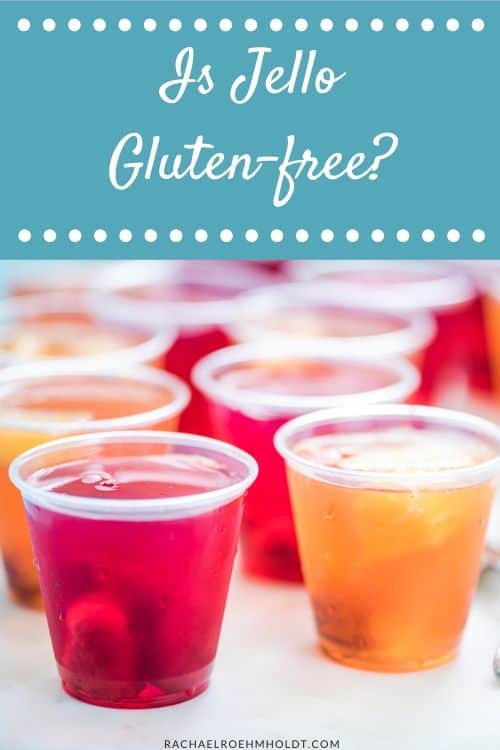 Note: I am a proud Amazon, Chomps, MunkPack, and Thrive Market affiliate and am happy to recommend their service and products to you. Please know that as an affiliate, I may receive a small commission on the products you purchase after clicking through my links. For more info, please see my disclosure policy here.
Did you love to eat Jello when you were a kid? That wiggly jiggly, strange not-solid, not-liquid treat that no one can really explain what texture it is, but we can all agree on its deliciousness.
I have fond memories of eating Jello when I was younger, and particularly of my grandma putting bits of pineapple and and cherries into a Jello mold and serving it as a dinner food, and dare I say, calling it a "salad."
These days, Jello doesn't quite make it to my dinner table, but I still enjoy the flavors of it and my son in particular really loves Jello as well.
If you've been eating a gluten-free diet or you're just getting started with one, Jello is one of those foods that you might be wondering if it contains gluten.
In this post, we're going to answer the question "Is Jello gluten-free?" by finding out the ingredients of Jello and discussing what Jello options there are for a gluten-free diet.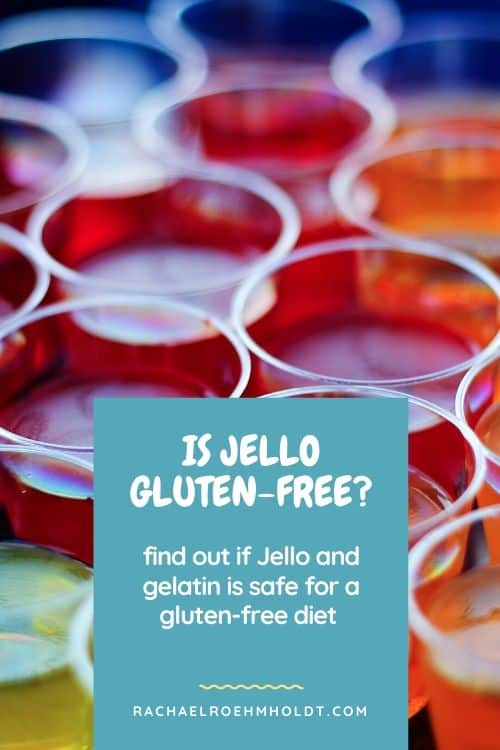 Jello ingredients
I chose to look at a box of black cherry gelatin mix from Jello for no other reason than just to choose a random flavor for the sake of this post.
However, looking through the different flavors of Jello, I discovered that they are all relatively the same except for the flavoring included in each of the gelatin mixes.
When looking at a box of Jello black cherry gelatin mix, the ingredients listed are: sugar, gelatin, adipic acid (for tartness), and contains less than 2% of artificial flavor, disodium phosphate and sodium citrate, fumaric acid, red 40, and blue 1.
Is Jello gluten-free?
Based on the ingredients list that we found in the above example, we can see that there are no hidden names or sources of gluten in Jello. Assuming you're using the Jello brand of Jello and not some other gelatin brand, you can be sure that Jello is gluten-free.
Jello is not labeled as gluten-free and there are no hidden names of gluten in an ingredient list. However, since it is not labeled as "certified gluten-free," it doesn't indicate whether or not it might be processed on the same facilities as other gluten products.
This means if you are extremely sensitive to gluten with a food intolerance, this small amount of cross-contamination may affect your body. However, this also means it may NOT affect your body, so use your own discretion on whether you decide Jello is good for your diet or not.
Now that we know that Jell-O brand of gelatin mix is gluten-free let's talk about some other questions that you might have related to Jello gelatin and a gluten-free diet.
Read on: 101 Gluten-free Dairy-free Snacks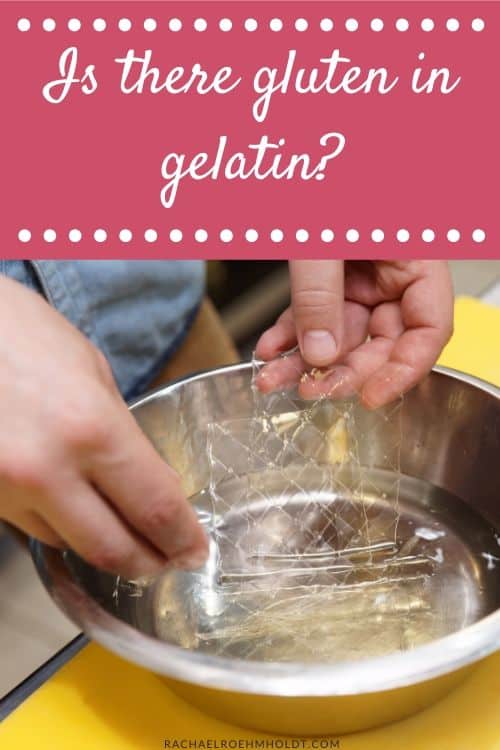 Is there gluten in gelatin?
Generally speaking, there is no gluten in gelatin, because gelatin is a collagen protein made from boiling animal parts, such as bones, skin, and connective tissues in water to extract the protein that we use in cooking and other food products.
Is Knox gelatin gluten-free?
Knox gelatin is gluten-free because the main ingredient in Knox gelatin is just one ingredient: gelatin. Since we know that gelatin is naturally gluten-free, we also know that Knox gelatin is also gluten-free.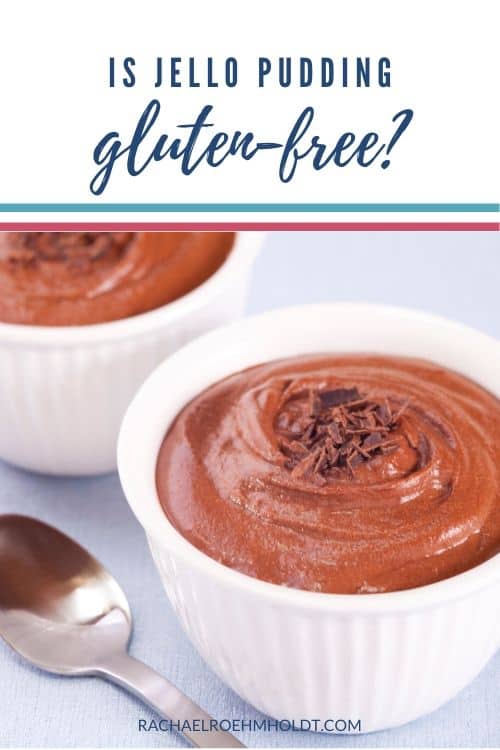 Is Jello pudding gluten-free?
Jello pudding is considered to be gluten-free, because there are no gluten-containing names in the ingredient list. As of right now, Kraft, the maker of Jello, is known for being good about placing notes on products that contain gluten.
I've also done a bit of research on this, and found although the normal Jello pudding is gluten-free and uses cornstarch as the main thickening agent, the Jello "cook & serve" pudding contains dextrose, which CAN be a hidden source of gluten (it is often made with corn, but can be made from rice or wheat).
According to a few other bloggers (here and here) who have done research into this, the Jello brand of Cook & Serve pudding is gluten-free, despite the dextrose found in the ingredient list.
With as much confidence as we can have without a gluten-free label, we can consider Jell-O pudding a gluten-free product. It never hurts to read ingredient lists and look for hidden sources of gluten.
Read on: Is Jello pudding gluten-free?
Read on: Is pudding gluten-free?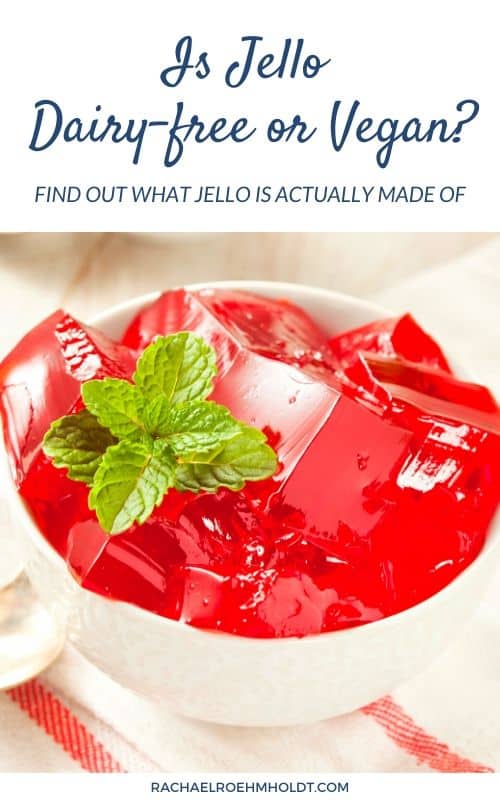 Is Jello vegan?
Jello is gluten-free, however it is not vegan. Jello contains gelatin, which is not a vegan product because it comes from animal products. Gelatin is made from water, animal bones, ligaments, and skin. Since vegans don't eat any animal products or meat, Jello is not considered to be a vegan product.
Is Jello made from animal bones?
Jello is made from gelatin, which is made from animal bones. Gelatin is often made with water, animal bones, skin ligaments, and other leftover parts from an animal.
This mixture is boiled down until the collagen protein can be extracted from the animal products. This collagen protein is also known as gelatin, so yes, we can say Jello is made from animal bones.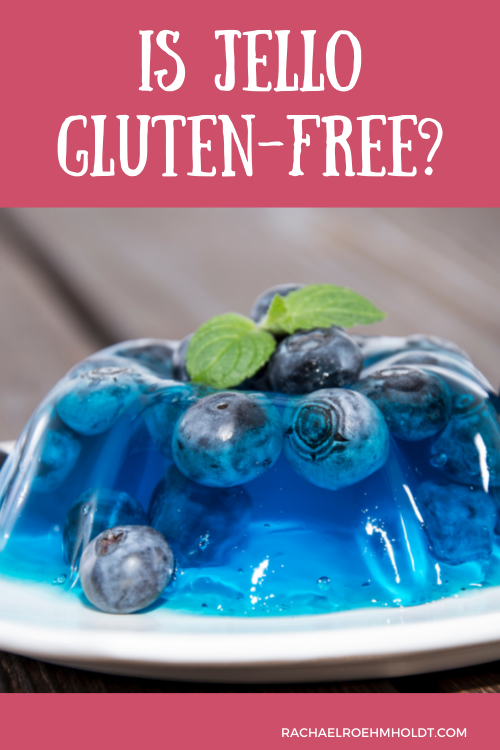 Is Jello dairy-free?
Jello gelatin does not contain any dairy products in the ingredient list on the packaging.
It is also not usually made using dairy products or milk when you follow the directions on the mix, so yes Jello is a dairy-free product and a safe to eat on a dairy free diet. Jello gelatin is gluten-free and dairy-free.
How to select a gluten-free jello
In order to select a gluten-free Jello, you simply need to make sure you're using the Kraft brand of Jello from the grocery store. Any and all products from Jello in the gelatin line are gluten-free.
Of course to be super sure of that (and any product when you're avoiding gluten) just in case something has changed from the date that this blog post has been published, checking the ingredient list as well as any notes about if there are gluten inside the product is always encouraged.
I hope that this comprehensive post has helped clear up this common question of "Is Jello gluten-free?" for you. If you've been avoiding Jello on your gluten-free diet up until this point, you can safely add it back in as a fun treat for you or your kids.
f you loved this post, I hope that you'll share it with your friends on Facebook and pin it for future reference on Pinterest.
Love this post? You might also like to check out these!
Find out if your favorite foods and ingredients contain gluten with these posts!