Looking for a gluten-free dairy-free snack or protein bar? Check out these 5 delicious and healthy snack bars you can get at the store that are made from minimal ingredients and will help get you through until your next meal time.
Note: I am a proud Amazon and Munkpack affiliate and am happy to recommend their service and products to you. Please know that as an affiliate, I may receive a small commission on the products you purchase after clicking through my links. For more info, please see my disclosure policy here.
When it comes to gluten-free and dairy-free snacks, there isn't anything more convenient than a snack bar or protein bar.
When I'm on-the-go a lot running errands, taking my son to school or activities, or even just on a day I know we'll be out of the house for a while, I always make a point to pack a bag or stash a few gluten-free dairy-free snack bars in my purse, bag, or car.
Having one of these snack or protein bars on hand is seriously helpful when you're out and about or even just in your pantry for those times when you just need a quick boost to your blood sugar to feel better until your next meal time.
I've tried a number of different snack bars and have landed on these five different ones as my "Top 5." One of the five I haven't actually tried (because I don't eat eggs and eggs are a main ingredient) but have heard raving reviews of them, so I've added them to my list.
I've tried to give you a rundown on the health score for each, including added sugars and protein to help you make an informed decision on what's right for you.
These gluten-free dairy-free snack bars range from fruit & nut bars to granola bars to straight-up protein bars.
If you've ever found yourself wondering what a good brand or option for a go-to snack option to keep on hand, this post is for you! Check out my Top 5 gluten-free dairy-free snack bars below.

Larabars are hands-down my favorite gluten-free dairy-free snack bars. I love the variety of flavors they offer and that the ingredients list is short and sweet. When you can pronounce every ingredient in the list – and know what they are – you know it's a good choice.
My favorite flavors are Peanut Butter Chocolate and Blueberry Muffin. I try to keep these on hand in my pantry, car, and purse for quick and easy pick-me-ups.
These blueberry muffin bars are on the high end with 17grams of sugar per bar and just 3 grams of protein, but I feel like knowing the sugar comes from dates and natural ingredients makes me feel a little better about this option.
All their original Larabar flavors are gluten-free and dairy-free, including Banana Chocolate Chip, Chocolate Chip Brownie, Chocolate Chip Cookie Dough, Cherry Pie, Mint Chip Brownie, and Peanut Butter Cookie.
>> Click here to get a 16-bar box in any flavor on Amazon here.
>> Or get them on Thrive Market here.

Many KIND bar varieties contain milk meaning they aren't dairy-free, but all of them ARE gluten-free. After doing some research, I discovered that a number of the "healthy grains" bars are in fact dairy-free even if they aren't labeled as such.
In the maple pumpkin seed bar, you'll get 3 grams of protein and 5 grams of added sugar, which makes these are a healthy snack choice without spiking your blood sugar.
A quick look through the ingredient lists told me that these ones are safe on a gluten-free dairy-free diet: Maple Pumpkin Seeds with Sea Salt, Cinnamon Oat, Double Dark Chocolate, Dark Chocolate Chunk, Oats & Honey, Peanut Butter Dark Chocolate, Vanilla Blueberry, and Almond Butter Dark Chocolate.
>> Click here to get 6 boxes (30 bars) on Amazon here.
>> Or get them on Thrive Market here.

Enjoy Life chewy bars are another delicious snack bar to keep on hand. They come in flavors like cocoa loco, sunseed crunch, and caramel apple in this variety pack, and they're "free" of other allergens as well including eggs and nuts.
If you don't mind a little bit of added sugar (that doesn't come from a natural source) in your snack bar, these ones are a tasty treat that taste like dessert!
The cocoa loco flavor has 2 grams of protein and 9 grams of sugar, which doesn't make it the healthiest option on my list here – but still a decent choice considering it's "free" from so many allergens.
You can also find these Enjoy Life chewy bars in other flavors like Caramel Blondie, Carrot Cake, Lemon Blueberry Poppyseed.
>> Click here to try a few flavors and get 6 boxes (30 bars) on Amazon here.
>> Or get them on Thrive Market here.

RX bars made the list of my Top 5 gluten-free dairy-free snack bars, because they have SO MANY flavor options. I haven't personally tried them because I also don't eat eggs, but have friends who have told me they're delicious.
I love that they have a good amount of protein AND are made using just a few natural ingredients. This peanut butter & berries flavor has 12 grams of protein and 15 grams of sugar, which I feel okay about considering the sugar itself is from natural sources like raspberries.
RX bars also come in Peanut Butter Chocolate, Peanut Butter, Peanut Butter & Jelly, Gingerbread, Double Chocolate, Mint Chocolate, Chocolate Hazelnut, Mango Pineapple, Blueberry, Chocolate Sea Salt, Coconut Chocolate, Chocolate Chip, and Mixed Berry flavors.
>> Click here to get a 12-pack on Amazon here.
Read on: Gluten-free protein bars

These Orgain simple protein bars are a great option when you're looking for a gluten-free dairy-free protein bar without all the extra added ingredients so many snack bars are filled with.
These snack bars have 12 grams of protein(!!!) per bar, which frankly is amazing when you need a mid-day snack. They're a little high in sugar at 14 grams per serving, but overall another delicious and healthy snack bar to try out on your gluten-free dairy-free diet.
Orgain simple protein bars also come in Blueberry Almond and Chocolate Almond Sea Salt flavors.
>> Click here to get a 12-pack on Amazon here.
>> Or get them on Thrive Market here.
Read on: Are Clif bars gluten-free?
Bonus Pick!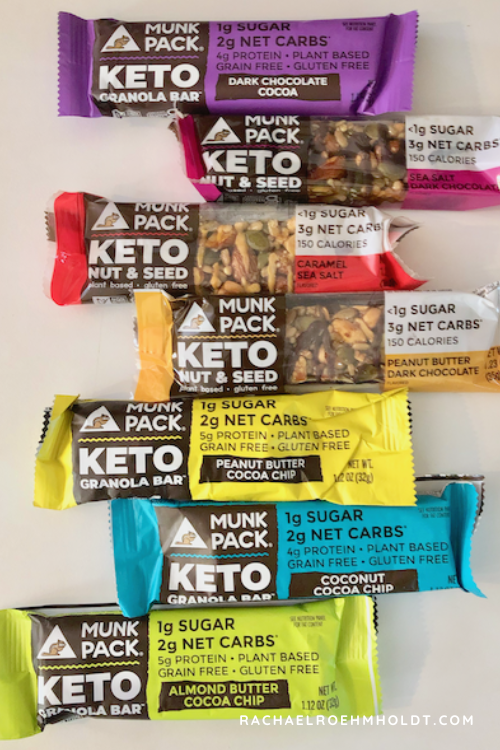 I was recently introduced to these keto bars when the brand reached out to me to review these bars (note that I am an affiliate for this product).
They are certified gluten-free through a third party tester, many are dairy-free, and they're refined sugar-free. The bars contain allulose in place of sugar, which is perfect if you're trying to stay away from sugar but still are looking for a sweet treat.
They come in a variety of delicious flavors in both granola bars and nut & seed bars, like peanut butter dark chocolate, sea salt caramel, and dark chocolate cocoa. I don't even think I can pick a favorite – they are ALL good!
The dairy that might be present in these bars comes down to the chocolate that is in some of their flavors.
The Munkpack website states that: "Milk is declared as a trace allergen in some of our products due to occasional ingredients being manufactured in the same facility as other products that use milk." I had no issue enjoying the chocolate flavored bars, but keep that in mind if you're sensitive to even trace levels of dairy.
Find these bars at many local Whole Foods, Sprouts, and even REI stores. If you can't find them locally, you can also find them on Amazon and through the Munkpack website directly.
I hope this list of Top 5 gluten-free dairy-free snack and protein bars has been helpful for you! Pick up one (or all) of these different flavors and brands to find some new favorites.
In the spring and summer when I plan to be out of the house more, I even plan ahead and buy extra boxes JUST for keeping in the trunk of my car so we're never in that dangerous "hangry" zone.
If you loved this post, I hope that you'll share it with your friends on Facebook and pin it for future reference on Pinterest.
Love these snack ideas? You might also want to check out these posts!
Get tons of snack ideas from this list of gluten and dairy-free posts all about snacks!
If you would love to see some of my other product recommendations, check out some of my other "Top" posts below:
If you'd love even more inspiration and recipes for a gluten-free dairy-free diet, be sure to grab my free shopping list plus 5 free recipes by entering your details below!