Does your kid or toddler need to follow a gluten and dairy-free diet, but you have no idea what snacks you should buy for them at the store? Check out this post, where I'll share 21 easy-to-find snack ideas to help keep your kiddo full between meals, and give you peace of mind.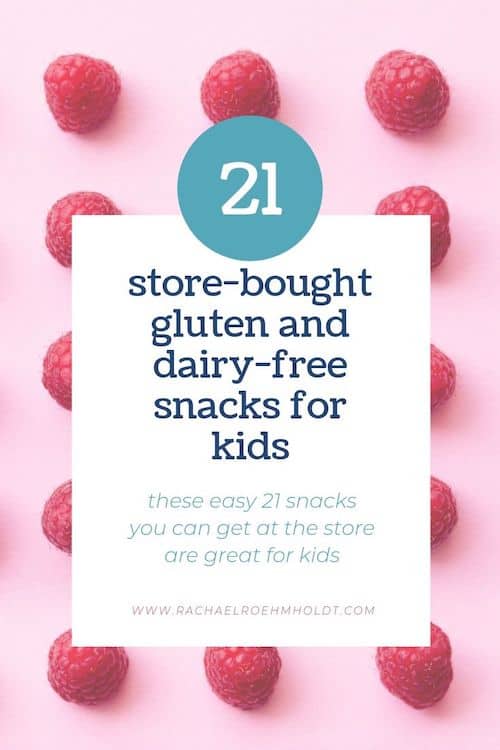 Note: I am a proud Amazon, Chomps, MunkPack, and Thrive Market affiliate and am happy to recommend their service and products to you. Please know that as an affiliate, I may receive a small commission on the products you purchase after clicking through my links. For more info, please see my disclosure policy here.
When it comes to snack time, it can be tricky to keep your kids satisfied. If they are eating a restricted diet, whether that's gluten, dairy, eggs, or some other food, it can be downright challenging.
Not only are you dealing with picky eaters (not all kids, but many of the ones I know), but if you have limited options, it's hard to find things that they will eat and that are safe for them.
Even though my 5-year-old son eats both gluten and dairy, he eats each and everything that I'm sharing with you in this post. I say that to tell you that these are definitely kid-approved, but also that even the kids who love bread and cheese can learn to love them.
About 90% of the snack ideas on this list fall in the "healthy food" category, and include fruit, veggies, and higher protein options.
Most of the items on this list can be found at grocery stores, which is great to know when you're on the go a lot, or if you live somewhere that doesn't have a specific health food store.
What I love most about this list is that so many of these items are available wherever I go. I rely on lists like these when I'm traveling, so I know that whatever I buy, my son will eat, but are safe for me as well.
I also love that if I find myself traveling somewhere I've never been, I can rely on the fact that most of these items will be available in grocery stores wherever I am.
If you like to have some of these snacks on hand, you might want to stock up online through Amazon or Thrive Market.
Thrive Market also has a TON of great gluten-free dairy-free snack and kid-friendly items that are their own specific brand and you can't find anywhere else. They offer the best deals and amazing service for folks who really care about the quality of their food.
If you aren't familiar with Thrive Market, they have amazing gluten and dairy-free foods, as well as supplements and probiotics.
You can check out all the great things I have to say about this service, AND get a 30% off your first order AND a free gift (up to $24 value) when you sign up for either their monthly or annual plan.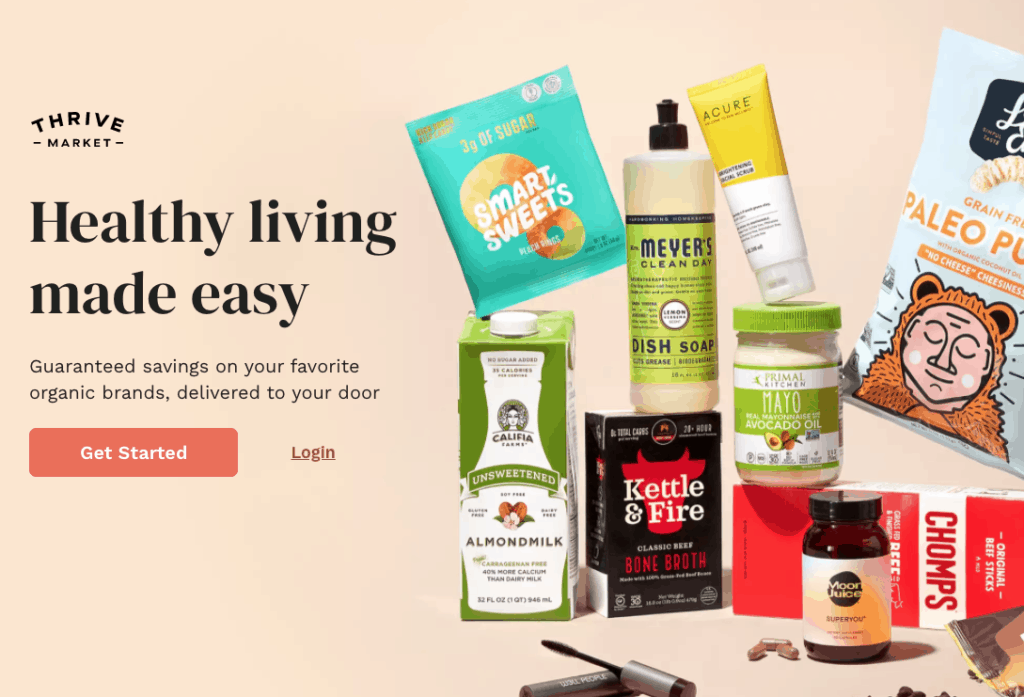 Gluten-free Dairy-free Snacks for Toddlers
What about toddlers? Will this list work for toddlers on a gluten-free dairy-free diet?
Many of these ideas are great for toddlers – but you'll want to use your discretion for small food items, like nuts or dried fruit.
In my experience, toddlers love a variety, so making up small snack plates with gluten-free dairy-free snacks is a good idea.
A few of ideas gives these littles some variety, and you can mix and match some of the items from this list.
Foods like fresh fruits, veggies, nut butters or peanut butter (if you've introduced nut butter yet) and jelly on your own bread, gluten-free pretzels, and gluten-free crackers are all great for toddlers.
I hope this list gives you some inspiration for gluten-free dairy-free snacks for kids that you can buy at the store. I know I keep coming back to this list time and time again for my own family, and I hope you do too!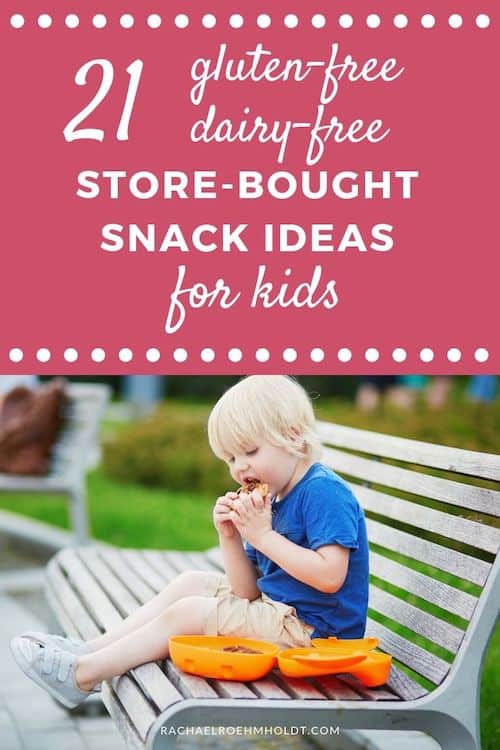 21 Store Bought Dairy and Gluten-free Snacks for Kids
1. Fresh fruit
Any and all fresh fruit is both gluten and dairy-free, and best of all, you can find it at any grocery store.
With a natural instant energy booster, plus fiber to keep things moving, fruit is always a good choice for snack time. In my house, fruit is always one of the best choices when it comes to grabbing a snack.
2. Mixed nuts
Mixed nuts are an easy store-bought salty snack idea for a kiddo on a gluten and dairy-free diet. Grab a jar from the store and stash them in your pantry or in your car for an on-the-go easy snack.
If you find your child is picking out only their favorites, stick with buying specific nuts from the bulk bins at your grocery store instead.
Read on: Are nuts gluten-free?
Read on: Are peanuts gluten-free?
3. Banana chips
Banana chips are easy to find at most stores. My family's favorite are the ones from Trader Joe's, because they taste great and are reasonably priced.
Banana chips are delicious on their own or mixed into homemade trail mix! You can also find some on Amazon here.
4. Corn tortilla chips & salsa or guacamole
Corn tortilla chips and salsa or guacamole are delicious and easy to find at most grocery stores. I think my son would eat guacamole for every meal if I let him.
Luckily, all three of these foods are gluten-free and dairy-free – yay!
Read on: Gluten-free tortilla chips
5. KIND bars
We love KIND bars in our house! Best of all, they are delicious and kid-friendly! You can find them at a lot of grocery stores these days or on Amazon here.
Look for them with other granola bars or in the health food section of your store. All are gluten-free, but not all are dairy-free so be sure to check the ingredients lists before buying.
Read on: Gluten-free protein bars
Read on: 5 Best gluten-free dairy-free snack bars
6. Baked apple chips
You can buy apple chips for a tasty crunchy gluten and dairy-free snack that your kids will love.
These are easy to find most time of the year, but they're really popular and showcased around grocery stores in the fall months. You can also find them on Amazon here.
7. Granola
Granola is a really great and simple snack, especially if you're on the go a lot. We almost always have store bought granola on hand in our pantry, because it's an easy way to get a crunchy bite. You can enjoy it on its own, or if you're at home, top some of your favorite dairy-free yogurt.
I really like the Purely Elizabeth brand, but there are a number of gluten and dairy-free options available. Remember to always check ingredient lists for any hidden sources of gluten or dairy before you buy!
Try this gluten-free granola recipe and find out some great gluten-free granola brands.
Read on: Is granola gluten-free?
8. Larabars
Larabars – or any fruit and nut bar – are another great go-to snack option that are gluten and dairy-free. I love Larabars especially, because most of them don't have any added sugar and have whole food ingredients.
Bars like Larabars or Munkpack bars are good if you're on the go or have to hang out at outdoor sports events, because they won't go bad in your purse.
You can find them at most stores now too! I usually buy boxes of them from Amazon.
9. Applesauce
Applesauce is an awesome go-to healthy snack for a gluten and dairy-free diet, and kids love this one too. You can get them in cups or these handy packable pouches.
10. Trail mix
Trail mix is a great option to buy from the store – but if you don't like everything in the mixes, you can easily make your own by buying things you love from the bulk bins at your grocery store. I like this one from Enjoy Life brand.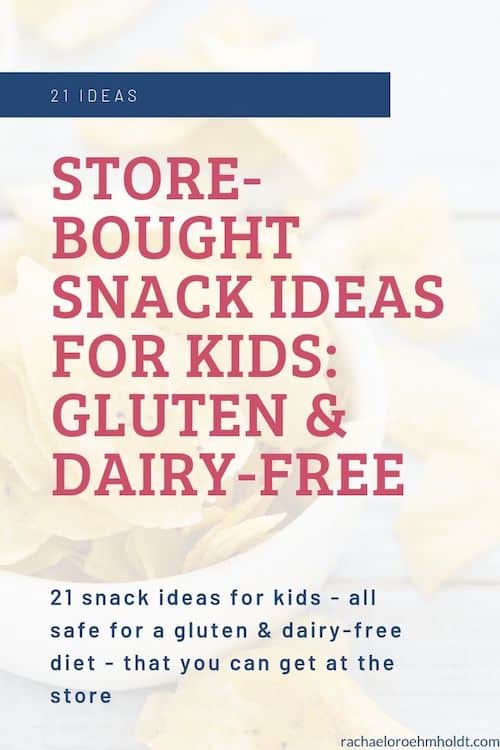 11. Veggie sticks & hummus
Who doesn't hear about healthy veggies and hummus when they're looking for snack ideas? It's obvious, but a great choice nonetheless.
My family's favorite store bought hummus is olive tapenade flavored, it's hummus with bits of kalamata olives throughout. It's soo delicious, and I love that I can just pick it up at the store any time.
Read on: Is hummus gluten-free?
12. Gluten-free crackers and hummus
Gluten-free crackers are easy to find in many health food aisles at the grocery store.
There are plenty of gluten and dairy-free cracker options – check out this link of some other brands on Amazon. I love pairing crackers with hummus for a filling snack – and my son loves it too. So simple and so good!
13. Kettle brand potato chips
These Kettle chips are easy to find at almost any store these days. Kettle brand offers gluten-free potato chip options – but be sure to check the ingredient lists, not all are dairy-free! We like the Sea Salt flavor the best in our house.
Read on: Are Kettle Chips gluten-free?
Read on: Gluten-free Chips
Gluten-free pretzels are a tasty salty snack that you can find at many grocery stores or online. I love the Trader Joe's brand, because they taste good, are cheaper than other options out there, and easy to find.
My son actually prefers these to normal pretzels. The Snyder's brand is also pretty easy to find in many stores.
15. Beef or turkey sticks
Beef or turkey sticks are probably one of my son's favorite snacks when he's clearly energy-depleted.
I like to pack them in the car or in my purse – so I make sure to get ones that don't need refrigeration. These Chomps Sticks are a favorite in our house.
I love these because they come in both a larger size and smaller kid-friendly sizes called Chomplings, which pack up well for hiking or the beach.
You can find them in a variety of flavors like Original Beef, Jalapeno Beef, Italian Style Beef, Sea Salt Beef, Cranberry Habanero Beef (super spicy!), Original Turkey, Jalapeno Turkey, and Salt & Pepper Venison.
16. Fruit leather
You can buy fruit leather at most grocery stores. You'll want to look for a low or no-sugar option, like these Stretch Island ones. My son LOVES these as snacks or with his lunches.
17. Raw veggies & dairy-free ranch dressing
You can buy pre-cut veggies at the store, plus some dairy-free ranch dressing for a quick and easy snack idea. Kids love to dip things, so this is a great option.
Here are some great dairy-free ranch dressing options from the store. Our favorite is the Tessemae's brand.
Read on: 5 best dairy-free ranch dressing brands
Read on: Get my gluten-free dairy-free egg-free ranch dressing recipe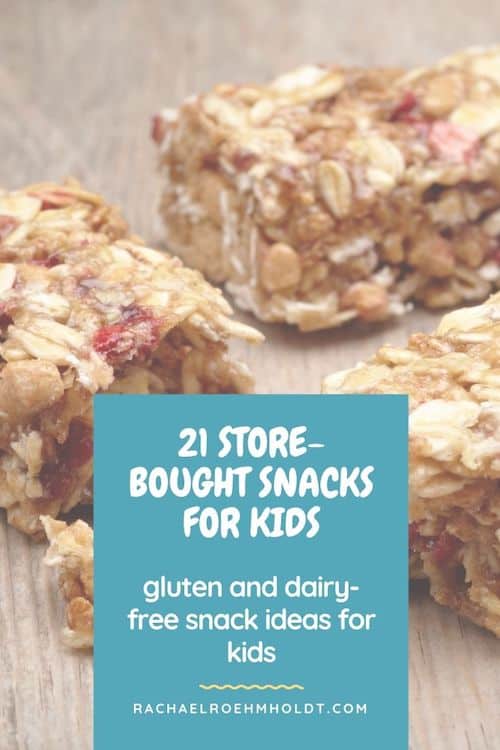 18. Sugar snap peas
We love sugar snap peas for an easy store-bought snack. They're really flavorful and your kids can eat them on their own or dip them in hummus or dairy-free ranch.
19. Apples & your favorite nut butter
Slice up your favorite variety of apples and dip in nut butter. Use whatever nut butter your kids like the most – peanut, almond, cashew, sunbutter, etc.
Peanut butter is always a hit in my house, and best of all, it's available at just about any store you find yourself in.
Read on: Is peanut butter gluten-free?
Read on: Gluten-free peanut butter brands
Dairy-free yogurt is available at a lot of stores. My biggest complaint about dairy-free yogurt is that it's not as nutrient-dense as normal dairy yogurt.
You can make it a little better by adding in some fresh fruit or granola too. Dairy-free yogurt is available in a number of varieties: soy, cashew, almond, rice, coconut. Our favorite is the coconut milk based option.
Read more: Dairy-free Yogurt: What You Need to Know
21. Dried fruit
There are a ton of different dried fruit options out there! Find one that is simply dried fruit and no added sugar for sweet and healthy snack ideas from the store.
My son loves raisins, dried cranberries, figs, and dates the most.
Read on: Are raisins gluten-free?
There really are so many options out there for gluten-free dairy-free snacks for kids. The hardest part is doing the research to find them, so I hope this list has been useful for you! Next time you're out shopping, pull up this list for inspiration.
If you loved this post, I hope that you'll share it with your friends on Facebook and pin it for future reference on Pinterest.
Love these snack ideas? You might also want to check out these posts!
Get tons of snack ideas from this list of gluten and dairy-free posts all about snacks!
For a free gluten and dairy-free shopping list, plus 5 sample recipes, enter your details for instant access and weekly updates from me.