Try these 23 gluten and dairy-free snack ideas for hiking and hitting the trail. Stay fueled through your hike and keep on your gluten and dairy-free diet.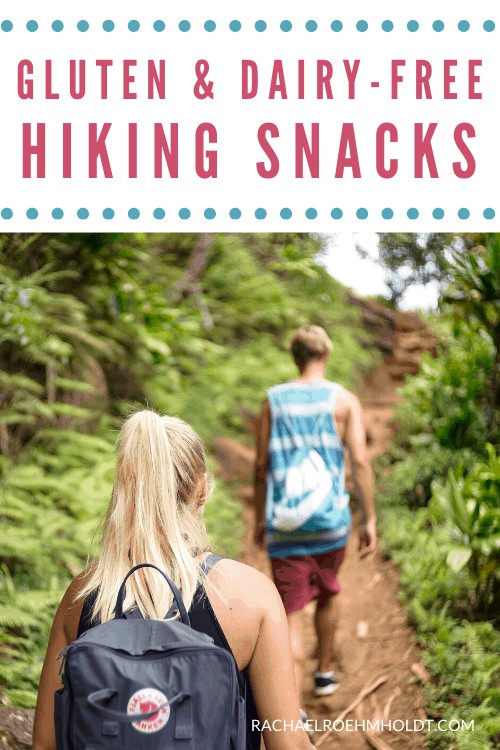 Note: I am a proud Amazon and Thrive Market affiliate and am happy to recommend their service and products to you. Please know that as an affiliate, I may receive a small commission on the products you purchase after clicking through my links. For more info, please see my disclosure policy here.
If you love hiking and being outdoors whenever you can, you'll know that keeping snacks on hand is an important part of staying fueled for your hike. Finding gluten and dairy-free hiking snacks is important to sticking with your gluten and dairy-free diet.
Of course, depending on how far you hike, you may just want one or two snacks or a lot of options to choose from on your hike. Also, if you solo hike or hike with your kids, you'll want to know some options for yourself as well as what's great for little hikers as well.
When it comes to packing snacks that are gluten and dairy-free for your hiking adventures, you have a few options as to how you will pack them:
Make your own snacks
Buy snacks from the store
Make some snacks and buy some snacks
One of these options isn't better than the other, and whatever you feel most comfortable with is probably the best bet for you. I personally like to have a mix of store-bought items in my pantry that are ready to pack at all times, and then I'll add some homemade options to keep things interesting.
For me, convenience often wins out so that if I get the bug to get out of the house and go for a hike, there's nothing standing in the way of getting out the door.
For this blog post, I wanted to share with you some gluten and dairy-free hiking snacks, but these are also great snacks for camping and backpacking as well. All the snacks I'm listing in this post travel well, don't need refrigeration, and won't have you spending a lot of time prepping or cleaning up.
These three things are a must for me when it comes to packing snacks anytime, but especially hiking. The snacks listed in this post are also very easy to pack in and out, as you probably know is a vital part of being a good trail steward.
(It's also how I plan for road trips for staying on this diet – see my Gluten and dairy-free snacks for road trips post for more snack ideas)
This post is broken down into a few different ideas: bars, crunchy snacks, jerky, nut butter and nuts, and sweets for the trail. Let's talk about each of these in more detail.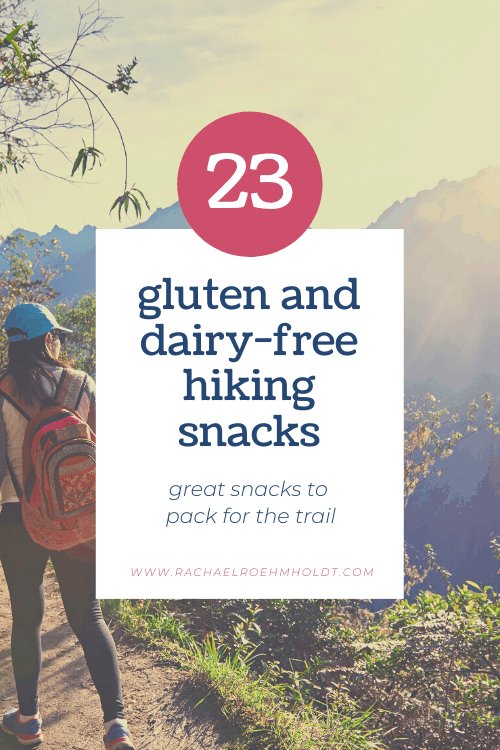 Bars
Gluten and dairy-free snack bars
There are a number of great snack bars that are both gluten and dairy-free. Larabars, KIND bars, MunkPack bars, and RX bars are all good options for hiking. Not all bars under these brands are gluten and dairy-free, so be sure to read ingredient lists before purchasing. Read this post for 5 great gluten and dairy-free snack bar recommendations.
Check out gluten and dairy-free snack bars on Thrive Market.
Read on: 5 Best gluten-free dairy-free snack bars
Protein bars
If protein bars are your thing when hiking, check out Orgain and Vega bars. Both of these brands offer gluten-free and vegan protein bars that are easy to pack and hike with.
Try these gluten and dairy-free protein bars from Thrive Market.
Read on: Gluten-free protein bars
Homemade fruit and nut bars
It's easy to make your own fruit and nut bars, similar to Larabars. Combine 1 cup of dried fruit with 1 cup of nuts in your food processor and blend until combined. Lay the mixture out between two pieces of parchment paper and flatten with your palms or a rolling pin. Refrigerate for about an hour before slicing into squares or rectangles.
Crunchy Snacks
Rice crackers
Rice crackers are a great gluten-free snack to pack for hiking. They're full of carbohydrates to give you a boost of energy. If you buy the ones in the plastic packaging, like these from Sesmark , you know they won't get crushed up in your bag.
Read on: Get a full list of gluten-free crackers.
Gluten-free pretzels
Pretzels are a nice option to pack on a hike for a crunchy bite and a boost of carbohydrates to keep you going. Enjoy these on their own or with some nut butter. Try these gluten-free pretzels from Snyder's of Hanover or these by Quinn (they have peanut butter filled pretzels too!).
Read on: Are pretzels gluten-free?
Read on: Gluten-free pretzels and gluten-free pretzel rods and sticks
Tuna pouches
For a boost of protein, I recommend these tuna pouches that you can easily open and prepare when you need them. They don't need refrigeration and you can eat the tuna plain or spread it on some rice crackers or gluten-free crackers for a snack or a meal.
Roasted chickpeas
You can buy or make your own roasted chickpeas for a high-protein snack. These are easy to prepare by opening a can of chickpeas, draining and rinsing the liquid, laying them out in an even layer on a parchment-lined baking sheet, drying them off, drizzling with olive oil, and roasting for about 20 to 25 minutes. You can season them however you wish to make them your own.
Read on: Are chickpeas gluten-free?
Read on: Are beans gluten-free?
Veggie sticks or snap peas
For a healthy snack, cut up some celery, carrots, peppers, mushrooms, and any other veggies you love to enjoy. If convenience is better for you, buy a bag of snap peas that are pre-washed and you can munch your way down the trail with them.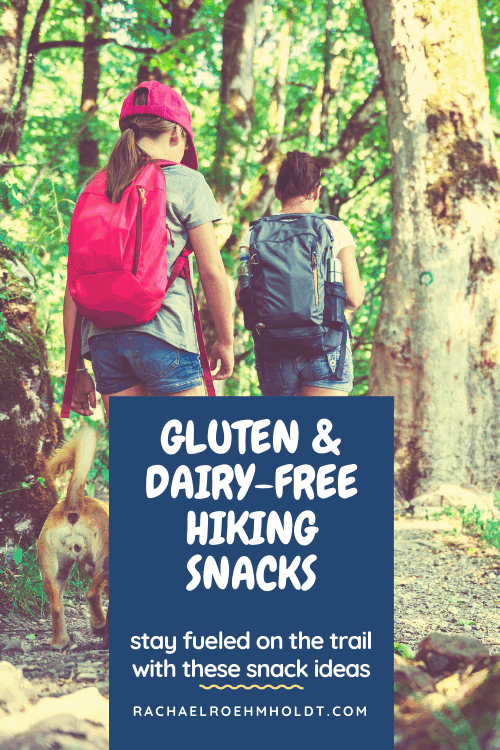 Jerky
Store-bought jerky
You can find a number of different gluten-free jerky options at the store in a variety of flavors and meat options. I prefer the Krave brand of jerky and it comes in beef, turkey, and pork options. Here are a few more gluten-free jerky options from Thrive Market.
Homemade jerky
Making your own jerky at home is easy, because it's simply dehydrated meat. If you have a smoker, this is a delicious way to smoke your own meat. You can also use a dehydrator or cook it low and slow in your oven. This definitely takes more work than buying it, but you can make flavors you like with ingredients you know.
Beef and turkey sticks
Another high protein hiking snack option are meat sticks, usually made from beef and turkey. If you aren't a fan of jerky or you just want something a little different, try these Chomps sticks which are gluten and dairy-free and taste great too. You can also find them on Thrive Market here.
Nut Butter & Nuts
Nut butter pouches
These handy nut butter pouches from Justin's nut butter are really convenient for hiking, because they are portioned and you can squeeze the pouch straight into your mouth or squeeze it onto some crackers or pretzels as a snack.
Read on: Is peanut butter gluten-free?
Homemade nut butter
If you don't love the idea of pouches, you can buy some nut butter and put it into a container or make your own. Peanut butter, cashew butter, and almond butter are all simple to make by just placing raw or roasted nuts into your food processor and processing until smooth. Enjoy plain or on crackers or pretzels while hiking.
Roasted or raw nuts
Plain nuts make a great hiking snack. Any nuts are great on the trail, because they don't need refrigeration and are easy to grab a handful of whenever you need a snack. Peanuts, almonds, cashews, pistachios, and walnuts will all make great additions to your snack bag.
Read on: Are nuts gluten-free?
Make-at-home trail mix
Trail mix is a big hit for hikers of all ages, because there are so many different ingredients and they taste amazing together. The downside of store-bought trail mix is that many varieties contain chocolate and that chocolate usually has dairy. Instead of trying to pick it through, make your own trail mix by combining your favorite trail mix ingredients, like nuts, dried fruit, and any other ingredients you love.
PB&J sandwiches
This childhood sandwich is a staple in our hiking packs when we go out. Yes, they're basic and some might say boring, but they don't need to be kept cold and can easily be made on gluten-free bread.
Read on: 7 Best gluten-free dairy-free bread brands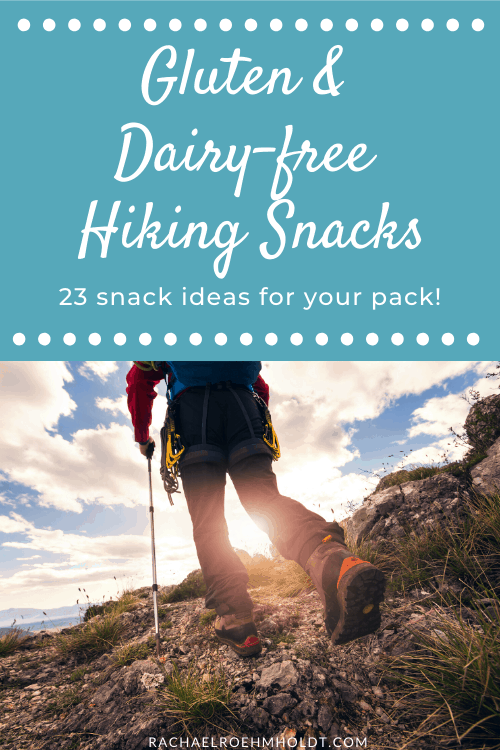 Sweets
High protein cookies
Cookies on a hike? Why not? If you like something sweet in your hiking pack, find some gluten and dairy-free high protein cookie recipes to try. If you're hiking with friends, bring some to share! Try these No Bake Peanut Butter Protein Cookies or Oat Protein Cookies.
Muffins
Muffins pack well and if made with gluten and dairy-free ingredients are perfect on this diet. Kids love them, so this might be a great option when you're out with little hikers. Find a few recipes to try in my gluten and dairy-free muffin recipe roundup.
This is the recipe my family often makes for hiking or road trips – gluten-free banana muffins with chocolate chips.
Dried fruit
For a boost of energy, pack some dried fruit, like dates, figs, or raisins. Buy them in bulk or in bags from your local grocery store or Costco. Dried fruit is easy to find and is naturally gluten and dairy-free.
Read on: Are raisins gluten-free?
Fruit leather
Fruit leather is another great option for hiking with kids and adults alike. You can make your own or buy some at the store. Look for no sugar added varieties if you try to stay away from refined sugar.
Fresh fruit
Many fresh fruits are a great option for hiking, because they don't need to be kept cold. Apples, bananas, and oranges are all good ideas because they come in their own packaging and won't make a mess in your bag.
Applesauce pouches
Applesauce pouches are great for kids, but they're also great for hiking adults too. You can buy these at most grocery stores and Costco, and they are convenient and easy to stow in your bag. They'll give you a good boost of energy and they're easy to pack your trash back out without making a mess in your bag.
Chia drinks
Staying hydrated on a hike is important, but sometimes you need more of an energy boost than you can get from just water. Make your own chia drinks by combining 2 tablespoons of chia seeds with 16 ounces of water or a mixture of water and juice. These drinks will give you long-lasting energy and keep you hydrated too.
Read on: Are chia seeds gluten-free?
I hope you've love this list of gluten and dairy-free hiking snack ideas. Do you love to hike? What are some of your favorite snack foods to take on the trail?
Love these snack ideas? You might also want to check out these posts!
Get tons of snack ideas from this list of gluten and dairy-free posts all about snacks!