GFDF Weekly
Gluten and dairy-free menu plans
and recipes designed to help you
save money, save time, and
stay inspired with your
gluten and dairy-free diet.

"Since using GFDF Weekly, I am enjoying my meals more and have even learned how to adjust a recipe for my gluten an dairy-free diet!"

Betsy H.
Need easy and delicious dinner ideas for your gluten and dairy-free diet?
When it comes to going and sticking with a gluten and dairy-free diet, the number one thing I get asked for is: recipes and menu plans.
Every time I ask women how I can help them on their health journeys
right now and today, they say:
"I'd love more recipes"
"Simple recipes"
"Quick and healthy recipes"
"More meal prep and planning"
"Beginner recipes"
"Quick go-to meals"
"More dinner recipes"
After going gluten and dairy-free over five years ago, I've been creating meals and menu plans weekly for myself and my family.
I know how to eat so I can stick with this diet for the long-term.
I know how to get healthy, delicious meals to the table without having to spend tons of time in the kitchen.
I know how to create meals that even family members who eat gluten and dairy will enjoy.
And I'm ready to share what I create for my family with you!
Introducing
GFDF Weekly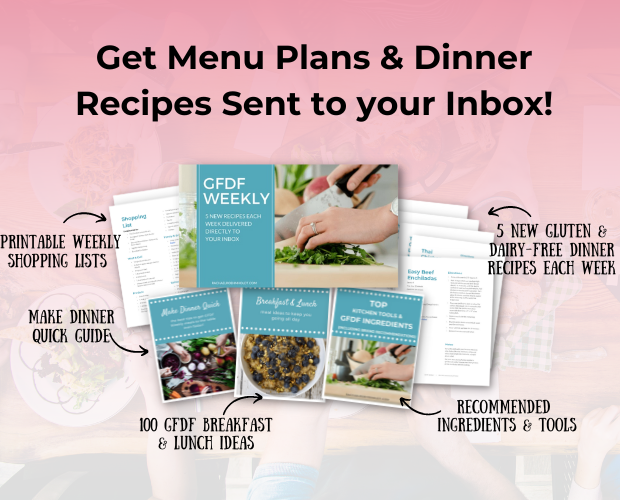 GFDF Weekly is a recipe and meal planning service
designed to help you save money, save time, and stay
inspired with your gluten and dairy-free diet.
With so many recipes out there, GFDF Weekly will help you
cut through the noise and conveniently bring the recipes and
shopping lists straight to your inbox once a week.
I believe dinner on a gluten and dairy-free diet should…
Be simple to prepare with easy recipes with straight-forward directions
More about time with your family – and not spent in the kitchen
Include loads of healthy ingredients – but still taste delicious
Work for you, but even your family member's who aren't gluten and dairy-free will enjoy it
Allow for shortcuts when life is busy – crockpots, one-pan dishes, and a little help from the store
What's included with
EVERY subscription of GFDF Weekly:
5 New Gluten & Dairy-free Dinner Recipes Each Week
5 healthy gluten-free dairy-free dinner recipes per each week
Optional additions for your gluten and dairy-loving family members
Wiggle room for going out to eat, enjoying leftovers, or making your family's favorite recipes
A Combined Shopping List for Each Weekly
Menu Plan
Save time and energy getting organized for a trip to the grocery store – the lists are organized by store section!
Simply save or print the list and take it straight to the store
Reuse the plans and lists again over and over in the future
One Easy-to-Access Downloadable
PDF File Each Week
All the menu plans, recipes, and shopping lists come to you via email each week
All your planning for the week is done up front and in advance – I've done all the legwork for you!
Access from your computer, tablet, phone, or print it out – whatever works best for YOU!
Sign up today and get exclusive bonuses!
---
BONUS #1: Top Kitchen Tools &
GFDF Ingredients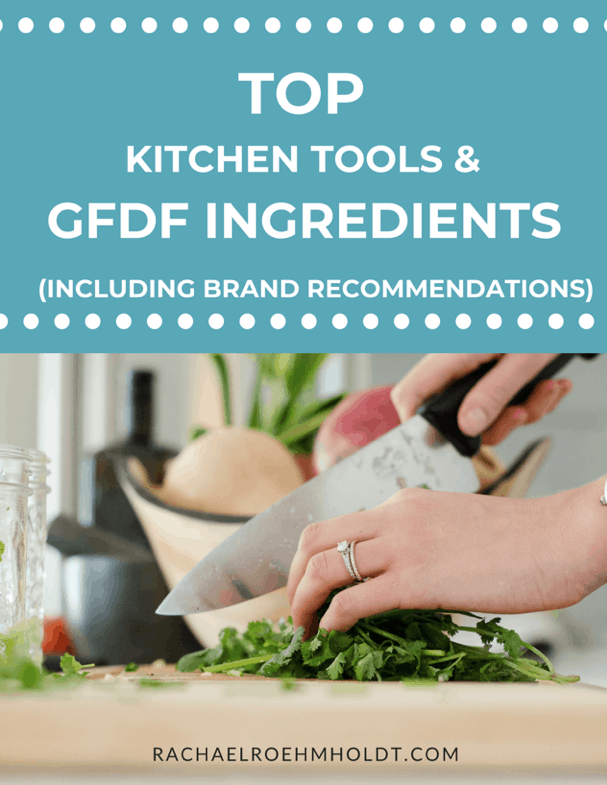 Inside this guide, you'll get access to:
A full list of kitchen tools to give you an idea of what I'm working with – everything from knives to baking dishes – and the brands I use and love.
An item-by-item breakdown of ingredients I keep stocked in my fridge and pantry – including specific brands I recommend for a gluten and dairy-free diet.
A jumping off point to know what kinds of ingredients to expect from the recipes you'll find in GFDF Weekly.
BONUS #2: Make Dinner Quick Guide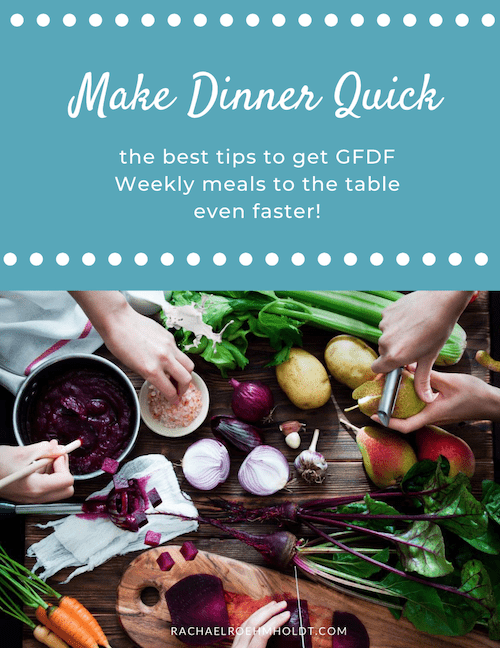 Inside the Make Dinner Quick ebook, you'll learn:
My very best time-saving tips to help you get meals to the table even faster while using GFDF Weekly recipes
The best time-savers that I've used while creating and cooking up GFDF Weekly meals throughout the week
Some super useful not-to-miss ideas to help you shave off a few minutes each night of prep work and cleanup to give you back more time hanging out with your family in the evening
BONUS #3: 100 Breakfast & Lunch Ideas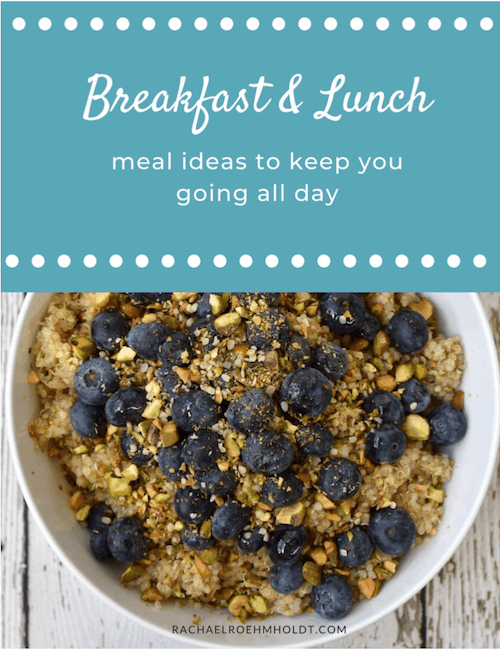 Inside this guide, you'll get:
75 gluten and dairy-free breakfast ideas to help you start your day off right
25 gluten and dairy-free lunch ideas to keep you satisfied throughout the day
Tips on meal prepping to stay on track with your gluten and dairy-free diet – even when life gets busy
---
"I'm so excited to try some new recipes! It will be so much easier to eat well when I'm not trying to convert my family's old-school favorites which are full of gluten and dairy!"

Kati R.
Subscribe to GFDF Weekly
starting at just $10 per month!

All prices in USD
*Billed as one payment
I've been using your GFDF Weekly recipes for a few months now and I just want to tell you how much I appreciate them!!!"

Marquette R.
---
---
Hi, I'm Rachael…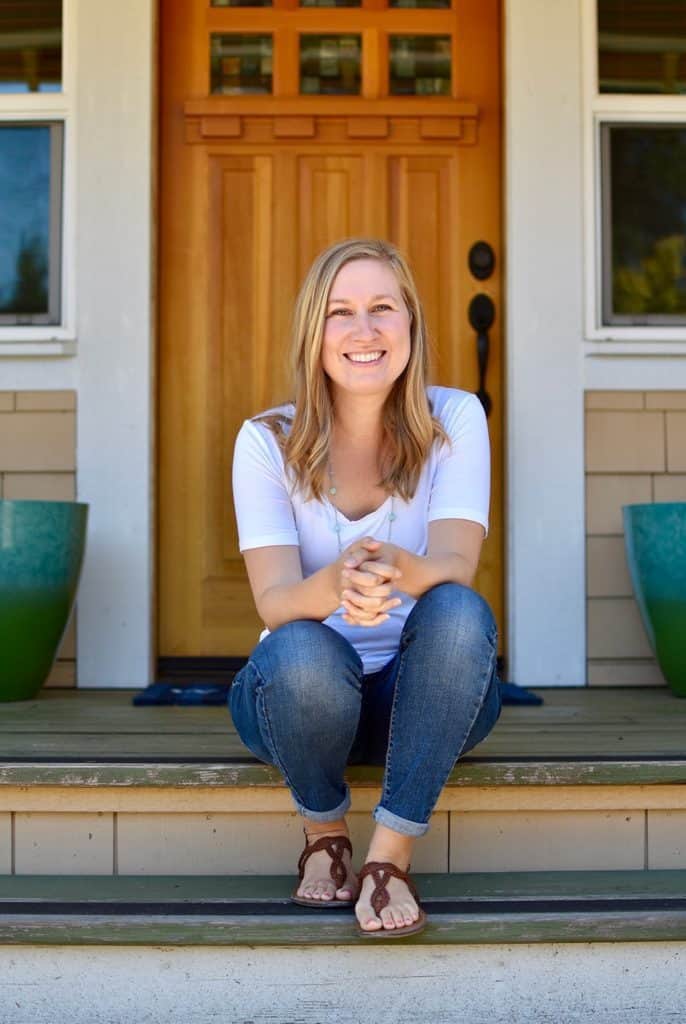 I've been teaching people to cut gluten and dairy from their diets for over 9 years now.
Not only have I helped hundreds of people make this lifestyle change through my products, programs, and community, but I'm also trained as a certified holistic health coach and I'm committed to helping you use this change in your diet to become healthier and happier in your body as a result.
I firmly believe that it's never been an easier time to go gluten and dairy-free, because once you get the hang of the basics of this diet by knowing what your options are – it's a piece of cake to make this change a lifelong one.
And I'm here to help you do it!
---
---
When you join us inside
GFDF Weekly menu plans, you'll…
Save endless time wading through recipes online – using only pretty pictures as a guide to tell you if it's good or not
Save energy coming up with menu plans each week – I'm doing the organizing for you!
Save hours of time getting yourself organized for the grocery store – the shopping lists are included and organized by store section
Save energy meeting your family member's needs, trying to make two meals for everyone in your house – I'll give you options to add the dairy and gluten back in
Save money only buying the ingredients you'll need for dinners that week – less buying excess and less food going to waste
---
"Thank you so much for everything in GFDF Weekly. Your recipes have opened my eyes to the GFDF world and I have benefitted greatly from it."

Mara K.
---
Frequently Asked Questions
Are these recipes quick and easy to prepare?

Definitely! As much as I love to eat, I don't love to be in the kitchen forever. I have taken time into account for every recipe I've included. Most recipes take no more than one hour, where most are in the 30 to 45 minute range.
Do the recipes include easy to find ingredients I can find at my local grocery store?

Most recipes are centered around naturally gluten-free foods and the occasional gluten-free or dairy-free specific ingredient. If you can find gluten-free pasta, dairy-free milk, or vegan butter at your grocery store – you'll likely be able to find other ingredients that I share in the recipes included in GFDF Weekly.
Will my family members who aren't gluten and dairy-free enjoy these meals?

Totally! The recipes I share in GFDF Weekly are all recipes that my family eats. Both my son and husband can eat gluten and dairy – and these recipes are approved by them.

Does that mean YOUR family will eat them? I'm not sure. Everyone has different tastes and preferences.

But the recipes in aren't only for people who are gluten and dairy-free. Many recipes have notes for how to make your family happy by adding in cheese or swapping out gluten-free bread for normal bread if they'd like to.
Do your recipes include beef/chicken/pork/eggs/seafood/(insert other food here)?

Most of the recipes included in GFDF Weekly have beef, chicken, or pork. About once a month or so, I'll include egg dishes for a "breakfast for dinner" type of meal.

I also use some processed meats, like chicken apple sausages, bacon, ham, and pepperoni in my recipes. It's important to me and my family to keep things on rotation so we don't get too burned out on one food.

I do my best to include meatless meals at least once or twice a month to keep grocery costs down and to give my belly a rest processing meat. I always give notes about how you can incorporate meat into a dish if I don't include it.

I do understand that my dietary needs and my recipes might not work for you and your dietary needs. What I share is what I eat, so keep this in mind if you have multiple food sensitivities or allergies that you have to be very careful to avoid.
Are your recipes kid-friendly?

The recipes in GFDF Weekly are MY kid-friendly, meaning I know that my kid will and does eat them.

That said, it's hard to say what kids will and won't eat. I include foods that I think are relatively kid-friendly, but I can't guarantee your child will eat the foods in the menu plans.
What if I am unhappy with my purchase?

My goal for GFDF Weekly menu plans and recipes is for them to be useful for you. If you are unsatisfied with your purchase and have determined they won't work for your life with 14 days of purchasing, contact me via email and I will give you a full refund.

This 14-day refund policy also includes quarterly and annual plans. I do not give refunds after 14 days of payment processing.