Discover my top 5 dairy-free ranch dressing brand picks – they're also gluten-free! Great on salads or as dip, these are great options for any dairy-free diet.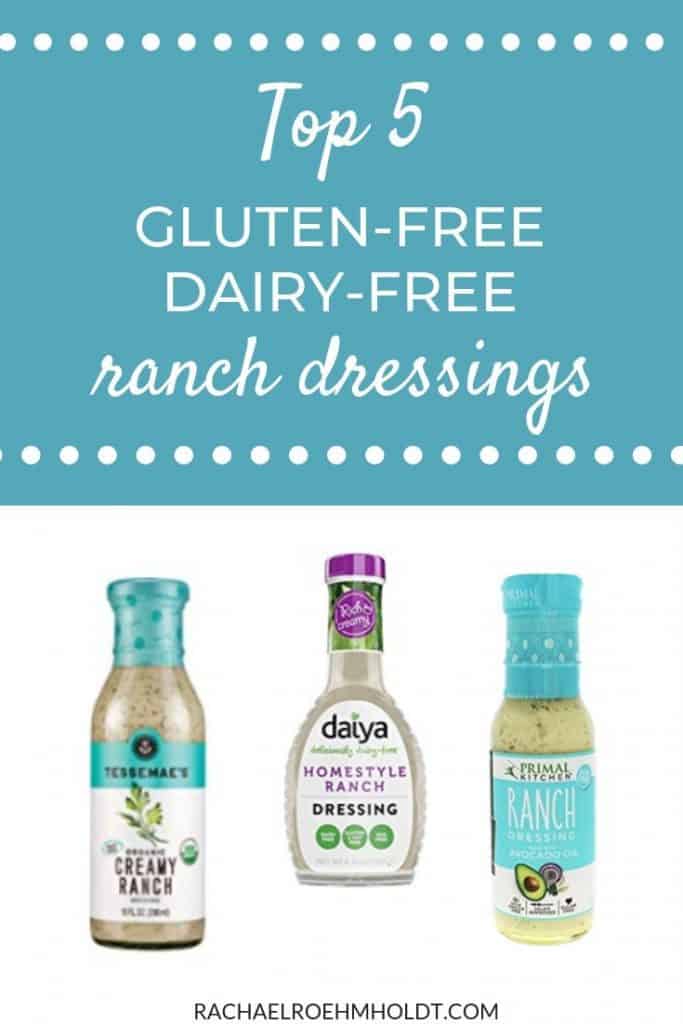 Note: I am a proud Amazon, Chomps, MunkPack, and Thrive Market affiliate and am happy to recommend their service and products to you. Please know that as an affiliate, I may receive a small commission on the products you purchase after clicking through my links. For more info, please see my disclosure policy here.
Ranch dressing is a quintessential topping for salads, used as marinades, or a dip in so many dishes. But when you follow a dairy-free diet, ranch dressing is off the table, literally and figuratively.
I lived for many years with the assumption that I'd never enjoy ranch dressing again on a dairy-free diet, because the idea of something that tastes like a knockoff just didn't appeal to me. If I couldn't have the real thing, I didn't want anything like it at all.
But as I've gone on this journey on being dairy-free, I've transitioned from eating just the foods that are naturally dairy-free to adding more of these alternatives back into my diet.
It's nice to add a few different ingredients to my diet that add tons of flavor and make me feel like I can still enjoy many 'normal' foods.
While I didn't miss ranch dressing for the few years I didn't eat it, I can say now, it is nice to add to a salad or use in dinner dishes, like chicken and vegetables, for extra flavor.
I recently came up with my very own dairy-free ranch dressing recipe, which to be honest, was well overdue. I've been asked for years for a good recipe or a good brand recommendation, and I didn't have much to share.
But now, I make my own dairy-free ranch dressing, and you can find that recipe here if you'd like to make your own and control the quality of ingredients too.
But if you're looking for more of a convenient way to enjoy ranch dressing, without any effort, I've rounded up 5 great brands that offer dairy-free ranch dressing that are worth trying.
As with any "Best Of" post I create, I do my best to share the knowledge I have on a product and what I think about it, and arm you with the best information I can to help you make an informed decision for yourself.
Before we get to the best picks, let's talk a little bit about ranch dressing – and what you need to know.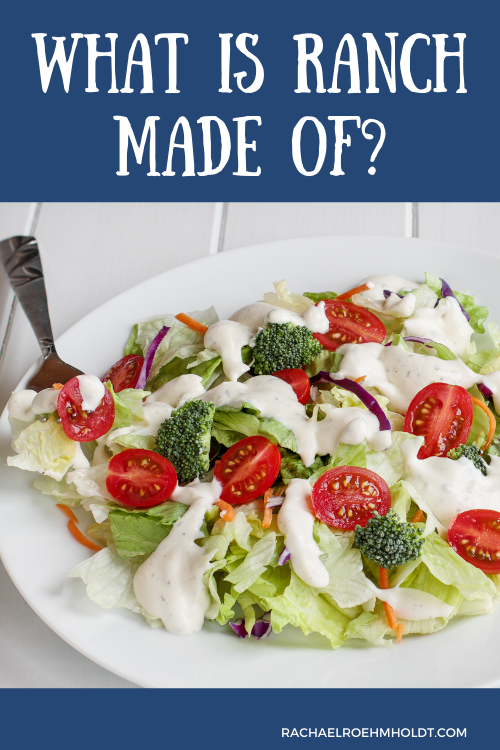 What is ranch dressing?
Ranch dressing is a popular salad dressing and dip used in many dishes in the U.S. It's usually a buttermilk based dressing that has herbs and seasonings added to it to give it a unique flavor.
It has a tangy taste and creamy texture, with a richness from the eggs, buttermilk, and oil in the dressing.
Ranch dressing is used for salads, as a dip for vegetables, crackers, and chicken wings, and some people even use it as a marinade for meat or chicken. Ranch can also be used in wraps or spread on sandwiches to add extra flavor.
What is ranch made of?
Ranch dressing is usually made with buttermilk, garlic, onion, mustard, herbs, salt, pepper, and spices. You can also find ranch dressings made with a base of yogurt, mayonnaise, or sour cream.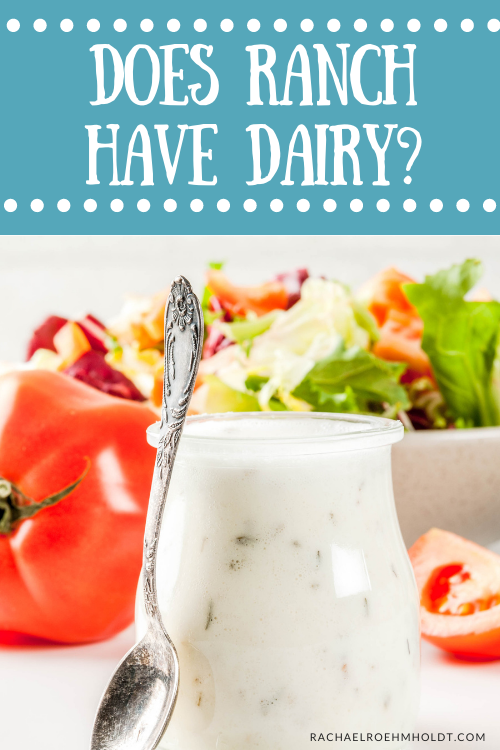 Is there dairy in ranch dressing?
Unfortunately yes. Ranch dressing often contains buttermilk, sour cream, or yogurt to give the dressing its' tangy flavor. Both homemade and store bought ranch dressing often contain dairy.
If you follow a dairy-free diet, you'll want to avoid all traditional ranch products, and instead opt for those that are labeled as "dairy-free" or "vegan" (which indicates no animal products are in that dressing).
Any product that has a "contains milk" label should be avoided on a dairy-free diet.You can usually find this near the ingredients list on the ranch dressing package.
Read on: Does ranch have dairy?
Is ranch gluten-free?
Since ranch is most commonly made with buttermilk, garlic, onion, mustard, herbs, salt, pepper, and spices, it's most likely gluten-free.
Of course with any packaged food, it's a good idea to review all ingredients lists for hidden names of gluten.
Read on: Is ranch gluten-free?
Where can I buy dairy-free ranch dressing?
You can buy dairy-free ranch dressing at your local grocery store, on Amazon, or Thrive Market. I always look at my local store first, then if I can't find it, I'll look online and have it delivered to my home.
Thrive Market has a number of great dairy-free ranch dressing options, including different flavors. You can check them out here.
Read on: Dairy-free ranch seasoning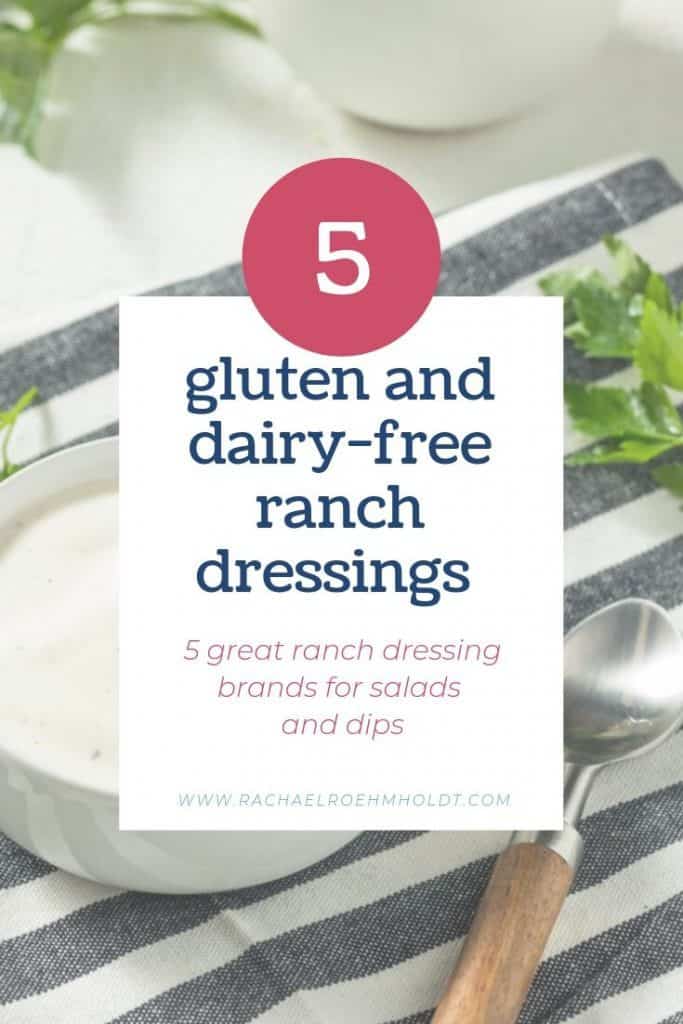 With that, here are 5 dairy-free ranch dressings that I've tested and would love to invite you to explore, so you can find your own favorite.
Tessemae's organic creamy ranch dressing is probably hands-down my favorite dressing option I've found for a gluten and dairy-free diet, because it tastes like the real thing. Plus it has no added soy or sugar, which I think is a win-win all around.
While I was eating this one regularly because it was my favorite, after I cut eggs from my diet, I made the swap to trying different options. It's still my top pick for folks who avoid dairy but can still eat eggs.
Get Tessemae's ranch dressing on Amazon here.
Or on Thrive Market here.
Daiya offers a gluten and dairy-free ranch dressing that is a pretty good substitute for the real thing.
What I love about this ranch dressing option is that it's allergy-friendly all around with no gluten, dairy, eggs, soy, nuts, peanuts, shellfish, or fish ingredients included. It's a great option when you have multiple food allergies!
Get Tessemae's ranch dressing on Amazon here.
Or on Thrive Market here.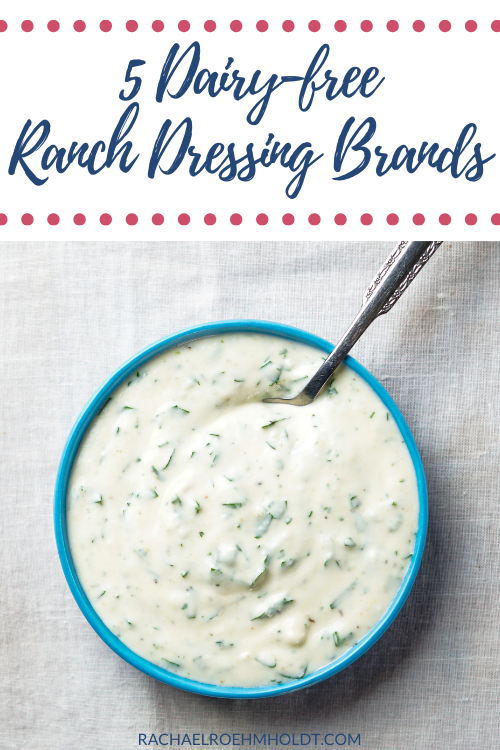 This organic dairy-free ranch dressing from Primal Kitchen is another great ranch option for a gluten and dairy-free diet, because it's made with avocado oil instead of buttermilk. This is a good substitute for your regular ranch dressing in salads or as a dip for your next veggie platter.
Get Primal Kitchen ranch dressing on Amazon here.
Or on Thrive Market here.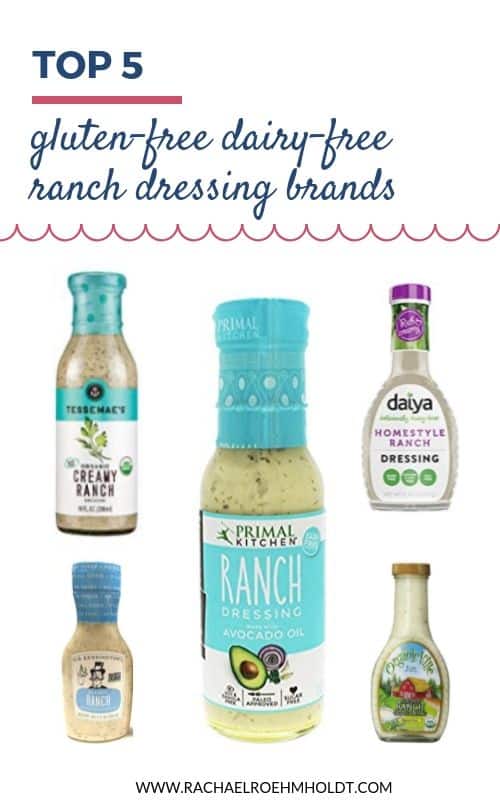 Sir Kensington's classic ranch dressing is delicious and made using sunflower and eggs. It tastes similar to the real thing and is another great option for your standard ranch dressing in recipes.
Get Sir Kensington's Classic Ranch on Amazon here.
Or on Thrive Market here.
Organicville offers this ranch dressing as a gluten and dairy-free option for anyone following this diet.
As for full honesty, this one isn't my favorite of all the dressings I tried, but you may love it even if I don't! Enjoy this on salad or as a veggie dip.
Get Organicville Ranch dressing on Amazon here.
A bonus addition to this list of 5 best dairy-free ranch dressings is by Hidden Valley. This ranch can be used like any other ranch dressing, but the main ingredients are oil and soy ingredients.
It's also gluten-free and egg-free, which is a big bonus for folks who avoid these foods too!
You can find dairy-free Hidden Valley ranch dressing at Walmart here.
Read on: Is Hidden Valley Ranch gluten-free?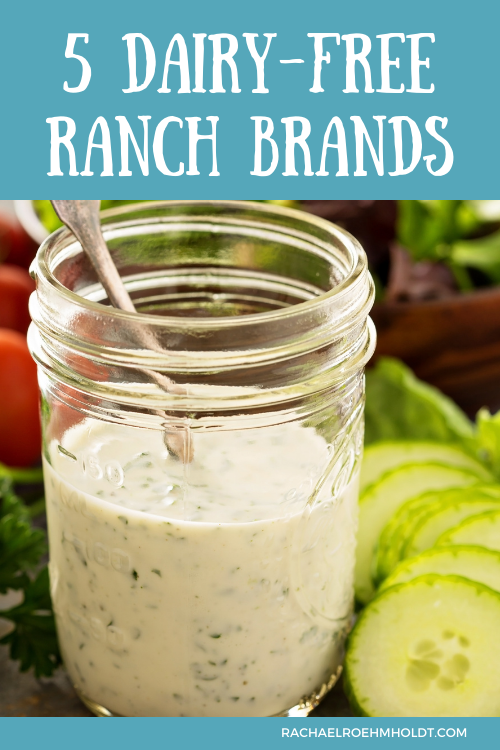 Can I make my own dairy-free ranch dressing at home?
Absolutely! In fact, you might be surprised how easy it is with just a few ingredients how fast and simple this salad dressing comes together. This recipe is gluten, dairy, and egg-free since I also avoid eggs in my diet.
You'll only need vegan mayo, coconut milk, apple cider vinegar, salt, pepper, and a few dried herbs and seasonings. You probably even have all the ingredients at home in your pantry right now!
Get the gluten-free dairy-free egg-free ranch dressing recipe.
How should I use dairy-free ranch?
There are so many ways people enjoy ranch dressing and ranch dip. You can use dairy-free ranch in all the same ways you would any regular ranch dressing. Try one of these delicious ideas:
Salad dressing
Vegetable dip
On gluten-free pizza
As a marinade
With chicken wings
On sandwiches or wraps
Read on: Gluten-free salad dressing types and brands
Read on: 75 Gluten and dairy-free salad recipes
Read on: 101 Gluten and dairy-free Snacks
As you can see, there are plenty of options for a dairy-free ranch dressings. I encourage you to try one or a few to find a brand you love and come back to over and over for your favorite salads and other ranch dressing needs.
Find out what other condiments I use to stock my gluten and dairy-free kitchen by clicking here or the image below.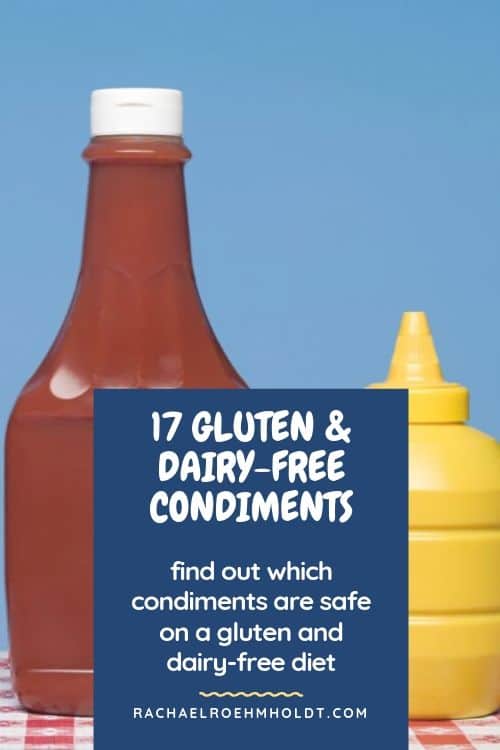 Interested to find out what other delicious foods I stock my gluten and dairy-free pantry with? Check out my Stocking a Gluten-free Dairy-free Pantry Post here or by clicking the image below.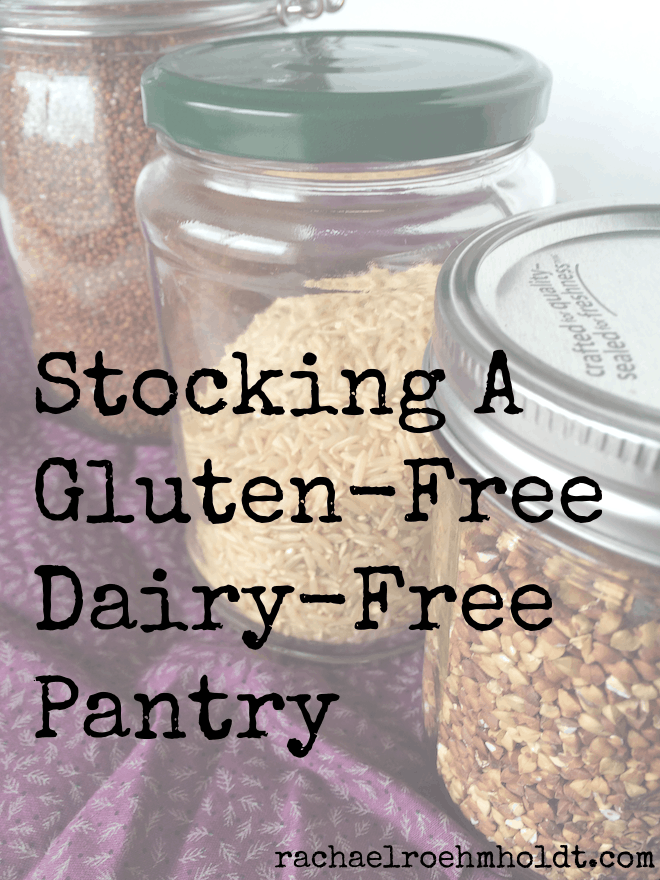 You might also love my Stocking a Gluten and Dairy-free Fridge list as well.
What are your favorite ways to use ranch dressing? Share in the comments below!
If you loved this post, I hope that you'll share it with your friends on Facebook and pin it for future reference on Pinterest.
Want more product recommendations for gluten and dairy-free foods? Check out these posts!
If you'd love even more inspiration and recipes for a gluten-free dairy-free diet, be sure to grab my free shopping list – plus 5 free recipes – by entering your details below!