Find out what miso soup is, what it's made of, and if there are any brands that are safe for folks on a gluten-free diet.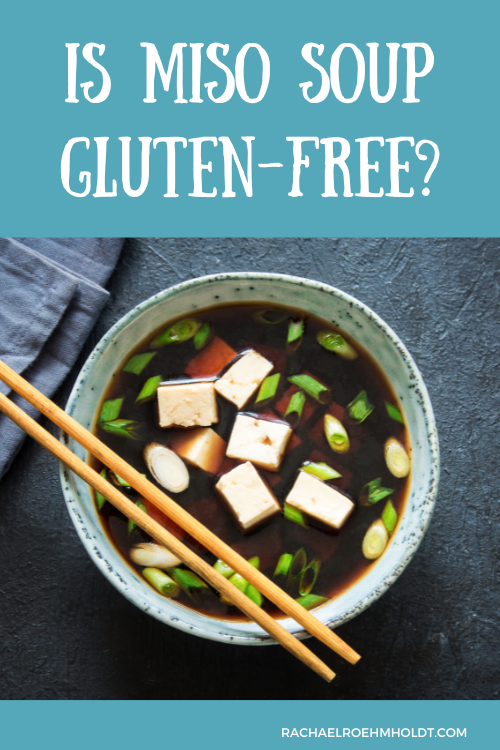 Note: I am a proud Amazon, Chomps, MunkPack, and Thrive Market affiliate and am happy to recommend their service and products to you. Please know that as an affiliate, I may receive a small commission on the products you purchase after clicking through my links. For more info, please see my disclosure policy here.
If you love a bowl of miso soup on a cold day or enjoy ordering this food from a restaurant whenever you visit a Japanese restaurant, you may have wondered how this soup fits into a gluten-free diet.
After all, when there are foods with multiple ingredients, like soup, it's important to dig into each ingredient to know what makes it up. Knowing as much as you can about each ingredient will help you get a good idea as to whether or not that food will work for your gluten-free diet.
In this post, we're talking about miso soup, a warm, flavorful soup served at many sushi and Japanese restaurants. Find out in this post what miso soup is, what it's made from, and what the main ingredients in this soup are made from.
We'll dig into this soup in detail to help you determine if this food is a good option for you to order from restaurants or make at home. Plus we'll talk about the different ingredients you might look for to make your own version of this soup at home – just right for your gluten-free diet.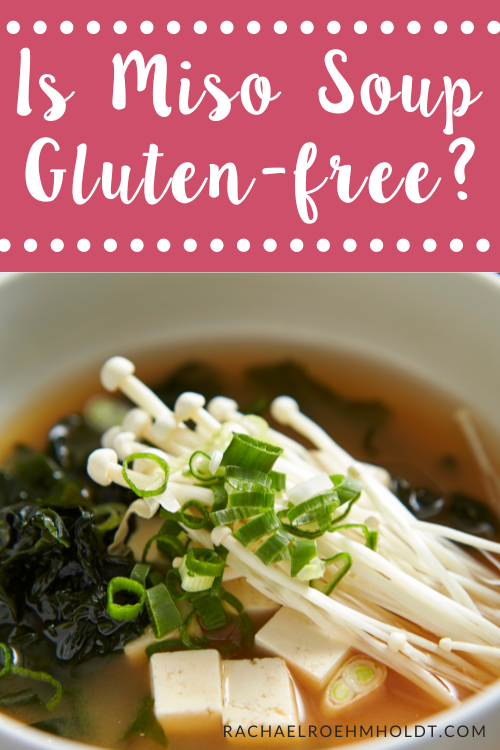 What is miso soup?
MIso soup is a traditional Japanese soup that's made from homemade dashi stock and miso. This soup is often served with cubes of silken tofu, scallions, and sometimes other vegetables.
Miso soup can be made with homemade dashi or a dashi powder that gets added to water. Think of it as instant dashi that adds tons of flavor to your pot without having to spend hours simmering a stock pot on the stove.
This soup can be served on its own or with rice. It can also be served as an appetizer or side dish alongside other main dishes, like cooked fish and vegetables.
Read on: Is sushi gluten-free?
Read on: Gluten-free ramen noodles
Read on: Are udon noodles gluten-free?
What is miso soup made of?
Miso soup is made with a Japanese soup stock, called dashi. Dashi is an extremely versatile ingredient, and is made with dried or smoked bonito flakes, kelp (also called kombu), and anchovies.
Dashi is made by simmering those three ingredients in water, then straining them out to create a flavorful stock that acts as a backdrop for miso soup.
The second important ingredient in miso soup is the miso itself. Miso is a fermented soybean paste that offers a salty umami flavor that's unlike anything else you can compare it to.
A simple miso soup combines dashi, miso, and a few other ingredients, like tofu, some scallions, or other ingredients to give the soup flavor. These ingredients might be extra spices, red chili powder, orange peel, black and white sesame seeds, ginger, and seaweed powder, according to Simply Recipes.
In addition to soup, miso paste is often used in other dishes like salad dressings.
Read on: Gluten-free salad dressing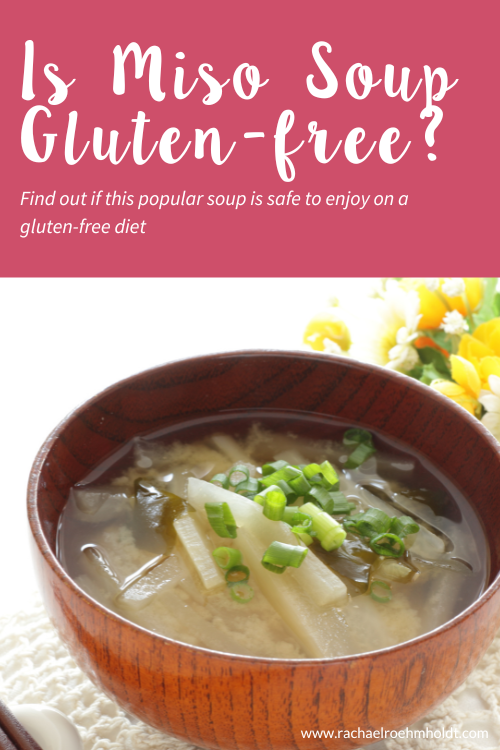 What is gluten?
Gluten is a protein found in most wheat products, and acts as the "glue" that helps to hold wheat, barley, kamut, spelt, farro, durum, bulgur, rye, and semolina together to maintain their shape.
You can find gluten in whole grains, but also in many processed foods as well. Many processed foods have hidden gluten in them in the form or gluten or wheat derivatives.
These are also in the form of flavorings, binders to keep ingredients together, or other additives.
Read on: What is gluten in food? The basics of a gluten-free diet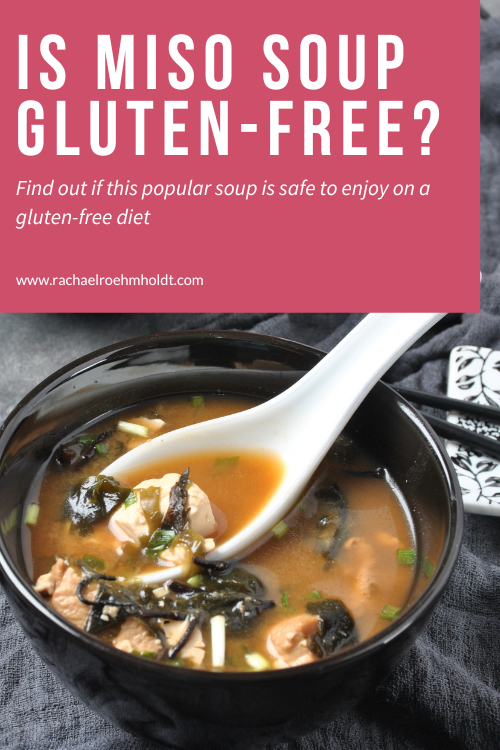 Is miso gluten-free?
Miso is made by fermenting soybeans, but can sometimes include other grains like wheat or barley. Since these are not gluten-free ingredients, it's important to check labels and ingredients of miso before you buy.
Keep this in mind when looking for a brand of miso paste to add to your homemade miso soup. Look for a gluten-free label to know for sure that the brand you're buying is safe for your gluten-free diet.
You can find miso in both miso powder and miso paste, but the most commonly used ingredient is miso paste, particularly in miso soup.
Miso paste comes in different varieties. You're likely to find light-colored miso and darker colored miso. The lighter option has a lighter flavor and more rich yellow color, whereas the darker colored miso has fermented longer and has a more deep, rich flavor.
Look for a miso paste or powder that suits your taste when it comes to making miso soup at home.
Read on: Is soy gluten-free? Is tofu gluten-free?
Read on: 101 gluten-free dairy-free snacks
Is miso soup gluten-free?
Miso paste that's used to make miso soup may or may not be gluten-free, depending on the grains that are added to the miso.
If the miso paste contains wheat, barley, rye, or other gluten-containing grains, you'll know this soup isn't a good option for your gluten-free diet.
The dashi stock that's used in miso soup is usually naturally gluten-free, but you'll know if you make your own whether or not ingredients you've added are gluten-free.
If you plan to buy miso soup from the store or a restaurant, you'll need to be sure to check ingredients lists or check with the cook in the restaurant to find out what ingredients are used in their miso soup.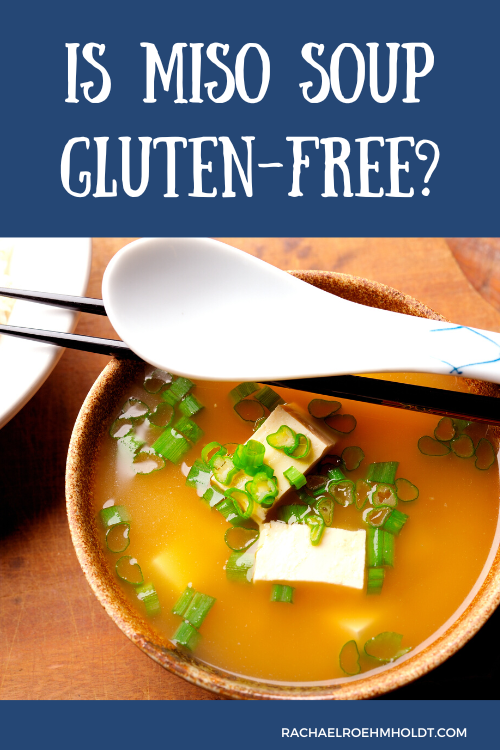 Should I order miso soup from a restaurant on a gluten-free diet?
This is going to be a "it's entirely up to you" answer. It depends on how much information you have about what type of miso paste and other ingredients are used in the miso soup at the restaurant you're visiting.
It also depends on the level of comfort you have around ordering foods from restaurants that have a chance of cross contamination.
At most restaurants, I'd say it's unlikely that there will be no gluten and you should anticipate cross contamination anywhere you go unless you know for certain there are extra precautions taken for folks on a gluten-free diet.
Know what your body does when it comes into contact with gluten – even at the small (or large) amounts that can occur from cross contamination within the kitchen from shared utensils, tools, and cooking areas.
Use your best judgment before ordering this from a restaurant based on what you know about how you react to gluten before ordering miso soup.
Gluten-free dashi options
To create a flavorful miso soup, opt for a gluten-free dashi as the base of your soup. Use one of these ingredients to make sure there's no gluten in your final miso soup.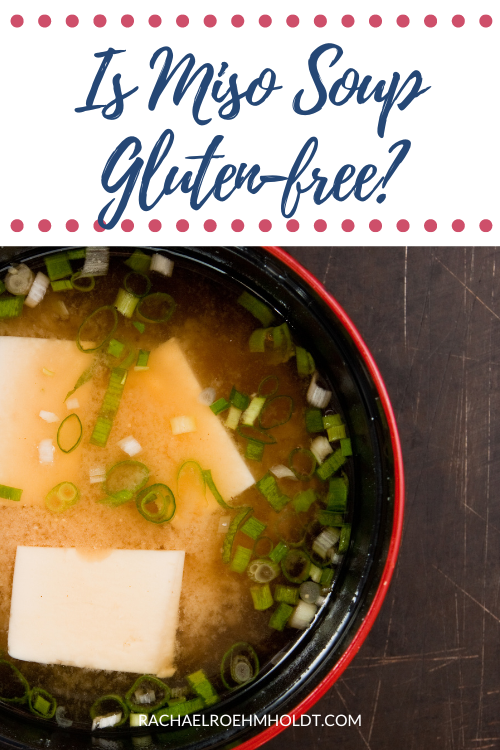 Brands of gluten-free miso paste
There are a number of brands of miso paste used for making miso soup on the market. Be sure to check out one of these options that I've been able to verify do not contain any gluten-containing ingredients.
If you enjoy making homemade miso soup for the ultimate comfort food on a cold day or to reset your stomach if you've been feeling under the weather, I hope this post has helped you determine if this soup is going to work well for you and your gluten-free diet.
While there's no guarantee that miso soup is gluten-free, and it can vary depending on what ingredients are used in the miso paste, it's entirely possible to make a gluten-free miso soup at home just by choosing the right brands and ingredients.
If you visit a restaurant, use your best judgment around the chances of cross contamination with other gluten-containing ingredients in the restaurant and be sure to find out what ingredients are in the miso paste before ordering.
Remember gluten-containing grains are sometimes used in miso paste, so be sure to ask before deciding on this dish from a restaurant.
If you loved this post, I hope that you'll share it with your friends on Facebook and pin it for future reference on Pinterest.
Love this post? You might also want to check out these!
Find out if your favorite foods and ingredients contain gluten with these posts!