Are you looking for the perfect gluten-free cracker for all your snacking and appetizer needs? Find a list of the best gluten-free crackers, where to buy them, and how to serve them. Many are dairy-free too!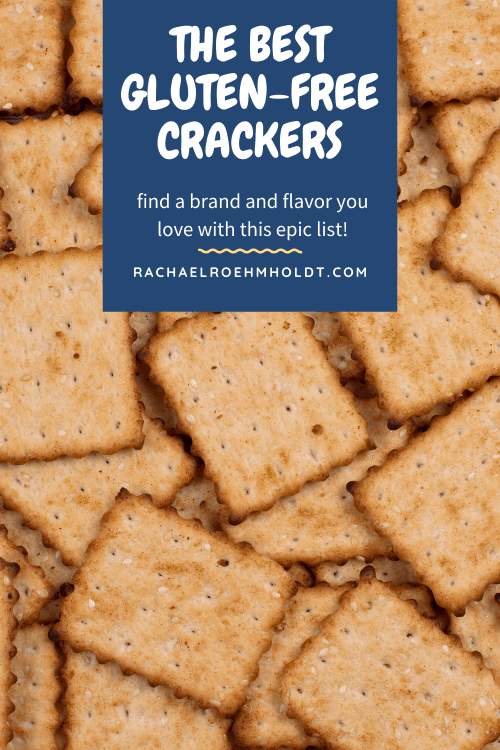 Note: I am a proud Amazon, Chomps, MunkPack, and Thrive Market affiliate and am happy to recommend their service and products to you. Please know that as an affiliate, I may receive a small commission on the products you purchase after clicking through my links. For more info, please see my disclosure policy here.
Crackers might be the most bland and boring snack food there is at first glance. On their own, they're a nice crunchy bite. When paired with dips or toppings, this seemingly boring food can become a vehicle for other deliciousness to make its way to your belly.
In soup, they can provide a different texture to an otherwise bowl of mush. Add them to a gluten and dairy-free charcuterie board or snack board, and your friends can mix and match what flavors they like for some easy snacking.
Put them out for holidays, like Thanksgiving or Christmas with some hummus or dairy-free dips for an easy appetizer.
The thing about most crackers that you'll find at the grocery store is that they often contain gluten. When I think of some of the most popular crackers on the market: Ritz, Triscuits, Saltines, Goldfish… They all have gluten!
In fact, you can be sure that almost the entire cracker aisle (side note: is it weird there's an entire AISLE of crackers at some stores?!) is full of gluten.
If you follow a gluten-free diet, even something as simple and seemingly straightforward as crackers you eat for snacking need to be looked at carefully. You'll want to do some research on what your options are, what brands and flavors are gluten-free, and where you can find them.
In this post, I'm going to share some of the best gluten-free crackers on the market today, as well as where to find them, so you have easy snacking options no matter how you enjoy eating them.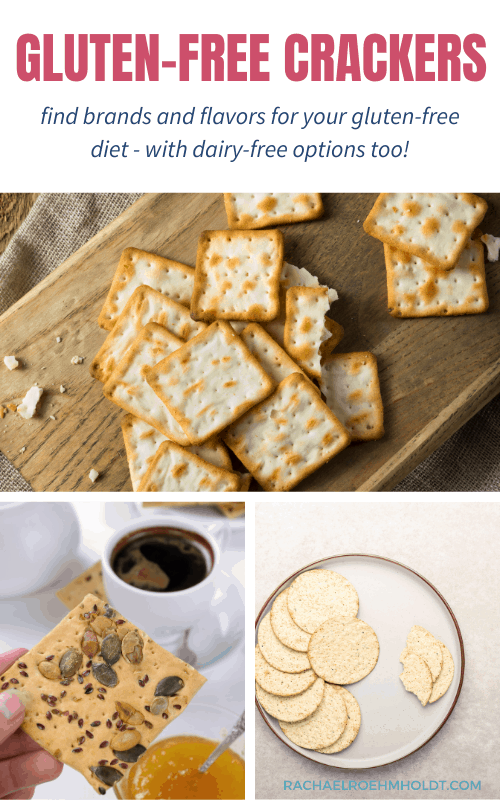 Choosing Gluten-free Crackers
When it comes to choosing gluten-free crackers, there are a few things you'll want to keep in mind.
First, you'll want to take into account knowing what makes something gluten-free. It's important to learn the names of gluten so that you know how to read ingredients lists and avoid those ingredients when you come across them.
You can see a list of other names of gluten to help you navigate your shopping. You can also pick up a copy of my GFDF Take Along Cards to take with you to the store.
One of my little secrets is that I carry around a copy of my GFDF Take Along Cards so that I always have a point of reference when I can sneak a peek at the ingredient list of a food.
>> Get your copy of the GFDF Take-Along Cards to make this easy on you.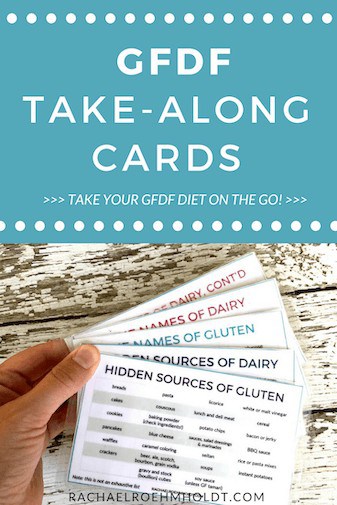 The next thing to think about is your health. Some crackers are just full of salt and carbohydrates. That's fine and well if that's what you're looking for, but you might consider trying to amp up your cracker game by looking for an option that provides SOME kind of meaningful nutrition and health benefit.
After all, everything you put into your body is an opportunity to nourish yourself. Luckily, there are a ton of super healthy gluten-free crackers on the market right now made from everything from almond flour to cauliflower to flax seeds.
Look through some of the options on this list to find what works best for your diet and snacking needs.
Read on: 101 Gluten-free Dairy-free Snacks
Where To Buy Gluten-free Crackers
You can find many gluten-free crackers at many large chain grocery stores, health food stores, and even some options at Costco. If you happen to have a tough time finding gluten-free crackers locally, these are my other two favorite places to find them:
Thrive Market
Thrive Market offers a ton of gluten-free products, including crackers. What I love most about Thrive Market is that they make it easy to find what you're looking for using the filters on their website. You can search for "crackers" then filter for "gluten-free" in the specific diet area of the filters.
Another thing I love about Thrive Market is their commitment to health and quality. They only carry products that are made with the intention of being responsible and healthy.
Even if you order something as simple as crackers from them, you can feel good that this company has done it's due diligence to find products that are good for you and aren't full of chemicals or preservatives.
You may not find every product you are looking for, but that's because they are stringent with who they let in and what they sell through their service.
Click here to see all the gluten-free crackers that Thrive Market offers.
Click here to see all the gluten and dairy-free crackers that Thrive Market offers.
Amazon
Amazon is another place to look for gluten-free crackers if you can't find them locally. They offer a variety of products at varying price points.
One great thing about Amazon is that you can order things in bulk, similar to Costco, so that you save money on a pack of 3 versus buying one for a higher price.
A great option to use with Amazon is their Subscribe & Save service, especially on snack foods that you know you'll go through regularly. You can opt in to get a specific item delivered to your door in regular intervals so that you never have to worry about running out.
One thing to be aware of is that you'll likely want to look at ingredients lists before buying anything on Amazon. Sometimes you can type in the term "gluten-free" with an item and the search results will bring back something that ISN'T gluten-free.
Without looking closely, you could inadvertently wind up with something you can't eat. (Don't ask me if that's how I wound up with a 3-pack of regular lasagna noodles instead of the gluten-free ones and then opened them before actually looking at the packaging… ahem)
Click here to see all the gluten-free crackers that Amazon offers.
Click here to see all the gluten and dairy-free crackers that Amazon offers.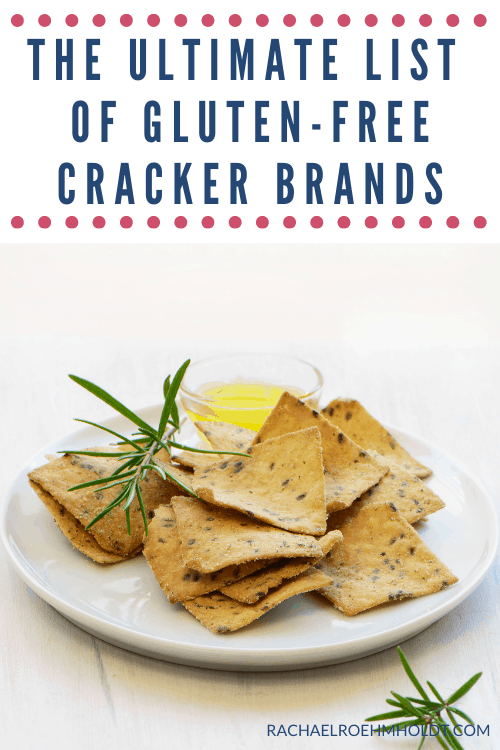 Gluten-free Cracker Brands
There are SO MANY gluten-free crackers available, and I spent hours (probably more than I should tell you) curating this list. It has crackers that I've seen locally, as well as some I've only ever been able to find online.
I put this list together by first looking at my local grocery store, then at the two places I shop online: Thrive Market and Amazon. I've done my best to link off to where you can buy them, flavor by flavor, so hopefully you have an easy way to get them if they look delicious to you.
Before I share the list with you, know that this list isn't exhaustive by any means. I spent a lot of time putting this together, but there just isn't enough time in the world to hunt down every brand and flavor of gluten-free crackers.
What I did include are the delicious options that are easy to find, great for everyday snacking, entertaining, and everything in between.
As you make your way through the list, you'll see a (DF) note on many of the items. This is a note to indicate which flavors are not only gluten-free, but also dairy-free.
I did this, because some flavors of a gluten-free cracker might be dairy-free, while others aren't. I wanted to make it explicitly clear which ones were dairy-free, as I know many of you follow my blog for the dairy-free information too!
Without further ado, here are the 5.7 million (okay, that might be an exaggeration) gluten-free crackers I was able to round up for you.
Absolutely Gluten-free
Ancient Provisions
Back to Nature
(* These flavors contain no dairy ingredients, but are made on the same equipment as milk)
Blue Diamond Nut Thins
Breton
Crunchmaster
Doctor in the Kitchen Flackers
Edward & Sons
Ener-G
Everybody Eat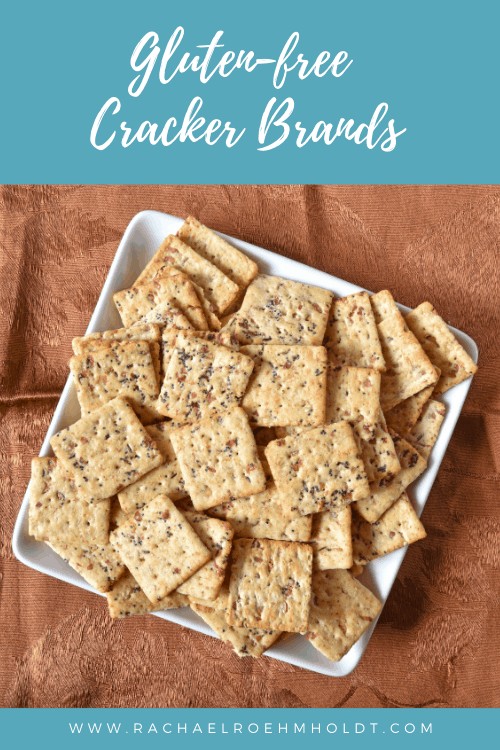 Foods Alive
Glutino
Go Raw
Hippie Snacks
Hu Grain-free Crackers
Julian Bakery
Ka-Me Sesame Rice Crackers
Rice Crackers in a Bag
Original Rice Crackers
Mini Rice Crackers
Lance Gluten-free Crackers
Livin' Spoonful Sprouted Crackers
Mary's Gone Crackers
Original Crackers
Super Seed Crackers
Real Thin Crackers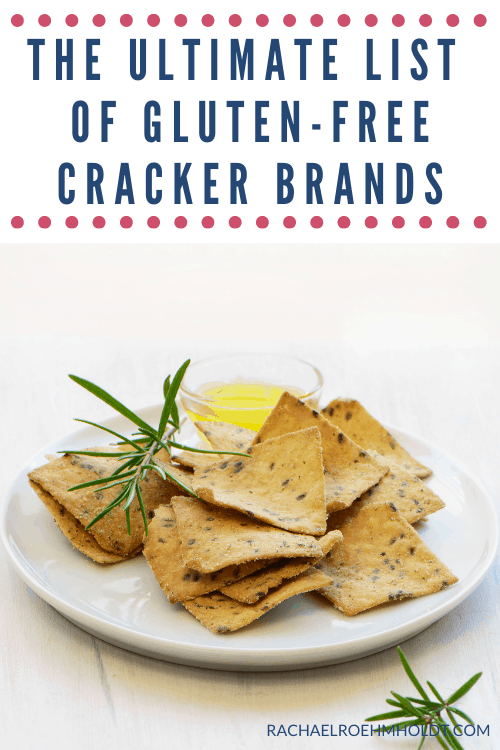 Milton's Gluten-free Crackers
Nabisco Good Thins
Natural Nectar Cracklebread
New Beat Foods
Orgran
Raw Food Central
Real Food From the Ground Up
Schar
Simple Mills Almond Flour Crackers
Sesmark
Rice Thins
Savory Rice Thins
Ancient Grains
Mini Rice Crackers
DF* notes that while there are no dairy ingredients, these are produced in a facility that also processes dairy products.
Thrive Market
Van's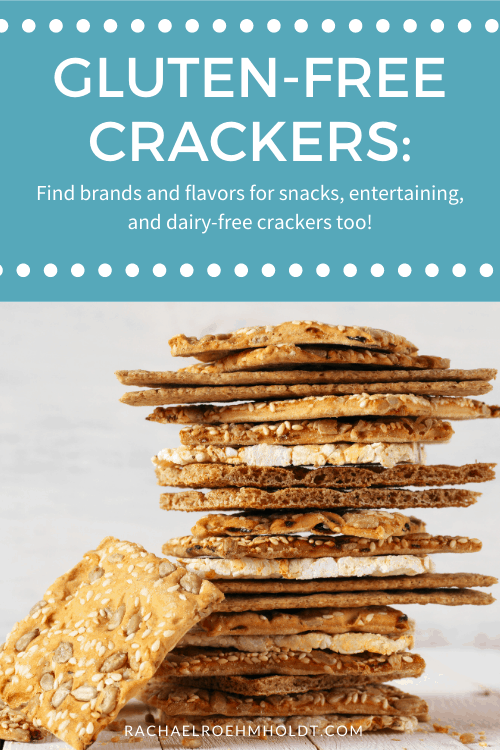 How To Enjoy Gluten-free Crackers
You probably don't need any help figuring out how to eat crackers, but just in case you're looking for some inspiration, here are some of my favorite ways to enjoy them.
Read on: Gluten and dairy-free lunch ideas
Are Triscuits gluten-free?
Triscuits are not gluten-free. This brand of crackers has a main ingredient of wheat, which contains gluten proteins.
All Triscuit crackers contain gluten, including their brown rice/sweet potato flavor, so this brand should be avoided on a gluten-free diet.
Read on: Are Triscuits gluten-free?
Are Ritz crackers gluten-free?
Unfortunately, because all varieties and flavors of Ritz crackers contain wheat flour, they aren't considered gluten-free.
If you love Ritz crackers, you might be disappointed to find this out, but don't worry – there are a number of other brands of gluten-free crackers to choose from!
Read on: Are Ritz crackers gluten-free?
Are Cheez-Its crackers gluten-free?
Cheez Its crackers are not considered gluten-free, because they have enriched flour as one of their ingredients.
Wheat flour or enriched flour contains gluten, and therefore is an ingredient anyone on a gluten-free diet will want to avoid.
Read on: Are Cheez-Its gluten-free?
Are saltine crackers gluten-free?
Most saltine crackers are not gluten-free as they're made with flour that comes from wheat. If you are following a gluten-free diet and are looking for a cracker to enjoy as a snack, topping for your soup, or a go-to food for when you're feeling sick, you'll want to look for a gluten-free option instead.
Some terms to look for when searching for a saltine or soda cracker that's gluten-free from the store are "table crackers" or "soda crackers." Be sure to look for a gluten-free label on a package of crackers and look at ingredients lists for any hidden ingredients that may contain gluten.
Read on: Gluten-free Saltine Crackers
Are graham crackers gluten-free?
Most graham crackers you can find at the grocery store are not gluten-free, as they contain unbleached enriched flour and graham flour (a flour made from whole grain wheat flour).
Of course you can make your own gluten-free graham crackers at home using gluten-free ingredients. There are many recipes online for you to search for if this is something you're interested in trying out.
There are also a few brands that offer gluten-free graham crackers that are easy to find and taste the same as most common graham cracker brands.
Read on: Get my gluten-free graham cracker crust recipe
Read on: Are graham crackers gluten-free?
Do Goldfish have gluten?
Read on: Do Goldfish have gluten?
I hope if you've been looking for a gluten-free cracker option, or a gluten and dairy free cracker option, that this post has given you loads of information on what brands to look for.
I also hope that as you make your way through the grocery store aisles or online shopping, you feel confident you know what to look for in ingredients lists!
Remember that before buying, you'll want to do your due diligence and review all ingredients if you want to avoid gluten in your diet.
Enjoy these gluten-free crackers a million different ways and feel confident shopping for this snack food!
If you loved this post, I hope that you'll share it with your friends on Facebook and pin it for future reference on Pinterest.
Love these snack ideas? You might also want to check out these posts!
Get tons of snack ideas from this list of gluten and dairy-free posts all about snacks!