Wondering if yogurt is dairy-free? Find out all you need to know about dairy-free yogurt, including where to buy, best brands, and how to make your own.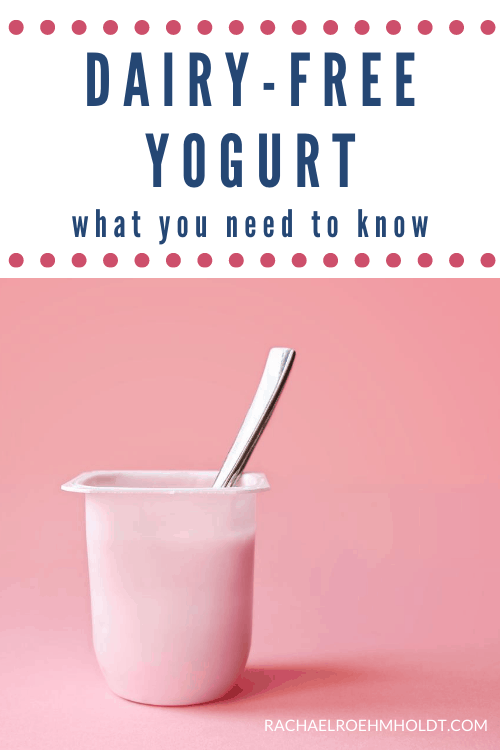 Note: I am a proud Amazon, Chomps, and Thrive Market affiliate and am happy to recommend their service and products to you. Please know that as an affiliate, I may receive a small commission on the products you purchase after clicking through my links. For more info, please see my disclosure policy here.
If you follow a dairy-free diet, you may have wondered if yogurt is safe to enjoy. In this post, we'll discuss dairy-free yogurt, how to make your own, and some brands of dairy-free yogurt to try.
Whether you're just getting started with a dairy-free diet or you've been at it for a while, one food that you might not have known was a dairy product is yogurt. In many people's daily lives, yogurt is used as a meal on its own with some gluten-free granola, as a side at breakfast, or even in baking.
Yogurt is a versatile ingredient that you might enjoy, but on a dairy-free diet, is it actually a good food to continue eating? Let's go through some of the details on yogurt below.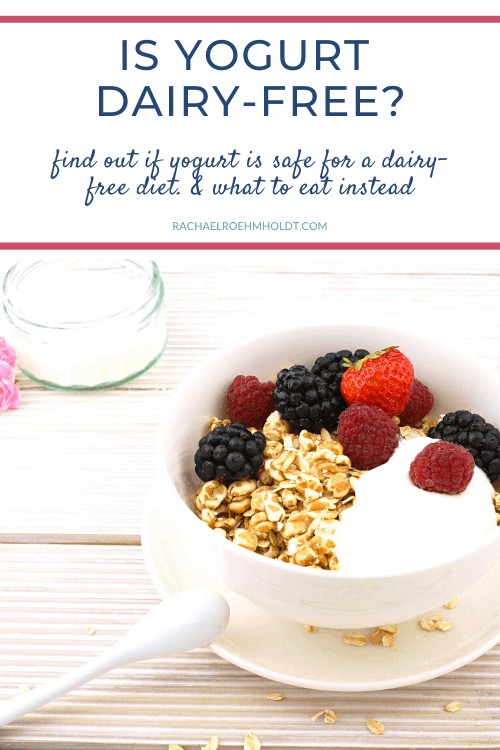 Is yogurt dairy-free?
If you've been following a dairy-free diet, you might want to know if yogurt is a good choice for you on this diet.
Any food that is made using animal milk is considered a dairy product. In this case, most yogurt is made from cow's milk and is therefore a dairy product. You won't want to eat yogurt made from cow's milk if you're following a dairy-free diet.
What is a dairy-free substitute for yogurt?
Now that you know that most yogurt is made using dairy, what is a good substitute or alternative for this ingredient if you follow a dairy-free diet?
There are a number of dairy-free yogurt options available in grocery stores. In the past five years or so, there have been a number of different dairy-free yogurt alternatives to hit the market.
You can find dairy-free yogurt made from all different kinds of dairy-free milks: almond milk, coconut milk, soy milk, oat milk, cashew milk, and even macadamia nut milk.
It seems like there are new options coming out all the time, so keep your eyes open at the grocery store for some of these different dairy-free yogurts to try on their own or to add to your cooking and baking.
Read on: Is almond milk gluten-free?
Read on: Is oat milk dairy-free?
Where to buy dairy-free yogurt
You can buy dairy-free yogurt of many different varieties at your local health food store and maybe even your local grocery store.
Dairy-free yogurt has become a lot more popular in the last 5 years or so, with all kinds of new options coming out all the time, and in different flavors.
Look at your health food store or even your bigger grocery stores, like Safeway or Kroger. You can even find dairy-free yogurt at Trader Joe's.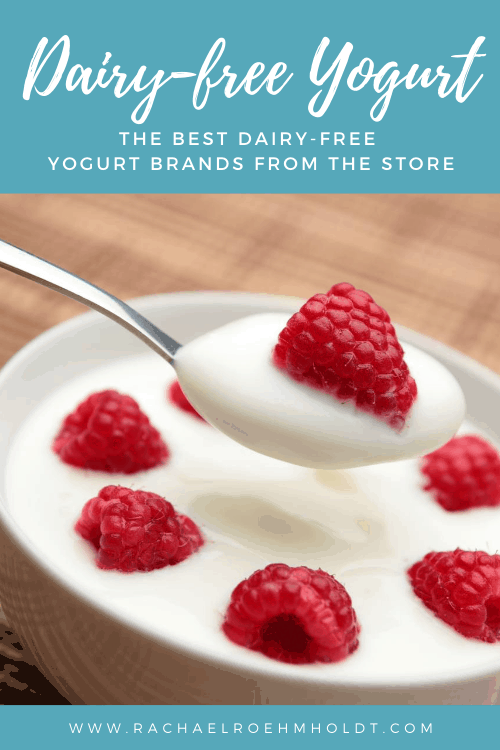 Best dairy-free yogurt
You might be wondering what is the best dairy-free yogurt? The answer to that question really comes down to personal preference.
Some people like almond milk more than they like coconut milk, or they like oat milk more than they like cashew milk. Depending upon what dairy-free milk you like most, you'll find you prefer different brands or different options.
Based on the different types of yogurt that are available at most grocery stores, here are some of my favorite dairy-free yogurt brands that I would recommend you try.
Read on: 101 Gluten-free Dairy-free Snacks
How to make dairy-free yogurt
You can make your own dairy-free yogurt at home with some dairy-free milk, a probiotic supplement or starter culture, some sugar, and a thickener such as gelatin or arrowroot starch.
There are a few different ways to make your own dairy-free yogurt. You can make it with a yogurt maker, an Instant Pot, or on the counter. Here are a few resources for how to make dairy-free yogurt in each of these ways.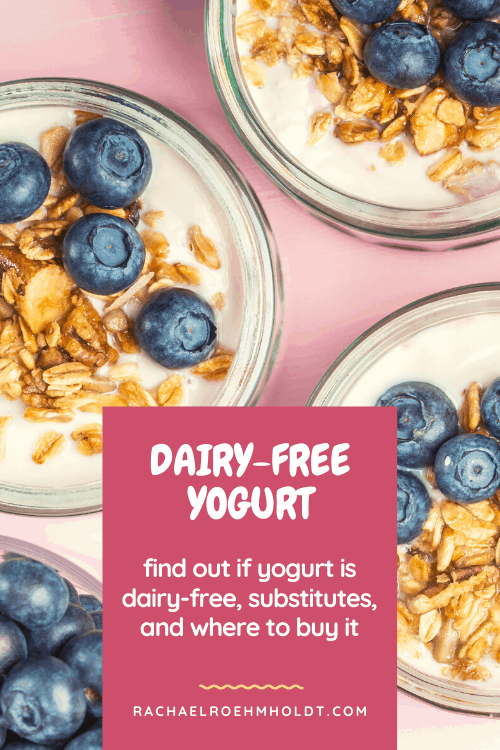 Is there any nutritional value in dairy-free yogurt?
One of the reasons that most people love traditional cow's milk yogurt is for the protein content. In dairy-free yogurt, you won't get as much protein as you would in cow's milk yogurt, because dairy-free milk doesn't contain as much protein as cow's milk does.
While dairy-free yogurt will have healthy fats and tastes great, there is a lot less nutrient density and health benefits than cow's milk yogurt. Of course, if you love yogurt and don't want to give it up in your diet completely, that's okay.
Find a dairy-free yogurt that has a higher amount of protein, like hemp milk based yogurt, and know that you can also supplement your diet with more protein elsewhere.
One thing to look out for in dairy-free yogurt is the amount of sugar that's included. Most dairy-free yogurt doesn't taste like a cow's milk yogurt (obviously) and won't have the natural sweetness you might expect. Oftentimes, the manufacturers of dairy-free yogurt try to make up for that taste difference by adding in extra sugar.
Without the benefit of all that protein in cow's milk yogurt, dairy-free yogurt is often full of sugar but without the protein to make up for it. Look for a lower sugar dairy-free yogurt option if you plan to enjoy this food often.
Is Greek yogurt dairy-free?
Since Greek yogurt is cow's milk yogurt that has had much of the whey and lactose strained out of it, you might be wondering if it is dairy-free. Even without the whey or lactose, there are other parts of the milk that are still in the yogurt that make it a dairy product. By straining out one part of the dairy, it doesn't make this a dairy-free product.
That said, some people who are lactose intolerant can tolerate Greek yogurt. That is fine! If you are one of those people and want to continue to enjoy it in your diet, great! If you want to maintain a complete dairy-free diet for other health reasons, Greek yogurt is an ingredient you'll want to steer clear of.
Read on: Is Greek yogurt dairy?
Low sugar dairy-free yogurt
As mentioned earlier in the article, dairy-free yogurt can have a lot of sugar with less protein than traditional cow's milk-based yogurt, so you might be cautious to add this to your regular diet.
If you love yogurt and want to find a way to include this ingredient in your diet regularly, look for a lower sugar dairy-free yogurt. Here are three low sugar dairy-free yogurts that I have found that I would recommend over some of the others that are on the market.
Nancy's Plain Probiotic Oatmilk Non-Dairy Yogurt (0 grams per serving, 6 grams protein)
Forager Unsweetened Plain Cashewgurt (1 gram sugar per serving, 3 grams protein)
Kite Hill Almond Milk Yogurt (5 grams sugar per serving, 6 grams protein)
I hope that if you are eating a dairy-free diet that you aren't discouraged that you have to give up yogurt forever.
There are options for you, especially if you want to include it in your diet regularly. If you love yogurt, try some of these dairy-free yogurt options and find one that you love to enjoy plain or in your cooking and baking.
Wondering if other ingredients or foods are dairy-free? Check out the FAQ's on my Gluten and Dairy-free Diet Basics Page for more.
Love this post? Be sure to check out some of my other great breakfast posts!
Not sure what to make for breakfast on a gluten and dairy-free diet? These posts will give you loads of ideas!