Frozen yogurt is a popular treat, but is it dairy-free? Find out in this post if frozen yogurt is safe for a dairy-free diet.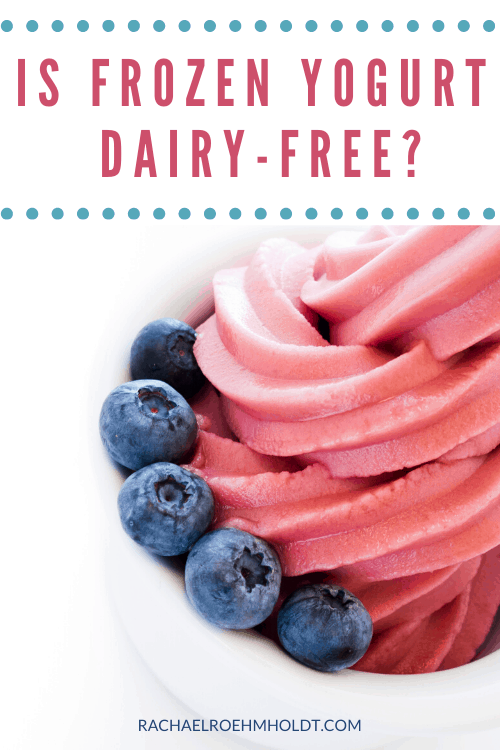 When it comes to enjoying the warm weather months, everyone can agree that frozen treats are the best way to cool down.
In the past decade or so, frozen yogurt has become an increasingly popular dessert option, offering loads of flavors and the ability to customize your dessert with toppings of your choice. What's not to love about frozen yogurt?!
If you eat a dairy-free diet, you might be wondering if this treat is something you can enjoy once in a while too.
After all, yogurt contains dairy… so does frozen yogurt also have dairy ingredients? Let's find out more in this post.
Here's what we'll cover in this dairy-free frozen yogurt post:
What is frozen yogurt?
What's the difference between ice cream and frozen yogurt?
The ingredients in frozen yogurt
Is frozen yogurt dairy-free?
Is frozen yogurt lactose-free?
Dairy-free alternatives
What is dairy-free frozen yogurt made of?
Is frozen yogurt healthy?
Does frozen yogurt contain probiotics?
Is frozen yogurt safe for a dairy-free diet?
Where can I find dairy-free frozen yogurt?
Let's dive in, shall we?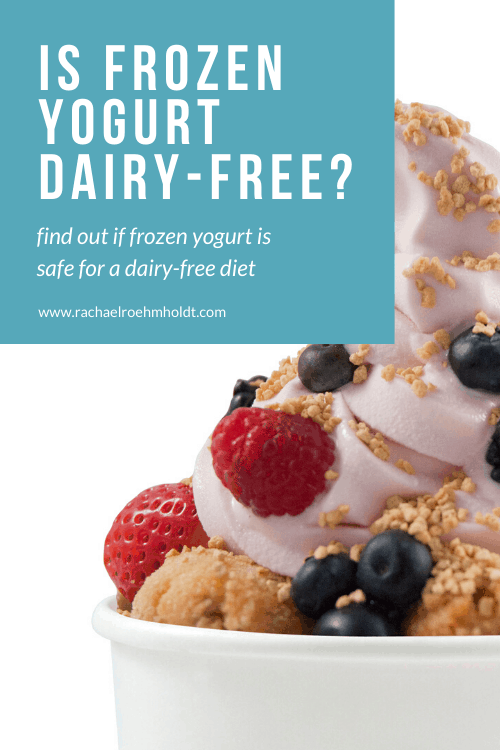 What is Frozen Yogurt?
Frozen yogurt is a frozen dessert made using yogurt and other ingredients. Frozen yogurt is usually more of a tart flavor than traditional ice cream, with a "soft serve" texture, rather than a hard creamy texture like ice cream.
What's the Difference Between Ice Cream and Frozen Yogurt?
Ice cream is a frozen dessert that is made with at least 10% milkfat in the ingredients, usually cream is added to get that percentage high enough to qualify as "ice cream." Ice cream is regulated by the USDA in the United States, and a frozen dessert can only qualify as "ice cream" if it meets that 10% milk fat percentage.
Frozen yogurt is made usually from cultured milk, with no cream added. Since it is not regulated by the USDA, there's no minimum fat requirement to be called "frozen yogurt." With the lack of fat, much of the flavor is made up for with more sugar in the ingredients.
The biggest difference between ice cream and frozen yogurt is the fat content, where ice cream is usually much higher than frozen yogurt.
Read on: Is ice cream gluten-free?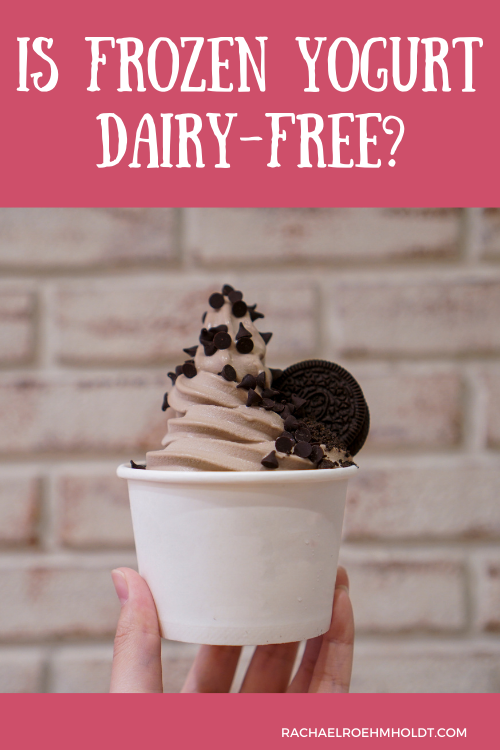 The Ingredients in Frozen Yogurt
Many frozen yogurts are made with milk, milk solids, milk fats, corn syrup, flavorings, gelatin, emulsifiers, and yogurt culture.
Read on: Is corn syrup gluten-free?
Is Frozen Yogurt Dairy-free? Does Frozen Yogurt Have Dairy?
After reading through the ingredient list of frozen yogurt above, you can see with the presence of milk, milk solids, and milk fats, that most frozen yogurt is NOT dairy-free.
However, there are dairy-free frozen yogurt options available at many frozen yogurt shops.
The local frozen yogurt place I go to usually has one choice per week of a dairy-free frozen yogurt, and the flavor rotates. For the most part, these are fruit flavored options, and taste a lot like fruit sorbet.
You will have to check out your local frozen yogurt place and see if they list a dairy-free option.
You can also look on their website or call ahead to see what they have to offer on a day that you plan to get frozen yogurt.
Another thing to think about when it comes to avoiding dairy while eating frozen yogurt are the toppings.
Many frozen yogurt toppings contain dairy, such as candies, chocolate or caramel flavors and sauces.
My recommendation is to do your research before going so you know what you like and what is dairy-free so you can make an informed decision when you are filling your cup.
Read on: Is Greek yogurt dairy?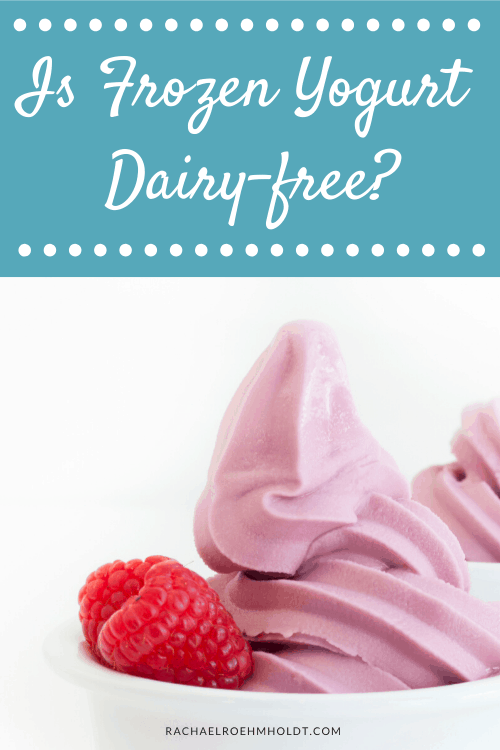 Is Frozen Yogurt Lactose-free?
Many frozen yogurt flavors and options are not lactose free. If you are lactose intolerant, you will want to stick with any dairy-free flavors that are available at your local frozen yogurt shop. These will often be the fruit flavors and taste much like sorbet.
Dairy-free Alternatives
Believe it or not, you CAN find dairy-free frozen yogurt, but they aren't always easy to come by. Many of the dairy-free frozen yogurt options are fruit flavored and taste like sorbet.
I have also had an almond milk based chocolate frozen yogurt. I've enjoyed strawberry, lemon, raspberry, and pineapple dairy-free frozen yogurt at my local frozen yogurt place over the years.
When looking for a dairy-free frozen yogurt, be sure to look at ingredient lists (if listed at your local shop), or ask someone who works there if they can confirm the ingredients for you before filling a cup.
If you are looking for frozen yogurt that is dairy-free, but can't find any locally, you might consider making your own at home. Or another option here.
Dairy-free Instant Frozen Yogurt
If you are interested in making your own dairy-free frozen yogurt at home, you might want to try out my two-ingredient instant frozen yogurt!
It's fast, easy, and you may even already have the ingredients on hand in your kitchen right now.
Get the dairy-free instant frozen yogurt recipe.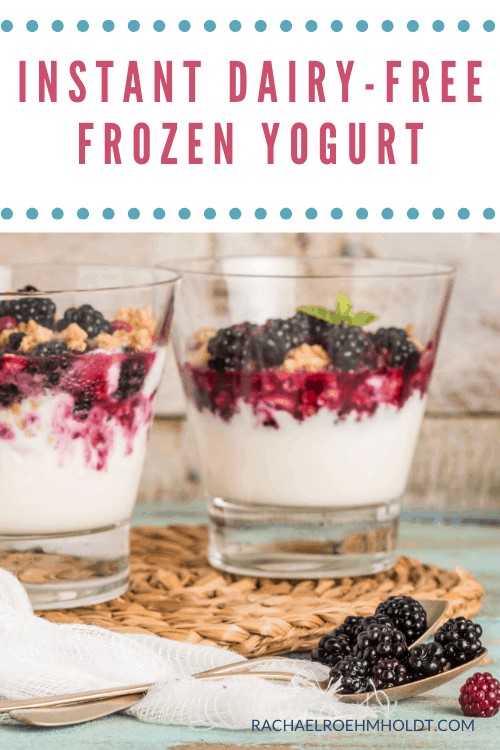 What is Dairy-free Frozen Yogurt Made Of?
Dairy-free frozen yogurt is usually made from soy, rice, almond, or coconut milk. You can also find fruit based frozen yogurt that is made with fruit, sugar or corn syrup, and flavorings.
Read on: Dairy-free Milk Alternatives
Is Frozen Yogurt Healthy?
Frozen yogurt is a dessert, so whether you eat it with or without the dairy, it contains quite a bit of sugar.
Many people think frozen yogurt is healthier than ice cream, because yogurt contains probiotics, however with the freezing process, these bacteria won't have been able to survive the cold temperatures.
Is frozen yogurt a health food? No. Is frozen yogurt a healthier treat than others? Maybe, due to the lower calorie and fat content.
If a dessert contains dairy and you are dairy intolerant, a dairy-free frozen yogurt treat might be a more healthy choice for you than a dessert that contains dairy.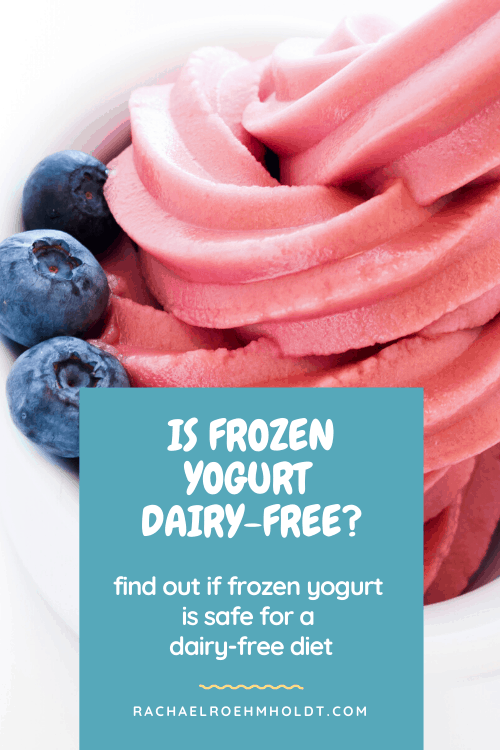 Does Frozen Yogurt Contain Probiotics?
You might be wondering if there are any beneficial probiotics in frozen yogurt. Especially since "yogurt" is well known to contain probiotics, and are said to be good for a healthy gut.
The probiotics that are found in yogurt are not able to stay alive due to the freezing temperatures that are required to make frozen yogurt.
Even if a company promotes their frozen yogurt containing probiotics, this is unlikely to be true as this beneficial bacteria wouldn't survive the temperature change and not be helpful for your gut if they have died off.
Is Frozen Yogurt Safe for a Dairy-free Diet?
Let's get to the bottom of this question once and for all – is frozen yogurt safe for a dairy-free diet? The answer is… it can be!
If you find a dairy-free frozen yogurt at your local frozen yogurt shop, you can be sure that it is safe. Assuming the facility you go to is clean and you aren't sensitive to any cross contamination of tools, you should be able to enjoy any dairy-free options.
If you eat a dairy-free diet, you'll want to be sure to choose frozen yogurt flavors that are very obviously dairy-free (like sorbets) and that you have reviewed the ingredient lists or talked to someone who works at the frozen yogurt shop if they can confirm this information for you.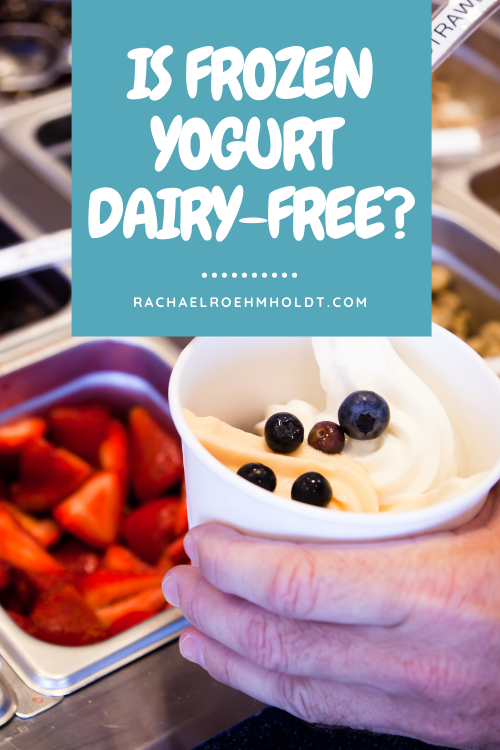 Where Can I Find Dairy-free Frozen Yogurt?
This will depend a lot on where you live and what your options are for frozen yogurt in your area. Many frozen yogurt chains, like TCBY and Pinkberry offer dairy-free options regularly.
For a full list of other chains where you can find dairy-free frozen yogurt, check out this post.
I hope if you've been looking for dairy-free frozen yogurt options that this post has inspired you to check out your local froyo shop and see what they have to offer!
Remember, you can always call ahead, look at their website, or just go down to the shop and see what their dairy-free options are.
If you live in an area with only a small shop (not a larger chain), you might even be able to put in a request for more dairy-free options.
If business owners know there's a demand, they might be likely to put in an order to meet the needs of their customers.
Have you been able to find dairy-free frozen yogurt options near you? What are your favorite flavors? Let me know in the comments below!
f you loved this post, I hope that you'll share it with your friends on Facebook and pin it for future reference on Pinterest.
Like this post? You might enjoy some of these posts!
Cool down with some of these delicious dairy-free treats: ice cream recipes, frozen yogurt, and tips on which cold treats are good for your dairy-free diet.
Wondering if other ingredients or foods are gluten-free? Check out the FAQ's on my Gluten and Dairy-free Diet Basics Page for more.