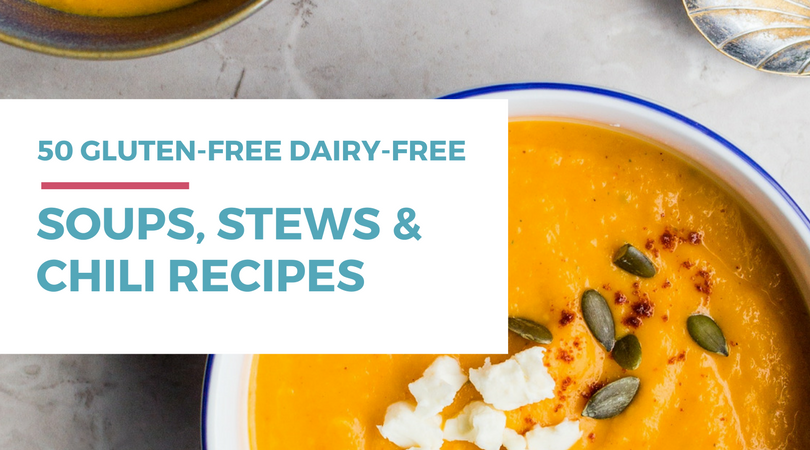 Need some gluten-free dairy-free soup to keep you warm through the colder seasons? Check out this recipe roundup full of 50 delicious soups, stews, and chili recipes to fill your belly and warm your body.
This has been one long winter in the Seattle area. I feel like its been ages since weve had warm weather and havent had to bundle and layer up to go outside to play.
Even though I look forward to fall every year, come this time of year the dragging on days of winter Im itching to swap the sweaters and blankets for shorts and sprinklers.
The one saving grace of the lingering winter is the food. While, spring and summer have amazing fruits and veggie-based dishes, I always count on the cold months of fall and winter always to get my fill of big flavors and hearty meals.
Even as the the season is ending in a few weeks (I hope!!), I thought it would be fun to round up some delicious recipes of gluten-free dairy-free soups, stews and chilis.
Of course, if you're like me, you still eat some of these foods year round, because they're just too good to keep for only half the year.
I've separated these soup recipes out into categories of chicken, beef, ham/bacon/pork, vegetable, and 20-minute soups.
Depending on what you have around the kitchen or how much time you have, I hope you find this list useful. Break out the gluten-free crackers or get your bread in the toaster for dunking – it's time for soup!
Read on: Is chili gluten-free?
Read on: Gluten and dairy-free lunch ideas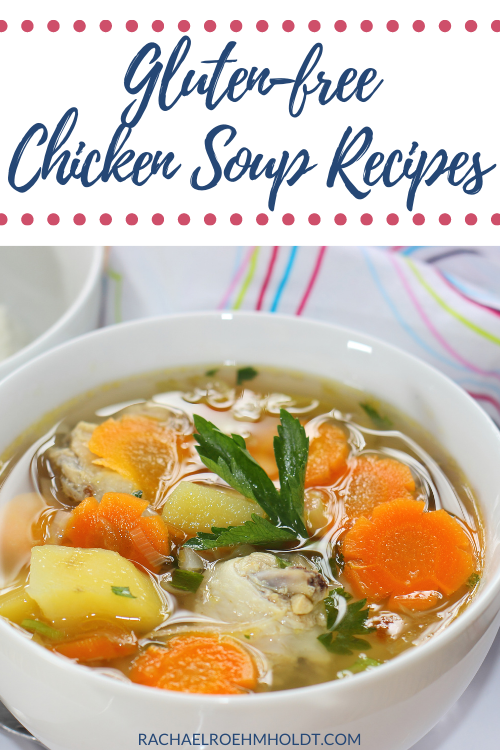 Gluten-free Dairy-free Soup – Chicken Soups
If you love chicken soup but have been looking for some gluten and dairy-free options, you'll love these ten recipes. Many can be made right in your crockpot, Instant Pot, or simmered in a dutch oven low and slow.
Cream of chicken soup is often used in many casserole recipes, but is loaded with gluten and butter. This recipe uses Earth Balance vegan butter, gluten-free flour, and coconut milk to make it both gluten and dairy-free.
Read on: 25 Gluten-free Chicken Soup Recipes
Chicken noodle soup is perfect for sick days or really any cool weather day. Try this take on chicken noodle soup by swapping the noodles for rice, making it completely gluten-free.
Try this crockpot chicken enchilada soup to warm you up on chilly nights. This recipe is loaded with chicken, fire roasted tomatoes, bell pepper, and enchilada-inspired spices. Enjoy this yummy recipe with avocado and cilantro on top!
This super versatile recipe is full of chicken and fresh avocados, but most of the ingredients can be swapped in and out for a different take on this recipe every single time! Add beans, more veggies, or make it extra spicy with diced green chiles.
If you're looking for a soup to warm your belly but keep it light, try this chicken detox soup. It's loaded with veggies like carrots, broccoli, and peas, so you know you're getting your vitamins and greens too.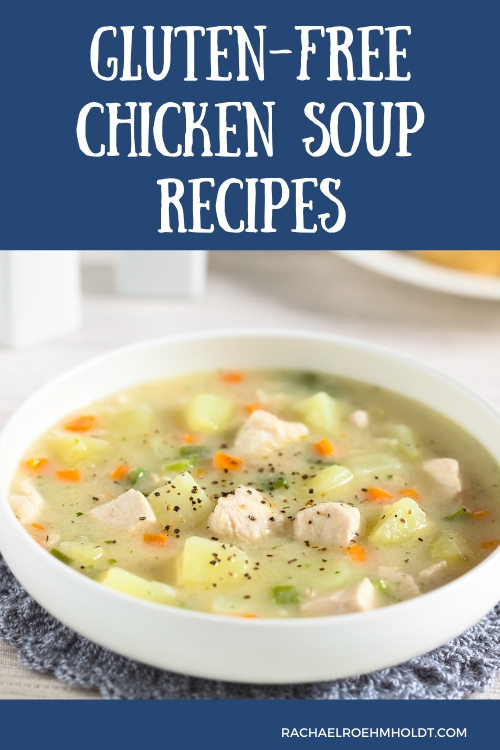 Nothing says comfort food in the fall like a big bowl of chicken and dumplings. These gluten-free dumplings are homemade with gluten-free Bisquick mix, vegetables, and cooked chicken. You'll love this soup!
Read on: Are dumplings gluten-free?
You'll love this Instant Pot white bean chicken chili soup. It's full of delicious flavors like chicken, garlic, cumin, jalapeños, and cannellini beans. You can get creative with the toppings too – try cilantro, lime wedges, tortilla chips, or avocados.
Turmeric is said to help build up your immune system, so this chicken no-noodle soup is perfect for those sick days you might find yourself having this fall. This soup is loaded with chicken and fresh veggies and gets loads of flavor from dried herbs, fresh ginger, garlic, and turmeric.
This gluten-free chicken tortilla soup is full of fresh vegetables, like red bell pepper and zucchini. You'll enjoy the spice from this soup from green chiles and jalapeños. Try this one on a night you need a quick-fix dinner – it only takes 30 minutes!
This soup recipe is perfect to have on hand for any cool fall or winter days. This chicken noodle soup recipe is updated to be gluten-free with gluten-free noodles. What's even better? It's made in an Instant Pot, making your life just that much simpler at meal time.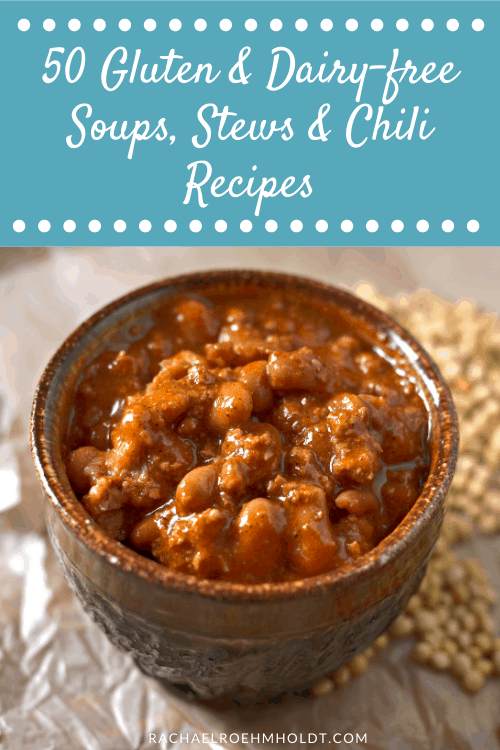 Gluten-free Dairy-free Soup – Beef Soups
These chili, stew, and soup recipes highlight beef in a few different cuts. Whether you like beef and vegetable soup, hearty stew, or a slow cooker chili, you'll find something that works for your gluten and dairy-free diet here.
This gluten-free chili is super easy, made in your crockpot, and uses mainly pantry ingredients! Enjoy this super satisfying recipe for tailgating, to ring in fall, or to serve a crowd.
Enjoy this warm-you-up soup that's full of beef and loads of fresh vegetables, like carrots, celery, green beans, tomatoes, cabbage, onions, and corn. This soup comes together easily in your crockpot or slow cooker.
This beef stew is a perfect fall comfort food! It's full of flavor from onions, garlic, fire roasted tomatoes, and loads of seasonings. You'll love this one!
This beef stew is a traditional beef bourguignon with beef chuck, onions, carrots, bacon, red wine, garlic, canned tomatoes, and dried herbs. With some added veggies of pearl onions, mushrooms, carrots, and frozen peas, this is a classic with a healthy twist.
This delicious chili is loaded with flavor from ground beef, onions, garlic, and loads of spices like cumin, oregano, and ancho chili powder for some heat. This recipe would be great on its own or with some gluten and dairy-free cornbread on the side.
Read on: 25 Gluten-free ground beef recipes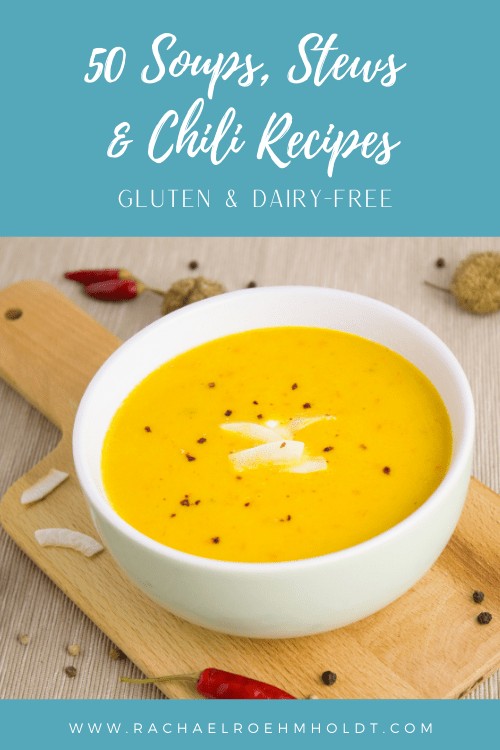 If you avoid nightshades (tomatoes, potatoes, eggplant, peppers), this is a great twist on a traditional vegetable beef soup. This recipe calls for a "nomato" sauce, which is made of a mixture of butternut squash, carrots, onions, and beets.
If you avoid tomatoes for a food intolerance or allergy, you're in luck with this recipe. You can enjoy this recipe that's loaded with ground beef, veggies, black beans, garlic, and gets some extra flavor from liquid smoke and molasses.
Enjoy this take on chili with the addition of some sweet potatoes to really amp up the fall flavors. Without any beans, you can still enjoy the hearty texture you expect from chili in this recipe.
My mom used to make vats of hamburger soup when I was a kid. I remember thoroughly loving every bite of it for a few days and then loathing it by the end of winter, because we ate it so much. This recipe is perfect, because there's no gluten, just tons of veggies and beef.
This Pakistani Kima recipe is loaded with flavor from curry powder, pepper, cinnamon, ginger, and turmeric. If you haven't tried a kima ground beef curry recipe, it's incredible! This recipe is amazing for a gluten and dairy-free diet too.
Read on: Is Wendy's chili gluten-free?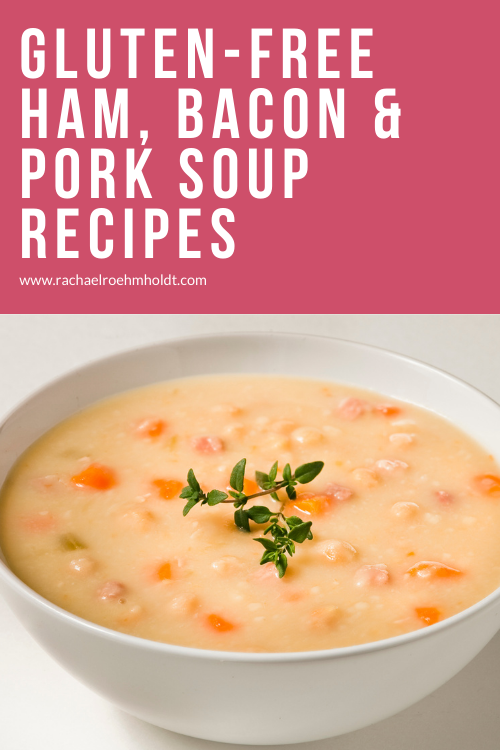 Gluten-free Dairy-free Soup – Ham, Bacon and Pork Soups
Ham, bacon, and pork ingredients are highlighted in this set of recipes. Choose from ham and bean soups, chowder, and even a chili verde recipe.
This potato, bacon, and corn chowder is full of flavor and completely gluten and dairy-free, with coconut milk and cornstarch making it thick and creamy.
Read on: Is bacon gluten-free?
If you want a more fall-inspired chowder, try this sweet potato and bacon chowder. It has bacon, coconut oil, onion, garlic, sweet potatoes, kale, coconut, and herbs.
This soup looks thick and hearty. Cook up a package of dried split peas with a few ham hocks and some vegetables for a flavorful and filling lunch or dinner.
This classic ham and bean soup couldn't be simpler. With a bag of dried pinto beans, a ham shank, ketchup, water, and salt, you have a filling and flavorful soup for the cool weather months.
If you are looking for a ham and potato soup, but want to leave some of the carbs behind, try this creamy cauliflower soup instead. Be sure to use coconut oil to ensure it's dairy-free.
This creamy potato and ham soup is full of flavor from fresh vegetables, red potatoes, ham, and kale. Enjoy this with some gluten-free toast or crackers.
This ham and bean soup is top 8 allergen friendly free, so you can feel good about it if you have multiple food allergies or intolerances. This soup cooks low and slow in a dutch oven on the stove top, so you know your house will smell amazing as you cook too.
Read on: Are beans gluten-free?
This chorizo and vegetable stew is hearty with chorizo sausages, carrots, celery, white potatoes, tomatoes, garlic, and zucchini. Enjoy this spicy soup and feel good that it's gluten and dairy-free.
For a delicious take on chili, try this chili verde version. This chili can be made in the crockpot and uses some delicious flavors like tomatillos, Anaheim peppers, pork roast, and fresh cilantro.
If you love pulled pork, try this low carb soup. It is made with tons of veggies, chicken stock, diced tomatoes, and of course some seasonings. The best part is that it only requires one pot!
Read on: Is chicken stock gluten-free?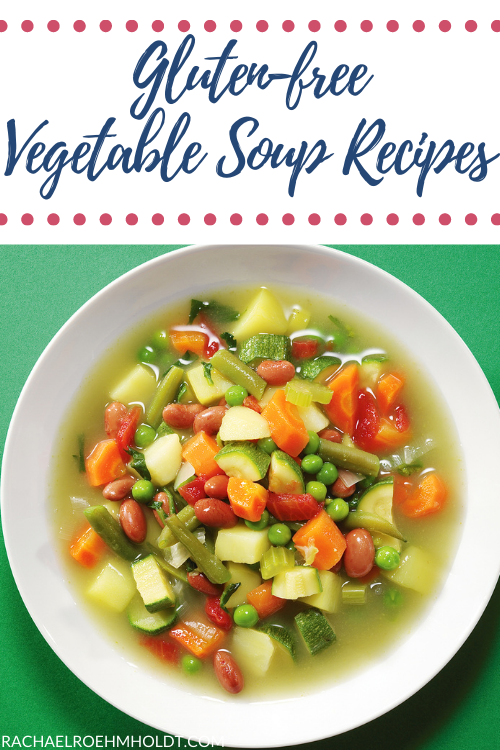 Gluten-free Dairy-free Soup – Vegetable Soups
Vegetable soup can be made with almost any vegetables you love. Get creative or try one of these recipes that show you how delicious and healthy a gluten and dairy-free diet can be.
This soup marries the flavors of roasted cauliflower and potatoes perfectly. With onion, leeks, garlic, chicken broth, lemon juice, and dill, you'll love the flavor and creaminess of this soup without missing the gluten or dairy one bit.
Read on: Gluten-free chicken broth
Read on: Is chicken broth gluten-free?
If you're a fan of sprouts, give this soup a try. This makes the most of them along with onions, garlic, cabbage, mushrooms, and tomatoes. With some extra flavor from balsamic vinegar, dill, paprika, and marjoram, you'll love this one!
There's nothing like curry to remind me of fall. Try this delicious butternut squash soup with loads of flavor from curry powder, garlic, ginger, thyme, nutmeg, turmeric, and red pepper flakes. This will warm you up on cool evenings!
I love homemade tomato soup on cold rainy days, so this recipe is one of my favorite soup recipes. It's made with tomato sauce, onions, carrots, and chicken stock. It's incredibly simple and the perfect comfort food!
This roasted veggie soup is one of the very first recipes I shared on this blog! It's super versatile if you mix up the veggies you use, but has all the flavors you think of in the fall from warming spices, like curry powder, cumin, and black pepper.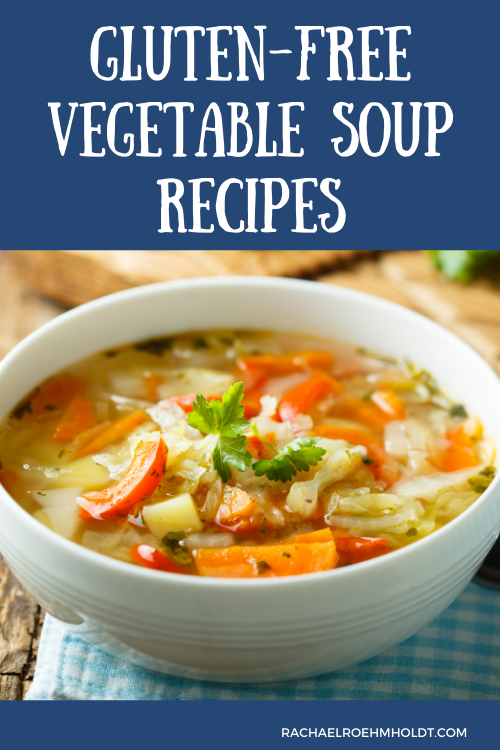 I love nothing more than to be making dinner without having to be in the kitchen. This potato soup is gluten and dairy-free and can be made in just a few minutes before setting and forgetting it in your crock pot.
This beautiful cabbage soup is healthy and perfect for a light meal that still warms you up in the fall and winter months. This would be a great soup to meal prep and keep in your fridge or pack for work too.
I can't think of anything I miss more while being gluten and dairy-free than broccoli cheese soup. This recipe delivers a broccoli potato soup that you can add your dairy-free cheese to. be sure to use a dairy-free sour cream, cream cheese, or yogurt to ensure it's completely dairy-free.
If you love Panera Autumn Squash soup, you'll love this butternut squash soup that you can make at home. It's completely vegan and full of warm spices and a spicy creamy coconut cream to go on top. It's beautiful and delicious!
This tomato basil soup is perfect with canned or fresh tomatoes – or even frozen tomatoes you have leftover from your summer gardening. This recipe is made creamy with the addition of cashews instead of any dairy products, making it both gluten and dairy-free.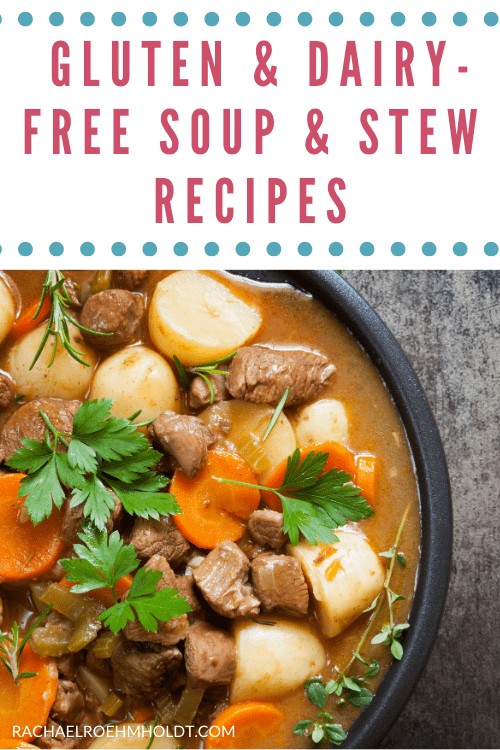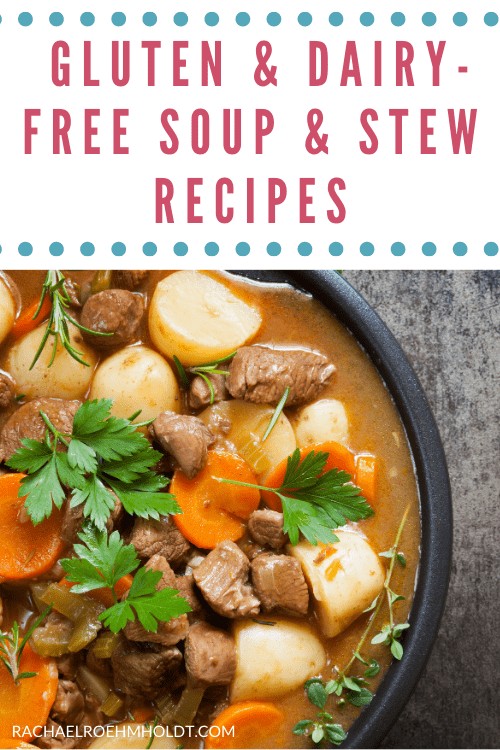 Gluten-free Dairy-free Soup – 20-Minute Soups
Sometimes you need soup in a hurry – whether you're sick, short on time, or have hungry kids waiting on a cold afternoon. You'll love this set of 20-minute soup recipes that get a gluten and dairy-free soup to the table quickly without sacrificing flavor.
This chicken and orzo soup uses gluten-free orzo pasta and comes together in just 20 minutes. Enjoy this satisfying soup for lunch or dinner!
Read on: Is Orzo Gluten-free?
If you love noodle soup, try this egg drop noodle soup and a kimchi flavored sauce. This broth recipe in this soup is full of flavor from hot Asian mustard, chili paste, rice vinegar, red pepper flakes, ground ginger, paprika, and ground anise.
This pumpkin soup can be made in just 20 minutes, making it a delicious option for a quick weeknight meal that will fill you up and warm your belly.
You'll get a creamy texture from coconut milk and loads of flavor from curry powder and other warm spices.
If you love broccoli soup but have ever found it lacking in flavor, you'll love this take on it. This recipe comes together in 20 minutes and is full of spices like black pepper, cumin, coriander, and cayenne. It gets its creaminess from cashews, so you don't have to worry about any dairy.
You'll love this quick and easy chickpea and tomato soup. It's full of whole food ingredients and can be made in one pot! Fast prep and cleanup? I'm in!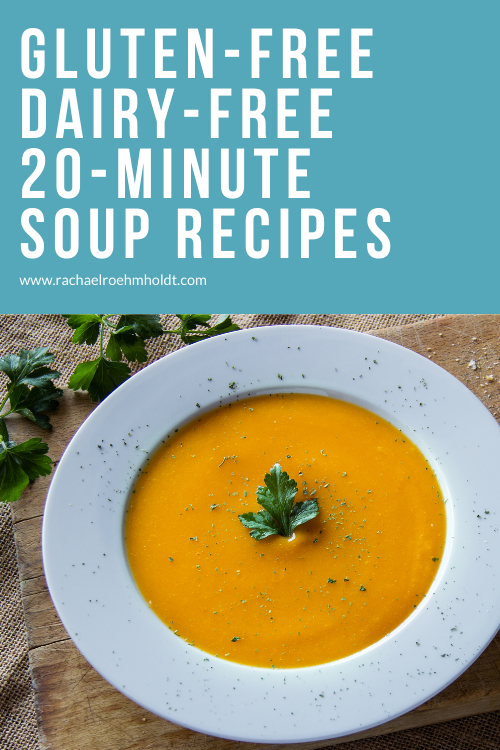 This simple soup is beautiful and only uses 5 ingredients, making it a no brainer in my book. All you need for this recipe are an onion, carrots, a white potato, vegetable stock, and fresh cilantro (or coriander).
You'll love this 20 minute chicken tortilla soup, because it's fast, delicious, and easy to make your own. Use canned enchilada sauce for the flavorings, loads of veggies, and get creative with your toppings. Try lime wedges, fresh cilantro, dairy-free cheese, tortilla chips, or avocado slices.
Want a quick and easy curry recipe for this week? Try this green curry with shrimp! Just be sure that your fish sauce doesn't contain gluten to ensure your recipe is gluten-free.
If you like to keep frozen vegetables on hand, this recipe is a perfect in-a-pinch option for dinner any time. You can use up some frozen broccoli and peas along with some fresh parsley, green onions, and mint. Cook it up and blend it with an immersion blender for a smooth texture.
This beautifully green cauliflower and greens soup is perfect for the fall when you want to feast your eyes and your belly. This soup is light and healthy, and is perfect for a quick fix dinner any night of the week.
If you've found this post useful or would love to save this information for later, be sure to share it out on Pinterest here!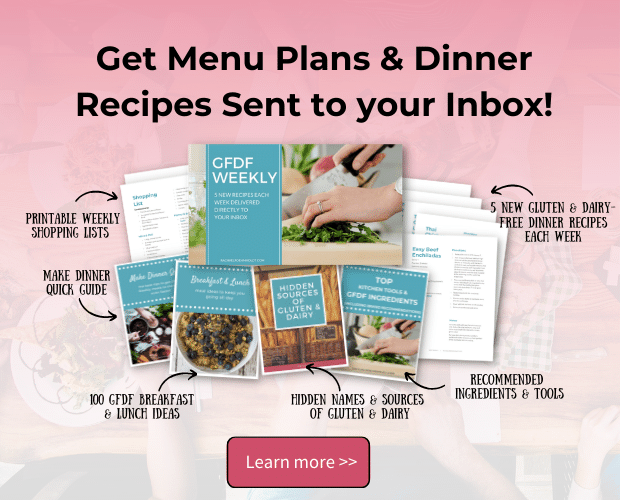 Love this post? You might also want to check out more of my recipe roundups here!
Find some delicious gluten and dairy-free recipes in these popular recipe roundup posts!
Want more? Check out all my Gluten-free Dairy-free Recipes!