Find out if maple syrup is gluten-free, what type is always safe for a gluten-free diet, and what brands you'll want to look for and avoid.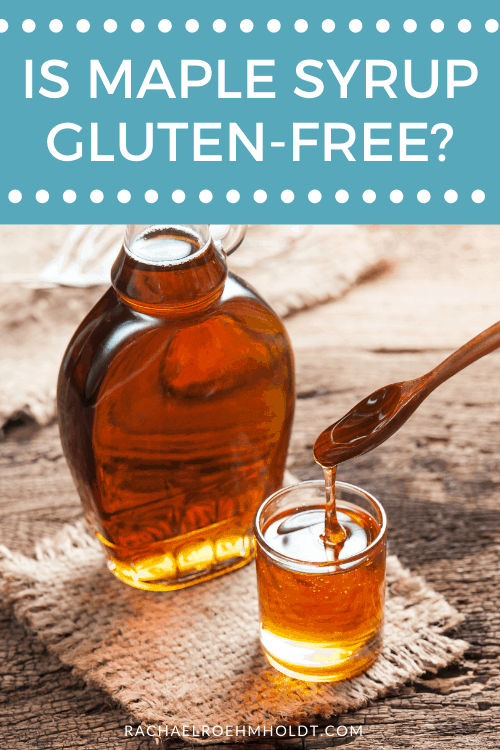 Note: I am a proud Amazon, Chomps, MunkPack, and Thrive Market affiliate and am happy to recommend their service and products to you. Please know that as an affiliate, I may receive a small commission on the products you purchase after clicking through my links. For more info, please see my disclosure policy here.
If you love breakfast foods like pancakes, waffles, and French toast, you're probably no stranger to a hefty pour of maple syrup. Maple syrup is a delicious and sweet topping to so many breakfast dishes, and it can feel like one of the most comforting condiments around.
If you are just getting started with a gluten-free diet or have been at it for a while, you might be wondering if maple syrup is safe to continue enjoying.
This post is dedicated to all things maple syrup and helping you decipher what you can continue slathering on your favorite sweet breakfast foods from here on out.
In this post, we'll talk about the two types of maple syrup and which are safe to enjoy.
We'll also go over some tips on making sure the maple syrup you buy from the store is gluten-free, and wrap the post up by answering the questions you're probably dying to know: are my favorite brands of syrup gluten-free?
Let's get into this sweet, sticky, delicious post!
How is maple syrup made?
Maple syrup is made by tapping the sap from sugar maple, red maple, or black maple trees after winter and the beginning of spring. Sap flows freely from these trees after they've had holes drilled into the trunks.
This sap is collected, then heated to reduce the water, leaving a rich sweet syrup.
This is how pure maple syrup is made, but artificial maple syrup is made differently.
Artificial maple syrup, or "pancake syrup" or "syrup" is made from sugar, corn syrup, and high fructose corn syrup, then flavored with maple flavoring and thickeners to mimic the same texture of real maple syrup.
Read on: Is corn syrup gluten-free?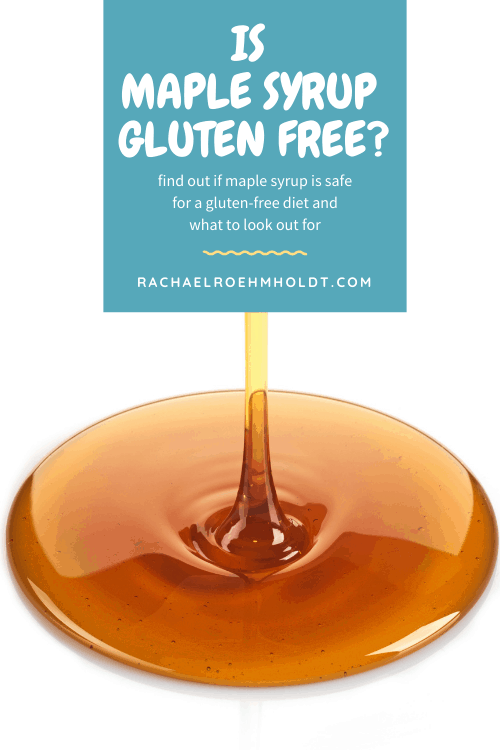 What is gluten?
Gluten is a protein found in most wheat products, and acts as the "glue" that helps to hold wheat, barley, kamut, spelt, farro, durum, bulgur, rye, and semolina together to maintain their shape.
You can find gluten in whole grains, but also in many processed foods as well. If you purchase wheat bread, there will be gluten in it, because wheat by nature has gluten.
Many processed foods have hidden gluten in them in the form or gluten or wheat derivatives. These are also in the form of flavorings, binders to keep ingredients together, or other additives.
Is maple syrup gluten-free?
Pure maple syrup is gluten-free, as it comes from the sap from trees which don't contain gluten.
Artificial maple syrup isn't always gluten-free, so you'll want to read ingredients lists and look for gluten-free labels before buying. You can also review the list below to determine which brands are considered safe for a gluten-free diet.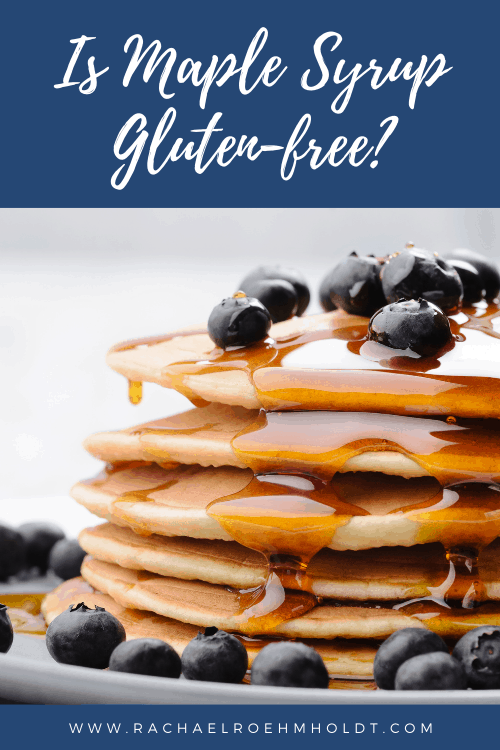 How to make sure your maple syrup is gluten-free
Now that you know that some maple syrup you can find at grocery stores is considered gluten-free, let's talk about how to decipher between the gluten-free and the gluten-containing maple syrup options you're likely to come across.
Look for "pure" maple syrup
You'll find this as 100% pure maple syrup, pure Canadian maple syrup, pure Vermont maple syrup, and other names. Look for the term "pure" on the packaging and in the ingredients lists.
Brands that are not considered "pure" maple syrup can contain added flavorings or hidden gluten.
You can also look for a brand that contains only one ingredient on the ingredients list: maple syrup. Any additional ingredients that are added that are introduced to the product will increase the likelihood of added gluten.
Look for a gluten-free label on the package
On any packaged food, a gluten-free label will tell you that there are less than 20ppm of gluten in the product.
The FDA has guidelines around using a "gluten-free" label on food, and that means that manufacturers need to do their own testing in order to qualify for being able to add that label to their food products.
You can also look for the label "certified gluten-free," which will tell you that the company has had an outside third party come to test their products for less than 20ppm of gluten.
Avoid "malt syrup" and "natural flavorings"
When you're looking at ingredients lists on maple syrup bottles, avoid anything that has the terms "malt syrup" or "natural flavorings," as these can indicate gluten.
"Natural flavorings" doesn't always mean there is hidden gluten, but I would only trust that product if it had a gluten-free label with that ingredient.
One of my little secrets is that I carry around a copy of my GFDF Take Along Cards so that I always have a point of reference when I can sneak a peek at the ingredient list of a food.
>> Get your copy of the GFDF Take-Along Cards to make this easy on you.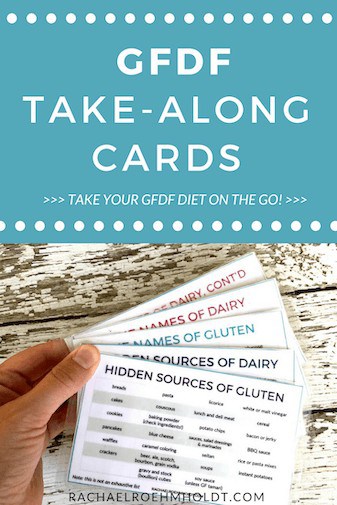 So we've established that pure maple syrup is always gluten-free and we've gone over three different tips for how to make sure the syrup you buy is going to be safe for your gluten-free diet, now let's talk about some specific brands and their stance on gluten.
Are my favorite maple syrup brands gluten-free?
Find out if your favorite maple syrup brands from the grocery store are safe for a gluten-free diet.
The big takeaway when it comes to specific brands being gluten-free is this: all brands can change their recipe at ANY time.
That means that you might have found a blog post from 10 years ago online saying that a brand is gluten-free, but the current ingredients lists show it contains gluten.
Be aware that just because a brand may once have been safe to enjoy on a gluten-free diet, doesn't mean that it always will be. Always always read what's in the product before buying it, even if it's been considered okay in the past.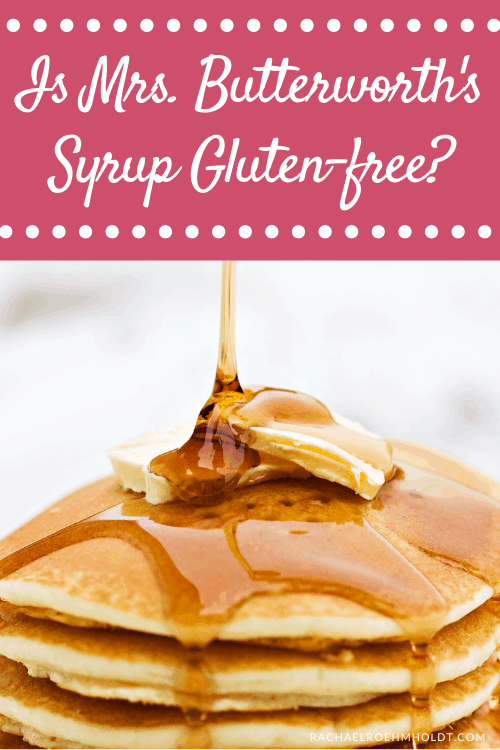 Is Mrs. Butterworth's maple syrup gluten-free?
Mrs Buttersworth syrup contains caramel color and natural and artificial flavor, making it not a safe choice for a gluten-free diet.
Is Maple Grove Farms pure maple syrup gluten-free?
Maple Grove Farms contains just one ingredient: 100% pure maple syrup. This is safe for a gluten-free diet.
Is Aunt Jemima syrup gluten-free?
I found differing opinions on whether Aunt Jemima syrup is gluten-free. Many other bloggers online say that it is safe for a gluten-free diet, despite having caramel color as an ingredient.
Caramel color could be sourced from gluten – or not. This is one of those "try it and it might work for you – or it might not" scenarios.
According to the Aunt Jemima website, they don't guarantee that any of their products are entirely free of gluten. This tells me to avoid it and find another product – but the choice is yours to determine for yourself.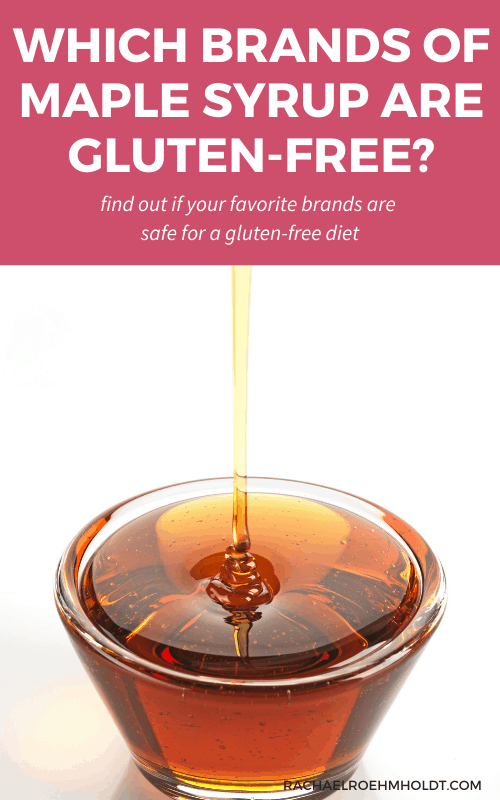 Is Log Cabin maple syrup gluten-free?
Log Cabin maple syrup contains caramel color, which may or may not contain gluten.
I was able to find a post on a forum stating that Pinnacle Foods, the parent company of Log Cabin, confirmed back in 2011 that their syrup is gluten-free except for the sugar-free varieties.
Is Hungry Jack maple syrup gluten-free?
According to the Hungry Jack website, this syrup doesn't contain ingredients with or derived from gluten. However, they don't meet their criteria for a "gluten-free" label.
This means that there is likely enough cross contamination where more than 20ppm of gluten is likely to show up in the product, likely from the manufacturing process.
Is Kirkland Signature maple syrup gluten-free?
The ingredients list on Kirkland Signature maple syrup indicate only "pure organic maple syrup" as included in their product. This brand is safe for a gluten-free diet.
Is Great Value maple syrup gluten-free?
Great Value pure maple syrup contains only "maple syrup" on the ingredients list. This is safe for a gluten-free diet.
This brand also carries "original syrup," which has a note with the ingredients list of "may contain traces of milk, eggs, anchovies, wheat and soy." I would avoid this product for a gluten-free diet.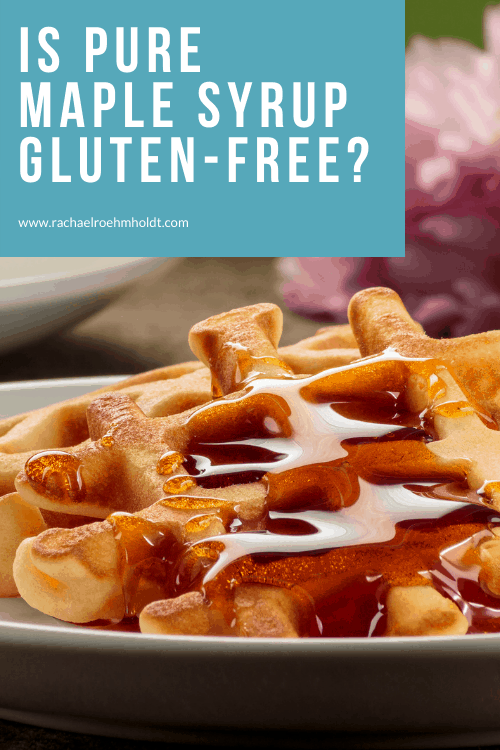 Is pure Canadian maple syrup gluten-free?
Most brands that are marketed as "pure" maple syrup are safe for a gluten-free diet. Of course, check the ingredients lists for any hidden sources of gluten before buying.
If your maple syrup contains only one ingredient: pure maple syrup, then yes, it is gluten-free.
Is maple flavored syrup gluten-free?
Depending on the brand, maple flavored syrup could be gluten-free – or not. You'll want to review the ingredients lists for any hidden names of gluten before purchasing.
Caramel color, natural flavor, and artificial flavor are POTENTIAL hidden names that you might find on syrup ingredients lists that are not gluten-free.
These may be sourced from wheat or gluten-containing ingredients, or they may be sourced from another gluten-free ingredient.
Is pancake syrup gluten-free?
Different brands use different ingredients. Review ingredients lists before buying any brand of maple syrup that you're not sure if it has gluten or not – or look for a gluten-free label.
Is maple syrup dairy-free?
Pure maple syrup is dairy-free and if you're following a dairy-free diet, you can feel confident that this ingredient will be fine with your diet. You'll want to look at any "pancake syrups" for hidden dairy ingredients, like butter.
Also pay attention to what else you're putting on your breakfast foods. Avoid butter and use vegan butter instead to ensure your breakfast is completely dairy-free.
Gluten and Dairy-free Recipes with Maple Syrup
If you love using maple syrup in your cooking and baking, try some of these delicious recipes!
I hope if you've been wondering what to pour over your favorite gluten-free waffles, gluten-free pancakes, dairy-free pancakes, and French toast, that you have a good idea of what to look for next time you're out shopping for maple syrup.
"Pure" maple syrup will always be your best bet for your gluten-free diet, and looking for those products with only one ingredient will help you know that you're making the right choice.
If you loved this post, I hope that you'll share it with your friends on Facebook and pin it for future reference on Pinterest.
Love this post? You might also want to check out these!
Find out if your favorite foods and ingredients contain gluten with these posts!