Pumpkin pie spiced nuts are perfect for the holiday season, either as an appetizer, for snacking, or even giving as gifts. Enjoy this recipe all fall and winter long!
Spiced nuts have been something that I had been meaning to get around to trying for a long time. After pinning a ton of recipes on Pinterest, I decided on Christmas Eve to put together a recipe I found with minimal ingredients that also sounded delicious.
My intention wasn't to make these as a gift for the holidays, but at the last minute, I realized I needed a little something extra to go along with my gifts to my family for Christmas Day.
These pumpkin pie spiced nuts are incredibly tasty – sweet, crunchy and best of all, they make your house smell like absolute heaven. This recipe came together in less than 30 minutes (including the cooling time), which made it an excellent last-minute gift idea.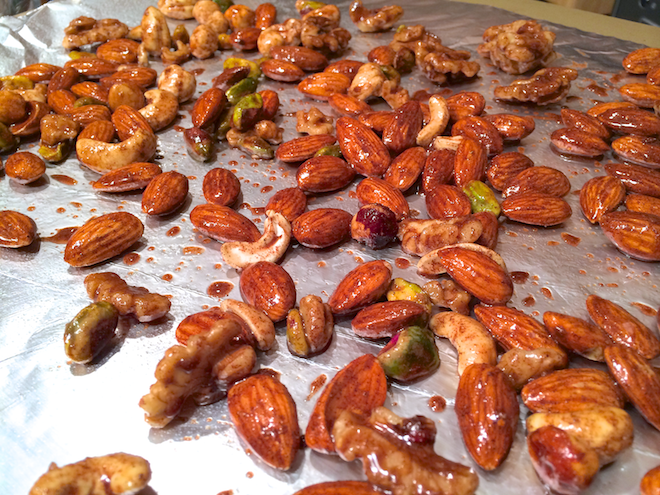 The original recipe called for only almonds, but I thought I'd mix it up with a few other nuts as well, since I had them on hand. After making this recipe for others, I know I'm going to be making them for myself again in the near future. They were just so good!
The recipe is simple – combine a few things in a bowl, spread it out on a foil-lined cookie sheet with cooking spray and roast for just a few minutes, stirring once.
After cooling, I added my spiced nuts into cute little cellophane bags (really wishing I would have taken a photo of that cute presentation) and tied them off with string.
At the holiday event, a few family members dug in and said they were "so good!" and "couldn't wait to eat more of them." I'd call that a success!
This recipe came from Chelsey – and the only alteration I made was adding other nuts to the mix. I bet this recipe would be great with any combination of your favorite nuts too. Get creative!
These are great for fall holidays, like Thanksgiving too!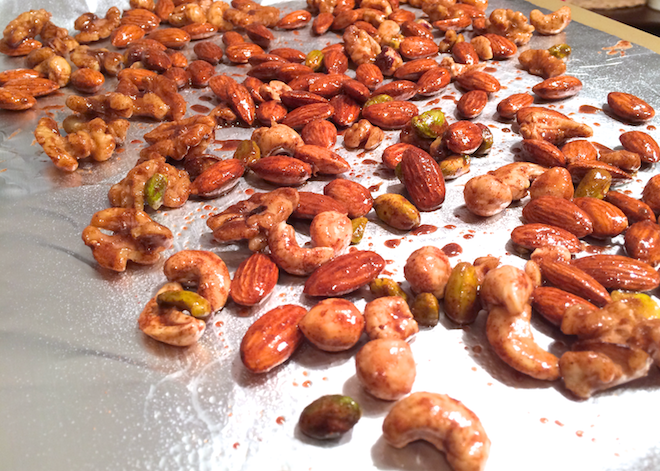 Pumpkin Pie Spiced Nuts
Makes 1 cup spiced nuts
Ingredients
1 cup raw almonds
1/2 tsp. cinnamon
1-1/2 tsp. pumpkin pie spice
1/4 tsp sea salt
2 tbsp. maple syrup
1/2 tsp. vanilla extract
Directions
Preheating your oven to 325 degrees Fahrenheit.
While the oven is preheating, pour 1 cup mixed nuts into a large mixing bowl.
Add cinnamon, pumpkin pie spice, and salt — toss to coat.
Drizzle the maple syrup and vanilla extract on the almonds and stir until all almonds are coated with the spices and syrup.
Spray a foil lined cookie sheet with cooking spray and spread the nuts on the sheet in a single layer.
Roast for 15-20 minutes, flipping once, until nuts are roasted.
Let cool completely before storing in an airtight container.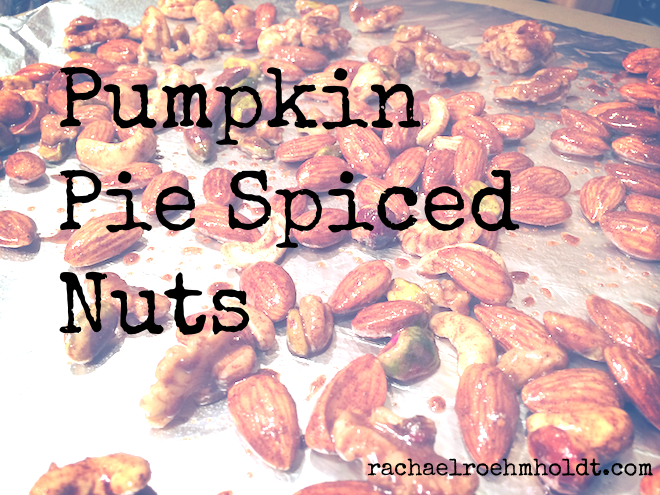 Have you ever made spiced nuts? What spices do you love to spice them up?