Find out if nuts are gluten-free, when they are safe for your gluten-free diet, and when to avoid them.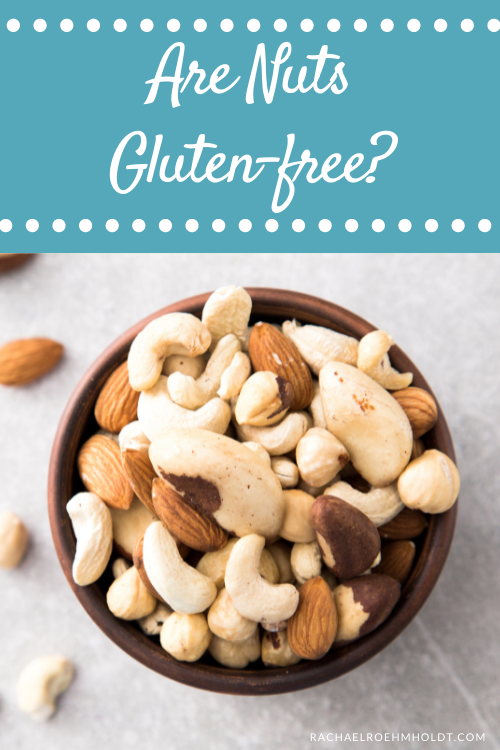 Note: I am a proud Amazon, Chomps, MunkPack, and Thrive Market affiliate and am happy to recommend their service and products to you. Please know that as an affiliate, I may receive a small commission on the products you purchase after clicking through my links. For more info, please see my disclosure policy here.
If you're just getting started with a gluten-free diet, you may have learned very quickly that your snack options can feel very limiting. There are so many snack foods that have gluten in them – from crackers to granola bars to pretzels.
If you're like me, you're always looking for ways to stick with a gluten-free diet without having to look to specialty foods. I don't necessarily "need" gluten-free pretzels, even though I like to have them once in a while.
I'd rather find naturally gluten-free foods that work with my diet, but won't be extremely overpriced just for having a gluten-free label on the package.
What I love most about nuts is that they're great for you! They're full of healthy fats and protein, so when you do enjoy them as a snack, a handful or two can tide you over until your next meal.
When added to sandwiches, sauces, or salads, nuts add a completely unique and complex flavor that you can't get anywhere else.
That's why I want to share with you the answer to the question "are nuts gluten-free?" in this post. Spoiler alert: they are. And we're going to talk all about the different types, what they're best used for, and of course when they are NOT gluten-free.
We'll wrap the post up with a list of brands that you can count on to be gluten-free to help make your shopping experience just one step easier for you next time you're looking for nuts to snack on or add to your baked goods.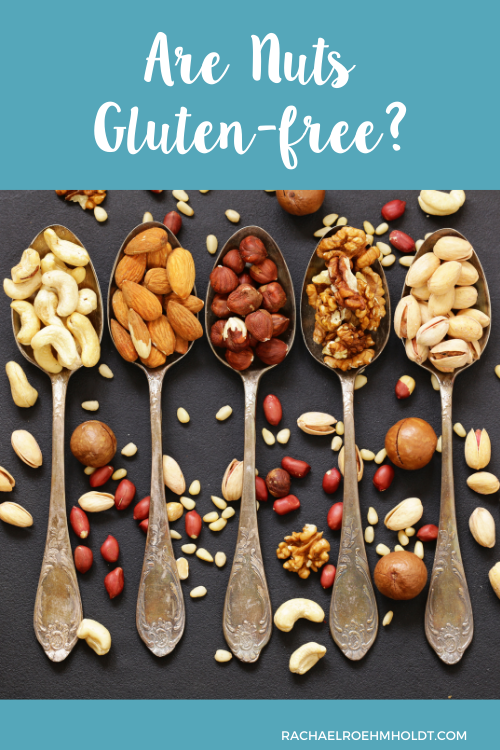 What are the different types of nuts?
There are so many types of nuts, but these are the most common you'll find in recipes or to enjoy on their own as snacks. These are the ones I keep on hand and the ways I like to use them the most.
Almonds are a great snack raw or roasted – and like all nuts, are naturally gluten-free. You can add them to cookies or use almond meal to make cookies or cake too.
I always have walnuts on hand for snacking, adding to salads, or making raw desserts (my favorite way to enjoy healthy gluten-free dairy-free dessert). Walnuts are wonderful on their own, candied to add to salads or to snack on, or added to homemade chocolate desserts.
Cashews are another tasty naturally gluten-free nut that are great to pack for snacks at home or on the go. In my kitchen, cashews usually make their way into homemade raw desserts, like my gluten-free cheesecake or dairy-free cashew cheese.
I love these pecans for making spiced pecans (with pumpkin pie spice and coconut oil). They are also a great snack and addition to raw desserts as a base for crust. You can use them in pecan pie or in both warm or cold salads too.
Peanuts are naturally gluten-free, and while many folks can't digest them very well – they're especially great for snacks since they're in just about every store and quite inexpensive. Try them in a homemade peanut noodle recipe, sprinkled on dairy-free ice cream, or in homemade trail mix.
Read on: Are peanuts gluten-free?
If nuts aren't your thing, there are a number of tasty seeds you can enjoy as snacks. Raw or roasted, they're a great naturally gluten-free ingredient to keep on hand. I like them plain as snacks, in salads, and in my morning oatmeal.
Sunflower seeds are extremely healthy and naturally gluten-free. Enjoy them on their own, mix into your own trail mix with dried fruit, or add to salads for extra crunch.
Peanut butter is notorious for having additives and excess sugar. I try to buy only the products with the least amount of ingredients in my nut butter… nuts and maybe a little oil if necessary. The organic Costco peanut butter delivers on all fronts. No sugar, no salt, no additives. Just peanuts.
Read on: Is peanut butter gluten-free?
A healthy option for snacks and a great alternative to peanut butter, almond butter is a must-have in my fridge these days. I love it in smoothies, on gluten-free toast, or with apple slices for a midday snack.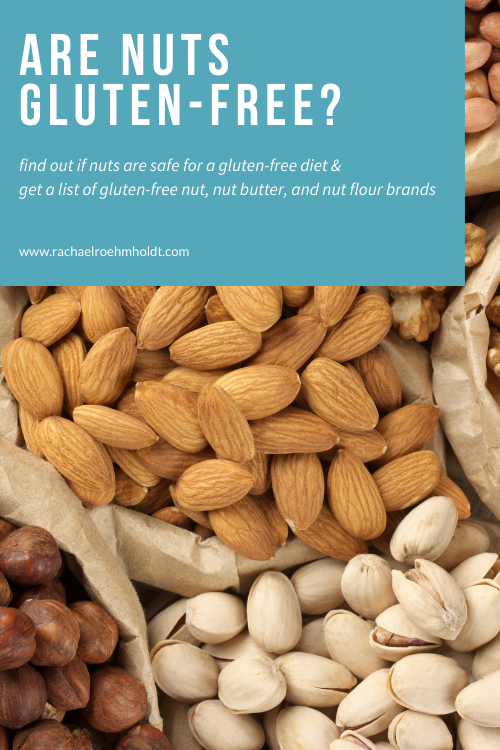 What is gluten?
Gluten is a protein found in most wheat products, and acts as the "glue" that helps to hold wheat, barley, kamut, spelt, farro, durum, bulgur, rye, and semolina together to maintain their shape.
You can find gluten in whole grains, but also in many processed foods as well. In processed foods, gluten can show up in the form of flavorings, binders, or thickeners.
Are nuts gluten-free?
Nuts when enjoyed plain or raw are naturally gluten-free. When you eat them plain, you can know for certain that they are gluten-free.
When nuts are flavored, like honey peanuts or have a flavored coating on them, you'll want to look more closely at the ingredients lists before deciding if they're right for your gluten-free diet. Look for hidden sources of gluten before purchasing or eating them.
If a recipe or dish with nuts has gluten ingredients, like a cake made with all purpose flour, the nuts are gluten-free, but the cake is not. You should avoid foods and recipes where the nuts are surrounded by gluten ingredients if you're trying to stick with a gluten-free diet.
Be aware of nuts that are processed in a facility with other gluten containing ingredients if you are extremely sensitive to gluten.
If cross contamination and trace amounts of gluten are an issue for you, choose a brand of nuts that is made on machinery and in a facility that is dedicated to keeping their facility free of gluten. We'll get to some brands to look for later in the post.
Are salted nuts gluten-free?
Most salted nuts are gluten-free as they only contain nuts and salt. However, it never hurts to check ingredients lists for hidden gluten before buying.
Also, if you are super sensitive to gluten, look for a brand that specifically says 'gluten-free' on the packaging. This way you'll know there will be no more than 20ppm of gluten in the package and you will likely not react to any gluten with that specific brand and flavor of nuts.
Are nuts dairy-free?
Nuts are naturally dairy-free as they don't contain the milk from any animals. You can safely enjoy nuts on a dairy-free diet assuming that other ingredients in a recipe with nuts are also dairy-free.
What are nuts used for?
Nuts can be used in so many different ways! Try adding nuts to your diet with one of these ideas:
Plain by the handful as a snack
Added to homemade trail mix for hiking or a day at the beach
Roasted with your favorite herbs and spices for a snack
Added to pancakes, waffles, or muffins
As a layer in yogurt parfaits
Toppings for desserts
Baked into cakes or cookies
Nut butter can be added to toast, in cookies, or sandwiches
Nut butters can be added to savory sauces like peanut sauce or homemade cashew cheese
Soaked nuts are great for raw desserts
Added to pies, like pecan pie or peanut butter pie
Served at parties or gatherings for holidays for grazing, like at Thanksgiving or Christmas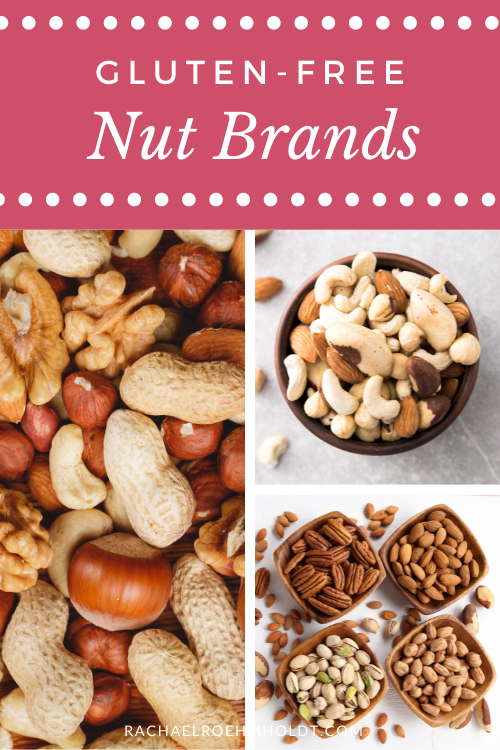 Gluten-free nut brands
While nuts are naturally gluten-free, sometimes it's nice to know exactly which brands to look for at the store.
I'm sharing the brands of nuts that have gluten-free labels on their products, so you don't have to worry about picking up the wrong option next time you're shopping for nuts at the grocery store. This isn't a full list of all brands available, but just a few to help you get some ideas.
Gluten-free nut butter brands
There are so many different gluten-free nut butter brands that I couldn't possibly find them all to list them. Here are some great options for nut butters that you can look for at the grocery store or online.
Gluten-free nut flour brands
These brands of nut flours contain no gluten and have a gluten-free or certified gluten-free label on their packaging. Look for these brands at your store or look for them online for all your baking needs.
If you have been looking for a great gluten-free snack option, try adding some nuts to your diet! They're delicious on their own or added to a variety of different sandwiches, desserts, snack mixes or bars, and salads.
Get creative with this naturally gluten-free food and get some healthy fats, protein, and vitamins into your day!
f you loved this post, I hope that you'll share it with your friends on Facebook and pin it for future reference on Pinterest.
Love this post? You might also want to check out these!
Find out if your favorite foods and ingredients contain gluten with these posts!