Looking for a dairy-free gluten-free apple crisp recipe? Check out these 10 recipes that are perfect for fall, using all dairy-free and gluten-free ingredients!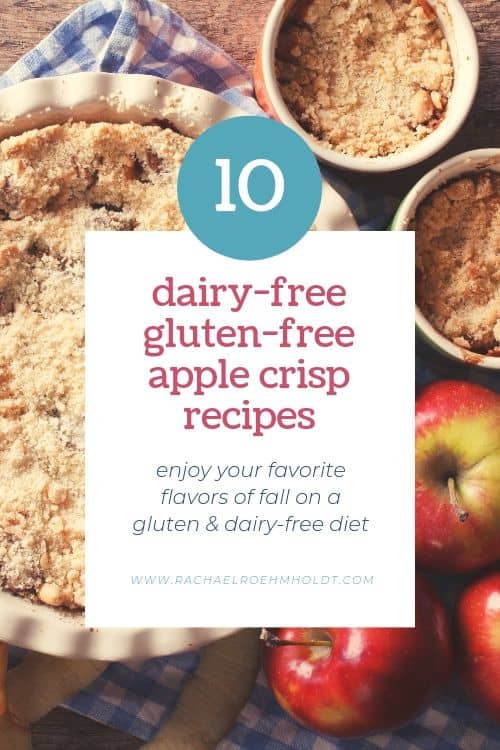 Note: I am a proud Amazon, Chomps, MunkPack, and Thrive Market affiliate and am happy to recommend their service and products to you. Please know that as an affiliate, I may receive a small commission on the products you purchase after clicking through my links. For more info, please see my disclosure policy here.
When it comes to fall, there's nothing better than apples. There are so many varieties of apples available now, and while many of them are super sweet and perfect for snacking on, others are better used in pies or baked goods.
For this season, I've been ALL about the apple crisp, making the most of all the organic apples at the store, and eating them in every which way I can think of.
In this post, I'm rounding up 10 of the best recipes I've found around the web for dairy-free and gluten-free apple crisp.
I've learned while creating this recipe roundup that most dairy and gluten-free apple crisp recipes call for just a few ingredients:
Another thing I've learned is that the key to a really great apple crisp is creating it in two distinct parts: the filling and the topping.
Most fillings for dairy and gluten-free apple crisp are made with spices and apples, brown sugar, with a little bit of cornstarch and sometimes some dairy-free milk. This creates a hearty texture with soft apples and a thick sauce once baked.
The toppings for the apple crisp are a combination of gluten-free flour blend, brown sugar, more spices, and vegan butter or coconut oil. The toppings come together to make a sweet topping that crisps up on the top.
Almost every recipe I've found (and those that I've tried myself) concluded that almost always dairy and gluten-free apple crisp is best served with a scoop of dairy-free vanilla ice cream on top, to melt down over the deliciousness of the warm apples and crust on top.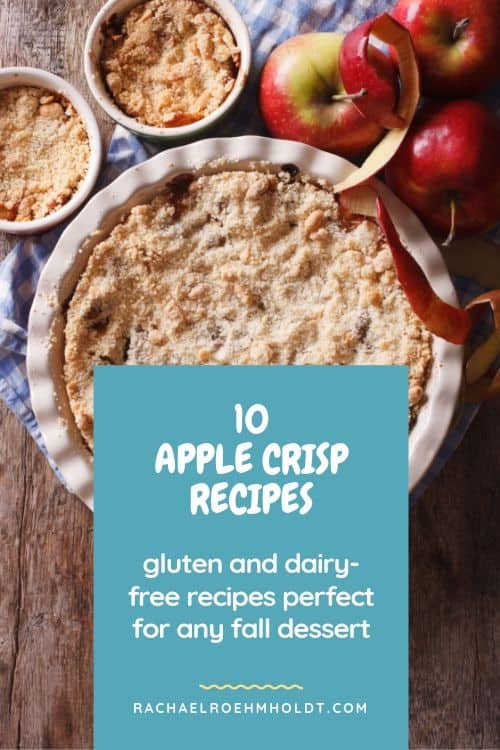 There are quite a few options out there for dairy-free ice creams, and there's really no best one out there. You can choose from coconut, soy, rice, almond, and even cashew based ice cream.
My favorite is the coconut based ice cream, and my favorite brand is Coconut Bliss. I've tried other brands, but I keep coming back to this for it's rich flavor that you don't often find with some of the other dairy-free milk based ice creams.
As for the apples to use in these dairy and gluten-free apple crisp recipes, you really can't go wrong. Like I mentioned earlier, some apples are better for snacking and some are better for baking.
When it comes to making apple crisp, you could really go with just about any variety you like, depending on how sweet you like your dessert.
For the recipes that call for extra brown sugar, you might want to opt for apples that are a little less sweet, like Granny Smith or Golden Delicious. Or you might just love a sweeter apple crisp, and in that case, go for whatever your favorite apple variety is that you have on hand.
We love Fuji, Honeycrisp, and Braeburn in our house and usually have these on hand for impromptu fall baking.
I hope you love this recipe roundup. I did my best to cover a few different bases – one with no grains, one to make in your crock pot, one for your Instant Pot, one with only whole foods, and even one with nuts. Find a recipe that looks the best to you and get baking!
Try one of these recipes for any special fall dessert or to add to your gluten and dairy-free Thanksgiving spread.
I'll confess it took me years to try making any sort of apple crisp or berry cobblers years into my gluten-free dairy-free journey.
But after coming across recipes like these ones that use almond flour, pecans, and coconut oil as their major ingredients – it became so much more clear to me that I could still enjoy these types of desserts if I just got a little bit creative with the ingredients.
This gluten-free harvest apple crisp is perfect to suit your apple crisp cravings on a gluten-free and dairy-free diet. This recipe uses apples, brown sugar, coconut milk, and cinnamon for the filling.
Plus gluten-free all-purpose flour, brown sugar, cinnamon, and coconut oil for the topping. Super simple, nothing too complicated. And it only takes one hour from start to finish!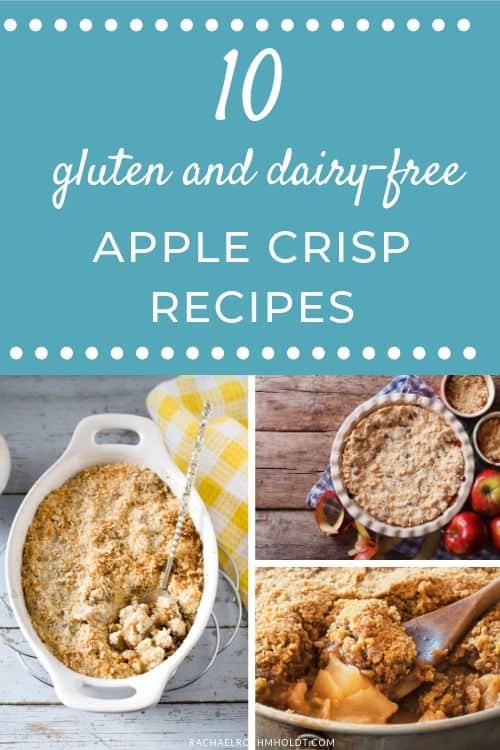 I love a dessert recipe that takes some of of the effort out of enjoying a sweet treat. Try this apple crisp recipe that is gluten-free and dairy-free and is made in individual ramekins, cooked inside an Instant Pot, then topped with a homemade coconut cream. Couldn't be easier!
Here's another easy gluten and dairy-free apple crisp recipe. This one combines all your favorite apple crisp ingredients and makes the work ten times easier using your slow cooker!
Best of all, it only takes 10 minutes to prep and it will make your house smell amazing while it's cooking. Be sure to use vegan butter in place of regular butter so that it's completely dairy-free.
I love a recipe that relies on whole foods, and this paleo apple crisp does not disappoint! With just almond flour, coconut flour, cinnamon, salt, chopped almonds and cashews, and coconut oil – this recipe is super simple and dare I say… healthy!
Read on: Is coconut flour gluten-free?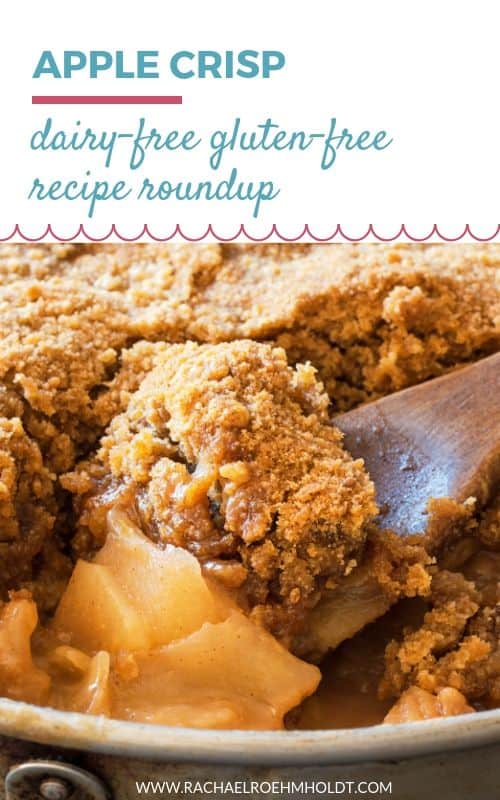 This gluten-free vegan apple crisp recipe is a delicious gluten and dairy-free take on the classic apple crisp. You can use any kind of apples you want, and throw together the apples with some lemon juice, sugar, corn starch, cinnamon, and salt.
Top the whole thing with some light brown sugar, gluten-free flour blend, oats, almond meal, cinnamon, salt, and vegan butter.
After this one bakes up, it will be spicy, warm, and very festive for fall. You can top it with a scoop of dairy-free vanilla ice cream or enjoy as is!
This apple crisp recipe is unlike others I've seen as it uses peanut butter or any other kind of seed butter to create a sort of crust and topping.
This recipe is sort of a cross between apple pie and apple crisp from the nutty crust, but the apples inside are steamed and full of flavor from cinnamon and vanilla. Top this tasty gluten and dairy-free apple crisp with a scoop of dairy-free vanilla ice cream!
This paleo apple crisp has a delicious warm apple filling with many of your favorite apple crisp ingredients like cinnamon, vanilla, and even nutmeg.
I love this recipe because it's super healthy without any refined sugar and loads of pecans and coconut flakes for some super healthy fats – and tons of flavor!
Enjoy the flavors of fall with this paleo-friendly gluten-free apple crisp made with walnuts.
This recipe calls for cassava flour, coconut sugar, lemon juice, cinnamon, chopped, walnuts, and apples. Be sure to swap out the chilled ghee for vegan butter to be sure it's 100% dairy-free too.
This apple crisp recipe is another great take on turning the classic apple crisp into a tasty gluten-free version.
Make sure to swap out the butter for vegan butter, like Earth Balance and opt for the almond, cashew, or coconut milk for the filling instead of cow's milk.
Enjoy this one with a scoop of dairy-free vanilla ice cream on top to make it entirely dairy-free. Yum!
I hope that as you've read through this list, you've found at least one or two dairy and gluten-free apple crisp recipes that look worth trying this fall season.
This dessert is great for those cooler months on a weeknight, or when you're entertaining. Enjoy!
If you loved this recipe roundup, I'd love for you to share it on Pinterest and Facebook, or send it to a friend.
If you'd like to receive more information on going (and staying) gluten-free and dairy-free, I'd love to have you sign up for my free gluten-free dairy-free shopping list AND get 5 free sample recipes when you join! Enter your details below for instant access.
Love this post? You might also want to check out more of my recipe roundups here!
Find some delicious gluten and dairy-free recipes in these popular recipe roundup posts!
Want more? Check out all my Gluten-free Dairy-free Recipes!
Come check out more recipe roundups on my page for Gluten and Dairy-free Recipes.