With all the options out there, how do you know which gluten-free bread is the best? Better yet, if you're living with a dairy intolerance too – how do you know what bread is dairy-free also? I've got you covered with these top 7 gluten-free dairy-free bread recommendations!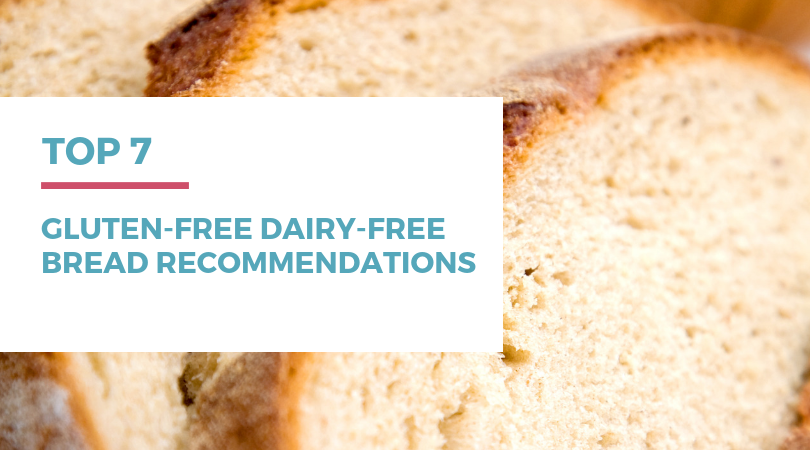 Note: I am a proud Amazon affiliate and am happy to recommend their service and products to you. Please know that as an affiliate, I may receive a small commission on the products you purchase after clicking through my links. For more info, please see my disclosure policy here.
One of the things that I get asked the most by women going gluten-free and dairy-free are, "What kinds of breads can I eat on this diet?"
This is a really good question, because when you go gluten-free, one of the first things you think is, "what kind of bread can I eat?" And that feeling of overwhelm sets in, because you've probably heard so many times, over and over, that gluten-free bread tastes terrible. Either it tastes like cardboard, or it falls apart…
You may think, "Well, are there really any options for me?"
But to add on to that, to also be going dairy-free, and there are even more limitations.
I want to share with you, in today's post, seven gluten-free dairy-free breads that you can eat safely on this diet so you don't have to be overwhelmed in the least when it comes to finding a good bread.
Now, these seven products I'm going to share range from whole-grain breads or bread mixes. Some have very few ingredients, while some have quite a few. There's really no one most delicious bread.
Everyone has their own opinions on what's good and what's not, so I rounded up this list of seven that I knew for certain would be gluten-free and dairy-free for you.
My goal with this post it round up OPTIONS for you to try… try these out with an open mind, and see if any of them suit your preferences!
Before we dive in to the list of great gluten-free dairy-free breads, let's go over some questions I've received related to choosing a gluten-free bread first.
What kind of bread is gluten-free?
You can find many different types of gluten-free bread made from a variety of different gluten-free flours. This post will share with you my 7 best choices for gluten-free bread options.
Read on: Is flour gluten-free?
What is the best gluten-free bread you can buy?
Any of the bread options from this list I'd say are the best on the market. There are plenty of others out there, but these are my top picks for the best options on the market currently.
Read on: 101 Gluten-free Dairy-free Snacks
Who sells gluten-free bread? Where to buy gluten-free bread
You can often find gluten-free bread at your local grocery store or health food store. However, if you can't find it locally, you may also find it on Amazon or Thrive Market.
Since I know that accessibility is important, I have sourced all of the breads in this post on Amazon. Of course, with people all over the world reading blogs, I don't know exactly what stores you're shopping at and what you have available to you.
Since Amazon is available in most areas, it really is a great place to turn for getting gluten-free or dairy-free products that may not be available locally for you.
I will warn you that most of these breads are dramatically overpriced on Amazon. So I've linked to them here so you can see what they look like, but I'd recommend probably buying them elsewhere if you can for better pricing.
Does bread have dairy?
While not all bread contains dairy ingredients, many breads you buy at the store do. If you make homemade bread, you can easily keep dairy out of your recipes.
In store-bought breads, dairy can show up in the form of whey powder, butter, and skim milk powder.
If you avoid dairy, but not gluten, or are looking to avoid both like I do, be sure to review ingredients lists before purchasing. Look for those hidden names of dairy to help you make an informed decision on what brands and products to buy.
7 Best Gluten-free Dairy-free Bread Brands

The most readily available gluten-free bread on the market, Udi's never disappoints. It holds up well to sandwiches and tastes as close to "normal" bread that I have come across. It's easy to find in a lot of grocery stores and Costco, but the size of bread does run on the small side.
This Canyon Bakehouse gluten-free bread is a crowd favorite. I've heard from many of my readers that this is their favorite gluten-free dairy-free bread option to buy. I've heard it can be found at Target, but I have never seen it at my local store.

In addition to being gluten-free, this bread is also yeast-free. So if you're avoiding yeast of any kind, this is a great option for you!

Here's another great white sandwich bread to try. Although I haven't tried it personally, others have mentioned it has a great texture and holds up well for sandwiches.

Many women I've met through my blog have recommended and rave about this gluten-free bread option. I haven't tried this one myself, but trust that if others love it, it's worth trying out.

Katz offers a number of great gluten-free and dairy-free options – this bread is no exception. Check this one out if you're on the hunt for a yummy sandwich bread that you enjoy toasting or warming up before eating.

If you prefer white over wheat, give this classic white bread a try from Schar. I know many women who have tried this bread and swear by it for their gluten-free dairy-free lifestyle.
Read on: Is Ezekiel Bread gluten-free?
Now, I want to challenge you:
I want you to go out and try all of these different breads.
I want you to look through my list, and look at the different descriptions that I've written for each one, and maybe try one or two of them.
If you decide you don't like those, maybe try another one or two of them, until you find something you really can start to rely on in your diet.
Finding a replacement or a holdover option to help you start up with this diet, but ultimately you may decide down the road to nix the gluten-free bread altogether.
Again, there's no right or wrong way to go – just find what works for you and what you enjoy.
Try some of these options out for using in sandwiches, toast, or using for your gluten-free Thanksgiving stuffing.
If you loved this post, I'd love for you to share it on Pinterest and Facebook, or send it to a friend.
And if you'd like to receive more information on going (and staying) gluten-free and dairy-free, you can get a free gluten-free dairy-free shopping list plus weekly inspiration and content directly to your inbox.
Want more product recommendations for gluten and dairy-free foods? Check out these posts!