Hot chocolate and hot cocoa is perfect in the cold months, but what about a dairy-free version? Click through to make your own dairy-free hot chocolate mix at home – plus learn 7 flavor variations to make it your own!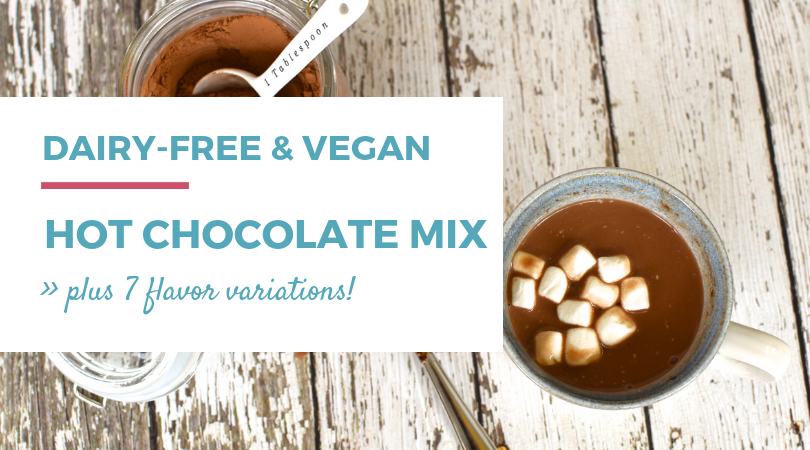 Note: I am a proud Amazon affiliate and am happy to recommend their service and products to you. Please know that as an affiliate, I may receive a small commission on the products you purchase after clicking through my links. For more info, please see my disclosure policy here.
This time of year, one of my absolute favorite things is to sit down and enjoy a really cozy evening with a hot chocolate. And I know what you're thinking: If you're dairy free, can you really enjoy hot chocolate at home? Are there mixes for that?
…And the answer is YES!
While there's a million and one recipes out there that you could try, I created my own a recipe to share with you today.
I'm excited to share it with you because not only have I made a base recipe that tastes amazing, but I also created a few variations from this recipe that you're going to LOVE.
This entire month has been all about hanging out in the evenings with my guys watching movies, doing puzzles, and building huge Lego sets. I have a 4 year old at home, so Legos are practically our life right now.
It's been so fun to have these low-key evenings where we're spending time together and making our own versions of hot chocolate after dinner to settle in for a fun night together.
My son and I even made making this hot chocolate mix together a fun afternoon activity one day. And the best part is that it comes together so quickly. You just have to combine the ingredients, and pop it in your pantry.
Then when you want a cup, you add your favorite warmed dairy-free milk, stir it up, and you're done.
Before I share the recipe, let's go over some of the basics of chocolate, dairy, and dairy-free …
Does hot chocolate mix have dairy?
Most store bought hot chocolate mixes do contain dairy in the form of milk powder. If you follow a dairy-free diet, this homemade mix is a great option for you, because it's only 3 ingredients and you don't have to worry about any hidden dairy sneaking into the mix.
Which dairy-free hot chocolate mix is best?
If you don't want to make your own dairy-free hot chocolate mix and buying a pre-made add-water-stir and you're done option is better for you. Try out these options:
Which dairy-free milk is best for hot chocolate?
You can use any dairy-free milk for making your hot chocolate at home. Some heat better than others, and I personally prefer coconut milk or oat milk to almond or cashew milk, as these don't separate after heating.
Choose from your favorite dairy-free milk to make your own dairy-free hot chocolate.
Now that I've made my own dairy-free hot chocolate mix, I plan to have this on hand all through the winter months, and especially the holidays.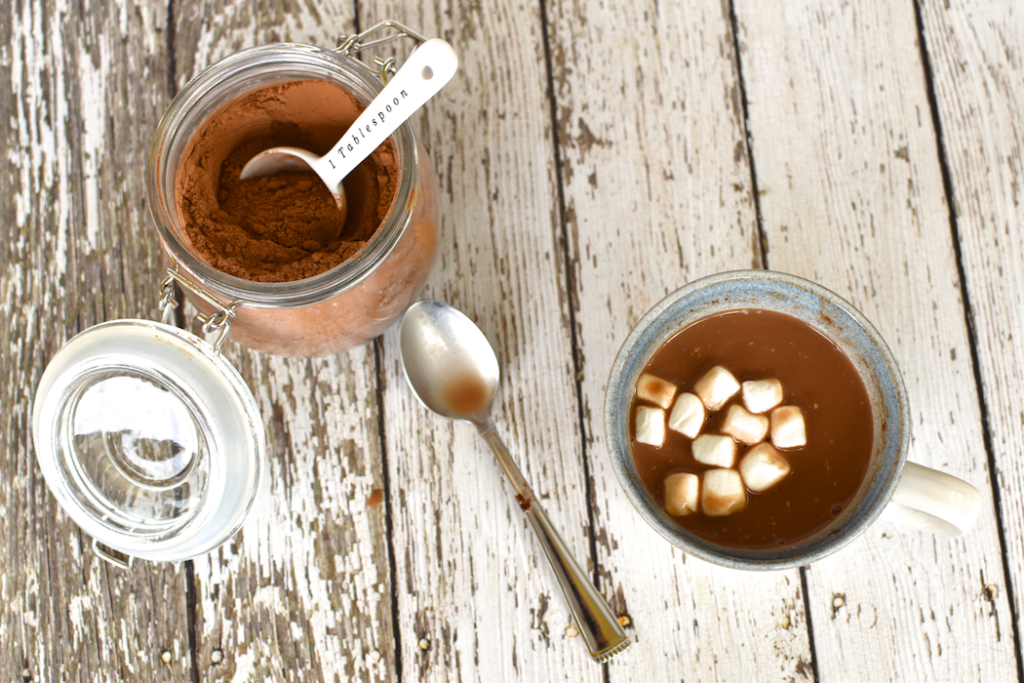 Here's how we put together our hot chocolate mix recipe.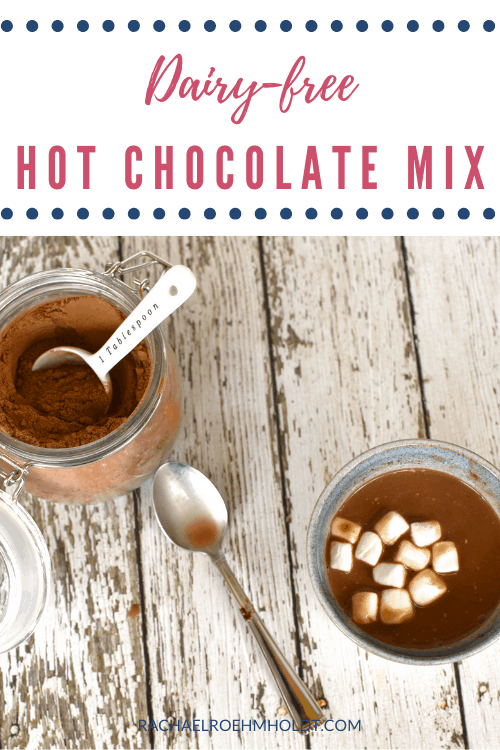 Yield: 16 servings
Dairy-free Hot Chocolate Mix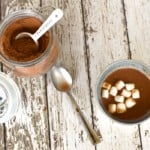 Homemade dairy-free hot chocolate mix for the cool weather months and holiday season
Ingredients
1 cup cocoa powder or cacao powder
1 cup sugar or coconut sugar
1 tsp salt
Instructions
Mix everything together in a sealed container.
When you're ready to make a cup, heat 1 cup dairy-free milk over the stove or in the microwave. Stir in 2 tbsp mix and stir well. Enjoy!
Recommended Products
As an Amazon Associate and member of other affiliate programs, I earn from qualifying purchases.
And of course, if you like things plain and simple like my son does, you can enjoy your mix just like this.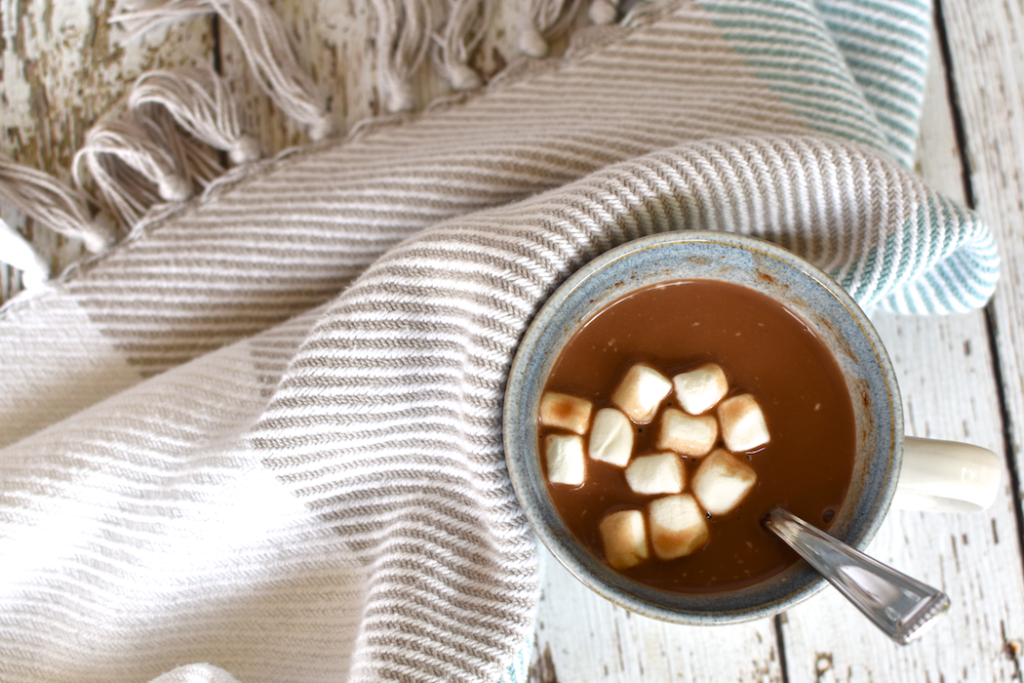 But if you like to make it unique and do your own thing, try out any of these following 7 ideas to make it your own.
7 Flavor Variations for Dairy-free Hot Chocolate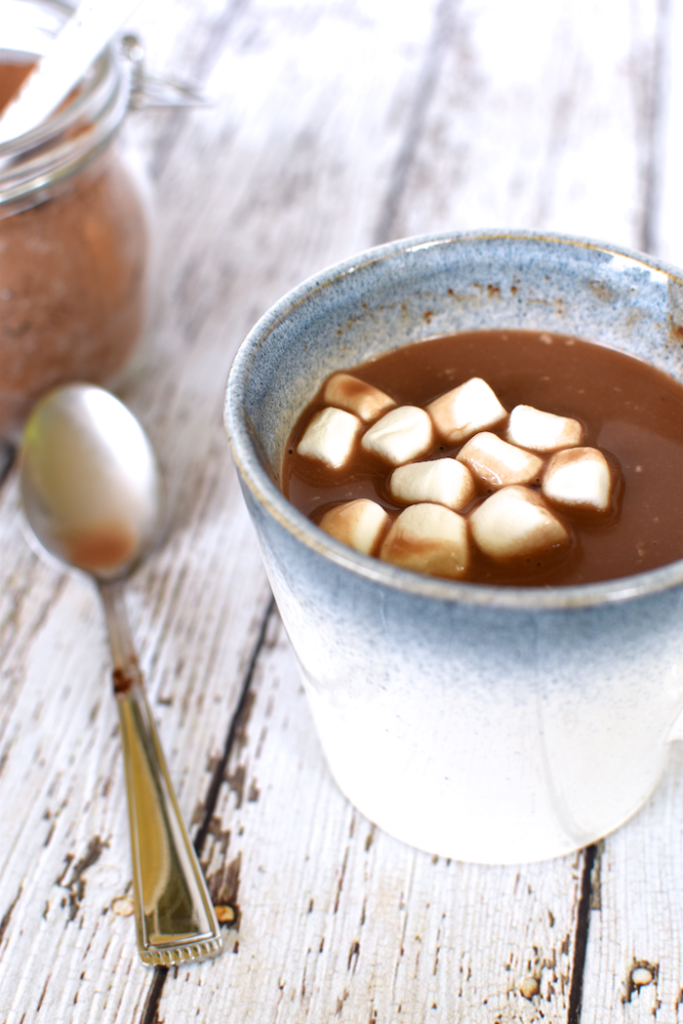 And of course, what's hot chocolate without some marshmallow options..?
Here are 3 great options for gluten-free and dairy-free marshmallows:
Read on: Are marshmallows gluten-free?
If you're a chocolate lover, I hope you love love love this post and get into your kitchen to start mixing up a batch right away! I had so much fun creating this recipe and sharing it with you.
Looking for a few more dairy-free chocolate recipes? You'll love these posts!
Check out these gluten and dairy-free recipes and posts featuring chocolate.
If you loved this post, I hope that you'll share it with your friends on Facebook and pin it for future reference on Pinterest.