Need a few gluten-free dairy-free snacks that take no prep at all? Check out these 21 gluten-free dairy-free snack ideas that are healthy and store-bought.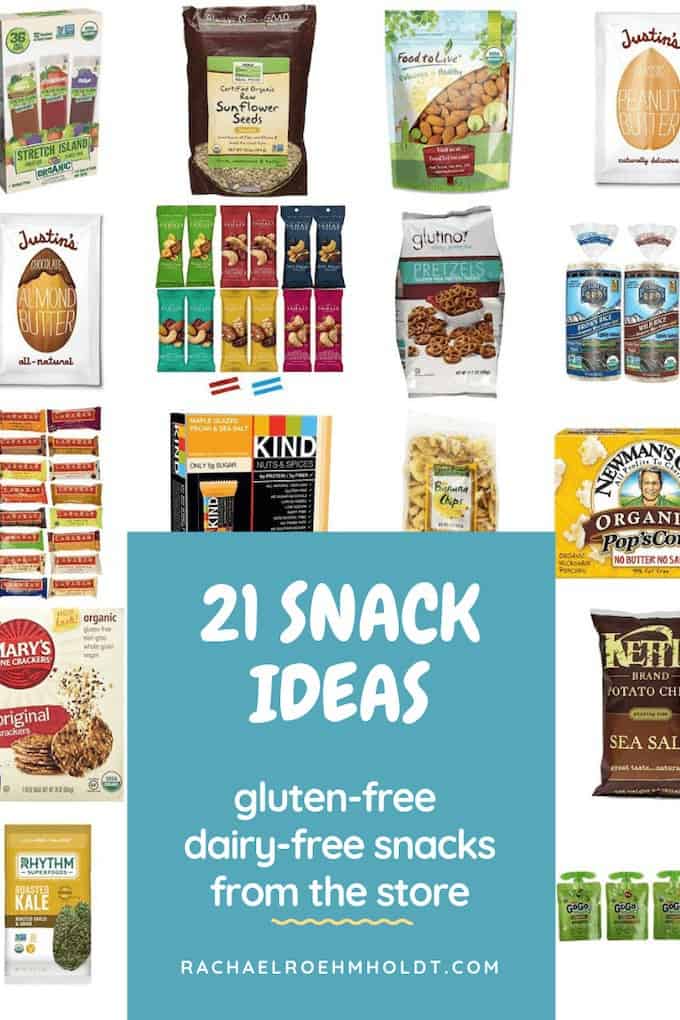 Note: I am a proud Amazon and Thrive Market affiliate and am happy to recommend their service and products to you. Please know that as an affiliate, I may receive a small commission on the products you purchase after clicking through my links. For more info, please see my disclosure policy here.
After a couple weeks where my toddler barely wanted to leave the house due to the cold weather, we finally got out for our first hike with friends in a couple weeks.
I was so jazzed to meet up with some other mom friends and get some good socializing in.
As I was pulling into the parking lot (a whole 10 minutes early!), I saw the whole hiking group taking off.
Apparently I had read the meetup time wrong in our Facebook group and showed up almost 30 minutes late! Womp womp.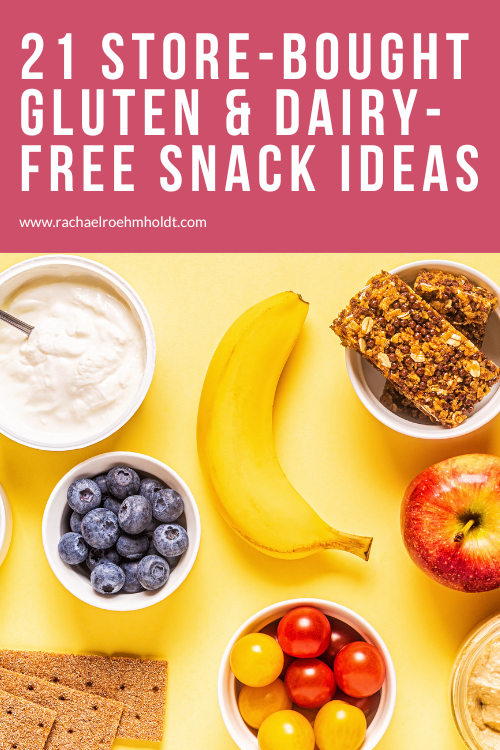 Luckily, I had been to this trail a few times and it was a short and sweet walk.
I hiked in with my son on my back (I love our current carrier – but have my eyes on this toddler-sized one next) and met up with everyone almost right before we decided to turn back.
We had a great time, but once we got to back to the trailhead, my son wasn't ready to go home. So we turned around and did the whole thing again on our own!
I've been hiking with my son now since he was about 10 months old. I love the time we have together out on the trails.
But one of the big things I noticed was that our time outside started shrinking and shrinking as he got older and snacking more. That toddler hunger is no joke.
It wasn't until another mom friend recommended that I start carrying snacks to get a little more time in that I was able to relax more and enjoy our hikes together.
I could stretch our half-hour walks into over an hour by handing him back snacks when he asks for them (… and of course letting him down to explore when he wants to stretch his legs).
(Here's a sweet candid photo a friend took of us at this same trail when I carried him on my front!)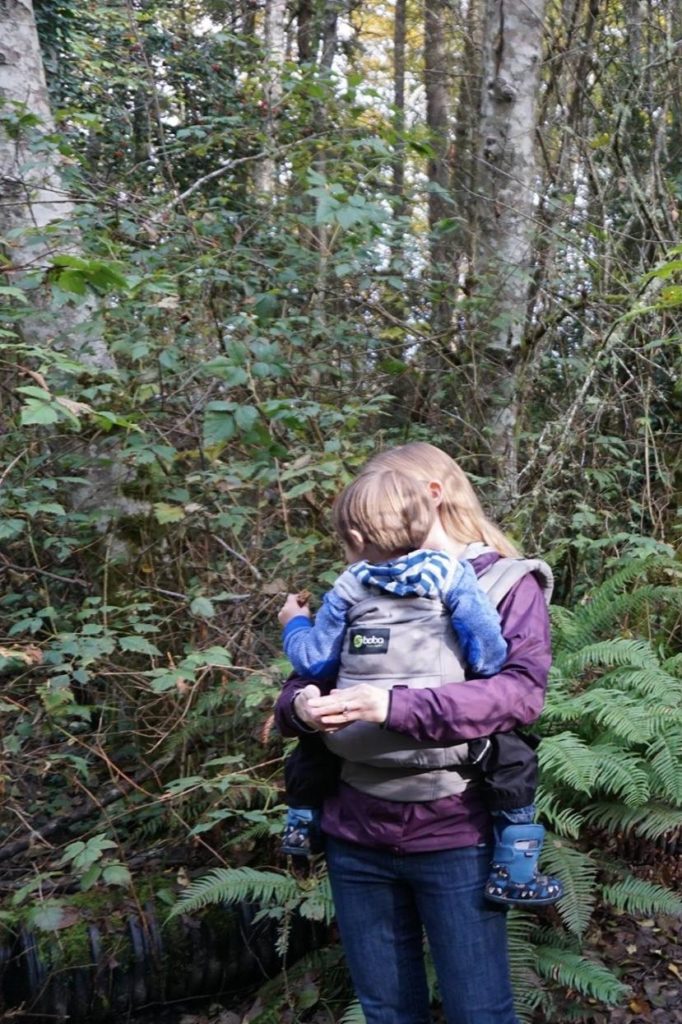 Being prepared with snacks has proven to be the easiest way to keep him up on my back – so I actually get some mileage and exercise in instead of just following him around (which is fun too – but not always what I'm after).
Not only does it keep him occupied, but it keeps him from melting down from hunger before we get back to the car.
I've learned that keeping snacks around – not just for my son – but also for myself is the difference between keeping up with my dairy-free gluten-free diet and lifestyle, finding something that won't make me feel great later, or going hungry until I can get home.
I've also heard from a lot of you that you are looking for some easy and quick-fix snacks for your gluten-free dairy-free diet too.
So I wanted to round up a few healthy and super easy snack ideas that you can integrate into your life right away.
These are great options for if you're in the car and driving around town, on a road trip, or even to stash in your desk at work. Wherever you need a snack, these are some good go-to options (though some do require refrigeration!).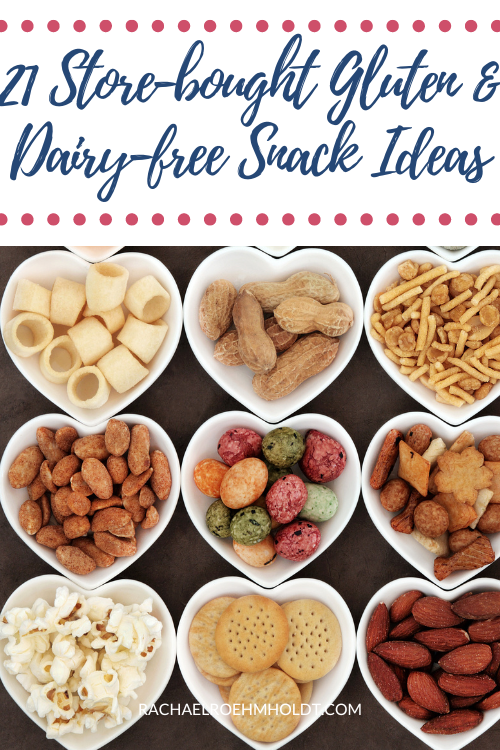 Luckily, many of these gluten-free dairy-free snacks are also great for toddlers! Not only are you packed and ready to feed yourself, but they're also great for the toddlers and kids.
Just keep in mind any small pieces like nuts or dried fruit aren't a great idea for little mouths. Use discretion and follow your gut instinct on these suggestions.
When I started working on this post, I had a full list of snack ideas – but then I realized that while some are quick and homemade, others are straight from the grocery store – and even easier if you have busy lives and hectic schedules.
I know I rely on the store quite a bit for snacks around our house.
Keep in mind that while I don't have celiac disease, my goal is that this list will work for you if you have food allergies or a gluten intolerance.
Read on: Gluten and dairy-free hiking snacks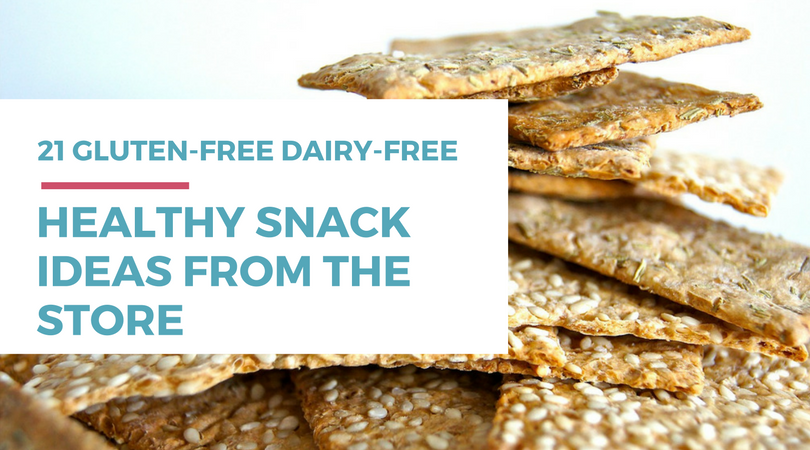 If you're curious where I get some of my snacks that take some help from the store, some of my favorite healthy gluten and dairy-free snacks are from Thrive Market.
Thrive Market also has a TON of great gluten-free dairy-free snack and pantry items that are their own specific brand and you can't find anywhere else. I love that I can have a larger selection than what I can find at any of my local grocery stores.
If you aren't familiar with Thrive Market, they have amazing gluten and dairy-free foods, as well as supplements and probiotics.
You can check out all the great things I have to say about this service, AND get a 30% off your first order AND a free gift (up to $24 value) when you sign up for either their monthly or annual plan.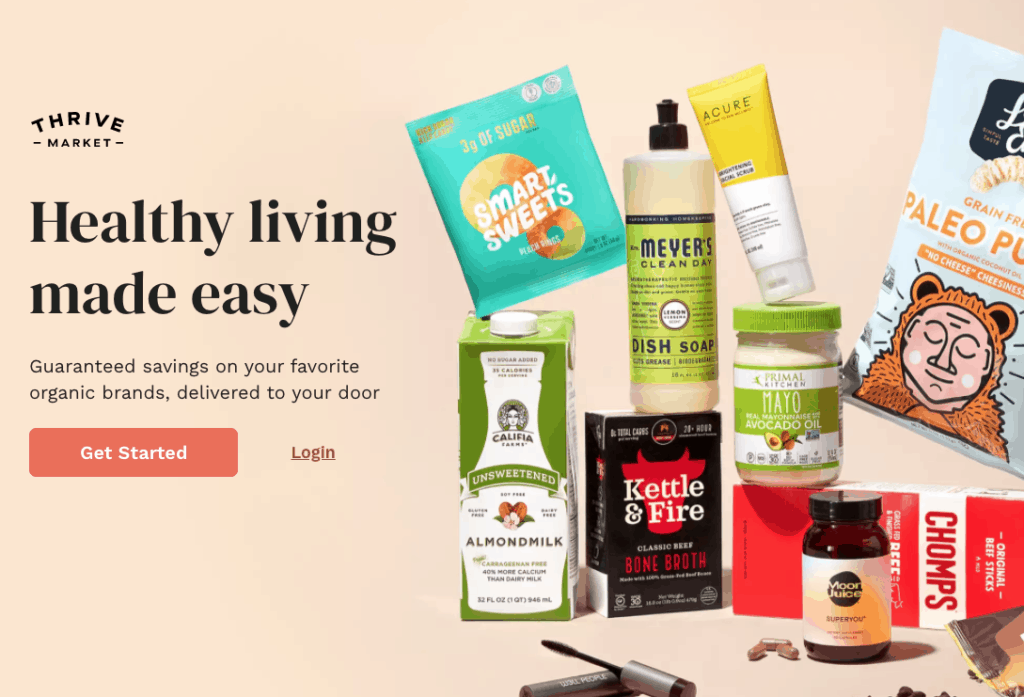 21 gluten and dairy-free snack ideas that are healthy AND store-bought
1. Coconut or almond milk yogurt
I like the So Delicious or Almond Dream brands. These are great on their own or with a little granola on top.
You can even make your own at home with a yogurt maker or Instant Pot – but hey, I like the store-bought version for convenience.
Read on: Dairy-free yogurt
I love these tasty banana chips on their own or mixed with dried cereal and nuts for a homemade trail mix. Trader Joe's has a great selection at decent prices!
Thrive Market has flavored banana chips if you want to try something new.
I love dried fruit as a snack, especially if I'm trying to watch my sugar intake. I know that this is natural sugar from fruit instead of refined sugar in other snack foods that are available at stores.
Read on: Are bananas gluten-free?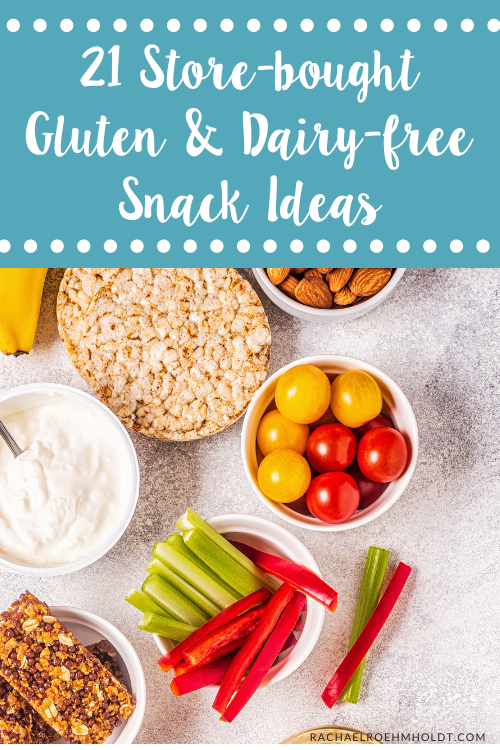 3. Raw or roasted nuts or seeds
Sunflower seeds and almonds are our favorites to keep in our pantry and stowed away in the car or purse for easy snacking.
Read on: Are nuts gluten-free?
I love these, because they're so convenient. No need for a knife or a giant jar to get your peanut butter fix.
You can enjoy the pouch plain, spread the nut better on some crackers or eat with some fresh fruit for a healthy snack in between meals. Here's another chocolate option (yum!!).
Thrive Market offers some larger packs and different flavors of nut butters if you want something different, or even try chickpea butter in single servings.
Read on: Is peanut butter gluten-free? Is peanut butter dairy?
These are great, because they're individually wrapped so they keep in your purse or car forever.
You don't have to worry about a big mess, plus the variety pack is nice when you get sick of eating the same old snacks.
I also love these Pure fruit bars. I've found them at Costco before, but you can also find them on Thrive Market if you have a subscription with them.
Read on: 101 Gluten-free Dairy-free Snacks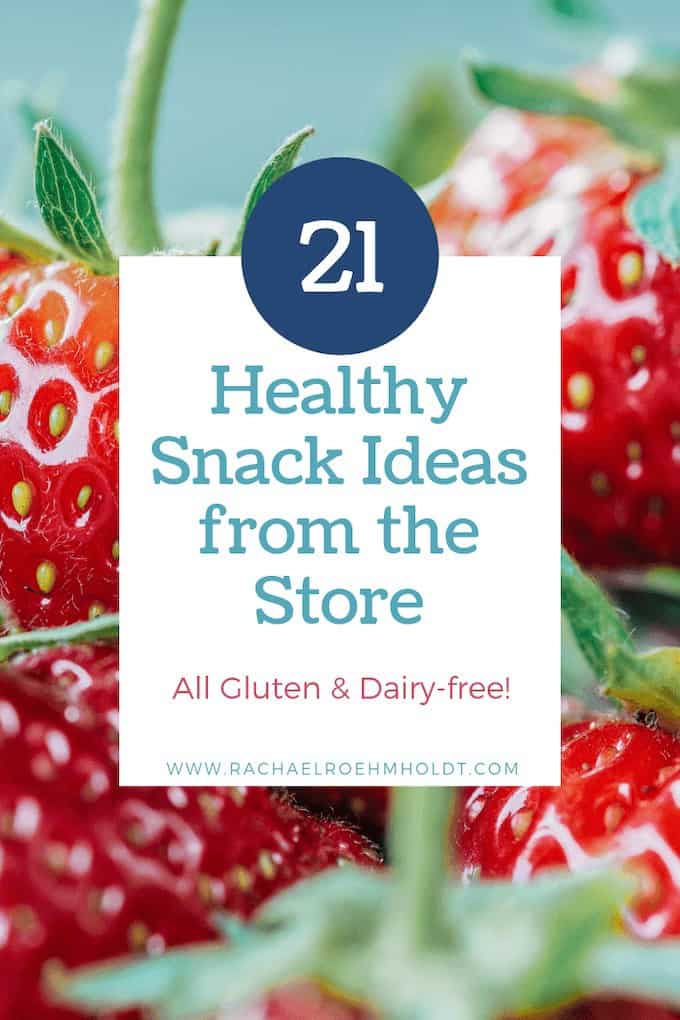 This isn't exactly an "on the go" snack, but if you plan ahead, you could pop some and keep it handy for going to the movies.
Or to keep in your desk for popping during a quick work break. This is my favorite brand.
Read on: Is popcorn gluten-free?
7. Olives or pickles
You can easily find olives or pickles in just about any grocery store.
They're a good healthy and salty bite when you're in the mood for something crunchy.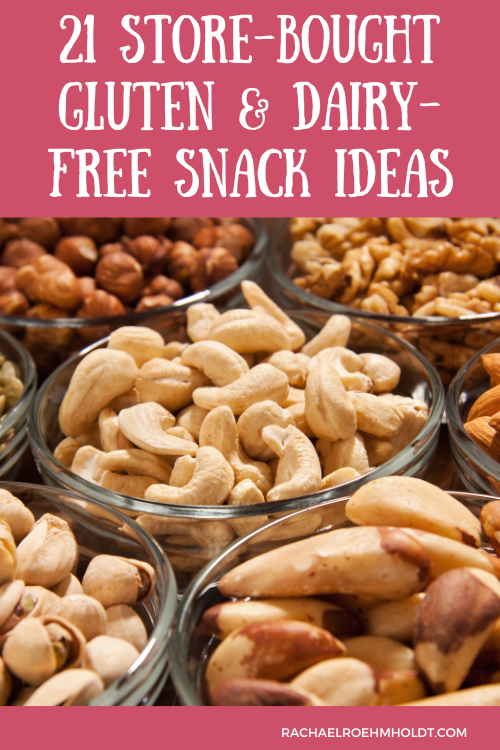 I love these crackers paired with hummus of any flavor. I've found these at both my regular grocery store AND at Costco on occasion.
We're loving the kalamata olive hummus at our store – and even though you can save loads of money making your own hummus at home, store-bought hummus wins out with the convenience factor.
You might be wondering "Is hummus dairy-free? Is hummus lactose-free?"
The answer is yes, hummus is safe on a dairy-free or lactose-free diet – just be sure to read ingredient lists for any hidden sources of dairy.
There are some great gluten-free cracker options on Thrive Market if you have a tough time finding gluten-free crackers locally in your area.
Read on: Check out my big list of gluten-free crackers!
Read on: Is hummus gluten-free?
This is a great high-protein snack to take with you on hikes, stash in your car, or keep at your desk for a midday snack. I'm always looking for healthy protein snack options and this jerky or Chomps sticks are some of my go-to's.
Always look for gluten-free and dairy-free jerky by reading ingredient lists for hidden sources of dairy or hidden sources of gluten.
These are some of my favorite store-bought snack mixes. Fruit, nuts and spices all mixed into one tasty snack.
I love the convenient size to stash away in your bag or take on the go wherever you are. You can even find these at Costco sometimes!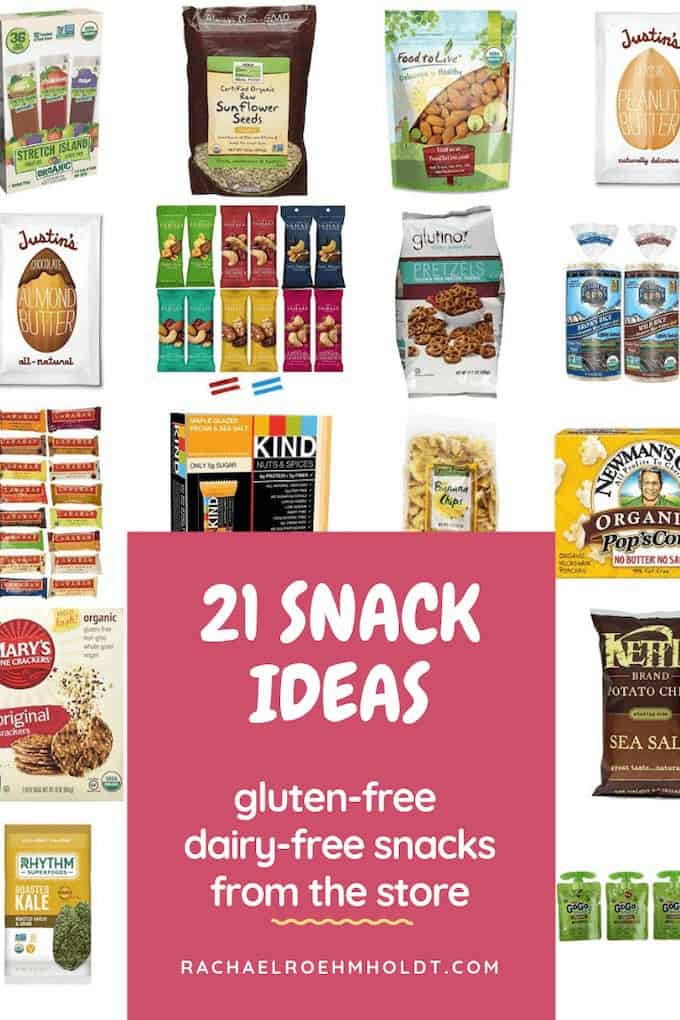 The mini cups of guacamole from Costco are great for packing in a lunchbox or to take on-the-go with some tortilla chips.
Any brand will do, but I like these blue chips from Garden of Eatin'.
Read on: Gluten-free tortilla chips
Maybe not an everyday snack, but these chips are still gluten-free and better than many other options out there if you're looking to satisfy a craving.
If you want to eat chips but have a little different (maybe healthier?) choice, look for sweet potato chips or root veggie chips.
Read on: Gluten-free chips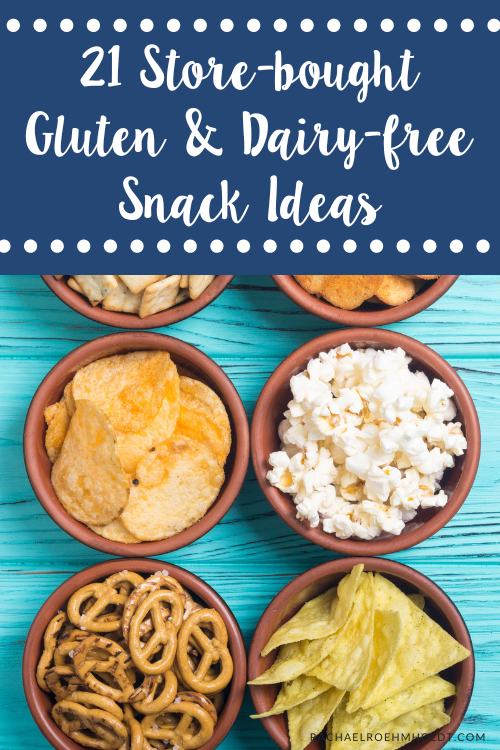 This brand is great!Pack these tasty pretzels in a snack bag and take them on the go.
A great salty and crunchy snack to get you between meals that's gluten-free!
Read on: Gluten-free pretzels
I recently tried these kale chips and while they aren't super cheap – they were really delicious.
I gobbled up most of the bag in one sitting and didn't feel bad for one minute about it. If you're looking for something that's better for you than potato chips, this is a choice you can feel good about.
These apple chips are divine. I consider them a bit of a splurge since they aren't exactly inexpensive, but they're really yummy to take on the go.
And when I get a sweet craving, they're a good option.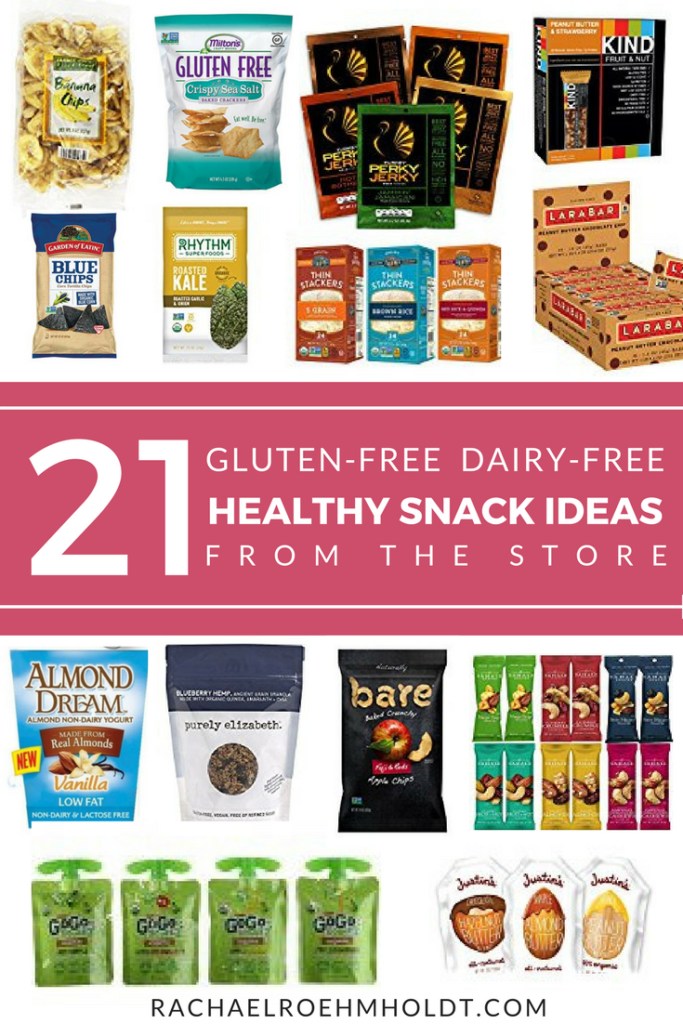 16. Sugar snap peas
Simple and easy to find – sugar snap peas can be found in pre-washed bags or fresh from the produce department.
Eat them on their own or with a little hummus. When my son was a toddler this was one of our go-to healthy snacks that my son loved to pick straight out of the garden and enjoy – but luckily, you can grab them from the store any day of the week.
I've tried a number of Purely Elizabeth granola flavors and I have loved every single one.
This is a great snack idea to stash in your car or divide into smaller portions and throw in your bag to snack while out and about.
Read on: Is granola gluten-free?
Read on: Gluten-free granola, nutty coconut granola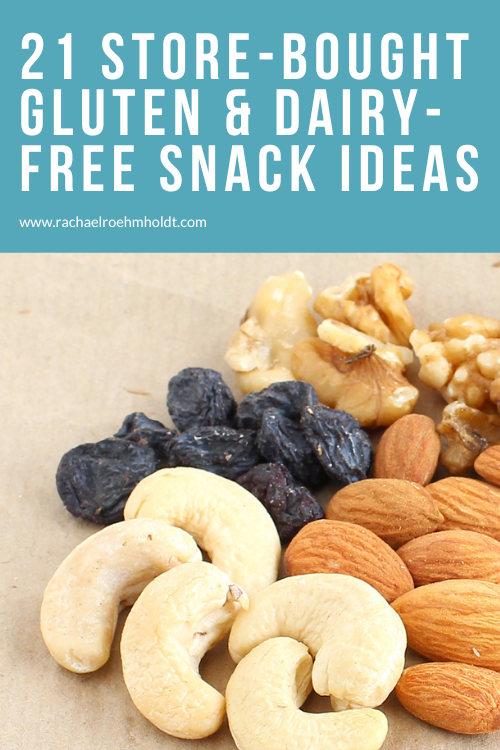 Larabars are one of my go-to gluten-free snacks for carrying around in my purse and car.
My favorites are the peanut butter chocolate and blueberry muffin varieties. Give this variety pack a try and find your favorite flavors!
Read on: 5 Best gluten-free dairy-free snack bars
19. KIND Bars (some varieties)
KIND Bars are my go-to granola bar. With super yummy flavor options, these are a huge upgrade from my old-school Chewy bars that I used to eat.
Not all KIND Bars are dairy-free so be sure to choose a flavor without chocolate or yogurt ingredients!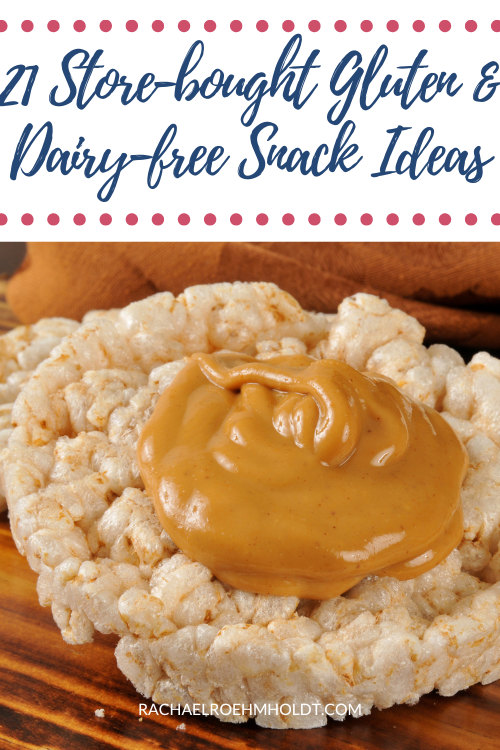 Not exactly a popular food, rice cakes are a great healthy snack option – especially when combined with peanut butter or almond butter.
When you have a craving for something crunchy, it's a much healthier choice than chips or something from a vending machine.
Read on: Is rice gluten-free?
I consider these one of my son's snacks, as I usually buy them for him… but I've been known to enjoy these once in a while too.
Applesauce in a pouch seems ludicrous – but it's beyond convenient for snacking on the go – especially as a snack for toddlers.
I always keep a stash of these in my house and in a bag in the trunk of my car for those desperate moments when we need to eat something before we make it home.
You can see that some of these snack ideas are great for packing in a car or in your purse, while others are better to keep in your fridge for right before you want to eat them.
Either way – there's more than enough healthy gluten-free dairy-free snacks that you can get straight from the grocery store without having to do any extra work.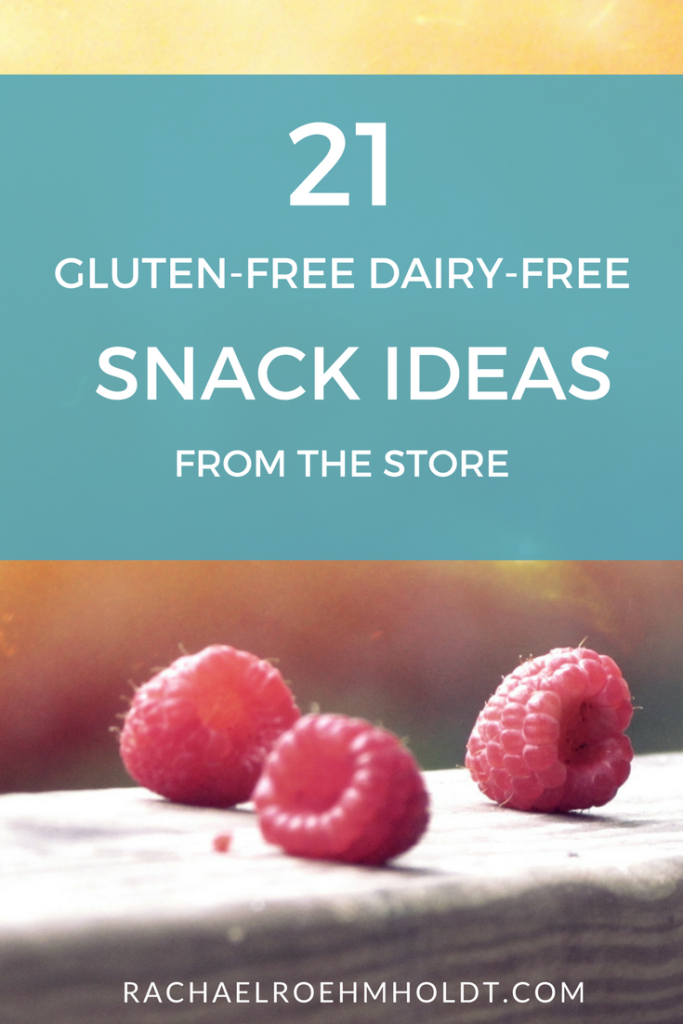 We try to keep Larabars, KIND bars, and applesauce pouches in the trunk of our car for anytime snacks if we're out of the house. Bonus points for these three since they easily fit in my pockets while hiking!
Honestly, it makes the world of difference just simply being prepared for healthy snacking than having nothing ready for you when you need it.
GFDF Buying Tip: I buy all three of these: Larabars, KIND bars, and applesauce pouches through Amazon's Subscribe & Save service every month so I never have to check if we need any at the store – they show up automatically on our doorstep!
Thrive Market has become one of my go-to places to purchase gluten and dairy-free snacks for my family, because they have so many convenient and healthy options. Check out all they have to offer in the snack foods section.
I hope if you've been on the hunt for some gluten-free dairy-free snacks that are healthy and store-bought that this list has been useful for you!
>> Looking for more snacks for kids? Check out these 50 gluten-free dairy-free snack ideas for kids and 21 gluten and dairy-free store-bought snacks for kids.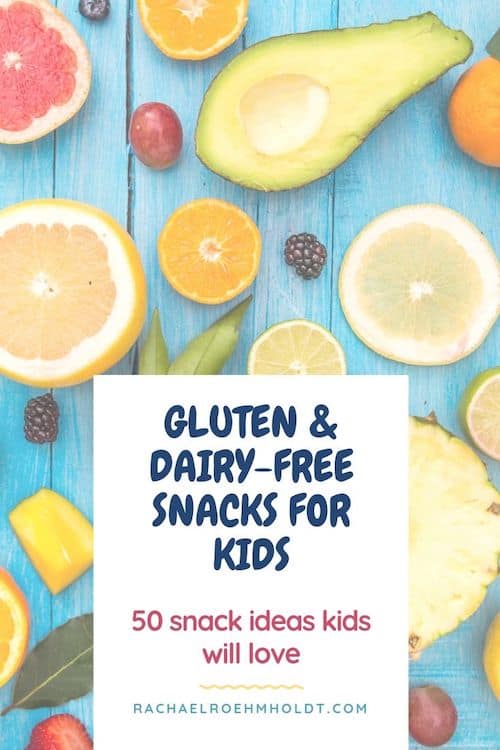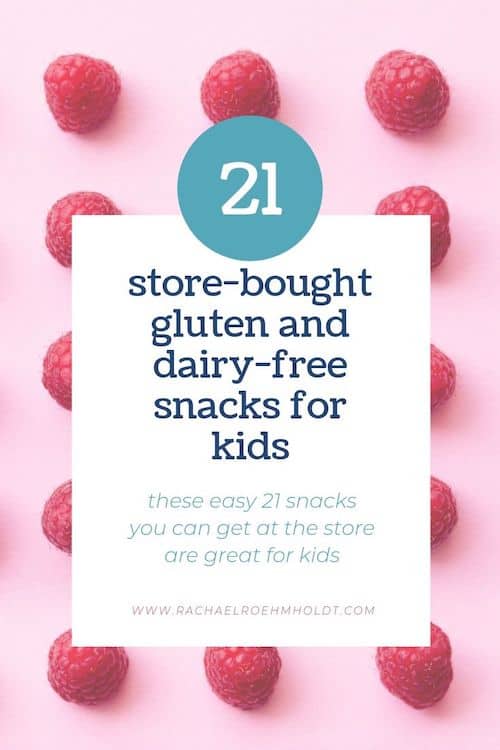 Now it's your turn – tell me in the comments below what YOUR favorite GFDF store bought snack is?
Need some weeknight dinner inspiration? Check out my weekly recipe and menu planning service GFDF Weekly! Click here or the image below for more info.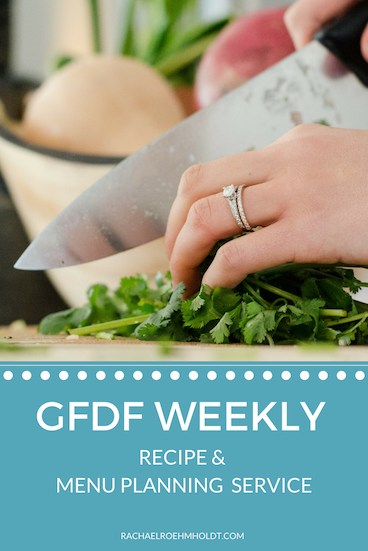 Love these snack ideas? You might also want to check out these posts!
Get tons of snack ideas from this list of gluten and dairy-free posts all about snacks!