Need a few gluten-free appetizers for your next get-together, game day, or holiday gathering? Try out these recipes that are also dairy-free!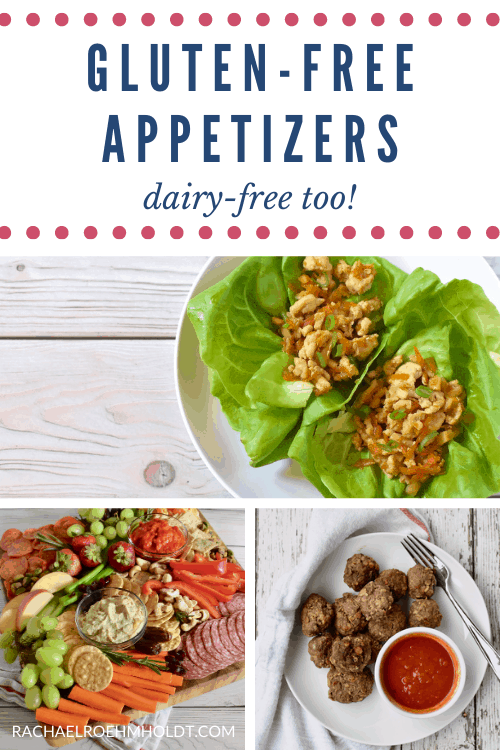 Note: I am a proud Amazon, Chomps, MunkPack, and Thrive Market affiliate and am happy to recommend their service and products to you. Please know that as an affiliate, I may receive a small commission on the products you purchase after clicking through my links. For more info, please see my disclosure policy here.
Whether you're meeting up with friends for an impromptu gathering or hosting a large group for a birthday party or holiday, it's always nice to offer your guests appetizers something to nibble on before a big meal.
Appetizers are also a great way to keep from having to serve a meal if you want to keep your gathering short and sweet. With a few platters of delicious snacks, people can come and go from a party, bring their own appetizers, or stay for a while if you plan to serve a larger meal later on.
The gluten-free appetizers I've chosen for this roundup range from very informal to more fancy. Different gatherings call for different appetizers. For example, I probably would bring chips and dip to a football party, but not to a holiday meal at my aunt's house.
In this gluten-free appetizer recipe roundup, I hope you find something for your next gathering, no matter how big or small, formal or informal. Remember all these recipes are also dairy-free, so you can feel good the next day if you avoid dairy too.
Pick and choose from these ideas for your next get together, and enjoy!
If you're looking for specific game day appetizers, be sure to check out these 21 gluten and dairy-free appetizers and mains.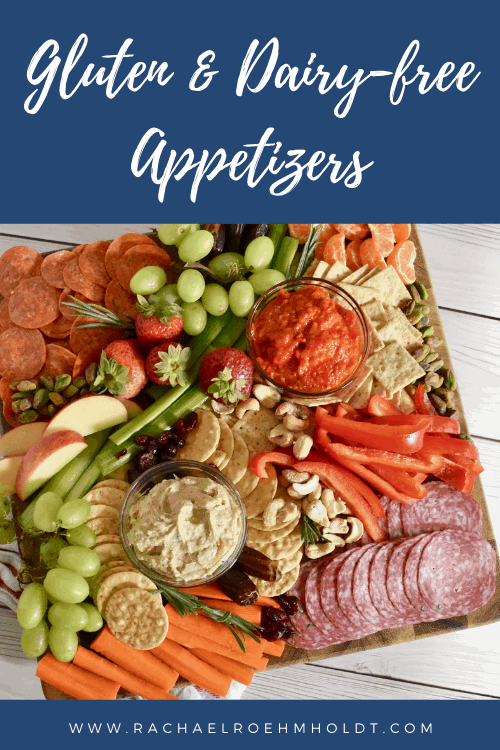 For an easy and impressive appetizer for your picnic, make your own gluten and dairy-free snack board with gluten-free meats, fruits, vegetables, dips, and nuts. Everyone at your picnic can choose what they like.
Hummus is naturally gluten and dairy-free, so try this olive tapenade recipe and serve with your favorite gluten-free crackers as a snack at your picnic.
Read on: Is hummus gluten-free?
These roasted chickpeas are simple to make and are a nice crunchy bite as a picnic appetizer. With just 5 ingredients and 25 minutes, you can make these gluten and dairy-free snack.
This recipe also offers a few flavor variations, like spicy, sweet, rosemary, and cinnamon.
Read on: Are chickpeas gluten-free?
Spiced nuts are a great appetizer no matter what kind of get together you're having. I love this recipe for savory rosemary spiced nuts, because they're full of flavor and easy to pack for a picnic.
Try this Green Goddess dip with some veggie sticks for dipping. This dip is made with tons of fresh herbs, vegan mayo, and vegan sour cream. All you need is a blender to whip this easy appetizer up.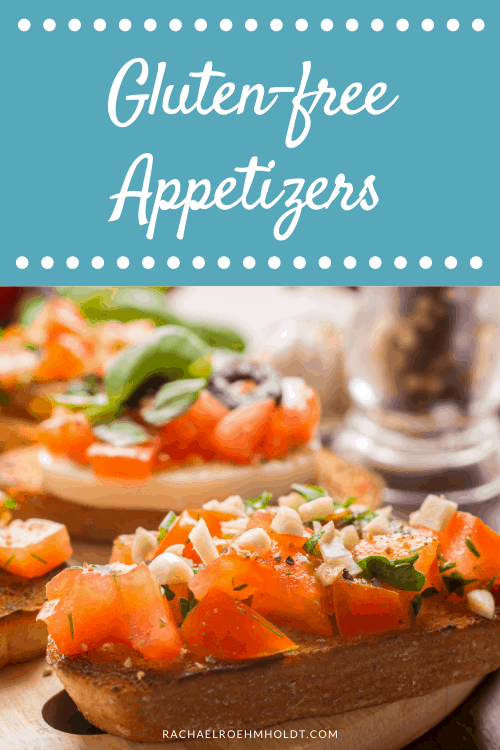 These quinoa fritters are a great appetizer if you have folks over to your house before a big meal is served. They're made with quinoa, eggs, carrots, onion, and some herbs. The aioli comes together with soaked almonds or cashews, garlic, dijon mustard, and lemon juice.
I love tortilla pinwheels as an appetizer, because they're so easy to put together! These are made with corn tortillas (naturally gluten-free), sliced deli meat (make sure yours is gluten-free), taco seasoning and avocados.
You can easily swap out the taco seasoning for another flavor, like dairy-free ranch dressing or just salt and pepper if you like too!
Get my gluten-free taco seasoning recipe.
Read on: Gluten-free Tortillas: Types, Gluten-free Options, and Brands
Read on: Do corn tortillas have gluten?
Hummus is one of those foods that is so good for you and yet so easy to make! I love finding new recipes that take a spin on the traditional hummus that I usually make or buy at the store.
This artichoke hummus adds a whole can of artichoke hearts, making the most of this spring veggie. Enjoy this hummus with gluten-free crackers or crudités (cut fresh veggies).
If you and your guests are fans of eggs and an easy appetizer, check out these deviled eggs. This recipe uses avocado mayo, is gluten-free, and dairy-free. Perfect for your next gathering!
These gluten-free sausage balls use almond flour in place of traditional flour to make them gluten-free. To make them dairy-free, be sure to swap out the butter for vegan butter and use a dairy-free cheese like Daiya or omit the cheese altogether.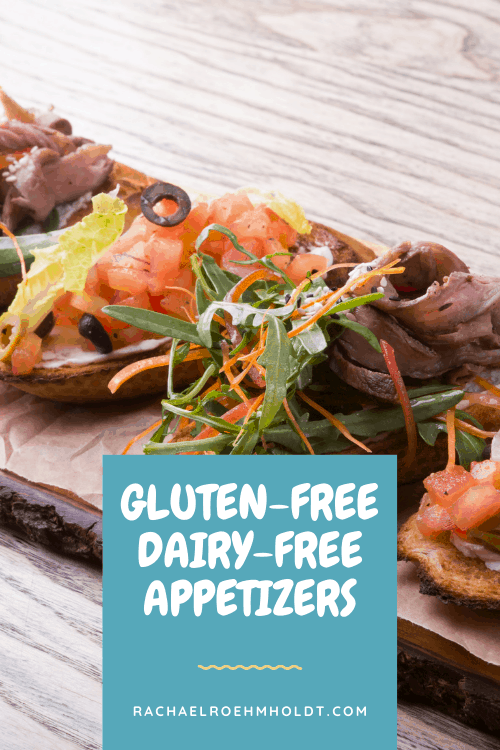 These maple candied pecans are simple and take only 3 ingredients and just 5 minutes to prepare. These come together with pecans, maple syrup, and cinnamon so they're gluten-free and dairy-free.
These will be a hit for serving guests during your holiday get-togethers, and an awesome sweet snack to serve as an appetizer before the big meal.
Roasted Brussels sprouts with bacon aioli are a healthy and a fresh twist on your standard appetizer.
The bacon aioli is made using a dairy-free mayo, lemon juice, garlic, bacon, and fresh thyme. Super easy and super flavorful.
There's nothing like something simple to impress your guests, without all the effort!
Read on: Is bacon gluten-free?
Spinach and artichoke dip can be a tricky one to make dairy-free since it's usually loaded with cream cheese and loads of cheese.
This gluten-free and dairy-free version is made with cashews and mayonnaise for a healthier dip. Try this one for big flavor before the big meal!
If you want to serve a festive appetizer during the fall months, try this roasted pumpkin walnut dip is just for you.
This recipe is Low FODMAP, gluten-free and dairy-free, and is great with veggie sticks or gluten-free crackers.
These sweet cucumber roll-ups are simple to put together and are full of delicious and healthy ingredients like pine nuts, hemp seeds, smoke salmon and cucumbers.
Make up a batch of these gluten-free and dairy-free appetizers to wow your friends.
This simple Irish Soda bread is one of those very simple recipes that seems super fancy and difficult, but is actually simple to put together.
This one is gluten-free with the use of cassava flour, but you'll need to do some swaps to make it dairy-free.
Swap out the butter for vegan butter or coconut oil, and the raw buttermilk will be a combination of dairy-free milk and lemon juice.
There are plenty of gluten-free crackers on the market these days, but if you like to make your own homemade versions to brag to all your friends – this is a great recipe to try.
These only take 30 minutes to make from start to finish and are great with any dairy-free dip you want to serve with them.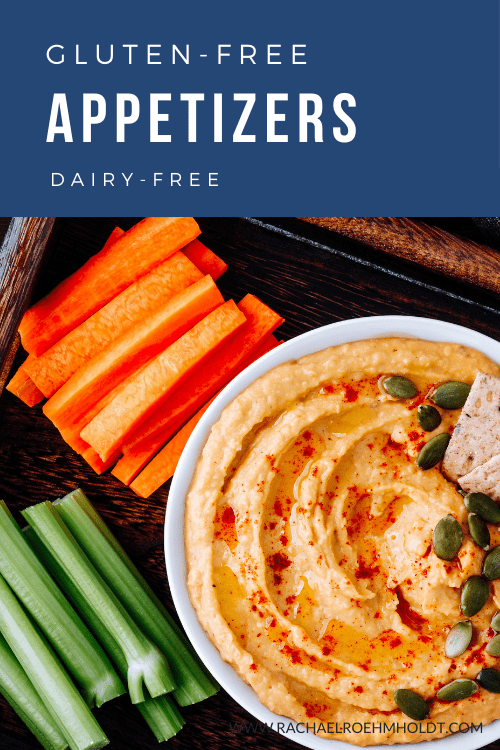 If you love serving meatballs at holiday gatherings, these ones are a great one to try. These are baked in the oven, so you don't need to babysit them on the stove, and best of all, they're gluten-free, dairy-free, and egg-free.
Serve these with marinara sauce or another favorite meatball sauce.
This vegan roasted beet dip is simply gorgeous and will be a wonderful addition to your holiday appetizer menu. It's a deep pink/red color and will be great served with gluten-free crackers or other veggie sticks.
I don't know about you, but when I'm entertaining, I don't want to be spending more time in the kitchen than I have to.
So this make-ahead Chex mix is perfect to allow me to set out some munchies and get back to spending time with my family.
The best part? I've made sure this recipe is completely gluten and dairy-free, along with an option for a full or half batch, depending on the size of crowd you're serving.
What I love about these sweet potato bites it that they're made with healthy and delicious ingredients.
I also love that these are simple enough to enjoy at an informal gathering like watching football with friends, as well as a more fancy affair like a bridal shower or family dinner. If you love avocados and bacon, you'll love this recipe!
If you love cheese balls at your get togethers, you'll love this dairy-free and vegan cheese option. This is made with cashews, vegan cream cheese, and canned coconut milk, along with some seasonings to give it some extra flavor.
Roll the ball in pecans, dried cranberries, and fresh parsley for some major flavor and texture.
If you love stuffed mushrooms, you'll love these dairy-free bacon and spinach stuffed portobellos. This recipe is full of flavor from the bacon and spinach, as well as nutmeg and pine nuts. You'll want to use gluten-free breadcrumbs for this recipe to make sure they're gluten-free.
These chicken lettuce wraps are great for a hands-on appetizer that your guests will love. Stuff the lettuce cups with an Asian-inspired chicken mixture, then top them with some fresh scallions.
Try these delicious cured meat-wrapped asparagus for a super fast and impressive appetizer. Best of all, they only take 15 minutes to come together.
I hope if you've been on the hunt for some easy and delicious gluten-free appetizers, that these recipes inspire you to get to your kitchen and get to work! Make your next gathering even more delicious with some of these recipes.
f you loved this post, I hope that you'll share it with your friends on Facebook and pin it for future reference on Pinterest.
Love these snack ideas? You might also want to check out these posts!
Get tons of snack ideas from this list of gluten and dairy-free posts all about snacks!