Need some gluten-free and dairy-free snack ideas for your kids and toddlers? Check out this list of 50 snack ideas, including fruit and veggie snacks, homemade snacks, and store-bought snacks. Scroll down to see all the ideas!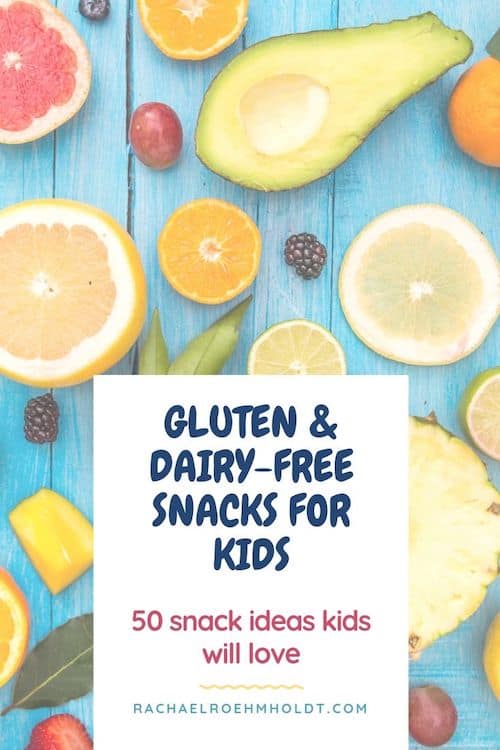 Note: I am a proud Amazon, Chomps, MunkPack, and Thrive Market affiliate and am happy to recommend their service and products to you. Please know that as an affiliate, I may receive a small commission on the products you purchase after clicking through my links. For more info, please see my disclosure policy here.
Many of the women I've met during the time that I've been writing this blog have been following a gluten and dairy-free diet for their kids, whether that means breastfeeding or simply trying to continue with this diet with your child so they aren't doing it alone.
I've heard from so many of you who are looking for (and maybe even desperate) to find snack ideas that are gluten and dairy-free.
While my own son can eat both gluten and dairy, he's no stranger to many of the snacks listed in this blog post, because they are around my house – and because if I'm going to make or buy a snack, I might as well enjoy some of it too.
One thing I've noticed with kids is that sometimes it's less about WHAT they are eating, and more about HOW they are eating it. What I mean by that is the vehicle and the presentation matter.
I mean, not always… I can't get my kid to eat things he desperately doesn't want to. But sometimes, when something is in the shape of a flower or he gets to help prepare it, he's more likely to eat whatever it is we're having.
When it comes to gluten-free dairy-free snacks for toddlers, you'll want to use your discretion for small food items, like nuts or dried fruit. In my experience, toddlers love a variety, so making up small snack plates with gluten-free dairy-free snacks is a good idea.
A few of ideas gives these littles some variety, and you can mix and match some of the items from this list. Foods like fresh fruits, veggies, nut butters (if you've introduced nut butter yet), pretzels, and gluten-free crackers are all great for toddlers.
I've divided this post of 50 gluten-free dairy-free snacks for kids into three sections:
Fruit and veggie snacks
Homemade snacks
Store-bought snacks
The majority of them are largely healthy, offering at least something in the way of nutrition. But as with anyone's diet, some things in moderation are okay by me.
So take from this list what you love, and leave the rest. I hope you find some inspiring ideas to help keep your little one's belly filled and you happy!
If you're curious where I get some of my snacks that take some help from the store, some of my favorite healthy gluten and dairy-free snacks are from Thrive Market.
Thrive Market also has a TON of great gluten-free dairy-free snack and pantry items that are their own specific brand and you can't find anywhere else.
>> Click here to get 25% off your first order with Thrive Market. Check out more about what I love about Thrive Market, check out this post.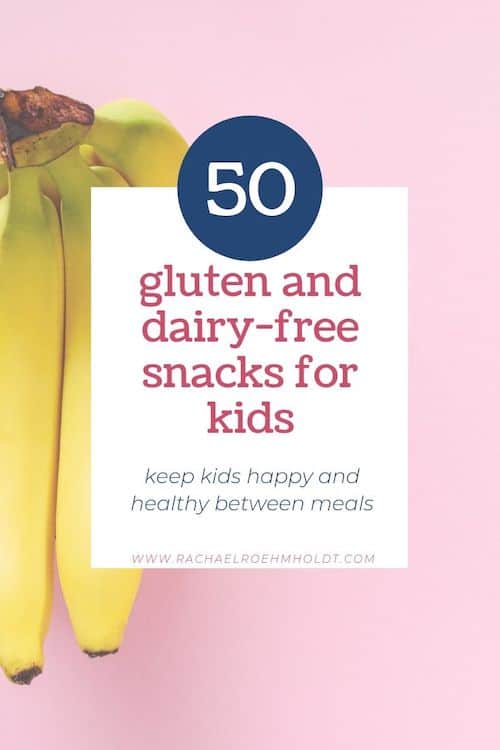 Fruit & Veggie Snacks
1. Fresh fruit
Any and all fresh fruit is both gluten and dairy-free. Fruit is always a good choice for kids snacks, because it's an instant energy booster and helpful fiber to keep things moving along.
2. Apples & your favorite nut butter
Slice up your favorite variety of apples and dip in nut butter. Use whatever nut butter your kids like the most – peanut, almond, cashew, etc. Peanut butter is always a hit in my house!
3. Fruit smoothie
If you have a blender, mixing up a fruit smoothie couldn't be easier than throwing in some fruit, dairy-free milk or water, and blending away.
Smoothies are an excellent way to get fresh fruit and veggies into your toddler's diet when they aren't likely to eat them on their own when presented them. Don't overthink it – you don't need a recipe. Just add whatever your kids like and blend it up!
4. Banana "ice cream"
Blend frozen bananas with a squeeze of honey in a food processor or blender until silky smooth. Top with dairy-free chocolate chips if you want a little extra sweetness. This tastes like ice cream but with none of the added sugar!
5. Gluten-free toast & jam
Top gluten-free toast with jam or whole fruit preserves for a simple and healthy snack. We love using our homemade raspberry jam on toast for snacks (or breakfast)!
6. Frozen yogurt dipped fruit
In the summer, nothing is better than a cool treat. Grab your kid's favorite fruit – berries are awesome here – and dip them in your favorite dairy-free yogurt.
Place them on a parchment-lined sheet pan and freeze for a few hours. Any dairy-free yogurt will do, but I particularly love the coconut yogurt.
7. Fresh fruit & dairy-free yogurt dip
Mix up your own dairy-free yogurt dip by combining dairy-free vanilla yogurt and peanut or almond butter.
Cut some fresh fruit, like apples or strawberries for dippers – and you're set for a high-protein sweet snack you can feel good feeling your kids.
8. Fruit leather
You can buy fruit leather at most grocery stores or online. You'll want to look for a low or no-sugar option. Fruit is sweet enough as is it is, you don't need a lot of extras. Of course, if you want to be adventurous, you can make your own at home too.
9. Frozen grapes
Remove grapes from their stems, put them in a freezer-safe dish, then throw them in the freezer until solid.
These make a super yummy candy-like treat for kids, especially in the summer months. These aren't a great idea for toddlers, so skip this one until they can handle smaller foods.
10. Fruit sorbet
If your kids love sorbet, but you don't love giving them loads of sugar, try making this mango sorbet at home. You only need two ingredients: frozen fruit and honey.
Blend them up in a food processor until smooth, then serve. If your fruit is sweet enough as is, skip the honey entirely. So easy and naturally dairy-free!
Read more: Is sorbet dairy-free?
11. Instant "frozen yogurt"
I LOVE frozen yogurt in the summer, but at my local froyo shop there is usually only one flavor that is dairy-free on any given day (if I'm lucky). I've come up with a nice alternative – that's probably way healthier and lower in sugar to make at home.
Mix up frozen fruit and non-dairy yogurt in a blender for a cheaper and healthier dairy-free frozen yogurt option. Best of all, you can make whatever flavor your kids love!
Get the recipe here: dairy-free instant frozen yogurt
12. Fresh veggies
Veggies are always a good option when it comes to snack time. Kids can enjoy them on their own or with their favorite dippers. I'll give you a few ideas below.
13. Celery sticks & nut butter
Nut butter is high in protein and fat, which is great for filling kids up between meal times. I like to pair peanut, almond, or cashew butter with celery sticks for a crunchy/creamy snack combo.
14. Kale chips
Kale chips are another great salty snack you can buy or make at home. To make them at home, simply remove the kale from the stems, tear into pieces, place in a bowl, add some olive oil and salt.
Mix everything up with your hands, lay out on a parchment-lined sheet pan and bake. You can also buy them at the store if you want a little less effort.
15. Sugar snap peas
I love sugar snap peas so much that I started growing them in my garden every spring.
They're really flavorful and your kids can eat them on their own or dip them in hummus or dairy-free ranch. When my son was a toddler, he loved helping picking them straight from the garden and eating them right away.
16. Red pepper slices & bean dip
Slice up red peppers and enjoy with homemade bean dip. I like to make my own bean dips (aside from hummus) using garbanzo or cannellini beans, lemon juice, olive oil, and fresh herbs mixed up in the food processor.
The dip is full of protein and fiber, and the red peppers are a nice vehicle for the bean dip.
17. Raw veggies & dairy-free ranch dressing
Slice up some of your favorite raw veggies, like carrots, celery, or broccoli and enjoy with dairy-free ranch dressing. You can make your own dairy-free ranch dressing or buy one of the great dairy-free options from the store.
18. Green smoothie
Green smoothies are one of my go-to snack (and breakfast) options. I like to create mine with fresh or frozen fruit, spinach or other greens, almond or coconut milk or water.
You can add a little extra protein with peanut or other nut butter, hemp seeds, or flax meal to give you an extra boost.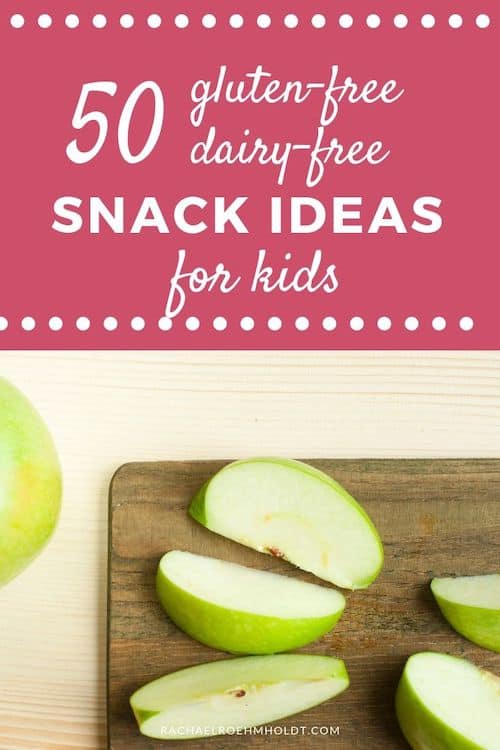 Homemade Snacks
19. Homemade hot cocoa
Hot cocoa is perfect for the cold-weather months, but most cocoa packets you get in grocery stores are made using dehydrated milk.
Make your own dairy-free version at home by combining coconut milk (or other dairy-free milk), cocoa powder or raw cacao powder, maple syrup, and a splash of vanilla.
Super easy to make when you want to make a special treat for the kiddos! Check out my recipe for dairy-free hot chocolate here.
Read on: Is Maple Syrup Gluten-free?
20. Deli turkey & pickle roll-ups
These are one of my family's favorite things to eat in the summer when it's too hot to cook.
Find some deli meat that's gluten-free (Boar's Head has some great choices) and roll up some pickles in it. They're easy to hold and great for snacking since they're a good source of protein.
21. Popcorn
Popcorn is a great healthy snack for a gluten and dairy-free diet. Make sure you make your own using plain kernels, or find a brand that has no dairy added. This is my go-to popcorn option.
This is another gluten-free dairy-free snack idea for toddlers you'll want to skip until they're a bit older.
22. Roasted chickpeas
Chickpeas are a great source of protein, which means they'll fill you up as a snack. You can buy roasted chickpeas at the store – they're not always cheap – or make your own at home.
Read on: Are chickpeas gluten-free?
23. Coconut milk steamer
Does your kiddo like to have warm drinks on cool days? Try a coconut milk steamer by combining 1 cup coconut with 1/4 tsp cinnamon, a dash of vanilla, and a squeeze of honey or maple syrup.
Heat until warmed through and serve. You can use a different dairy-free milk if you like.
24. Homemade fudgesicles
You can easily make your own fudgesicles at home by blending together coconut milk, maple syrup, and cacao powder or cocoa powder.
Pour into popsicle molds and freeze until solid. If you want an even creamier texture, you can add some avocado to the mix as well.
25. Mashed avocado & gluten-free crackers
I love mashed avocado and would put it on anything and everything if I could.
I love to mash up an avocado in a bowl, stir in some lime juice and salt, and serve it with gluten-free crackers or tortilla chips. So simple and yummy, plus no dairy or gluten! My son and I love to snack on this.
26. Avocado pudding
Another favorite snack or dessert recipe in my house is avocado pudding. It's super filling, but really flavorful and just about impossible to get wrong.
Blend one avocado with honey or maple syrup and a splash of almond milk – you can also add cocoa powder for a chocolate version!
You can add whatever toppings your kids like to make it their own – my family loves dairy-free chocolate chips or raspberries on ours! When my son was a toddler, this was a gluten and dairy-free snack that he had no idea was truly healthy – and gobbled it up!
27. Peanut butter & jelly sandwich
Who doesn't love a good old fashioned PB&J? Swap out the normal bread for gluten-free bread and you're set with a filling and tasty snack that's great for a gluten and dairy-free diet.
28. Healthy chocolate "shake"
This is a fun recipe: In a blender, combine 2 cups ice with 1 cup almond milk (or other milk), a splash of vanilla, one tablespoon of raw cacao powder or cocoa powder, and a squeeze of honey. Blend it up and enjoy!
29. Homemade "jello"
Grab some high-quality gelatin and a low-sugar fruit juice that you love to make some homemade jello or gummies. Use a recipe like this one to have them come together.
I have cute little seashell silicone molds that I bought for my son just this purpose, and we have gut-healing and sweet snacking going on at the same time!
30. Homemade popsicles
Homemade popsicles are as easy as finding popsicle molds at the dollar store or grocery store and getting creative. I love to mix up fresh raspberries, coconut milk, and honey in my blender for some super tasty popsicles.
If I'm feeling a little on the lazy side, I'll grab a bottle of my son's favorite grape juice and use that straight into the molds. They're surprisingly good – and an awesome way to control the sugar in your sweet treats.
31. Chocolate popcorn
Chocolate popcorn is a decadent treat I came up with a few winters ago when I was tired of plain old popcorn. Mix popped popcorn with melted coconut oil, a few spoonfuls of coconut sugar and some cocoa powder.
I like to put it all in a big bowl with a cover, and shake the dickens out of it. It's super easy to make your own fancy popcorn at home – and even though it's messy, my son LOVES it! Just be sure to grab extra napkins!
32. Quesadilla
Using corn tortillas and dairy-free cheese, you can make a gluten and dairy-free quesadilla easy peasy. You can also take it up a notch and add some black beans, salsa, or even some chicken to turn it into a meal for your kiddo.
Read on: Gluten-free Tortillas: Types, Gluten-free Options, and Brands
Read on: Do corn tortillas have gluten?
33. Homemade muffins
Muffins are a really easy breakfast AND snack option, plus you can find all kinds of gluten and dairy-free recipes out there. Check out my 101 gluten and dairy-free muffin recipe roundup here for inspiration to find something your child likes.
34. Hard-boiled eggs
Lucky for us, eggs are naturally dairy-free. Hard boiled eggs are another great high-protein snack idea, and they might be a hit or miss with your kiddo, but they're a great option if your child enjoys them.
You can prepare a bunch in advance and keep them in the fridge until you're ready to eat them.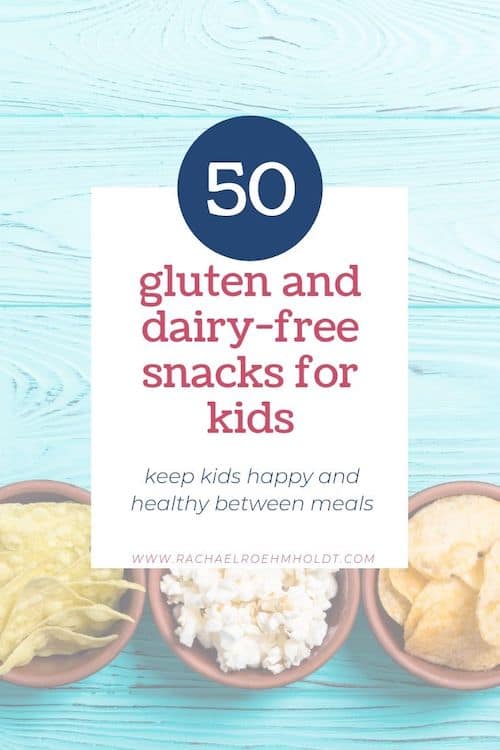 Store Bought Snacks
35. Dairy-free yogurt & fruit
Dairy-free yogurt is a tasty sweet snack you can keep on hand for your kids. While dairy-free yogurt isn't as nutrient dense as the normal dairy version of yogurt, you can boost it's nutritional value by stirring in some fresh fruit or gluten-free granola.
36. Dried fruit
There are a ton of different dried fruit options out there! Find one that is simply dried fruit and no added sugar for a sweet and healthy snack. We love raisins, dried cranberries, figs, and dates in our house.
Read on: Are raisins gluten-free?
37. Banana chips
Buy them or make them using a dehydrator or your oven on a super low heat. Banana chips are delicious on their own or mixed into homemade trail mix!
38. Mixed nuts
Mixed nuts are an easy store-bought salty snack idea for a kiddo on a gluten and dairy-free diet. Grab a jar from the store and stash them in your pantry or in your car for an on-the-go easy snack.
39. KIND bars
KIND bars are delicious and kid-friendly! All are gluten-free, but not all are dairy-free so be sure to check the ingredients lists before buying.
40. Corn tortilla chips & salsa or guacamole
Corn tortilla chips and salsa or guacamole are my jam. I think my son would eat guacamole for every meal if I let him. Luckily, all three of these foods are gluten-free and dairy-free – yay!
41. Baked apple chips
You can buy or make your own apple chips for a tasty crunchy gluten and dairy-free snack. You can use a dehydrator or your oven on a low temperature. Just be sure to slice the apples pretty thin for them to bake quicker.
42. Granola
Granola is a really great and simple snack, especially if you're on the go a lot. You can eat granola as is by the handful or buy granola bars, which are an easy gluten and dairy-free snack to take wherever you go.
Find out what brands of granola are gluten-free and get my gluten-free granola recipe.
Read on: Is granola gluten-free?
43. Larabars
Larabars – or any fruit and nut bar – are another great go-to snack option that are gluten and dairy-free. I love Larabars especially, because most of them don't have any added sugar and have whole food ingredients. My son's favorite flavor is peanut butter chocolate!
44. Applesauce
Applesauce is an awesome go-to healthy snack for a gluten and dairy-free diet, and kids love this one too. Of course you can make your own applesauce at home if you're up for it (it's surprisingly easy, honestly) or you can buy it at the grocery store for a packable snack.
45. Trail mix
Trail mix is a great option to buy from the store – but if you don't like everything in the mixes, you can easily make your own by buying things you love from the bulk bins at your grocery store.
46. Veggie sticks & hummus
Who doesn't hear about veggies and hummus when they're looking for snack ideas? It's obvious, but a healthy choice nonetheless. Let's not reinvent the wheel – good things are meant to be repeated.
Read on: Is hummus gluten-free?
47. Gluten-free crackers and hummus
Rice crackers or gluten-free crackers are easy to find in many health food aisles at the grocery store. I love pairing crackers with hummus – and my favorite lately has been olive tapenade hummus from my local grocery store. So good!
48. Kettle brand potato chips
I think we all know potato chips aren't the healthiest snack option, but once in a while, they just hit the spot for kids and adults both. Kettle brand offers gluten-free potato chip options – but be sure to check the ingredient lists, not all are dairy-free!
49. Gluten-free pretzels
Gluten-free pretzels are a tasty salty snack that you can find at many grocery stores or online. I love the Trader Joe's brand, because they taste good, are cheaper than other options out there, and easy to find. My son actually prefers these to normal pretzels.
50. Beef or turkey sticks
Beef or turkey sticks are probably one of my favorite snacks for eating on-the-go. Whether it's stashing snacks in the car, for hiking or camping, or just having something that doesn't need to be refrigerated, I love having these around for both myself and my son.
Find a gluten-free option you love, like these Chomps Sticks, and keep some handy.
I love the Chomp Sticks brand, because they come in both a larger size and smaller kid-friendly sizes called Chomplings, which pack up well for hiking or the beach – especially for kids.
You can find them in a variety of flavors like Original Beef, Jalapeno Beef, Italian Style Beef, Sea Salt Beef, Cranberry Habanero Beef (super spicy!), Original Turkey, Jalapeno Turkey, and Salt & Pepper Venison.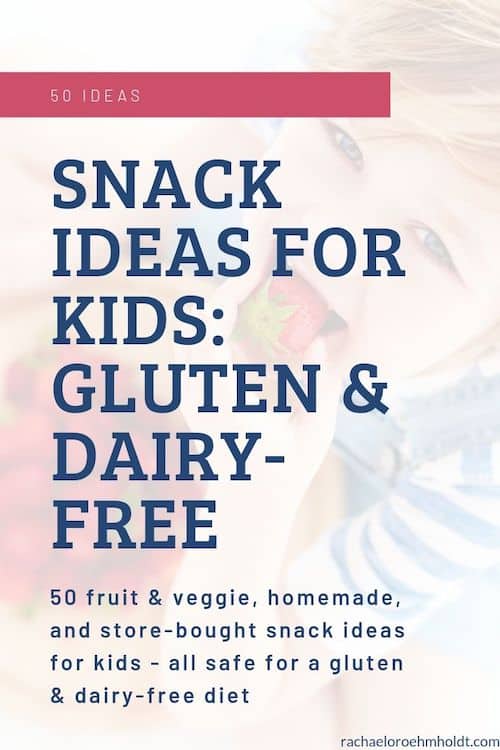 There really are so many options out there, it's sometimes hard to do the homework to find them. I hope this list has been useful for you in coming up with ideas for what to feed your child on a gluten and dairy-free diet.
Love these snack ideas? You might also want to check out these posts!
Get tons of snack ideas from this list of gluten and dairy-free posts all about snacks!
If you loved this post, I'd love for you to share it with friends or save it for later on Pinterest.
For a free gluten and dairy-free shopping list, plus 5 sample recipes, enter your details for instant access and weekly updates from me.