Do you love graham crackers and also follow a gluten-free diet? Find out if graham crackers are gluten-free, where to buy gluten-free graham crackers, and what brands to look for.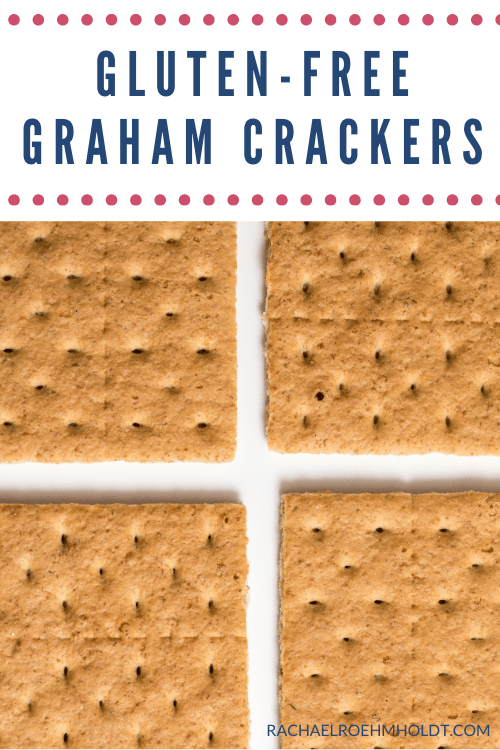 Note: I am a proud Amazon, Chomps, MunkPack, and Thrive Market affiliate and am happy to recommend their service and products to you. Please know that as an affiliate, I may receive a small commission on the products you purchase after clicking through my links. For more info, please see my disclosure policy here.
I don't know about you, but every summer my family huddles around the idea of making s'mores. There's nothing better than melty chocolate (dairy-free chocolate, of course) and toasty marshmallows (gluten-free marshmallows, of course) sandwiched between two graham crackers.
But if you follow a gluten-free diet or a dairy-free diet like I do, you know that your s'mores have to look a little different than the brands that you probably grew up enjoying. Or the ones that are so easily sourced at your local grocery store.
Even with just three ingredients, they all need to be sourced methodically, in order to avoid the gluten and dairy that make us feel terrible hours and days after we eat them.
Which is why for a long time, I've simply avoided eating graham crackers entirely. It was too much work to look for them and find an option that worked for my diet.
Instead of buying gluten-free graham crackers, I'd use gluten-free crackers instead. Yeah, they don't taste the same and the texture is usually way too crunchy for a s'more, but the idea still works as a vehicle to get chocolate and marshmallows to my mouth in one big bite.
After doing some research, though, I have to say I'm not as put off as I was before. It isn't too hard to find gluten-free graham crackers, especially online. That's why I've written today's post. If you've been looking for a gluten-free graham cracker option, I want you to know what to look for and where to find them.
Read on: Do marshmallows have dairy?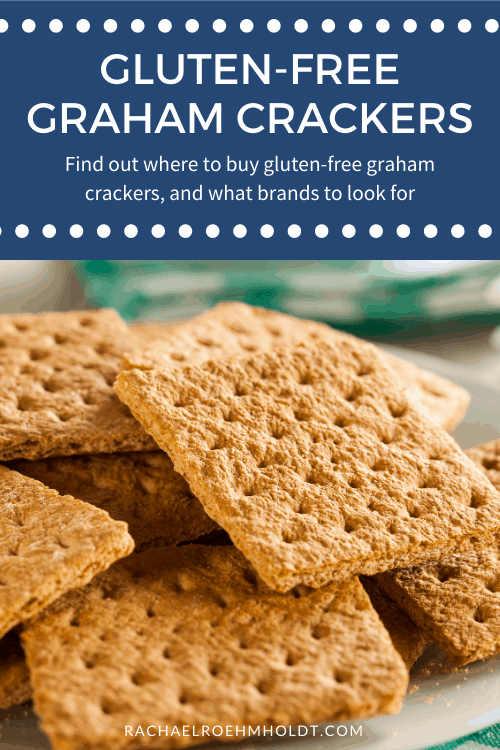 In this post, we're going to talk about what graham crackers are made of, what gluten is, and if graham crackers are gluten-free. Next, we'll discuss how to choose gluten-free graham crackers, and end the post with a list of brands and options of gluten-free graham crackers you can look for and enjoy on your gluten-free diet.
The goal at the end of the post is to hopefully give you (and me) some solid plans for how to get the dairy-free chocolate and gluten-free marshmallow concoctions into your mouth sandwiched between the graham crackers we know they deserve to be enjoyed with. Let's dive in, shall we?
What are graham crackers made of?
Most graham crackers that you buy at the store are made out of a combination of flour, wheat flour, sugar, oil, honey, leavening in the form of baking soda or calcium phosphate, salt, and other flavorings.
Different brands may have slight variations in ingredients, but overall these are the general ingredients you can expect to find on a package of graham crackers.
What is gluten?
Gluten is a protein found in most wheat products, and acts as the "glue" that helps to hold wheat, barley, kamut, spelt, farro, durum, bulgur, rye, and semolina together to maintain their shape.
Gluten is found in any product where wheat ingredients are found, as you cannot separate the gluten from the rest of the grain. If there is wheat or all-purpose flour in a product, it likely contains gluten.
Read on: What is gluten in food? The basics of a gluten-free diet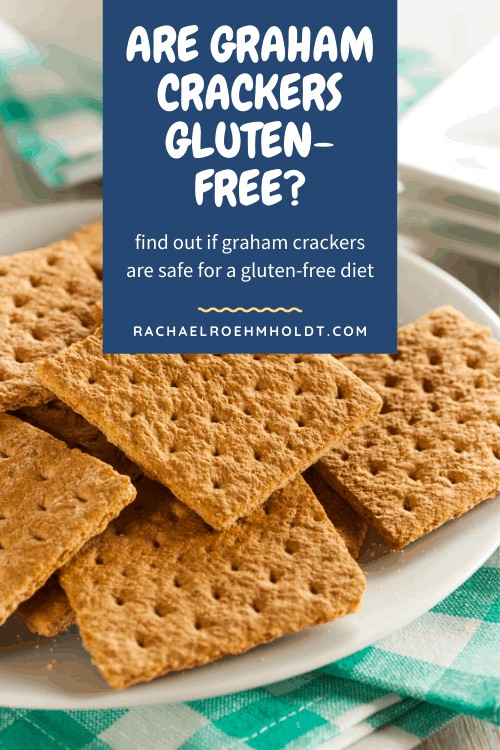 Are graham crackers gluten-free?
Most graham crackers you can find at the grocery store are not gluten-free, as they contain unbleached enriched flour and graham flour (a flour made from whole grain wheat flour).
Of course you can make your own gluten-free graham crackers at home using gluten-free ingredients. There are many recipes online for you to search for if this is something you're interested in trying out.
There are also a few brands that offer gluten-free graham crackers that are easy to find and taste the same as most common graham cracker brands.
Read on: Get my gluten-free graham cracker crust recipe
Read on: Are graham crackers gluten-free?
Are graham crackers dairy-free?
Graham crackers are generally dairy-free, as they don't contain any milk or other dairy products. If you follow a dairy-free diet, know that these are generally safe to enjoy.
Finding a gluten and dairy-free graham cracker option is a little more tricky, but I'll share the brands and options I've found with you later on in the post.
Choosing gluten-free graham crackers
When it comes to choosing gluten-free crackers, there are a few things you'll want to keep in mind.
First, you'll want to take into account knowing what makes something gluten-free. It's important to learn the names of gluten so that you know how to read ingredients lists and avoid those ingredients when you come across them.
You can see a list of other names of gluten to help you navigate your shopping. You can also pick up a copy of my GFDF Take Along Cards to take with you to the store.
One of my little secrets is that I carry around a copy of my GFDF Take Along Cards so that I always have a point of reference when I can sneak a peek at the ingredient list of a food.
>> Get your copy of the GFDF Take-Along Cards to make this easy on you.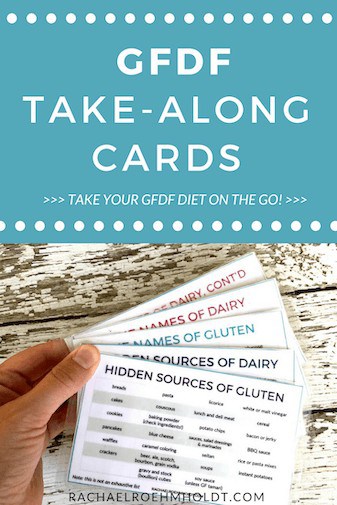 Be sure to check all ingredients lists before purchasing, so you aren't surprised when you get home and find that what you bought actually does have gluten in it.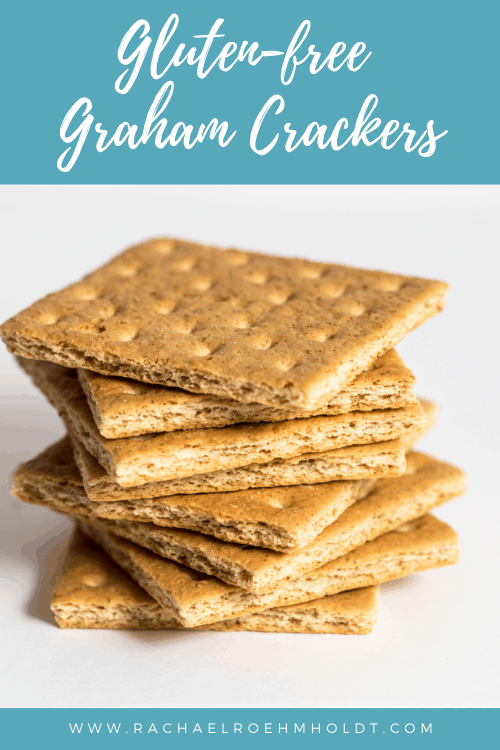 Where to buy gluten-free graham crackers
You can find some gluten-free crackers at many large chain grocery stores and health food stores. I was only able to find one option at my local store. If you happen to have a tough time finding gluten-free crackers locally like I did, you can find them at these two other places:
Thrive Market offers a ton of gluten-free products, including a few graham cracker options. What I love most about Thrive Market is that they make it easy to find what you're looking for using the filters on their website. You can search for "crackers" then filter for "gluten-free" in the specific diet area of the filters.
Another thing I love about Thrive Market is their commitment to health and quality. They only carry products that are made with the intention of being responsible and healthy.
Even if you order something as simple as graham crackers from them, you can feel good that this company has done it's due diligence to find products that are good for you and aren't full of chemicals or preservatives.
You may not find every product you are looking for, but that's because they are stringent with who they let in and what they sell through their service.
Click here to see all the gluten-free graham crackers that Thrive Market offers.
Amazon
Amazon is another place to look for gluten-free graham crackers if you can't find them locally. They offer a variety of products at varying price points.
One thing to be aware of is that you'll likely want to look at ingredients lists before buying anything on Amazon. Sometimes you can type in the term "gluten-free" with an item and the search results will bring back something that ISN'T gluten-free.
Without looking closely, you could inadvertently wind up with something you can't eat. (Don't ask me if that's how I wound up with a 3-pack of regular lasagna noodles instead of the gluten-free ones and then opened them before actually looking at the packaging… ahem)
Click here to see all the gluten-free graham crackers that Amazon offers.
Click here to see all the gluten and dairy-free graham crackers that Amazon offers.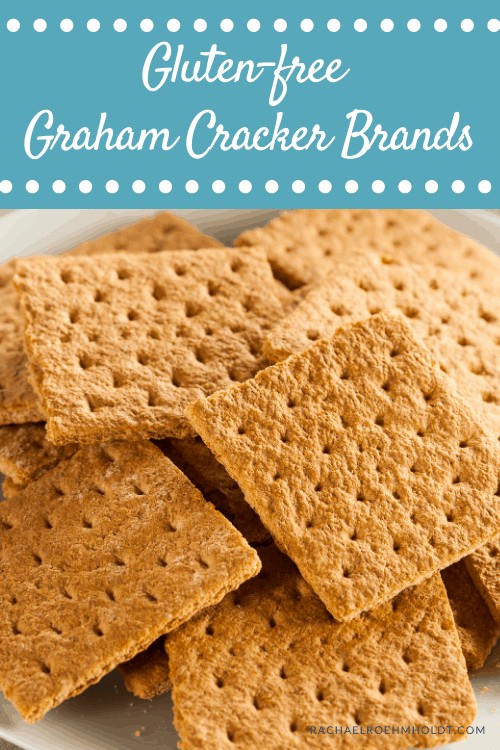 Gluten-free Graham Cracker Brands
All of these brands and options are gluten-free. Those that are also dairy-free have been marked with an asterisk (*).
I hope if you've been on the hunt for gluten-free graham crackers for the perfect s'mores, snacks, or to use as a base for gluten-free cheesecake, that you've found some great options in this post.
Now you can look for these options at the store or do a quick online checkout to get yourself some delicious gluten-free graham crackers into your pantry in no time.
As with any packaged food, be sure to read ingredient lists and check for gluten-free labels as they will help you make buying decisions a little easier, even online.
f you loved this post, I hope that you'll share it with your friends on Facebook and pin it for future reference on Pinterest.
Want more product recommendations for gluten and dairy-free foods? Check out these posts!