Get 25 lunch ideas to help you stick with your gluten and dairy-free diet all day long. Including how to pack your lunch for work and kids.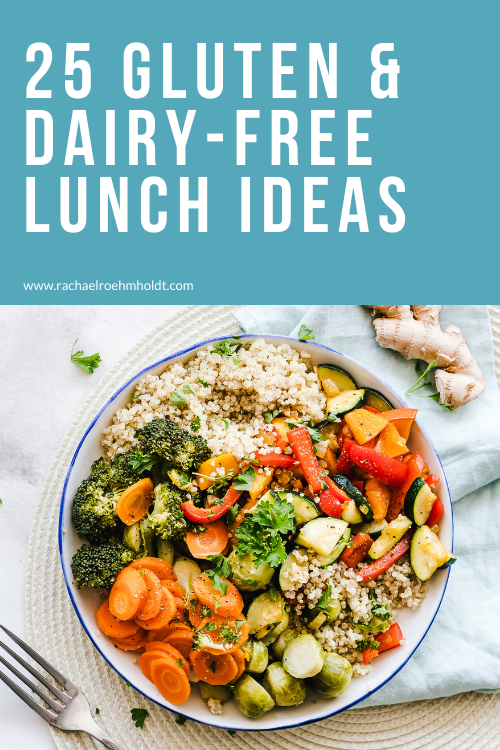 Note: I am a proud Amazon, Chomps, MunkPack, and Thrive Market affiliate and am happy to recommend their service and products to you. Please know that as an affiliate, I may receive a small commission on the products you purchase after clicking through my links. For more info, please see my disclosure policy here.
If you've been on a gluten-free or dairy-free diet for any amount of time, you know that finding meal ideas can sometimes be tricky. A lot of standard lunch options like sandwiches or soups contain bread, flour, or cheese.
Even some different options, like yogurt parfaits from a cafe or fried rice from a takeout restaurant on the corner near where you work will likely contain gluten or dairy.
It can feel like there aren't very many lunch options when you're steering clear of gluten and dairy. With some forethought and a bit of effort at home, it is easy to make lunch and pack it for work (or working at home) to help you stay on track to feel your best throughout the day.
Many of the ideas in this post will also work well for packing lunches for kids.
In this post, I'm going to share 25 gluten and dairy-free ideas to help inspire you to make a healthy and delicious lunch wherever you find yourself mid-day. Plus I'll share some of my best tips for sticking with your gluten and dairy-free diet during your lunch hour.
Pack your own lunch
When it comes to eating out of the house, I know how hard it is to stick with avoiding gluten and dairy and trying to eat out at restaurants, cafes, or grabbing takeout during the day.
There's so much to think about when it comes to hidden gluten or dairy, cross contamination, and you really have very little choice but to research ahead of time for options, which can be time consuming.
My biggest tip for eating a gluten and dairy-free lunch while out of the house, either working, being on the road, or traveling is to pack your own lunch.
I know it's so much less convenient than buying something premade, but it also gives you control of ingredients and the ability to relax about what is available to you when you're away from the house.
Read on: Gluten-free dairy-free packable cold lunch ideas
Read on: Back to school lunch ideas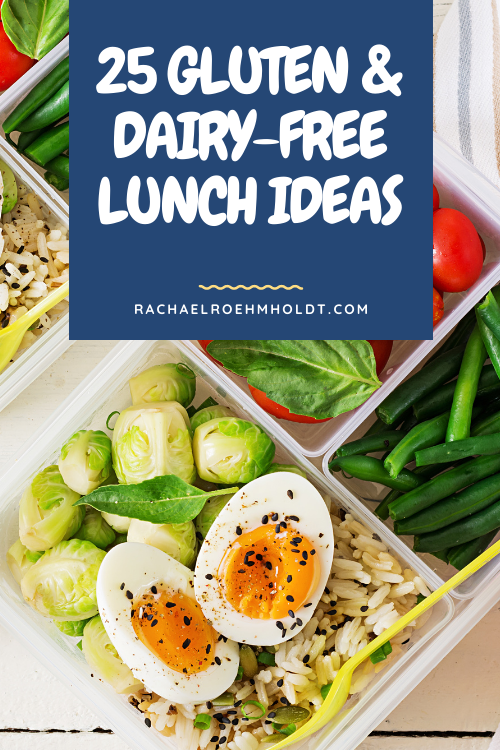 Meal prep lunch options
The best way that I have found to make easy lunches is to prepare ahead so that you can grab something from the fridge, put it in a lunch box with a cold pack, and have your lunch ready when you are.
If you have a mini fridge where you're going, then by all means keep your lunch cool until it's lunchtime. But if not, invest in a good lunch box and some cold packs.
If you work at home, preparing lunch options or even a lunch plan will help you save time in the middle of the day coming up with an idea of what to eat.
I usually try to have in my mind what I will eat so that I don't find myself super hungry and willing to eat anything I can get my hands on at the moment (usually less healthy options and too many snack foods). A little planning ahead saves me day in and day out.
Read on: Gluten-free Meal Prep: 8 Steps to Get Ahead
Read on: The Best Foods for Gluten-free Meal Prep
25 Gluten and Dairy-free Lunch Ideas
Try one of these gluten and dairy-free lunch ideas whether you're working out of the house, at home, or trying to come up with lunch options for your kiddos.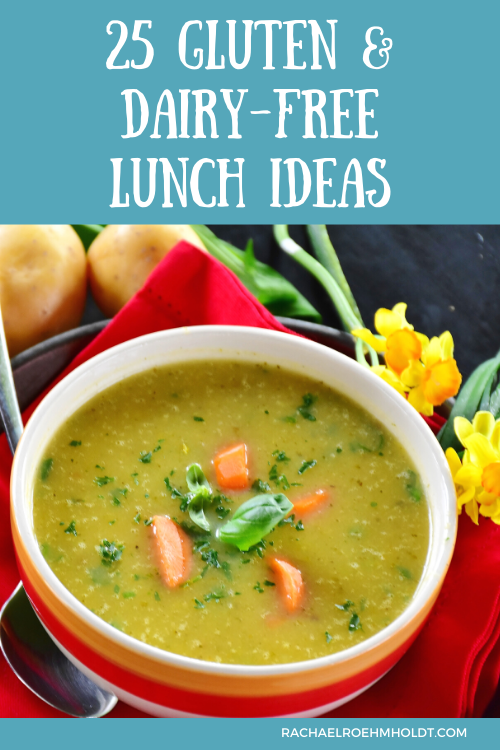 Salads
Any type of salad can be turned into a full meal with a good amount of protein and fat to keep you full. I like to add cooked chicken, tuna, or any leftover meat that I've cooked for dinner to my salads for protein.
You can also forgo the meat and add a good amount of nuts and seeds, beans, or hemp seeds to your salad to boost the protein and make it a meatless meal.
Fat is a good addition to any salad you want to turn into a meal, so adding avocado, a homemade vinaigrette with olive oil, or nuts and seeds can help you feel full from enjoying a salad as a meal.
Get creative with what you add to your salad greens. You can go sweet, savory, add a big bunch of chopped veggies, or add fruit. You can go all different directions with a lunch salad and add toppings to make it full of flavor and be filling.
Read on: 75 gluten and dairy-free salad recipes
Read on: Gluten-free salad dressings
Read on: Gluten-free croutons
10-minute kale salad
Kale salad is a great lunch idea, because you can massage the kale the night before and it will mingle with olive oil, lemon juice, and salt for a built-in dressing and mellow out the fibers in the kale as it has time in the fridge.
I love making kale salad, because it's so easy and I can even get a little hand workout from massaging the greens. Make a big batch of massaged kale to stick in your fridge, or add it to portioned containers to take on the go.
Add any toppings you like. My favorites are apples, toasted walnuts, and cranberries.
Read on: 10-minute kale salad
Chicken taco salad
I like lunch ideas that require very little effort from me. That's why I like this chicken taco salad. It's easy to throw some chicken breasts into a crock pot or Instant Pot and cook them up with some salsa and taco seasoning for a full week's worth of chicken taco salad in one easy step.
Layer this chicken on lettuce greens with some black beans, corn, and salsa, and this lunch option is ready in minutes.
Read on: Super easy crockpot chicken tacos
Gluten-free pasta salad
If you like a little more than just greens in your salad, try a pasta salad made with gluten-free pasta. I like gluten-free rotini for this and add a homemade vinaigrette, cherry tomatoes, chopped cucumber, and black olives.
If you have other favorite pasta salad mix-ins, you can add them here too. Get creative with flavors by mixing up the dressing, vegetables, and add some protein to fill you up. You can even try out a high protein gluten-free pasta, like those made with chickpeas or lentils for an even more filling option.
Even peanut noodles can be a gluten-free pasta salad option. Make a batch of gluten-free spaghetti noodles and mix with some shredded carrots, chicken, and a homemade peanut sauce with peanut butter, gluten-free tamari soy sauce, garlic, and red pepper flakes. Mix it all together and serve either warm or cold for a healthy and flavorful lunch.
Read on: Top 5 gluten-free spaghetti pasta brands
Read on: Is soy sauce gluten-free?
Read on: Are chickpeas gluten-free?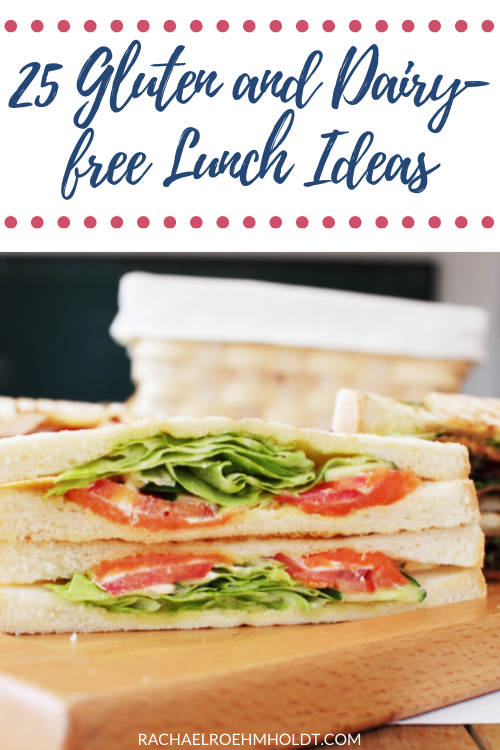 Greek quinoa salad
For another salad option with high protein, make your own quinoa salad like this Greek quinoa salad I love making for lunches.
Quinoa is naturally gluten-free and high in protein, so with the addition of a few vegetables and flavorful mix-ins like olives and a vinaigrette, this salad is easy to make in a big batch and portion it out for the week.
Read on: Gluten-free Greek quinoa salad
Read on: Is quinoa gluten-free?
Sandwiches on gluten-free bread
If you love sandwiches for lunch, find an option that is both gluten and dairy-free to load up your favorite sandwich toppings on. Choose a gluten-free deli meat and condiments and pile it high with lettuce and tomatoes for a filling lunch main.
You can even go for peanut butter and jelly if that's your thing or make them for your kids.
Read on: 7 best gluten-free dairy-free bread brands
Read on: Is peanut butter gluten-free?
Wraps using gluten-free tortillas
You can buy gluten-free tortillas at many grocery stores now. These are often made with brown rice flour and become pliable when heated just slightly. You can treat these like sandwiches by rolling up your favorite sandwich toppings in them.
Deli meat, cooked chicken, tuna salad, veggies and a dressing, peanut butter and jelly – whatever you love on bread, you can wrap it in a gluten-free tortilla!
Read on: Gluten-free tortillas
Read on: Gluten-free wraps
Lettuce wraps
Lettuce wraps are one of my go-to lunch options in the summer when my lettuce is going crazy in the garden. This is an easy lunch idea, because you can add anything you want to them, roll them up, and dig in.
Lettuce wraps aren't always the easiest to meal prep for, but if you portion out some protein and toppings, you can make your wraps when you're ready so the lettuce doesn't wilt or get soggy a day or so ahead of time.
I like to make chicken lettuce wraps with this easy filling and heat it up right before I'm ready to enjoy lunch.
Read on: Gluten-free chicken lettuce wraps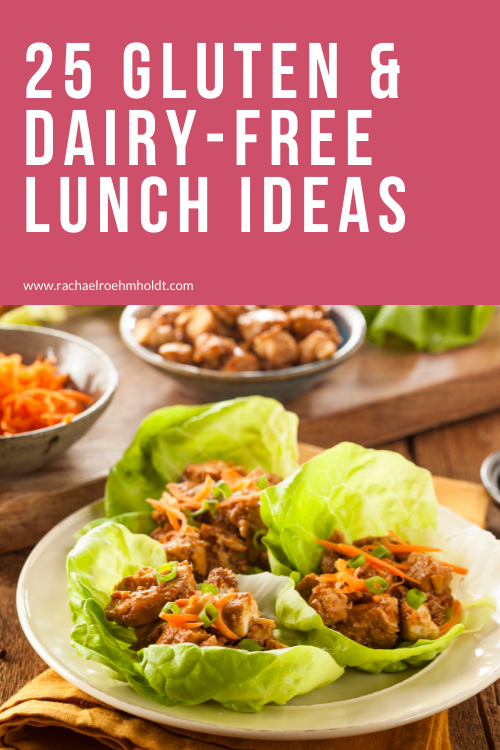 Collard green wraps
Similar to lettuce wraps, collard green wraps are a great option for filling with your favorite sandwich toppings. Collard green wraps work well because they are more sturdy than lettuce and can hold their fillings better than lettuce or some gluten-free tortillas.
The easiest way to make a collard green leaf into a wrap is by laying out the green on a cutting board, cutting off the stalk, then slicing a line down the remaining stalk that goes into the rest of the leaf. This slice will help you be able to roll the wrap up instead of it remaining stiff when you try to wrap it.
Try any of your favorite savory fillings in collard green wraps. I like tuna or chicken salad the best, but anything you like will work!
Gluten-free deli meat & pickle or veggie roll-ups
If you haven't found a gluten-free bread that you like or if you like to keep your lunch options simple, try this idea. Roll some pickles or veggie sticks in some gluten-free deli meat.
This is one of my go-to options for lunch. I like to buy Boar's Head deli meat from my local grocery store deli, because all their options are gluten-free. I'll wrap pickle slices or some sliced carrots, cucumbers, or red peppers inside. For a little bit of flavor, I'll sometimes put down a layer of hummus to get everything to stick together.
This is great if you don't want to eat bread at every meal but still want some protein with your lunch.
Fried rice
Fried rice from restaurants almost always contains gluten in the soy sauce, but a homemade fried rice is perfect for a lunch option.
Cook up some white or brown rice with some frozen peas and carrots and gluten-free tamari soy sauce. If you eat eggs, you can add that in while you're frying the rice for some protein.
This is a great big batch option to portion out for the week as well.
Read on: Is fried rice gluten-free?
Read on: Is rice gluten-free?
Read on: Top 5 gluten-free soy sauce brands
Smoothies
Smoothies are a good lunch option, especially if you don't feel like you get enough fruits and veggies in your diet each day. Load up on fresh or frozen fruit, some spinach or other leafy greens, and add some healthy fat and protein.
You can easily make a smoothie into a full meal with the addition of protein from nuts, nut butter, protein powder, or hemp and chia seeds.
Read on: 5 best gluten-free dairy-free protein powders
Read on: The best dairy-free protein powders & shakes
Read on: Are nuts gluten-free?
Read on: Are chia seeds gluten-free?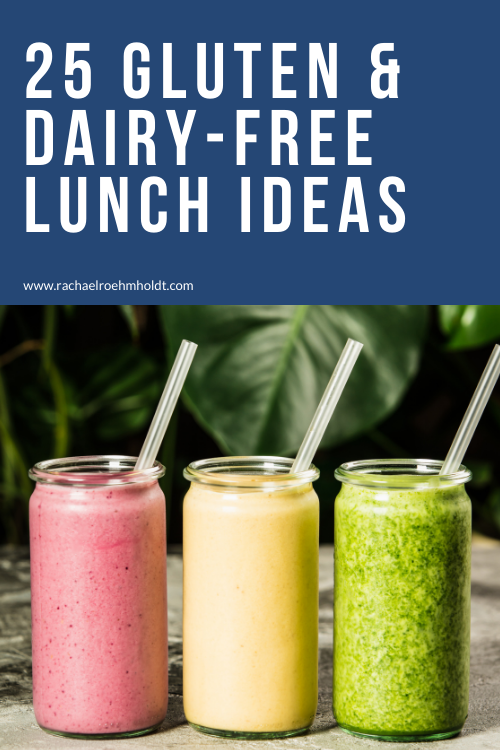 Stuffed baked russet or sweet potatoes
Baked potatoes are a great side dish, but work well for a filling lunch option as well. Stuff russet or sweet potatoes that have been baked with any of your favorite toppings, like meat or chicken, veggies, and a sauce or dressing.
I like to stuff sweet potatoes with chicken and corn and drizzle it with barbecue sauce for a quick and easy lunch. Or russet potatoes with black beans, corn, avocado and salsa for another idea.
Pizza potatoes, pesto chicken potatoes, the options are really endless!
Read on: Are potatoes gluten-free? Are sweet potatoes gluten-free?
Read on: Stuffed sweet potatoes
Stuffed avocados
Similar to a stuffed potato, you can also stuff avocados. Since avocados are so filling from their healthy fat, you don't need a lot more food to fill up on with this idea. I like to put chicken or tuna salad in my stuffed avocados, or black beans and salsa.
I've seen others enjoy stuffed avocados with fried eggs inside, taco fillings, or a quinoa salad. Get creative with what you add to your avocados and try any flavor combination that sounds appetizing to you!
Mini meatballs
I get a lot of requests for what to feed kids for lunch on a gluten and dairy-free diet and this idea is always a hit with my son. Instead of making a batch of regular sized meatballs, make them half or even a third of the normal size. There's something fun about eating mini meatballs that gets kids excited about what they're eating.
You can make them with whatever ground meat you like. We have made beef, chicken, and turkey mini meatballs at our house and all are a hit!
Read on: Gluten-free meatballs (dairy-free, egg-free option)
Bento box lunches
Bento box lunches are what I also like to call "snack lunch" in my house. We gather up some of our favorite foods and put them all in one container to enjoy as a lunch.
A traditional Japanese bento box would have some type of meat or fish along with some rice or noodles. This version of a bento box is just picking and choosing some foods to enjoy together. You can make it look cute like all the images you see on Pinterest or simply put things into your lunch box and don't worry about presentation.
In my family, we usually have snack lunches that have things like beef or turkey sticks (usually Chomps brand), gluten-free pepperoni, crackers, olives, fruit, vegetable sticks, hummus, and a small treat like a cookie or a square of chocolate. This is one of our go-to lunches in the summer when we're outside a lot too. It's like charcuterie on the go!
Read on: Is hummus gluten-free?
Read on: The best gluten-free crackers
Read on: Is chocolate gluten-free? Dairy-free chocolate: the ultimate guide
Read on: Gluten-free dairy-free charcuterie board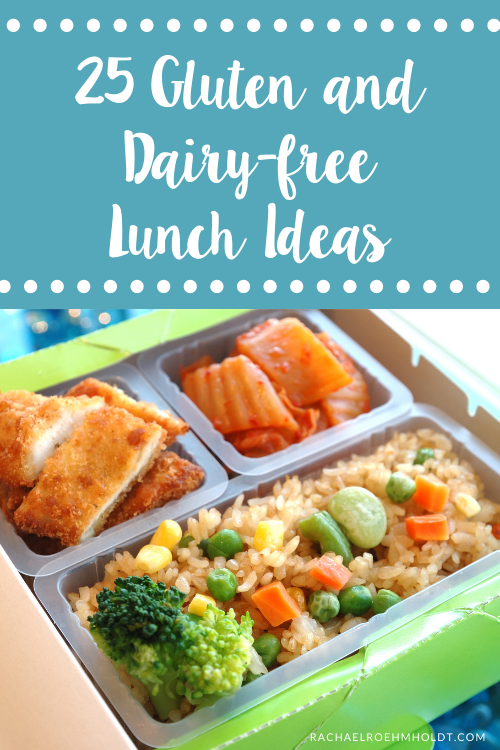 "Make your own" lunch
This idea is similar to a "Lunchables" concept. If you like to have a full experience with your lunch or you have a kid who keeps asking for those lunch kits at the store, feel creative to make your own at home!
You can make your own mini pizzas with corn tortillas, gluten-free deli meat, hummus, and crackers, or a DIY taco kit with corn tortilla chips, guacamole, and black beans.
These are just a few ideas, so think through some options that get you excited about making during lunch time. The one thing I like about this idea is that part of the work of preparing this meal is done when you eat it, so you can prepare it ahead of time and it won't take too much effort up front.
Read on: Gluten-free dairy-free make-ahead pizza dough dry mix
Read on: Gluten-free tortilla chips
Dinner leftovers
This one goes without saying, right? If you have leftovers from dinner that you don't plan to have for another dinner the next night, enjoy it for lunch!
This is a no-brainer option especially if you like the meal you've eaten (I hope you do!) and can easily pack it for a lunch option at work or enjoy it at home.
Rice bowls
I like to rely on whole grains in my diet for plenty of meals, but lunch is no different. Make a big batch of white or brown rice and top it with your favorite combinations of protein, veggies, and fat.
I like to make Mexican rice bowls with chicken, black beans, red pepper slices, and salsa or guacamole. I also make curried chickpeas with a can of chickpeas cooked in some red Thai curry paste for a fast and easy option served over rice.
The sky's the limit with this idea! I like to look to fast food restaurant menus for inspiration. Panera has some great grain bowls on their menu, but I prefer to make my own at home – it's cheaper and I like knowing what ingredients are included so I can be sure they're gluten-free.
Read on: Mexican rice bowls
Read on: Is brown rice gluten-free?
Whole grain bowls
Whole grain bowls are the same idea as a rice bowl. Combine your favorite toppings with any of your favorite gluten-free whole grains, like quinoa, buckwheat or millet. While rice is great because it's well known and convenient to find at the store, swapping out your grains is a good idea to help you get different vitamins and minerals in your diet.
One great tip is to look at some of your favorite salads and swap out the toppings in those for a whole grain bowl, especially in the colder months when your body is craving more than greens at lunch time like mine does.
Read on: Which whole grains are gluten-free?
Read on: Whole grain bowls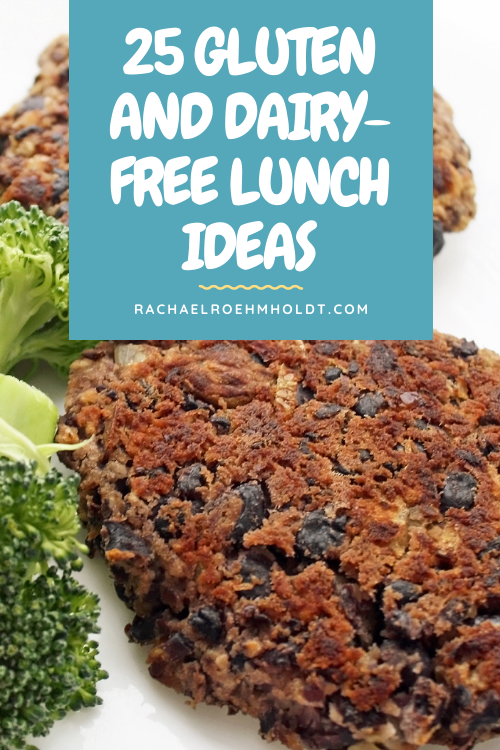 Chili
Chili is a go-to lunch option for me, because it's so filling and easy to make in a big batch. I like my easy gluten-free chili recipe because I can make it in my crockpot or Instant Pot, and it's full of flavor from ground beef, beans, and green peppers.
Make it once on the weekend and portion it into containers for the week or freeze it for later in the month so you can grab and reheat when you're ready for it.
Read on: 101 Dairy-free gluten-free Instant Pot recipes
Smoky turkey chili
If you like chili, but are tired of beef chili, you might love my smoky turkey chili. I make it in my Instant Pot on Sundays and put it into portioned containers for the remainder of the week. This chili is a different twist on your standard beef and bean option.
I love mixing up my chili with different kinds of meat and this recipe works with both ground turkey and ground chicken.
Read on: Smoky turkey chili recipe
Homemade soup
Any type of homemade soup is a great lunch option. While most cafes and restaurants serve soup of some kind, there's almost always some type of hidden gluten or dairy in them.
You can make any type of soup with just a few ingredients, a pot, and some time. If you have an Instant Pot or crockpot, soup can be made with very little prep time which I'm always a fan of.
Soup is one of my go-to options for the colder weather months, and you can take it from a light vegetable based soup to a full hearty hamburger soup with loads of vegetables and rice or quinoa to fill you up.
Read on: 50 Gluten-free dairy-free soups, stews & chili recipes
Sausage, kale & quinoa soup
While just any soup recipe is good for lunch, this sausage, kale, and quinoa soup is one that is on regular rotation in my household. We eat this for dinner every few weeks in the fall and winter, and I like to make a batch for lunch when I'm craving it but my family isn't in the mood.
With just a handful of ingredients, this soup comes together extremely quickly and is packed full of flavor from sausage, chicken broth, onions and garlic, and dried herbs. You can make this soup on the stove, in a crockpot, or in an Instant Pot. I always add the kale in the last 10 minutes or so of cooking time so it doesn't wilt down too much.
Read on: Sausage, kale & quinoa soup
Black bean patties or burgers
This is a great option for when you want to use what you have in your pantry and enjoy a meatless meal for lunch once in a while. Process a can of black beans along with some chili powder, onion powder, garlic powder, and an egg or flax egg in a food processor. Then add in some gluten-free oats until a thick consistency is reached.
Form into patties and fry in olive oil or on a griddler. You can enjoy this meal on the day you make it or freeze them for another day.
Serve on a salad, as a lettuce-wrapped black bean burger, or on a gluten-free bun.
Read on: Are black beans gluten-free?
Read on: Gluten-free hamburger bun alternatives
Read on: Gluten-free hamburger bun brands
I hope if you've been looking for a few new gluten-free lunch ideas or dairy-free lunch ideas, that these options have given you some new inspiration to mix things up in your regular lunch rotation.
While you can search high and low for options at cafes, takeout restaurants, or store options, your best bet with sticking with a gluten and dairy-free diet is to make your own food at home. This will ensure that you can control the quality of the ingredients and be certain what's in your lunch is both gluten and dairy-free.
If you loved this post, I hope that you'll share it with your friends on Facebook and pin it for future reference on Pinterest.
Love this post? You might also want to check these out!
Looking to learn more about a gluten and dairy-free diet? Check out these posts!