This gluten and dairy-free healthy dinner idea is one of my go-to recipes. This whole grain bowl is fast, easy, and versatile for any dinner!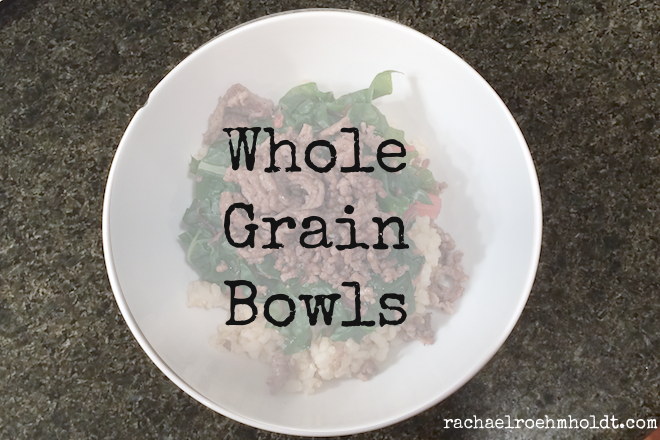 When it comes to eating healthy, I'm a big fan of keeping things simple. It's so easy to get caught up in being the perfect home cook and making the perfect recipes, but when you want to eat well and healthy – living that life is more of a fantasy than a reality. At least in my world.
I like my meals to taste great, be nutrient dense and require minimal effort. Which is why one of my go-to healthy meals during the week are whole grain bowls.
What are whole grain bowls?
Whole grain bowls are my catch-all name for a dinner that I put together at least once a week. It's the name that I give to what would otherwise be called "hodge podge of good things in a bowl." My whole grain bowls are more of a concept than an actual recipe – an idea of easy eating without all the fuss. With the added ability to make it completely unique each and every time.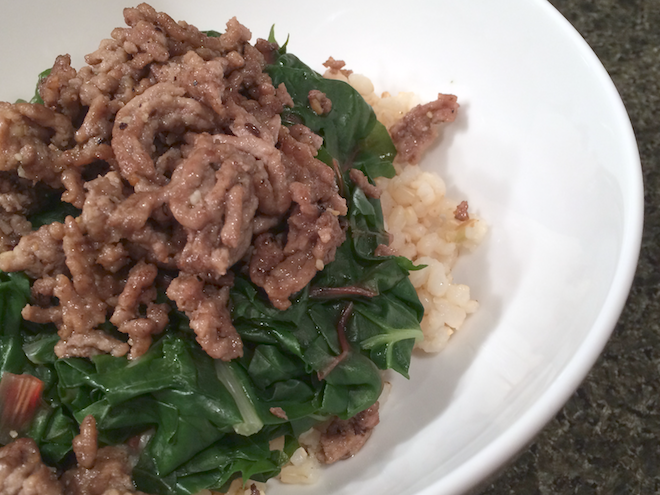 So what goes in to my whole grain bowls? And what makes them a go-to staple in my household?
The three main components of my whole grain bowls are:
A whole grain
Any cooked veggie(s) of choice
Protein of choice
In addition to this, the other (optional) component are condiments, sauces, nuts, etc.
This meal is meant to be a no-brainer, which means I don't measure anything or count calories or worry about how much or how little of each thing makes it to my bowl (something I'm not into anyway). I simply make a big batch of a whole grain (like brown rice, quinoa, or kasha), cook up some veggies I have on hand, load up a small serving of high-quality protein and flavor it up with seasonings and condiments.
As an example, check out the photo below. Here my whole grain is brown rice, my veggie is cooked rainbow chard, and my protein is organic grass-fed beef that has been seasoned with steak seasoning. Super simple, super delicious. (Excuse the chipped bowl, the one bowl that was chipped in the cupboard and I had to pick that one to take a photo of. Real life happening right here, folks).
Read on: Gluten and dairy-free lunch ideas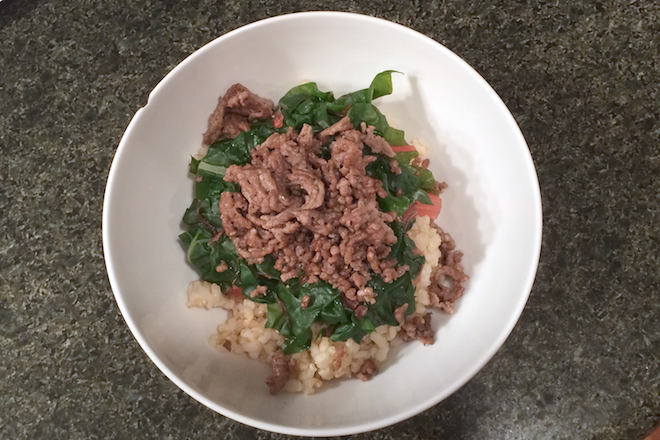 Here are a few more ideas for each component of a whole grain bowl:
Whole grains: gluten-free preferably. Brown rice, quinoa, kasha/buckwheat, millet, cornmeal/polenta, or amaranth.
Cooked veggies: any and all that you love. Leafy greens (always my #1 choice), squashes and zucchini, roasted spring veggies like radishes, leeks, peas, etc. Stir-fried cabbage, celery, onions, tomatoes, etc.
Protein: I'm a picky protein eater but you can eat whatever you love! Organic grass-fed beef, organic free-range chicken breast, high-quality tuna, canned or home-cooked beans, eggs prepared to your liking, etc.
Condiments: vinegars, hot sauce, tamari (gluten-free soy sauce), toasted sesame oil, nuts/nut butter/seeds, etc.
Click here to see a full post on ingredients that are safe on a gluten and dairy-free diet.
Eating healthy can certainly be complicated, with recipes and down to the science measuring. But it can also be as simple as throwing things into a bowl, flavoring it to your liking and enjoying the hodge podge of healthy that can be as easy as it is to prepare as delicious as it is to eat.
What are some of your favorite go-to healthy dinners?