If you've been thinking about getting started with meal prep for a gluten-free diet, you may be wondering which foods and recipes are right for you. This post will give you some great ideas to get you started in the right direction with gluten-free meal prep.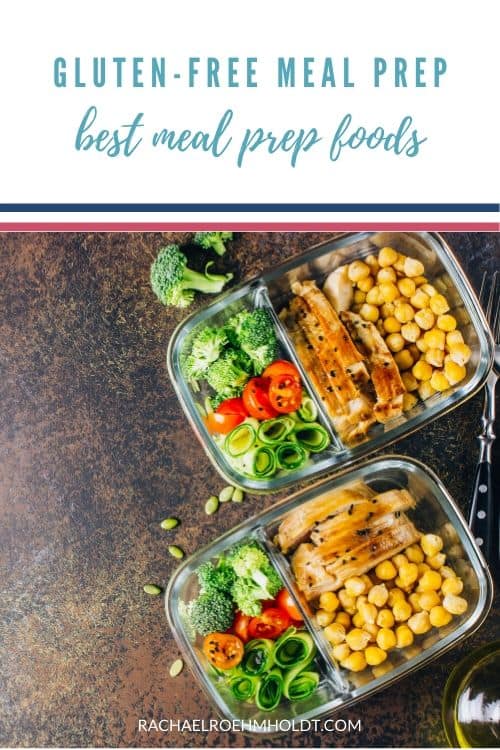 Note: I am a proud Amazon, Chomps, MunkPack, and Thrive Market affiliate and am happy to recommend their service and products to you. Please know that as an affiliate, I may receive a small commission on the products you purchase after clicking through my links. For more info, please see my disclosure policy here.
I just recently started meal prepping lunches this past fall, and realized just how much of a time and money saver meal prepping can be.
Not only do I set intentions for what I'm going to eat ahead of time, but I can get all the ingredients at the store at once, prepare everything at once, and simply reheat individual portions when I need them.
The big question becomes… what foods are the best to meal prep when you're on a gluten-free diet? Are there any ingredients or foods you'll want to stay away from?
After some experimentation on all sorts of different recipes and meal ideas, I have a few tips on which foods are best for gluten-free meal prep.
When it comes to meal prepping for your gluten-free diet, you'll want to think through which foods are right for preparing meals ahead of time.
When I plan out my meal prep session, I take into account four different factors for whether a food or recipe will be right for making ahead.
4 criteria for the best foods for gluten-free meal prep
Foods that are healthy
Foods that are simple to prepare
Foods that reheat or keep well for a few days in the fridge
Foods that you will want to eat for a few days in a row
With these criteria in place, you can create a ton of different dishes that are perfect for meal prepping. You can make one dish and reheat every day, or you could create a few different dishes, and have sides to go with them.
Before we talk about some of the foods that meet all of these criteria, let's talk about some of the foods that DON'T.
Foods that are NOT great for gluten-free meal prep
For the most part, the foods that are not good for meal prepping on a gluten-free diet are those that wouldn't be good for any diet.
Anything that is meant to be crunchy, but is mixed with something wet that will break down the texture… foods like granola or salad greens. Foods that oxidize quickly like avocados or chopped apples and pears are also on the not-great list.
Finally, foods that are breaded or fried are probably not a great idea, because they won't stay crispy for more than a day.
These are probably fairly easy to avoid on a gluten-free diet, mainly because bread crumbs and batters often contain gluten if you don't make them yourself from scratch using gluten-free ingredients.
Yogurt parfaits with granola mixed in
Green salads with dressing on them
Avocado
Chopped or sliced apples, pears, and bananas (these will keep better if you squeeze lemon juice on them)
Breaded chicken or other meats
Fried foods
Now that we've covered some of the foods that aren't great for gluten-free meal prep, let's talk about some that do keep well being prepared ahead of time.
Foods that are great for gluten-free meal prep
You can expect most anything that fits those four criteria I mentioned above to be foods that are great for meal prepping ahead of time, and keeping in the fridge until you're ready to eat them.
I've listed the foods I recommend for meal prepping below in three different sections:
Gluten-free meal prep breakfast ideas
Gluten-free basic meal prep foods
Gluten-free prepared meal prep foods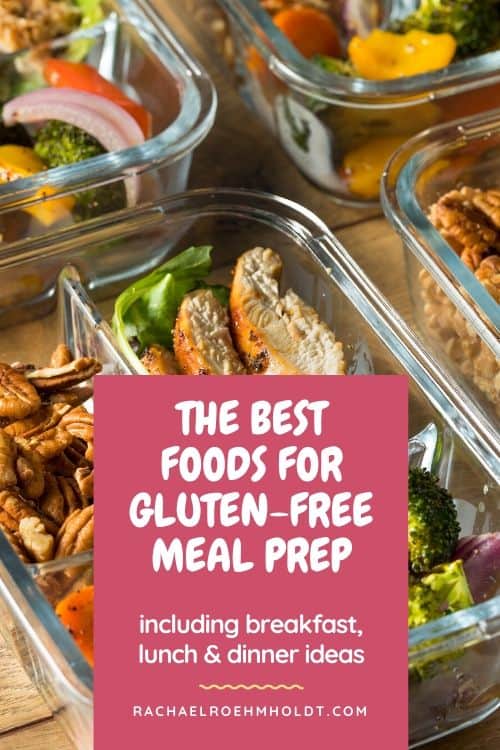 Gluten-free Meal Prep Breakfast Ideas
When it comes to meal prepping breakfast foods, it's clear from the list below the ingredients that work best. Eggs, oats and oatmeal, chia pudding, smoothies, and hash made of veggies and potatoes are all great options.
Egg cups
Hard boiled eggs
Steel cut oats
Veggie hash
Sausage & pepper hash
Bacon & sweet potato hash
These are all foods that require some amount of preparation, but you could also meal prep different components of breakfast and finish preparation when you're ready to eat them.
For example, you could create:
Oatmeal packs with your favorite toppings (think dried ingredients like cinnamon, flax seeds, dried fruit, etc.). Heat with water and oatmeal is done!
Portioned bags of cereal. Transfer cereal to a bowl and top with milk or dairy-free milk.
To-go yogurt and granola. Keep yogurt containers in an area of your fridge with portioned bags of gluten-free granola on top. Don't mix granola in or it will get mushy.
Gluten-free Basic Meal Prep Foods
These are some of the different foods you can create that are simple, but you can combine either with each other or enjoy on their own.
I'll give you some examples below on how to mix and match these basics with one another or with other prepared foods (list in the next section) for how these different foods work together in your meal prep.
Pulled pork
Cooked sausage
Sweet potatoes
Beans
Lentils
Roasted vegetables
Steamed vegetables
Veggie sticks or raw chopped vegetables
Fresh fruit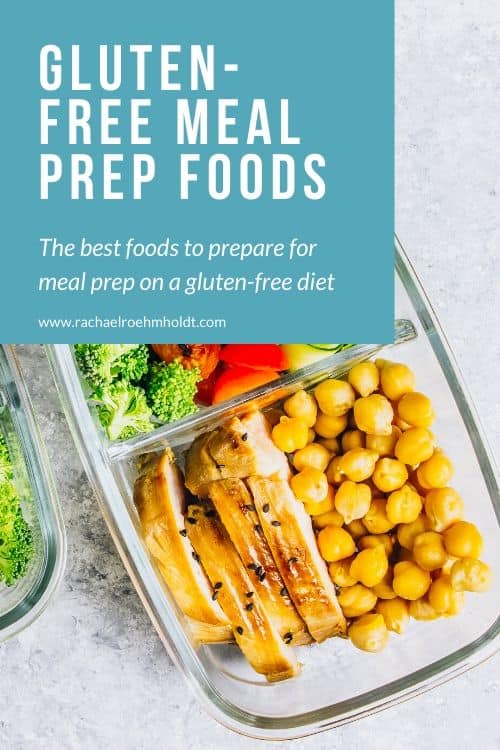 Gluten-free Meal Prep Prepared Foods
These foods will require a bit more preparation and have more flavor than some of the basics I listed in the section above.
These foods can be eaten on their own or with a side dish, but unlike the basics listed in the section above, they're good on their own too.
The basics are best served with other foods and not alone, each of these prepared foods are great on their own or combined with others.
Teriyaki chicken
BBQ chicken
Stir-fry with or without meat
Taco meat
Sloppy joe meat
Burrito bowls
Taco salads
Chicken salad with gluten-free bread or gluten-free crackers
Tuna salad with gluten-free bread or gluten-free crackers
Sandwich fillings
Curry
From this list, you can meal prep one dish or multiple and combine them. Depending on how complex or simple you like to meal prep, you could make just one dish and prepare one food.
Here are a few examples of dishes you can create by just preparing one dish:
Egg cups
Steel cut oats
Curry
Stir-fry with or without meat
You can also create a few different dishes and combine them for more variety in your meals. You could combine a few basics OR you could combine a more prepared food with a few basics to round out your meal. For example:
Frittata or egg casserole + fresh fruit or smoothie
Sausage & pepper hash + egg cups
Shredded chicken + brown rice + steamed vegetables
Taco meat + corn + brown rice + black beans
BBQ chicken + sweet potatoes + steamed vegetables
Sloppy joe meat + rice + roasted vegetables
Lentils + rice
Curry + rice
Stir-fry with or without meat + quinoa or rice
You can see that the options are really endless when it comes to combining foods for meal prepping for a gluten-free diet. All these ideas happen to be both gluten and many can be made dairy-free if you follow a dairy-free diet too!
Get creative with the foods that you know you love and think about if there are ways for you to prep them ahead to store them in individual portions for later in the week.
If you'd like more information (and support) around meal prepping, check out GFDF Weekly, my gluten and dairy-free weekly menu planning and recipe service.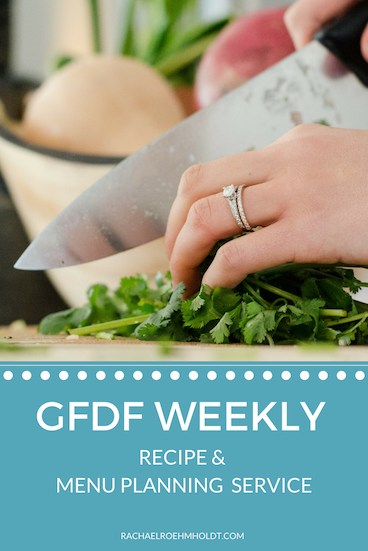 If you loved this post, I hope that you'll share it with your friends on Facebook and pin it for future reference on Pinterest.
Want more menu planning and meal prep ideas? Check out these posts!
Find some menu planning and meal prepping tips and recipes in these posts!