This week has been a crazy one. Between getting ready for my little guy to arrive, getting the nursery ready, making some make-ahead meals for the upcoming months, and just trying to relax – life has been nonstop. When things tend to get busy, I'm like most women out there – I start to put myself on the back burner.
In the midst of my crazy week, I started realizing that I wasn't feeding myself very well. That my dinners were the only real meals that I was tending to, because they are the ones that my husband and I take the time to make together.
The last thing that I was doing – was thinking about lunch. That is always the meal that gets turned into "extended snack time" far too often – leading me to graze on snack foods or find a hodge podge of things in the fridge more often than I'd care to admit.
So after a few days of this very unmindful way of eating, I decided I needed to do something about it if the next few days were going to stay at the same crazy pace they had been. I dove into the pantry head first with a goal of creating something delicious and multi-meal ready… and I found my answer in a super easy and quick quinoa salad.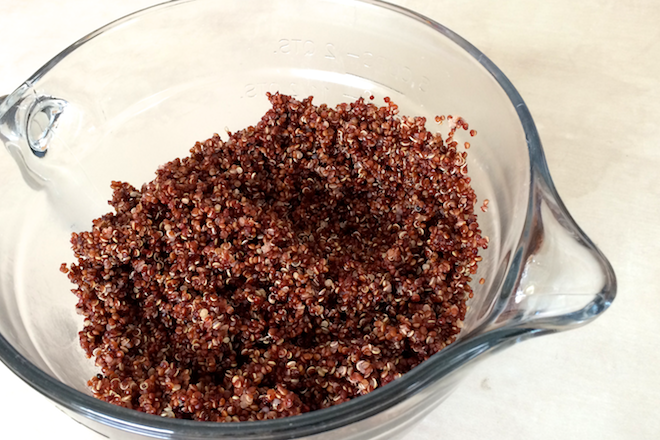 I made a big batch of quinoa, then started tossing a few things in. In just about a half hour (not all active prep time), I had lunches prepped and ready for me and my hubby that were healthy, no-brainer meals that I could grab and start eating for days on end. No extra prep, no more time in front of the stove – just toss in a bowl and chow down type of food.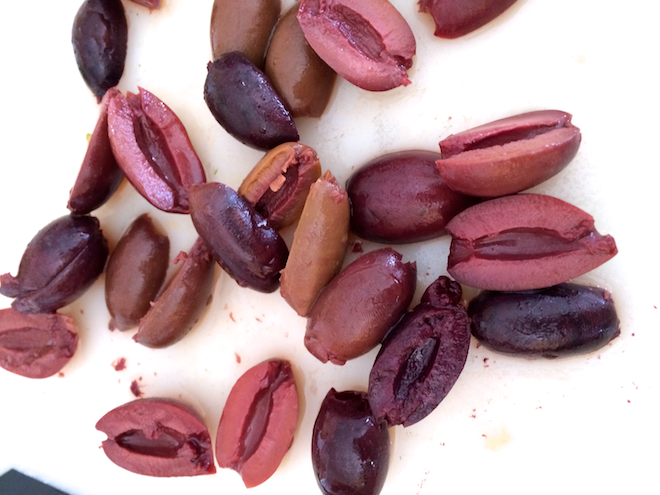 Making big batches of whole grain salads is one of my best kept secrets for staying healthy. I hate cooking in the middle of the day – and when time really doesn't allow for it – these prepped salads are easy to throw together and are one of my favorite ways to ensure I'm eating well without spending a ton of time in the kitchen.
Read on: Gluten and dairy-free lunch ideas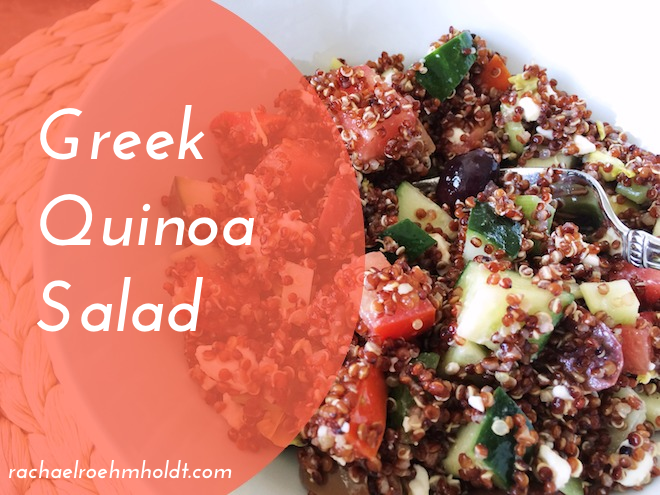 Here's the super tasty salad I threw together – I bet you'll love this one too!
Greek Quinoa Salad
Makes 8-10 generous servings
Ingredients
1 1/2 cups red quinoa
3 cups water
2 Roma tomatoes, chopped
2 stalks celery, chopped
1 cucumber, chopped
1 cup kalamata olives, halved
1/4 cup red wine vinegar
1/4 cup olive oil
salt and pepper
Directions
Rinse and drain the quinoa well, then add to a soup pot. Combine rinsed quinoa with water, then turn the heat to medium-high.
Once the quinoa has come to a boil, reduce the heat to low, cover and set a timer for 20 minutes.
Meanwhile make the dressing by combining red wine vinegar, olive oil, and salt and pepper. Mix well with a whisk or by shaking in a lidded jar.
Once the quinoa is cooked, allow to sit for an additional 5 minutes covered. Remove the lid then stir well to release much of the steam.
In a large bowl, add the tomatoes, celery, cucumber, and olives. Toss to combine.
Add the quinoa and dressing and toss well to coat the ingredients well.
Enjoy right away – then store the remainder in the fridge for later in the week.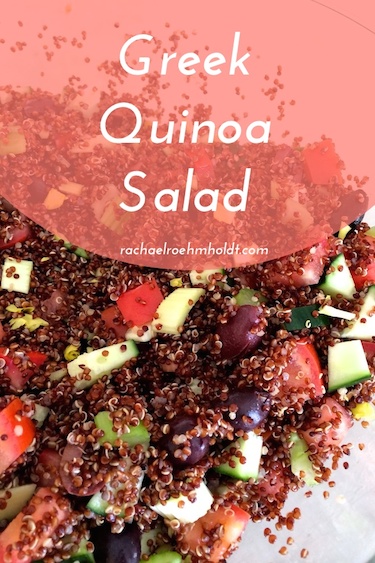 Healthy lunches don't have to be complicated. In fact, I find that they're even better when they aren't. Take a few extra minutes on the weekend or early in the week to prep some no-brainer meals for yourself, so that when things start to feel crazy – a healthy meal is already waiting for you in fridge.
Did you like this post? Leave a comment sharing your best kept secret for getting a healthy lunch – even on your craziest of days. Remember this community needs mamas who share their stories so that we can all learn and grow from one another's experiences, so don't be shy!