Are you wondering if chocolate is safe for your gluten-free diet? Find out in this post where we'll talk about when chocolate is gluten-free and when it isn't.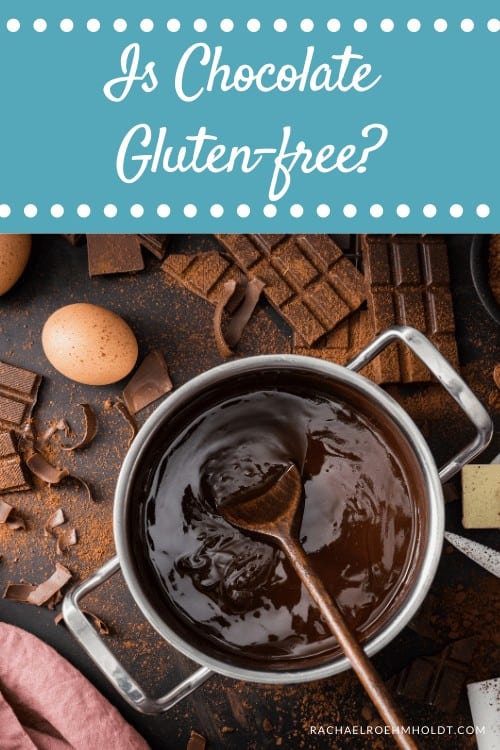 Note: I am a proud Amazon, Chomps, MunkPack, and Thrive Market affiliate and am happy to recommend their service and products to you. Please know that as an affiliate, I may receive a small commission on the products you purchase after clicking through my links. For more info, please see my disclosure policy here.
If you're like me, chocolate is a staple of your diet. Okay, I'm kidding, but it is a favorite treat of mine and we eat plenty of chocolate in our house year round.
Of course, if you're following a specific diet, you need to know if your favorite treat is safe to enjoy regularly. If not, what do you look for instead? Or how do you determine what types of chocolate you can enjoy?
If you follow a gluten-free diet, you may wonder if chocolate is safe to enjoy. While a lot of chocolate contains dairy, does it also contain gluten ingredients?
In this post, we'll discuss whether chocolate is gluten-free, where gluten may be hiding in chocolate, and some examples of chocolate that contains gluten so you know what to look for.
What is chocolate made out of?
According to Cacao, the common ingredients in chocolate are cocoa, sugar, cocoa butter, and milk in various forms, usually a milk powder. Other ingredients you might find in chocolate bars or other chocolate products are emulsifiers, vanilla, flavorings, and palm oil.
The ingredients in chocolate will vary slightly depending upon which brand you buy and what their specific recipe for chocolate includes.
What is gluten?
Gluten is a protein found in most wheat products, and acts as the "glue" that helps to hold wheat, barley, kamut, spelt, farro, durum, bulgur, rye, and semolina together to maintain their shape.
Many processed foods have hidden gluten in them in the form of gluten or wheat derivatives. These come in the form of flavorings, binders to keep ingredients together, or other additives.
It's also used in barley, malted products, and even crispy rice cereals.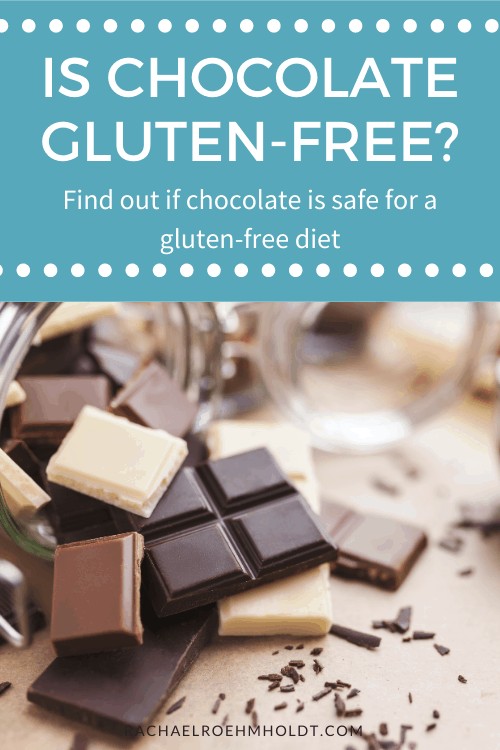 Is chocolate gluten-free?
Most plain and pure chocolate is gluten-free, as the chocolate itself usually contains dairy, sugar, and milk powder. If you're looking for a dairy-free chocolate option, there are plenty of those too.
Chocolate is gluten-free when it is plain, but when you'll want to start looking out for gluten in flavored chocolate bars or those chocolate candies with mix-ins, like cookies or pretzels.
Many chocolate bars are gluten-free, as well as chocolate chips. If you avoid gluten, be sure to look for a gluten-free label and always check ingredients lists just in case.
Read on: Are chocolate chips dairy-free?
Read on: Are chocolate chips gluten-free?
Read on: Is white chocolate gluten-free?
When is chocolate NOT gluten-free?
Chocolate may contain gluten in candies with fillings, crispy cereal, pretzels, or cookie bits. Gluten can be in the crispy cereal in the form of wheat or barley malt, or in wheat flour that's used to make pretzels or cookie bits.
Any malted chocolate products are also not gluten-free, as malt is a wheat derivative. "Malted barley" is an ingredient to look out for.
Other forms of chocolate that may not be gluten-free are chocolate cookies, brownies, cakes, and other desserts. Many of these desserts are made with all-purpose flour that is made with wheat, and contain gluten.
Chocolate may not be gluten-free if it is made on equipment that also processes gluten-containing ingredients. If you are especially sensitive to gluten, you will want to look for a label that indicates that the product was manufactured in a gluten-free facility.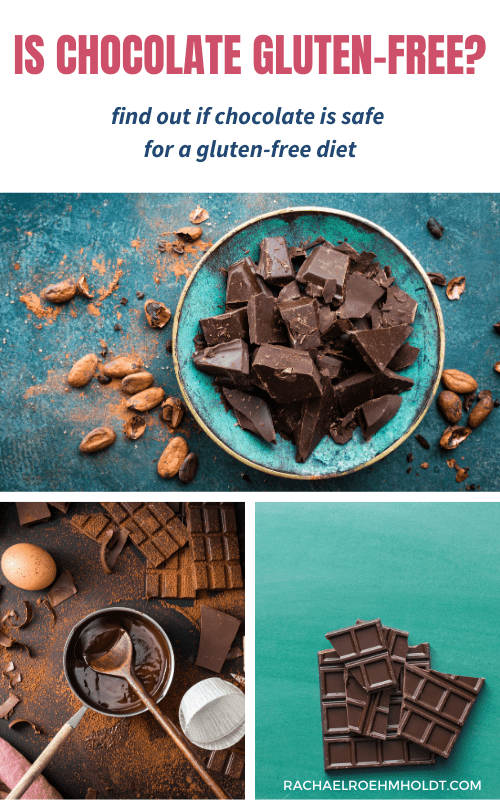 How to find out if chocolate is gluten-free
The best and easiest way to find out if the chocolate you plan to eat is gluten-free is to look at ingredients lists. Search for hidden names of gluten and know that if you find one from the list, it is not safe to enjoy on your gluten-free diet.
Look for these names of gluten in chocolate:
Wheat
Barley
Rye
Spelt
Bran
Flour
Modified food starch
Natural flavors
Farina
Durum
Semolina
Glucose
Barley enzymes
Maltodextrin
Oats*
*Note: oats are naturally gluten-free, but often come into cross contact with gluten grains on machines, making it important to avoid them or look for certified gluten-free oats if you're gluten intolerant or allergic to gluten.
Read on: Is oatmeal gluten-free?
Read on: Is maltodextrin gluten-free?
Read on: Is modified food starch gluten-free?
If you are buying baked goods or desserts from a grocery store or bakery, be sure to check ingredients lists and when in doubt, assume it has gluten. It's easier to be safe and avoid a food than to pay for it later.
Looking for a gluten-free label or a "made in a dedicated gluten-free facility" label can also help you make your buying decisions easier.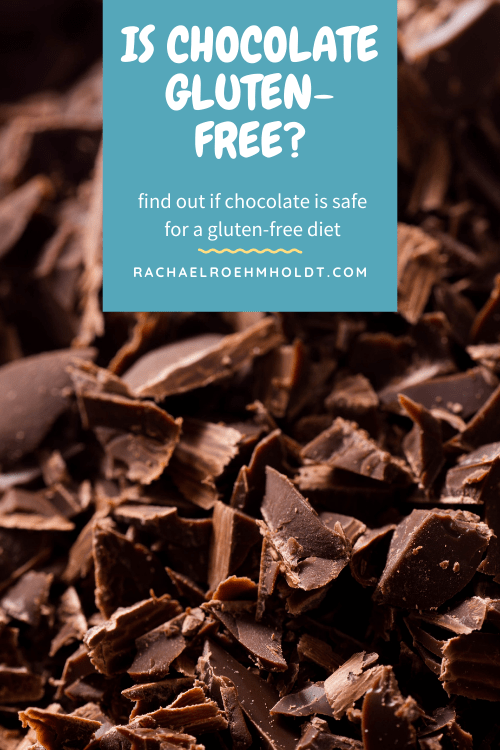 Chocolate that contains gluten
While it's impossible to list all the chocolate that is gluten-free or contains gluten, I think it would be useful to share a few examples of chocolate with gluten with you, so you have an idea of what to look for.
Nestle Crunch bars, contains barley malt
Hershey's Cookies 'N' Creme Bars, contains wheat flour
Nestle Kit Kat, contains wheat flour
M&M's Pretzels, contains wheat 
Crispy M&M's, contains barley malt
Read on: Are Hershey bars gluten-free?
As you can see from this list, these are all chocolate bars that have different crunchy fillings. It's not a rule that if there's something crunchy in a chocolate bar that it contains gluten, however it is a reason to pause and check the ingredients first.
Be on the lookout for chocolate candies with hidden gluten, as well as chocolate baked goods and baking mixes.
If you want to read more about dairy-free chocolate, be sure to check out Dairy-free Chocolate: The Ultimate Guide to find brands and where to buy them.
Looking for a few more dairy-free chocolate recipes? You'll love these posts!
Check out these gluten and dairy-free recipes and posts featuring chocolate.