Find out if chia seeds are safe for a gluten-free diet, where they are grown, what they're used for, and which brands are gluten-free.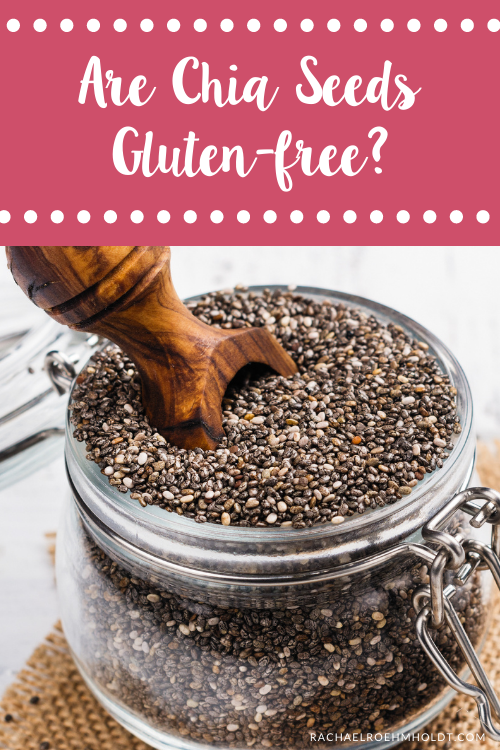 Note: I am a proud Amazon, Chomps, MunkPack, and Thrive Market affiliate and am happy to recommend their service and products to you. Please know that as an affiliate, I may receive a small commission on the products you purchase after clicking through my links. For more info, please see my disclosure policy here.
If you have found yourself looking for ways to get a little healthier by adding more protein or fiber to your diet, you may have come across this ingredient.
It became popular as a superfood a few years ago, because it packs a punch nutritionally and folks have found a million ways to use it.
Yep, we're talking about chia seeds. The little seeds that were once only known as product that you grow chia hair on a clay figurine of a pet or a person's head. This food is so well known as a nutritional powerhouse, and it's exceptional versatility.
If you've found yourself reaching for a bottle of kombucha only to find chia seeds floating around in it. Or if you've grabbed a loaf of bread that says "with chia and flax" on it.
Or if you've heard someone you know eating chia pudding for breakfast or adding chia gel to their smoothies… you've probably had some questions about this crazy ingredient.
Of course, since we talk about gluten and dairy on this blog, that's what we're talking about today. How do chia seeds fit into a gluten-free diet?
Find out in this post what chia seeds are, where they're grown, some of the unique ways they're used, and of course if they are gluten-free and safe to enjoy on a gluten-free diet.
We'll wrap this post up with a roundup of gluten-free chia seed brands you can shop for next time you're looking for this ingredient at the store or online.
Let's talk ch-ch-ch-chia!
What are chia seeds?
Chia seeds are a type of seed that come from the chia plant. They're similar to amaranth and according to the Schar website, they're native to Mexico and Central America. Mayans domesticated chia seeds and they're used as a food staple in this area and others ever since.
Chia seeds are unique in that they absorb liquid to create a gelatinous gel. This gel is useful for adding texture and fiber to a dish. Due to the high absorption of liquid, these seeds are said to be very hydrating to the body, because it helps you hang on to liquid longer than water or other beverages.
Not only that, but chia seeds are full of protein and omega-3's that are beneficial for brain and heart health. Just one tablespoon of chia seeds have 2.3 grams of protein and 4.9 grams of fiber, according to Livestrong. You can see that a little goes a long way when it comes to getting your protein and fiber for the day!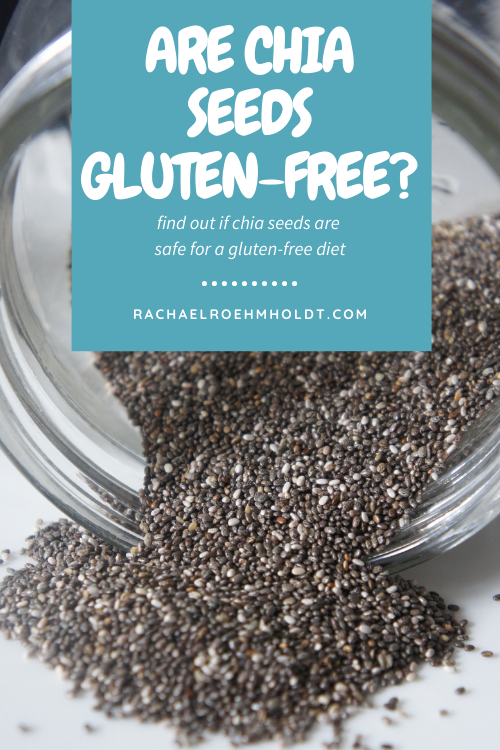 Where are chia seeds grown?
Britannica says that chia seeds are currently grown in warmer climates, like Mexico, Argentina, Australia, Bolivia, Peru, and certain parts of the United States. However, they are native to Mexico and Guatemala, having been used by native cultures before becoming domesticated and distributed worldwide.
What are chia seeds used for?
Chia seeds are used in many different ways in cooking and baking. These are just a few ideas for how to use chia seeds in your diet.
Chia gel can be used as an egg substitute in baked goods
Chia seeds can make a delicious chia pudding for breakfast, snack, or dessert
Chia seeds can be added to water or juice for a hydrating beverage
Chia seeds can be added to smoothies for extra protein and fiber
Chia seeds or chia flour (ground chia seeds) can be added to soups or stews as a thickening agent
Chia seeds or chia flour can be added to sauces, marinades, and salad dressings as a thickening agent
Chia seeds can be used in pancakes, waffles, breads, and muffins as an egg substitute and increase fiber
Chia seeds can be added to smoothie bowls or dairy-free yogurt bowls for extra nutritional benefits – or in gluten-free granola
Chia seeds can be added to plant-based gluten and dairy-free protein powders or homemade protein mix-ins for smoothies or dairy-free protein shakes
Chia seeds are used as an ingredient in gluten-free wraps
Read on: The ultimate gluten-free dairy-free breakfast guide
Read on: 75 gluten and dairy-free breakfast ideas
Read on: Gluten-free dairy-free food list
What is gluten?
Gluten is a protein found in most wheat products, and acts as the "glue" that helps to hold wheat, barley, kamut, spelt, farro, durum, bulgur, rye, and semolina together to maintain their shape.
Gluten is naturally occurring, and therefore is impossible to strip away from the grain. If a grain naturally has gluten in it, there's no way to make that food gluten-free.
Gluten can be found in some food products in the form of wheat, wheat flour, malt flavor, or malt barley.
Read on: What is gluten in food?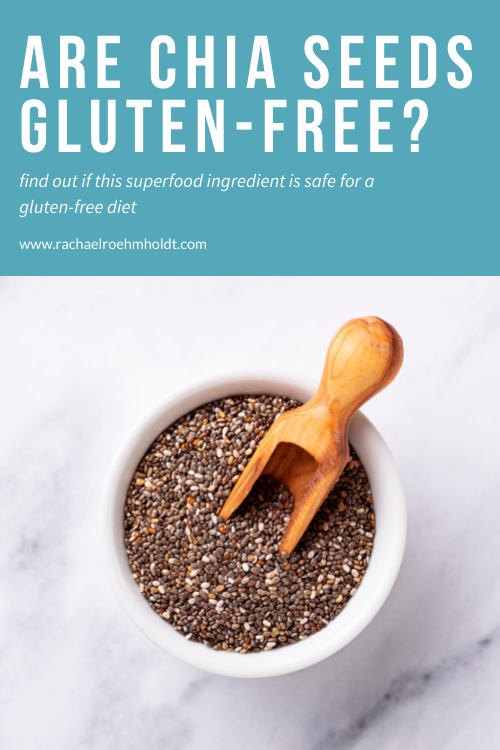 Are chia seeds gluten-free?
Since chia seeds don't come from any wheat or wheat-related grains, we can say with certainty that chia seeds are gluten-free and safe for a gluten-free diet.
If you've been wondering if you can enjoy chia seeds in your favorite smoothies, juice drinks, or add to baked goods in place of eggs, know that this is an ingredient that will work well for a gluten-free diet. As long as all other ingredients in a food are gluten-free alongside chia seeds, this food is safe to enjoy regularly.
Are chia seeds dairy-free?
Since chia seeds aren't made from animal milk, we know for certain that this ingredient is dairy-free and safe to enjoy if you are avoiding dairy products in your diet.
Brands of gluten-free chia seeds
Since we know that chia seeds are naturally gluten-free, it's a no-brainer that most brands are going to be safe for your gluten-free diet. That said, I always like to include a short list of some brands you can be on the lookout for in blog posts to give you a head start on what to look for.
You can look for these brands of gluten-free chia seeds at your local grocery store or shop for them online through retailers like Thrive Market or Amazon.
All the brands listed here are options that have gluten-free labels, so we know that the manufacturer takes cross contamination seriously and has taken the time to test their products for gluten.
If you've been wondering if chia seeds are safe for a gluten-free diet so you can add them to all your favorite recipes, I hope this post has given you the information you've been looking for. Chia seeds are naturally gluten-free and can be enjoyed on a gluten-free diet.
f you loved this post, I hope that you'll share it with your friends on Facebook and pin it for future reference on Pinterest.
Love this post? You might also want to check out these!
Find out if your favorite foods and ingredients contain gluten with these posts!