This gluten-free chili is super easy, made in your crockpot, and uses mainly pantry ingredients! Enjoy this super satisfying recipe for tailgating, to ring in fall, or to serve a crowd.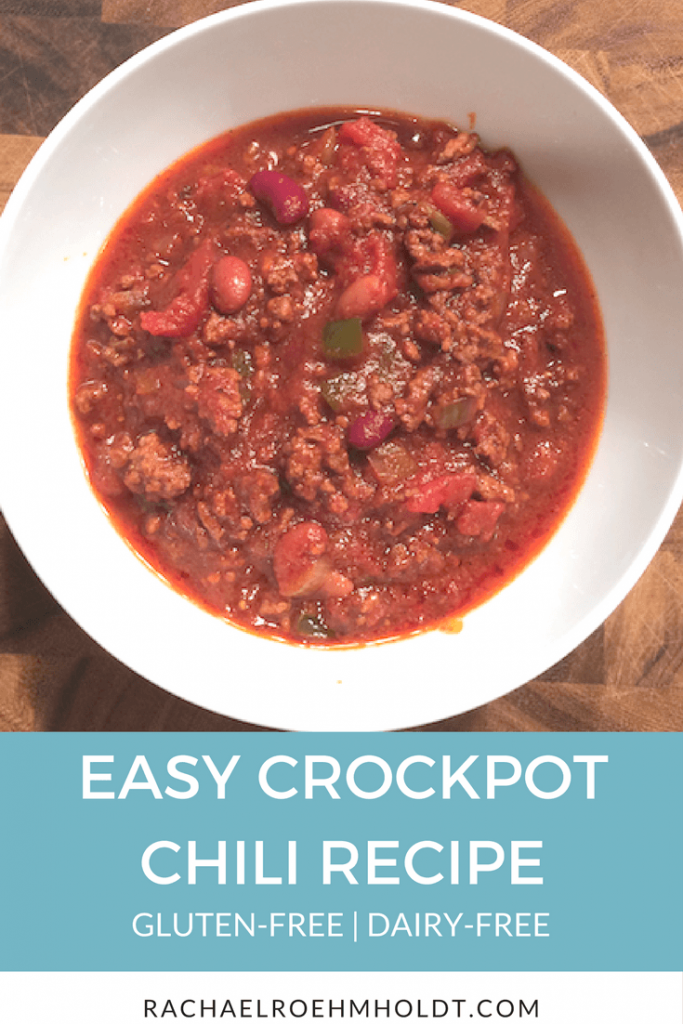 Note: I am a proud Amazon, Chomps, MunkPack, and Thrive Market affiliate and am happy to recommend their service and products to you. Please know that as an affiliate, I may receive a small commission on the products you purchase after clicking through my links. For more info, please see my disclosure policy here.
I love a quick dinner. While I love to cook, I love to eat more – and lately, eating has been a lot more appealing to me than spending time in the kitchen preparing meals or doing things like dishes.
I go through these phases every once in a while where cooking and eating healthy (although I know how wonderful it is for me), is the bane of my existence. I'd much rather go to the store and pick something up, reheat it and chow down.
When I start finding myself in that phase, one of my go-to solutions is to make big batches of food and chow down for multiple meals.
All desire for making things different, unique, or fancy goes out the window. I return to my crockpot and eat and reheat until I run out. Then I do it again until the phase wears off.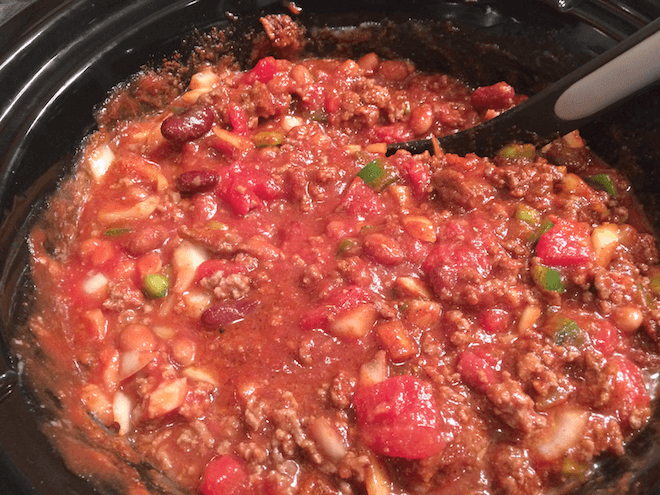 This week, I hit that phase. Normally, I can combat it right away, but the past few days have been a little embarrassing – especially for someone who calls themself a health coach. I ate out, I ate frozen burritos, and we even grabbed a pizza from the deli case after going to the store last night.
Not my most shining of moments, but it's reality. I'm committed to getting back on track today, which is why I have started in on my easy crockpot chili.
This chili is so simple to make. It took less than 15 minutes to get everything into the crockpot, and an afternoon to fill my house with the most ridiculously delicious smell you can imagine. I'm counting down the moments until I get to eat.
What I love about this crockpot gluten-free chili
While you can't really go wrong with almost any chili recipe, I love this recipe in particular, because it's:
Fast
Healthy
Hearty
A little spicy
Incredibly flavorful
Versatile
Super easy to make
Takes 10 minutes to prep
It's fast!
The best part about utilizing your crockpot for this gluten-free chili recipe is how fast it is. I love using my crockpot, because it's often a case of "set it and forget it" until it's dinner time. This recipe only takes about 10 minutes to brown the beef and get everything into the crockpot. After that, you walk away until it's done!
It's spicy!
My gluten-free chili recipe is a little bit spicy and I've been told so! Believe it or not, everyone (including my 5 year old) loves the spicy level of this chili.
But if you're not one for too much spice, you can easily cut back on the amount of chili powder and black pepper. Totally customizable to your tastes!
It's versatile!
In my list above, I said this recipe is versatile and that's one of the big reasons I love it. It's true – while this recipe calls for specific ingredients, you can definitely mix up some of the ingredients and make it your own.
Best of all, if you're missing a type of beans or don't have bell pepper on hand, you can swap these veggies out.
I have made this recipe so many times with different types of beans that I had in my pantry, swapping kidney beans for black beans or butter beans.
I've also swapped out green bell pepper for red bell pepper, carrots, sweet potatoes (crazy, I know!), or even omitting them entirely if I had nothing on hand.
You can mix and match the veggies, beans, and even try swapping out the ground beef for another ground meat if you feel super adventurous. This recipe is a guide, not a set of rules, so feel free to go crazy!
Read on: Is chili gluten-free?
Read on: Are beans gluten-free?
Read on: Gluten and dairy-free lunch ideas
How to make crockpot gluten-free chili
I don't know about you, but I'm all over a recipe if it is simple and easy to put together. The best part of this recipe is that it's both simple AND easy! Let me tell you how:
Brown the ground beef.
In a skillet over medium high heat, brown the ground beef. You don't need to do anything else to it except get it cooked most of the way through – or all the way through, up to you. It will keep cooking in the crockpot either way.
Read on: 25 Gluten-free ground beef recipes
Add all other ingredients to crockpot.
While you've got the beef browning on the stove top, you can use some of that hands off time to be opening the cans of beans and getting them rinsed off in a colander. Add the beans, tomato puree, chopped onion, chopped bell pepper, chili powder, garlic powder, salt, black pepper, and dried oregano to the crockpot.
Add the beef to the crockpot.
Once the beef has browned, you can drain the fat and add the beef to the crockpot with all the other ingredients.
Mix it all up.
Mix all the ingredients for the gluten-free chili right inside the crockpot with a wooden spoon. You want to make sure everything is well combined and ready to combine flavors.
Cook for 7 to 8 hours.
This is the easy part – walk away! Turn your crockpot on to the "low" setting and leave it alone for 7 to 8 hours. Crockpots work best when you don't mess with them while they're cooking, like opening the lid to peek inside (you'll let the heat out and it will take longer for the entire pot to come back to that same temperature). So leave that lid alone, and go about your day until it's time to eat.
Serve your gluten-free chili with your choice of toppings.
Once your chili is done, the best part starts – the eating! You can top your chili with whatever your favorite toppings are – onions, cheddar cheese or dairy-free cheddar cheese, tortilla or corn chips, sliced tomatoes, etc. Make it your own! If you're a chili and cornbread family, make sure you try out my gluten-free and dairy-free cornbread recipe too.
Read on: Is Wendy's chili gluten-free?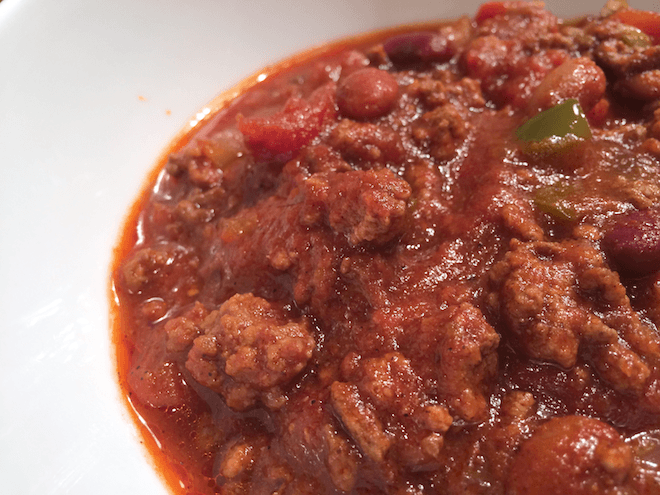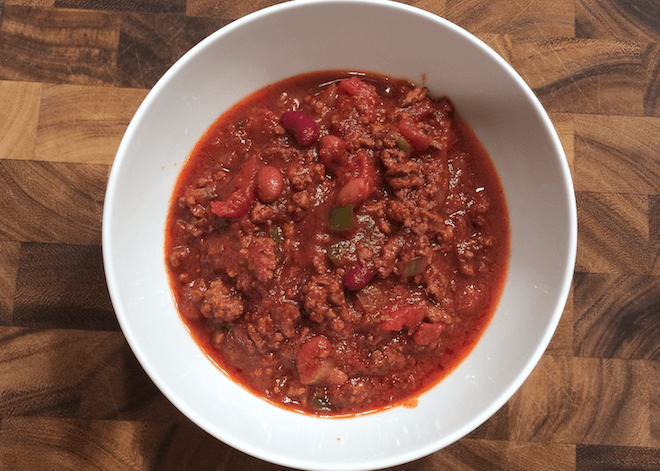 Yield: 8 servings
Easy Crockpot Gluten-free Chili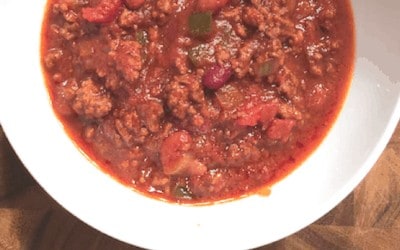 This gluten-free chili is super easy, made in your crockpot, and uses mainly pantry ingredients! Enjoy this super satisfying recipe for tailgating, to ring in fall, or to serve a crowd.
Total Time
8 hours
10 minutes
Ingredients
2 pounds ground beef
1 28-oz can tomato puree
1 15-oz can kidney beans, drained and rinsed
1 15-oz can pinto beans, drained and rinsed
1 medium onion, chopped
1 medium green bell pepper, chopped
3 tbsp chili powder
1 tbsp garlic powder
2 tsp salt
1 tsp ground black pepper
1/2 tsp dried oregano
Instructions
Add the ground beef to a skillet and brown.
While the beef is cooking, add all remaining ingredients to crockpot.
Add the cooked ground beef to crockpot. Mix all ingredients to combine.
Cook chili on low heat for 7 to 8 hours.
Serve and enjoy for days of no-cooking and plenty of eating (with minimal cleanup).
What are some of your go-to solutions when you don't feel like cooking?
If you loved this post, I hope that you'll share it with your friends on Facebook and pin it for future reference on Pinterest.
Looking for more fall content? Don't miss these posts!
Enjoy the flavors of fall with this roundup of all the best gluten and dairy-free fall content!