What foods are naturally gluten and dairy-free? This post will tell you the 7 types of foods that are safe on a gluten and dairy-free diet.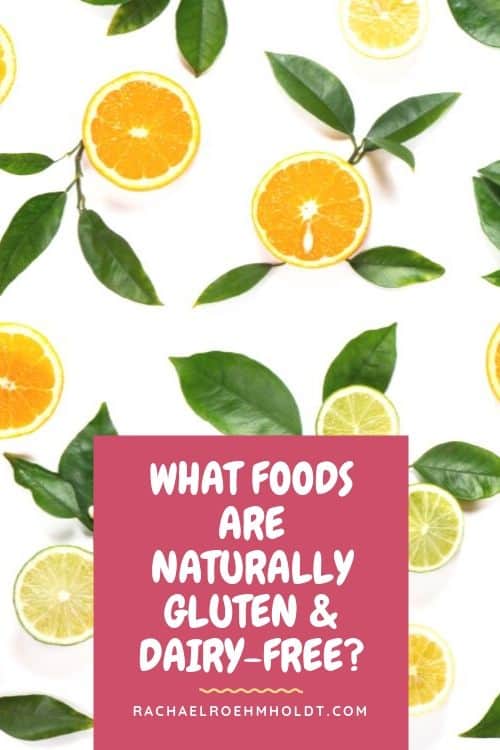 Note: I am a proud Amazon, Chomps, MunkPack, and Thrive Market affiliate and am happy to recommend their service and products to you. Please know that as an affiliate, I may receive a small commission on the products you purchase after clicking through my links. For more info, please see my disclosure policy here.
I don't often share this, but when I first took on a gluten-free dairy-free diet, I went really extreme. I was so completely overwhelmed with the idea of having to cut two major foods out of my diet.
Ones that were basically everything to me at the time. Instead of trying to figure out what I could eat as replacements for some of my favorite foods, I felt like I had to start over completely. And I did.
It felt extreme, because at the time I was completely opposed to eating any "alternatives" – things like dairy-free cheese, gluten-free bread, or even almond milk.
I wanted to figure this whole diet out without relying on these foods that were pretending to be other foods first, before I even attempted to bring any of them into my diet.
It felt like if I could find a way to eat without them, I'd be more than okay long-term on this diet if I did decide to bring them in later.
So that's what I did – for years. I ate just these naturally gluten and dairy-free foods for probably 2 years before I started even considering bringing in dairy-free milk, gluten-free cereals, or even gluten-free pasta.
I honestly don't even remember when I brought them back into my diet. Maybe it was around my pregnancy and ice cream was definitely going to happen come hell or high water!
I learned to eat the basics on this diet, so I wouldn't rely on the alternatives.
In hindsight, yeah, it was probably extreme, and it was probably a little Type A of me: "I have to figure this out the RIGHT way if I'm going to do this!!" But I did it.
Honestly, I'm so glad I did, because without the knowledge of how to eat just these simple basic foods and get creative with them, I don't think I would have:
1) Ever been able to stick with it for longer than a few months, and
2) Ever been able to create over 260 completely unique recipes for my GFDF Weekly menu planning service
This crazy task of eating ONLY naturally gluten and dairy-free foods for years set me up for success with this diet – and it's the only real reason I'm able to keep talking about it week after week here on my blog.
These foods are the foundations of the gluten-free dairy-free diet, so if you aren't used to eating them… well, this is your time to start finding ways to make them work for you!
Because not only are these food groups essential to keeping you healthy on a gluten and dairy-free diet, but they are the way you're going to keep things fresh and interesting meal after meal – time over time.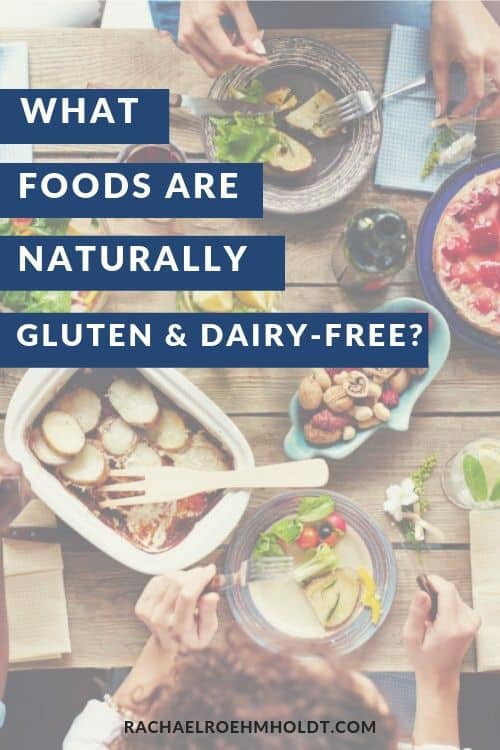 Alright – let's get to the foundations of a gluten and dairy-free diet. These are the foods that are naturally gluten-free and dairy-free:
Lean meats and proteins
Every kind of meat you can think of that's as close to nature as possible is naturally gluten and dairy-free. Great, right??
So if you love beef, chicken, turkey, eggs, seafood, and pork – well, you're in luck! You're safe with continuing to eat these in your gluten and dairy-free diet.
Meat, eggs, and fish are all awesome source of protein, so you are set on keeping them in your meal rotation.
In my household, chicken and beef are the most frequently used proteins. My husband and son love eggs (I don't tolerate them after my pregnancy – read more here).
When it comes to buying meat and proteins for a gluten and dairy-free diet, your best bet is to buy organic (this is across the board, not just for gluten and dairy-free) and as close to nature as possible.
Once a meat source has any kind of processing or manufacturing to it – basically if it comes in a package, that's where you need to start doing research and checking ingredients and labels to make sure there's nothing hidden in there during the processing.
In addition to the basics of beef, chicken, turkey, seafood, eggs, and pork – there are other meat products that you may consider adding to your gluten and dairy-free diet.
These are more processed, so yes, you will need to do research on brands and ingredients, but they are still good choices if they suit your tastes and your body tolerates them.
We also enjoy in my household:
Again, you'll definitely want to check ingredient lists – look for hidden sources of gluten or dairy in them, and be aware and skeptical or labels on packaging. Even if something says gluten-free, ALWAYS read ingredient lists to double check!
Vegetables
When it comes to vegetables, you can pick just about anything from the produce department that is safe.
There are so many ways to enjoy vegetables in a gluten and dairy-free diet: in salads, soups, stews, smoothies, breakfast hash, as stuffed squash, peppers, or potatoes, in stir-fries, mixed into some desserts. I also like to stew, roast, spiralize, smoke, grill, and cook in my Instant Pot.
As long as the vegetables come straight from the produce department and haven't been processed or manufactured in any way, you'll know they are both free from gluten and dairy.
If you buy frozen vegetables, make sure there's no additional butter flavoring or anything else added. Of course, read the ingredient lists and that will give you all the information you need.
Canned vegetables or other packaged vegetable dishes will need to be looked at more closely.
Again, use labels to give you a heads up on what may or may not be safe, but always read ingredient lists – gluten and dairy hide under many names, so do your due diligence in your research.
I eat loads of vegetables in my gluten and dairy-free diet! Some of my favorite gluten and dairy-free vegetable recipes are stuffed potatoes, massaged kale salad, and super simple chicken and veggie stir-fries. I also include tons of veggies in my GFDF Weekly menu plans.
Fruits
All fruits are naturally gluten-free and dairy-free, which is great news, because behind vegetables, they're also some of the healthiest foods out there.
Just like vegetables, as long as you find fruit in the produce department, you know it's free from gluten and dairy.
If the fruit is found in the freezer section, check the ingredient lists. And if you're buying canned or packaged fruit, always always always read ingredient lists. Labels are great, but you can't always rely on them.
I like to incorporate fruits into my breakfasts every morning in smoothies or into my oatmeal bowl. My son and I also love fruity desserts so we try to make a few of those every year, especially in the summer.
What I love about the fact that fruits are safe to eat on a gluten and dairy-free diet is how many of them are freezer-friendly. It's so easy to freeze many fruits and enjoy them year-round, even when you're in the dead of winter.
We have oodles of raspberry bushes, so every summer we eat our weight in them, then freeze the rest for the remainder of the year when they aren't producing fruit.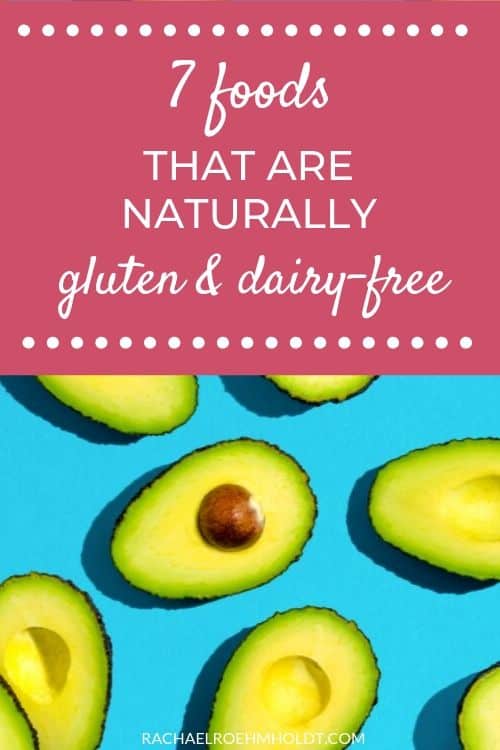 Beans and legumes
Beans and legumes are such a super easy – and cheap – ingredient to include on your gluten and dairy-free diet. For about $1 for a pound of dried beans and $1 to $2 for canned beans, you really can't beat the price for this versatile ingredient.
I love to incorporate beans and legumes into my cooking, because they're full of fiber, antioxidants, B vitamins, potassium, magnesium, and iron. Hello – all good stuff!
I do my best to keep a mixture of both canned and dry beans in my pantry. Dry beans are the most nutrient dense and the most bang for your buck, but canned beans are much more convenient.
When using canned beans, be sure to drain and rinse the extra liquid from the beans before using in your recipes.
I use beans in homemade soups, chilis, salads, and hummus. They're so good and good for you!
Read on: Are beans gluten-free?
Read on: Is hummus gluten-free?
Gluten-free whole grains
Whole grains are excellent for your gluten-free dairy-free diet. And yes, there really are grains that are gluten-free that are safe – and healthy! I get a lot of skeptics who comment about grains not being gluten-free, and we're all entitled to our opinions here…
Regardless of who is right and who is wrong, I know that I can eat some grains with no issues, and some that give me major symptoms. With that, I know gluten is the culprit for me.
Whole grains not only provide loads of vitamins, minerals, and plant-based protein, but they're high in fiber. Which can help move your digestion along in the very best way.
Some gluten-free whole grains you'll love adding to your gluten and dairy-free diet are:
Read on:
You can use whole grains in a ton of ways in your diet! I love to use each one differently, but some ways I use them are:
Nuts and seeds
Nuts & seeds are one of my favorite things to eat in my gluten and dairy-free diet. They're full of fiber, magnesium, potassium, and overall just taste good. I love that they fill me up, and are awesome on their own as snacks or as a little extra in other dishes.
I enjoy handfuls of nuts as snacks, but also use them in homemade granolas, trail mixes, and added to baked goods or even on salads.
Keep an assortment of nuts on hand for healthy fats and protein that will fill you up without any gluten or dairy.
Don't forget about nut butters too – another awesome ingredient to have on hand. Or you make your own by processing some in a food processor.
The main thing with nuts and seeds is that they're definitely gluten and dairy-free if they are on their own as a single ingredient.
As I've said before, once packaging and processing comes into play or extra flavors are added, do your research on ingredient lists. Seek out options that don't have gluten or dairy to become your go-to nut options.
Healthy fats like avocados and coconut
There are a few healthy fat options that are a great addition to your gluten and dairy-free diet. Healthy fats fill you up and keep you satiated for longer. In addition to nuts and seeds, I love avocados and coconut for this purpose in my diet.
Plain avocados can be eaten on their own, made into avocado pudding, added on top of your favorite Mexican dishes, or stuffed with eggs or beans for a quick and easy lunch idea. Guacamole is another delicious healthy fat you can make at home or find at the store – always read ingredient lists!
Coconut is awesome in all forms in a dairy-free diet. I use coconut oil, coconut milk, coconut flakes, and coconut cream in a variety of ways almost daily.
I add them to smoothies, in baked goods, and desserts of all kinds for healthy fat that is creamy, filling, but is also dairy-free.
With these naturally gluten and dairy-free foods, you can see that even if you only had to live off these alone, you'd never get bored. There are so many options at the foundational level of this diet, that once you get the hang of the basics, adding alternatives on top of these make it even more interesting.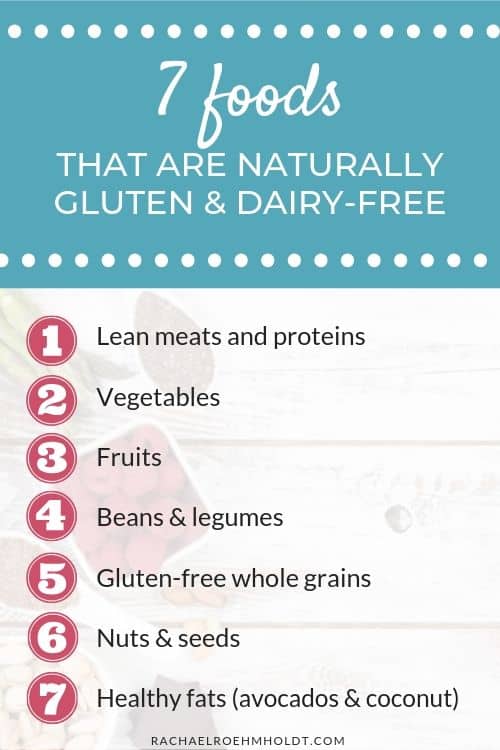 I hope that you've found this post valuable if you're just getting started on a gluten and dairy-free diet. And if you found it useful, I'd love for you to share it on Pinterest or Facebook.
Love this post? You might also want to check these out!
Looking to learn more about a gluten and dairy-free diet? Check out these posts!
If you would love more content like this delivered to your inbox every week, be sure to sign up for my free gluten-free dairy-free shopping list and 5 sample recipes below!