Looking for a gluten-free spaghetti brand, but not sure which one to give a try? Check out these top 5 gluten-free spaghetti brands and try my tasty meat & veggie spaghetti recipe below!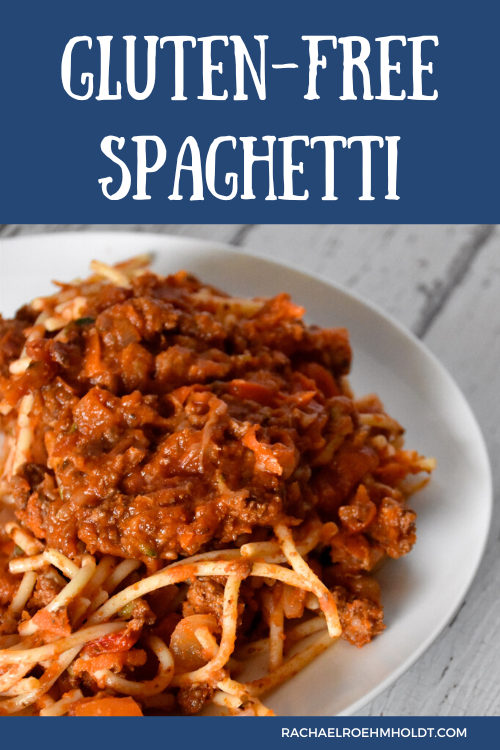 Note: I am a proud Amazon, Chomps, MunkPack, and Thrive Market affiliate and am happy to recommend their service and products to you. Please know that as an affiliate, I may receive a small commission on the products you purchase after clicking through my links. For more info, please see my disclosure policy here.
When going gluten-free, one of the first things you'll probably be on the hunt for is a good gluten-free pasta to replace the pastas you're used to eating.
When it comes to pasta, this is one area that you won't mind being gluten-free – there are so many great options available on the market these days.
In this blog post, I'm going to share some gluten-free pasta options so you have a short list and can do some experimenting of your own in the kitchen.
Since I know everyone has different tastes and opinions, I think it's best to try a few then determine which one you love the best.
Since spaghetti is widely available and we all probably have a great spaghetti recipe up our sleeves, I'll be sharing the top 5 gluten-free pastas I've found make the cut for a good replacement for normal spaghetti noodles.
At the end of the post, I'll share one of my favorite go-to weeknight meals using our favorite gluten-free pasta.
Let's get to it, yeah?
Is pasta gluten-free?
Most pasta made with semolina, durum wheat, or enriched wheat flour all contain gluten. Most major brands of pasta will contain gluten-containing ingredients.
That's why it's so important to look at ingredient lists before buying any pasta product. You can also look for a gluten-free label on the package. This will tell you if the product contains less than 20ppm of gluten and if the product you're looking at doesn't have that, it's worth reviewing ingredients for any hidden gluten names.
Not all pasta contains gluten though. Some major brands offer gluten-free varieties, while other brands make only gluten-free pasta options. These pasta brands will usually use one or more naturally gluten-free flours to make their pasta.
Some flours used in gluten-free pasta are brown rice flour, potato starch, tapioca starch, corn flour or cornstarch, almond flour, lentil flour, and chickpea flour.
Read on: Is pasta gluten-free?
Is spaghetti gluten-free?
Most spaghetti you find at the grocery store is made with semolina flour, but there are some brands that make a point to use only flours that come from gluten-free grains.
So even though most store shelves will have tons of options of spaghetti with gluten or wheat ingredients, look for others made from brown rice flour, lentil flour, chickpea flour, corn flour, or cassava flour.
There are loads of brands out there, so let's go through a few of the most popular options below.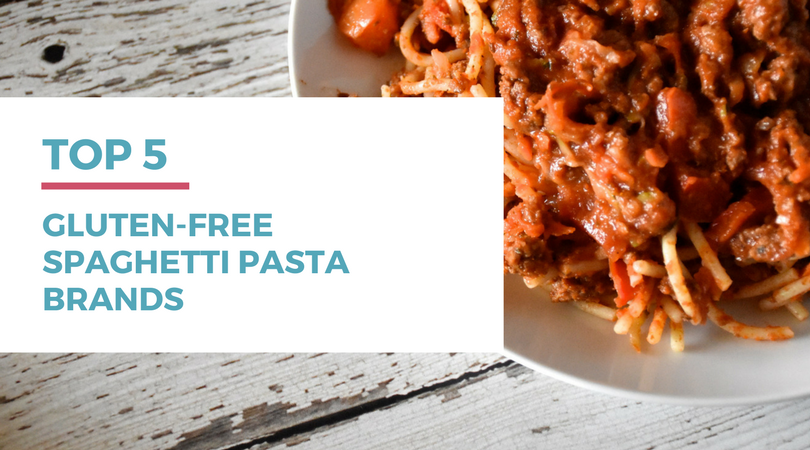 5 Best Gluten-free Spaghetti Noodle Brands
If you're looking for a brand of spaghetti that you can enjoy on a gluten-free diet, this list will give you some of the best options available. These have a close texture, hold their shape similarly, and taste very close to what you'd expect from a semolina spaghetti noodles.
Look for one of these brands at local grocery stores or shop online through Amazon or Thrive Market if you can't find them locally.
This spaghetti is the one that we use the most in our household. It is made from corn and rice and has no GMO ingredients. We've found that it tastes the most like "normal" pasta to our taste buds.
>> Grab a pack of this spaghetti on Amazon here.

This spaghetti is made with only two ingredients: brown rice and water. There aren't any additives or extra starches. With lots of gluten-free products on the market, this one holds really well when cooked and tastes very close to regular pasta.
>> Grab a pack of this spaghetti on Amazon here.
This spaghetti is awesome, because while some gluten-free noodles turn mushy after cooking, this one doesn't at all. Compared to regular spaghetti, these are a little on the rubbery side, but still a tasty and worthwhile alternative to normal pasta.
>> Grab a pack of this spaghetti on Amazon here.

This spaghetti makes the list, because with the added quinoa, you get a tiny bit of a protein boost from these noodles. Don't let the color fool you – even though the noodles are yellow, they're still a delicious gluten-free alternative to the normal pasta you're used to.
>> Grab a pack of this spaghetti on Amazon here.

This spaghetti is made from corn so it's a little on the yellow side compared to regular spaghetti noodles. This type of pasta I've found is a little sticky if you don't add a little bit of oil to the cooking water, but with that little trick, you'll have no issues at all.
>> Grab a pack of this spaghetti on Amazon here.
Now with all these options, if you're looking for a new twist on your regular spaghetti and meat sauce, I wanted to share a go-to meal in our house. My meat & veggie spaghetti is a hit for both my husband and I – and my three-year-old even loves it.
I love "sneaking" veggies into a dish in this way, otherwise we'd be eating only meat and carbs every night if it were up to the two boys in my house.
Read on: Gluten-free pasta: brands & options
Read on: Gluten-free noodles: options & brands
Is pasta dairy-free?
Yes, most pasta is dairy-free. If the pasta you are using contains a filling, such as ravioli, you'll want to look at the ingredients list to find out if there is dairy included in this part of the pasta.
Read on: Gluten-free ravioli brands
Is spaghetti sauce gluten-free?
Homemade spaghetti sauce is very easy to make gluten-free, because the main ingredients of tomato sauce, meat, herbs, onions and garlic are all naturally gluten-free. Find a recipe to make your own from scratch if you want to be certain you're keeping with your gluten-free diet.
Spaghetti sauce options from the store are generally naturally gluten-free, so this isn't a food you'll need to worry too much about on your gluten-free diet.
That said, since spaghetti sauce from the store is a processed food, it's always a good idea to review ingredients lists for any hidden names of gluten and to look for a gluten-free label.
A gluten-free label will tell you that there's less than 20ppm of gluten in that product, as required by the FDA.
Get a full list of gluten-free spaghetti sauce options from the store here: Gluten-free spaghetti sauce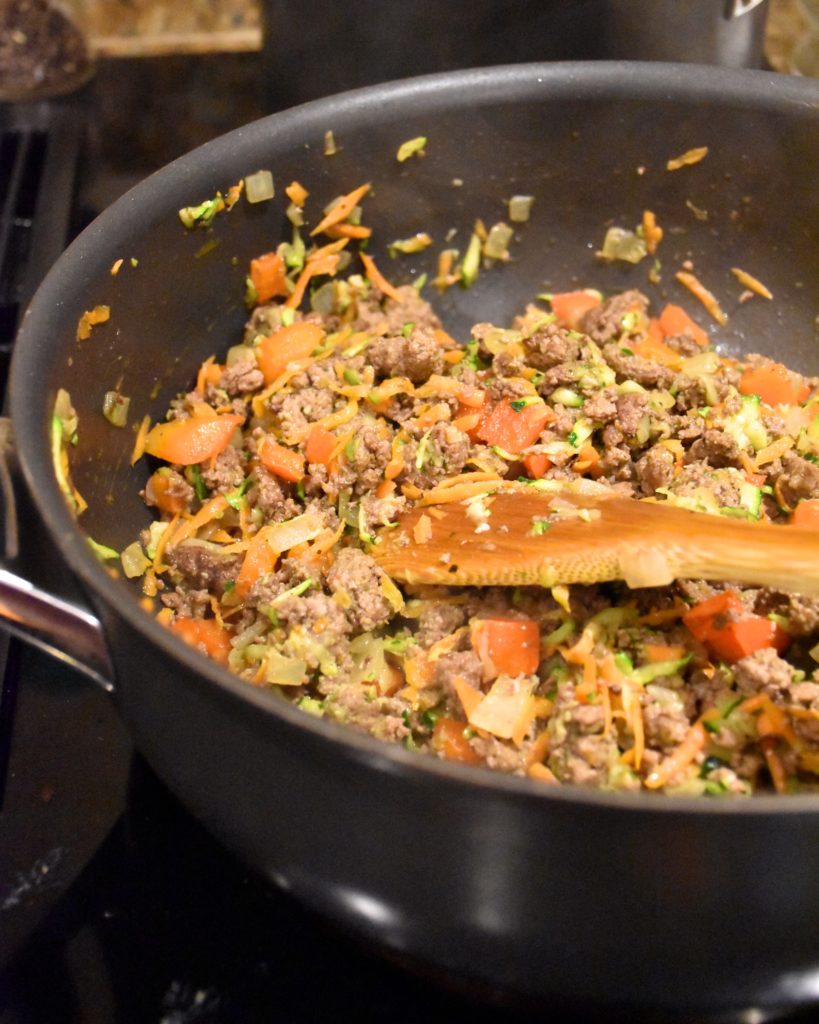 Yield: Serves 4 to 6
Gluten-free Spaghetti (Dairy-free)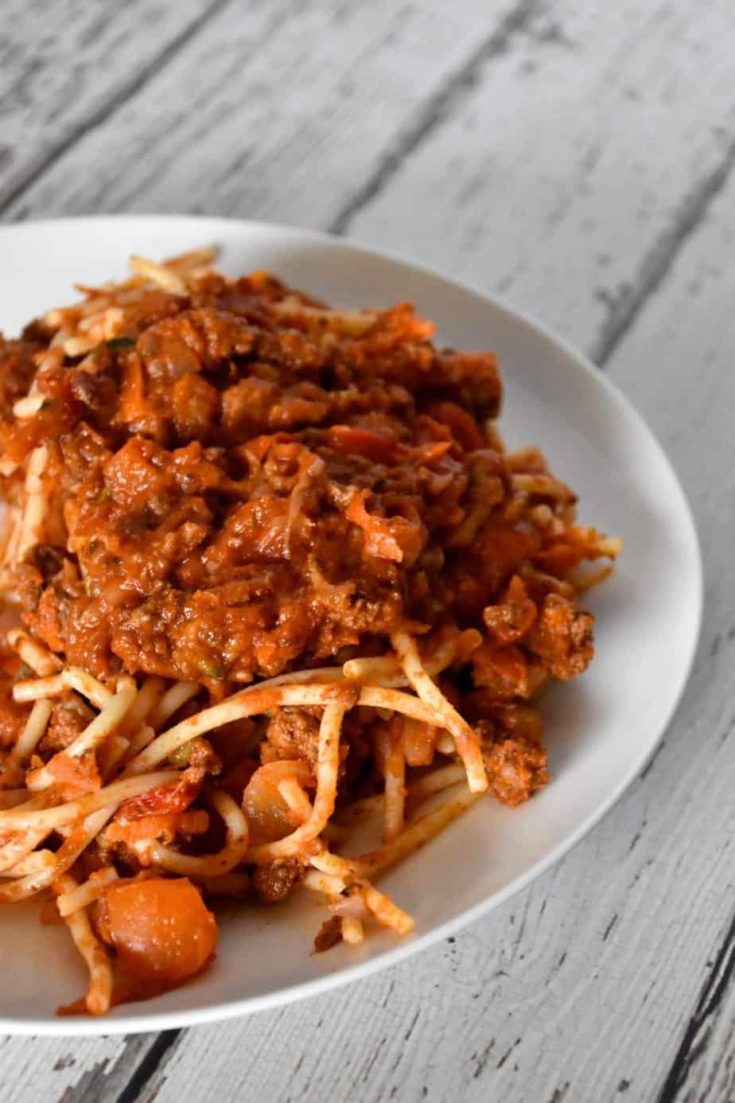 Try this gluten-free spaghetti with a meat sauce loaded with veggies! It's also dairy-free and kid-approved.
Ingredients
1 lb ground beef
2 carrots, shredded
1 zucchini, shredded
1 red pepper, chopped
1 onion, chopped
2 cloves garlic, minced
1/2 tsp salt
1/4 tsp pepper
Instructions
Prepare gluten-free spaghetti according to package directions.
In a large skillet over medium-high heat, brown ground beef halfway, then add the chopped onion, red pepper, Italian seasoning, salt, and pepper and cook until meat is fully browned.
Add garlic, carrot, and zucchini, and cook about 3 more minutes - enough to soften the veggies.
Add the pasta sauce and stir to combine everything. Let the sauce warm through and simmer about 5 more minutes.
Serve meat and veggie sauce over spaghetti.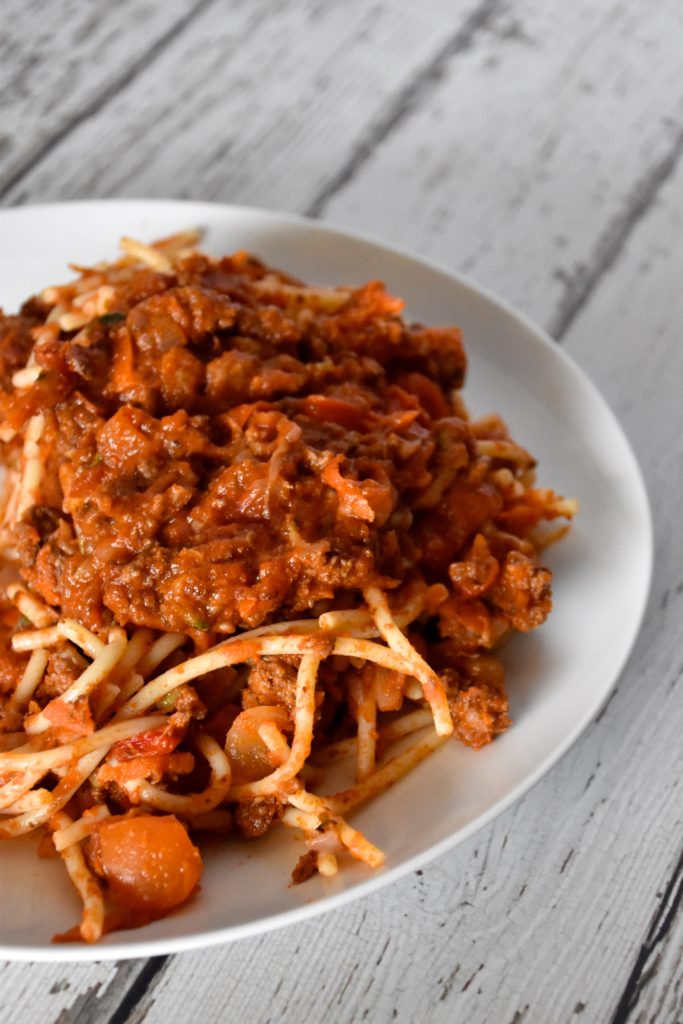 For a dairy-free parmesan cheese substitute, try sprinkling nutritional yeast or grate roasted almonds on top.
Looking for a different sauce for your gluten-free pasta? Try this dairy-free alfredo sauce.
With all the gluten-free spaghetti pasta options out there, it's easy to get overwhelmed. Hopefully with this list, you'll be able to not only try out a few different brands, but you can taste-test your way through them all and find your family's favorite.
f you loved this post, I hope that you'll share it with your friends on Facebook and pin it for future reference on Pinterest.
If you loved this post and recipe, be sure to download my gluten-free dairy-free shopping list and 5 more sample recipes below.
Love these posts? You might also find these interesting!