I'm a huge fan of Mexican food. Whether it's totally bottom of the barrel from a terrible restaurant or upscale and fancy Mexican food, I'm there.
Tacos, enchiladas, tortilla soup – yes please. Throw in some chips, salsa, guacamole – and a margarita (when I'm not pregnant) and I'm in heaven.
I don't get into making Mexican food at home too often. Truth be told, I'm much too lazy to put in the effort to get really great at making things that take longer than 30 minutes to put together.
Often when we have Mexican at home, it's in the form of taco salads (aka throw tons of ingredients into a bowl, slather it with salsa and call it good) or homemade guacamole and salsa, where I can rely entirely on my blender or food processor to do the bulk of the work for me.
One of the major reasons I'm such a big Mexican food fan is that I can easily enjoy it while still holding to my gluten-free dairy-free lifestyle. Instead of flour tortillas, I opt for corn. Instead of adding cheese or sour cream, I'll add a nice dose of healthy avocado to get the flavor I'm after.
Read on: Gluten-free Tortillas: Types, Gluten-free Options, and Brands
Read on: Are flour tortillas gluten-free?
It's easy no-brainer food even with sensitivities. Which is why when I decided on trying this recipe and it came out amazing, I thought to myself "I'm going to save us so much money on our Mexican food addiction."
Read on: Gluten-free Mexican food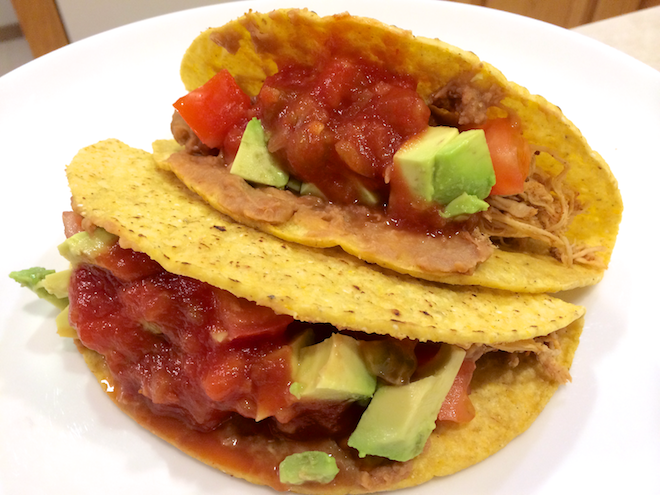 This recipe couldn't be easier and it stretched for multiple meals. We had tacos a few nights, then added the rest to brown rice bowls and even more to a soup later on in the week. It's a serious heavy-hitter that took less than 10 minutes to put together.
This recipe is fast becoming one of my favorite things to make, not only because it's delicious, but because it lasts forever and is super versatile.
Read on: Are taco shells gluten-free?
Read on: Does chicken have gluten?
Read on: 25 Gluten-free chicken recipes
Super Easy Crock Pot Chicken Tacos
Ingredients
Directions
Add raw chicken breasts, salsa and taco seasoning to a crockpot.
Cook on low for 6 to 8 hours or high for 3 to 4 hours.
Once cooked, use two forks to shred the meat. It will be super moist and falling apart. If there's still some liquid in the bottom of the pot, don't worry, as you break up the meat, it will get absorbed.
Add to taco shells and top with your favorite toppings. We love refried beans, lettuce, tomato, salsa, and avocado in our house.
Enjoy your homemade crock pot chicken tacos!
Read on: Is taco seasoning gluten-free?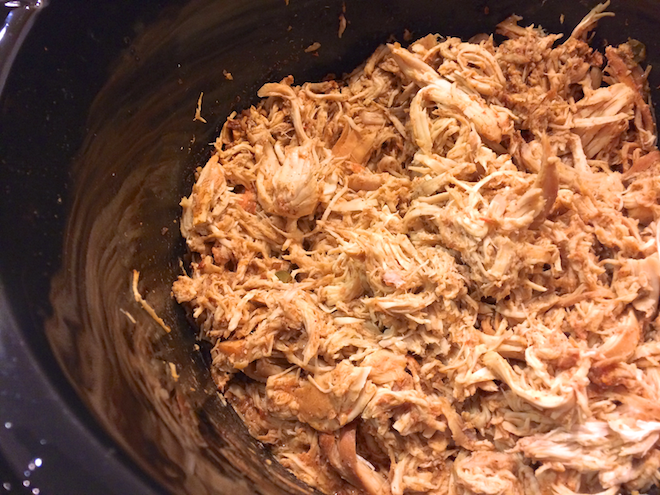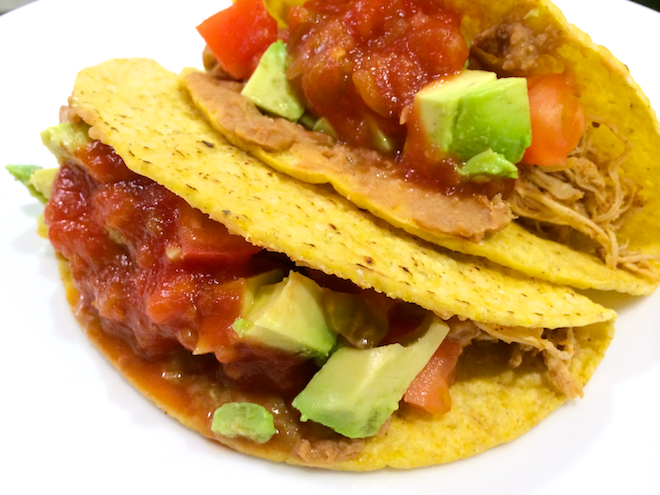 What's your go-to homemade Mexican meal?
More gluten-free taco resources
If you're here and wondering about taco seasoning, you might be curious about some other taco and Mexican food related content. Check out some of these helpful posts!