Wondering if tortillas are gluten-free? Find out if they are safe for a gluten-free diet, what the different types are, and what brands to shop for.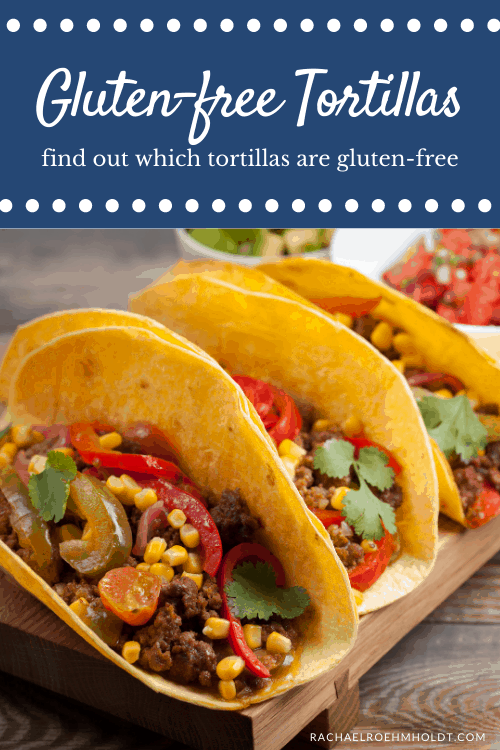 Note: I am a proud Amazon, Chomps, MunkPack, and Thrive Market affiliate and am happy to recommend their service and products to you. Please know that as an affiliate, I may receive a small commission on the products you purchase after clicking through my links. For more info, please see my disclosure policy here.
Do you love Mexican food? Tortillas are a staple in so many Mexican dishes: burritos, enchiladas, taquitos, quesadillas.
If you enjoy eating Mexican food, you know it's highly likely you'll encounter tortillas on almost every restaurant menu or recipe you come across.
If you are following a gluten-free diet, you'll know that you need to look for gluten in every type of food that you enjoy. Gluten can hide in different foods and under the names of many different ingredients, so you need to do your due diligence to determine if tortillas are safe for you and your gluten-free diet.
In this post, we're going to talk about the different types of tortillas, if tortillas are gluten-free, and some gluten-free tortilla options for you to enjoy with your favorite Mexican dishes.
Read on: Gluten-free Mexican food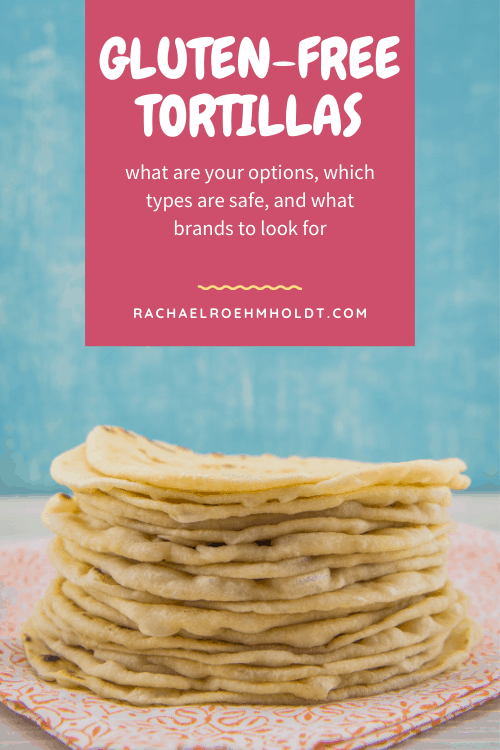 Types of tortillas
Tortillas come in a few different types. Traditionally, tortillas are made out of flour, salt, water, and fat. The variation in these different types of tortillas are determined by what the main source of flour is.
Look through these different types of tortillas and see which ones are familiar to you, and which ones you haven't heard of before.
Flour Tortillas
Flour tortillas are made using wheat flour, water, salt, and fat. Some tortillas that you find at the grocery store may also contain baking powder or other leavening agents. Many people use flour tortillas for burritos, quesadillas, or enchiladas plus other Mexican dishes.
These are one of the most common and most popular types of tortillas you can find.
Corn Tortillas
Corn tortillas are made out of corn kernels, a limewater-cured maize which allows the skin of the corn kernels to come off. This corn is ground, other ingredients are added, then rolled into a ball. Then it is flattened and cooked.
Corn tortillas can be made using traditionally yellow corn white corn or even blue corn.
Read on: Do corn tortillas have gluten?
Half and half Tortillas
Half and half tortillas are made using half a mixture of wheat flour and corn flour. They're made in the same way that corn tortillas or flour tortillas would be made. Instead of one of these ingredients, they're made with both in a ratio of 1:1.
Read on: Is corn flour gluten-free?
Flavored Tortillas
Flavored tortillas are generally flour tortillas that have had some different flavors added to them, such as beetroot or spinach. Many times these are marketed as wraps, but they're the exact same thing as tortillas and given a different name and different marketing.
They can be used in the same way as you would any other flour tortilla.
Read on: Gluten-free wraps
Spanish Tortilla
A Spanish tortilla isn't actually a tortilla used in Mexican cooking. It's more of an omelette with potatoes and eggs. The only thing that Spanish tortillas have in common with Mexican-inspired flour or corn tortillas is the name. Other than that, they're completely different.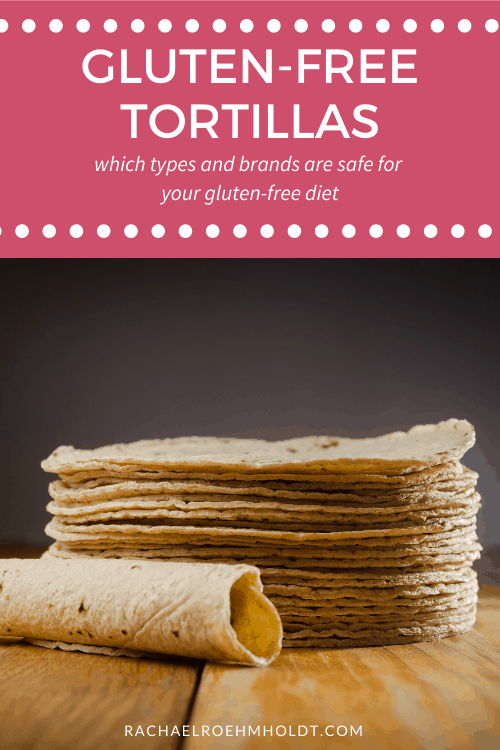 Are tortillas gluten-free?
The answer to this is pretty simple: any tortillas that are made using wheat flour are not gluten-free. Wheat contains gluten, making wheat flours not safe for a gluten-free diet.
Read on: Are flour tortillas gluten-free?
You can be sure that the tortillas that you're eating are gluten-free if they're made using naturally gluten-free ingredients, like corn or a flour that is made from only gluten-free grains, like rice flour, tapioca or potato starch.
If you're at a restaurant, you can ask before ordering what type of tortilla comes with the dish you're looking at. You may be able to ask for a substitution for corn tortillas in place of flour tortillas.
Read on: Is Corn Gluten-free?
Read on: Is Rice Gluten-free?
Read on: 5 Best Gluten-free Flour Blends
Read on: Is rice flour gluten-free?
Which tortillas are gluten-free?
Now that you know what the different types of tortillas are, let's talk about which ones are naturally gluten-free and safe for your gluten-free diet.
The two main types of tortillas that you'll feel good adding to your gluten-free diet are: corn tortillas and any tortillas that are labeled as gluten-free.
Gluten-free tortillas are those that are made using a gluten-free flour blend, where all of the grains that are used are gluten free. This also means that these tortillas are made in a dedicated gluten-free facility ensuring that they are safe for your gluten-free diet.
As always, check ingredients lists and labels on individual packages before buying.
Are corn tortillas gluten-free?
Yes, corn tortillas are made using corn, which is a naturally gluten-free food. Since corn itself doesn't contain gluten, and most tortillas don't contain other sources of gluten, corn tortillas are safe for a gluten-free diet.
As with any food, it's important to check ingredients lists and look for any hidden names of gluten just to be safe.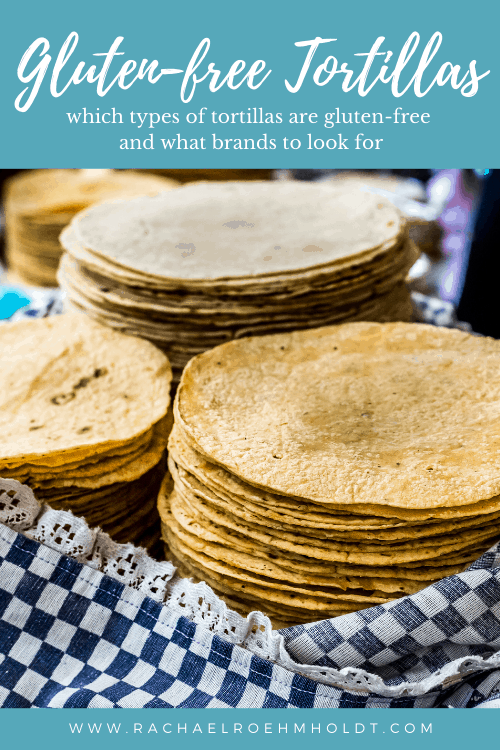 Are tortilla chips gluten-free?
Yes, as long as they're made with corn flour instead of wheat flour and do not have any seasonings or spices on them that contain gluten.
If you're at a restaurant, be sure to ask if the chips are made using corn or flour tortillas.
Brands of Gluten-free Tortillas
There are so many different brands that make corn tortillas and gluten-free tortillas that it is impossible to to list all of them, but some of the most common ones that you might see at the grocery store are listed below.
Bfree
Sweet Potato Wrap
Multigrain Wrap
Quinoa Wrap
Food For Life
Brown Rice Tortillas
Exotic Black Rice Tortillas
La Burrita
Mikey's
Cassava Flour Tortillas
Super Greens Tortillas
Golden Turmeric Tortillas
Sweets & Beets Tortillas
Cassava Flour Burritos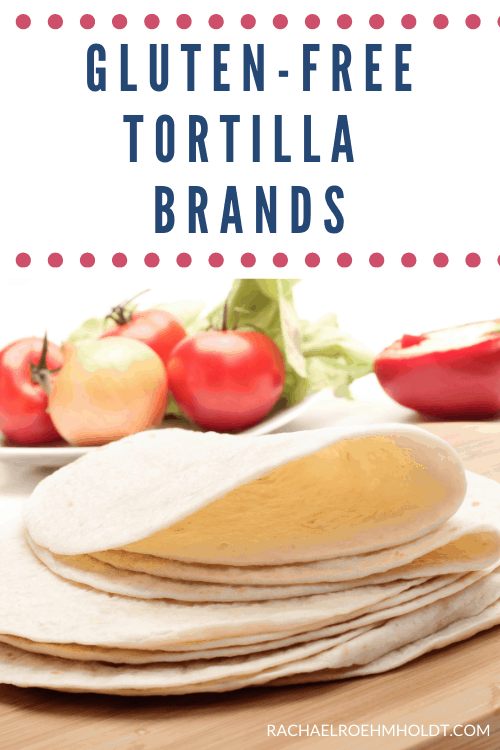 Mission
Gluten-free Original Tortilla Wraps
Gluten-free Spinach Herb Tortilla Wraps
White Corn Tortillas
Yellow Corn Tortillas
Extra Thin Yellow Corn Tortillas
Super Size Yellow Corn Tortillas
Street Tacos White Corn Tortillas
Street Tacos Yellow Corn Tortillas
Super Size White Corn Tortillas
Estilo Casero White Corn Tortillas
Organic White Corn Tortillas
Red Corn Tortillas
Extra Thin White Corn Tortillas
Organic Uncooked Corn Tortillas
Baked Tostadas
Yellow Tostadas Casero
Yellow Tostadas Nortena
Red Tostadas Nortena
Old El Paso
Crunchy White Corn Shells
Tostada Shells
Crunchy Taco Shells
Read on: Are taco shells gluten-free?
Rudi's
Plain Tortillas
Spinach Tortillas
Udi's
If you've been searching for a gluten-free tortilla to enjoy your favorite Mexican recipes with, I hope this post has been useful for you. Remember that corn tortillas or those labeled as "gluten-free" are your best options for sticking with your gluten-free diet.
f you loved this post, I hope that you'll share it with your friends on Facebook and pin it for future reference on Pinterest.