Are you just starting out going gluten and dairy-free? Check out these top 10 tips for going gluten and dairy-free for beginners.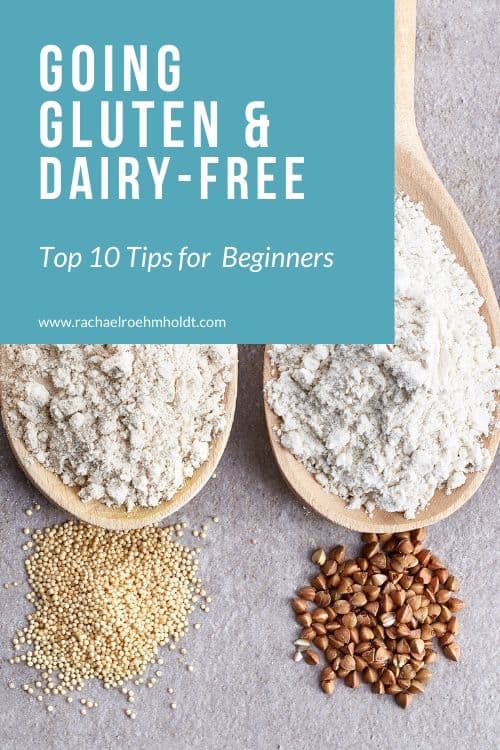 Note: I am a proud Amazon, Chomps, MunkPack, and Thrive Market affiliate and am happy to recommend their service and products to you. Please know that as an affiliate, I may receive a small commission on the products you purchase after clicking through my links. For more info, please see my disclosure policy here.
In the time I've been writing this blog, many folks have come in to read about how I stock my gluten-free dairy-free fridge and my gluten-free dairy-free pantry. It's clear to me that while these food intolerances are definitely more abundant than they used to be, a lot of folks are looking for guidance on where to start when they want to take these foods out of their life (either for a short or a longer period of time).
Aren't sure if you have a food intolerance? Check out this post.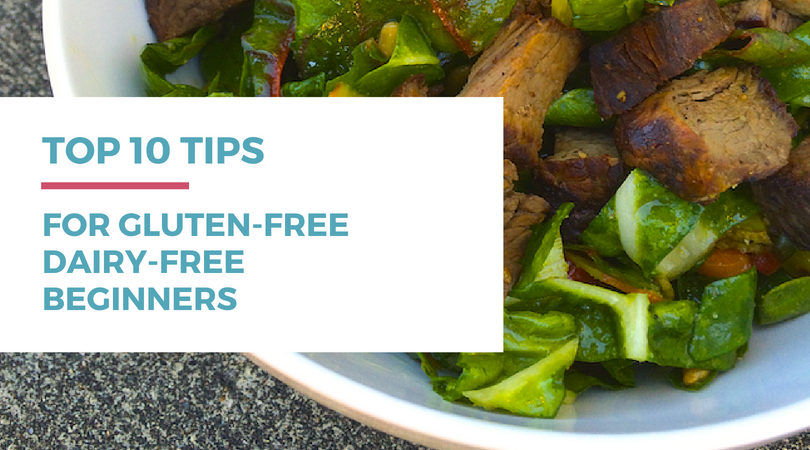 I remember when I started going gluten and dairy-free, it was a huge milestone in my health. Not only did I start feeling better within just a few days in terms of bloating, gas, diarrhea and my other digestive symptoms, but my other non-digestive symptoms vanished quickly too – skin rashes, itchiness, dandruff, acne, and mental fogginess.
Read more about food intolerance symptoms here.
Although it was a huge benefit to me to take these foods out, I also remember it being super hard to make the commitment, because it was just too difficult to think about my life without my favorite bread and dairy products that I loved so much.
A few of you have written to me and asked how I did it – how I made the transition a seamless one without feeling deprived and like I was going to starve without my favorite foods.
So I'm answering the call today with my 10 tips for gluten-free dairy-free beginners! I hope this is helpful to you if you've been in the transition phase or are just about to be in the coming days and weeks.
1. Focus on the foods you will be eating, not those that you will be removing.
One of the easiest things to get hung up on when going gluten and dairy-free is what you cannot enjoy anymore. Ice cream, cheese, bread, pizza… Trust me, this is the biggest thing that I struggled with. I couldn't imagine my life without some of my favorite foods.
I found that by shifting my attention to all the new foods I could try and could enjoy that I was eating very yummy and even healthier foods with this shift in my diet and mentality.
When you understand the basics of a gluten-free diet, you can focus on the foods that are naturally gluten and dairy-free, and safe for following this diet.
Not sure which foods are safe on a gluten and dairy-free diet? Learn which foods are naturally gluten and dairy-free.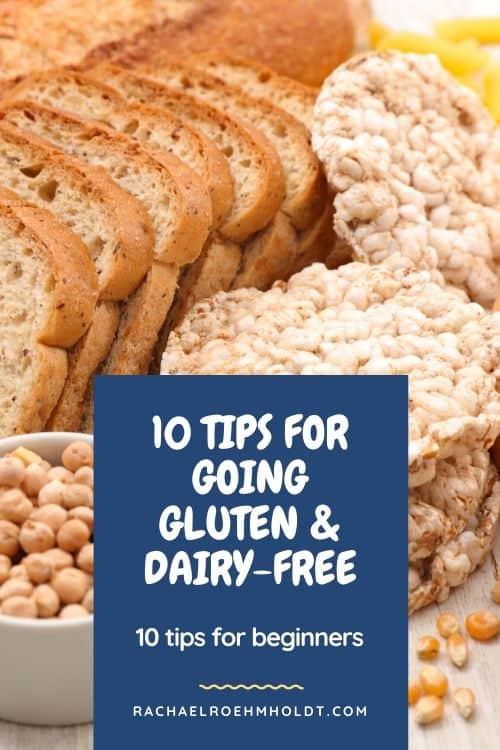 2. Don't try to replace bread and cheese (or other gluten and dairy products) with gluten-free and dairy-free counterparts one for one.
The truth is that they just don't taste the same, and while you may get used to the change in taste and texture over time, it's best to see the change in your diet also as an attempt to change your palate too.
There are definitely some great alternatives out there for breads, milks, cheese, ice cream, etc. but plenty of them are full of even more sugar and chemicals than were in the gluten and dairy products themselves and could wreak even more havoc on your system than the real deal.
Again, there are just so many other ways to enjoy a gluten-free dairy-free diet without all these expensive alternatives (see #1 again).
Read my top 7 picks for gluten-free bread.
Read my full post on dairy-free milk alternatives.
Check out this recipe for dairy-free cashew cheese.
Find a few great gluten and dairy-free dessert recipes with in my dessert recipe roundup.
3. Attempt to stick with whole foods as much as possible and use this as an opportunity to eat more veggies and whole grains.
I know of plenty of folks who go gluten-free and dairy-free and wind up eating even more junk than they used to. Relying on packaged products with the gluten-free or dairy-free labels won't necessarily help you get healthier or help to heal your gut.
Use this change in your diet as a chance to start incorporating even healthier foods into your daily diet like whole grains, fresh veggies, fruits, nuts and seeds, and lean meats. Yes, there's a learning curve. Yes, you can give yourself some leeway when you're just getting started.
Ultimately, you'll want to find ways to be creative with healthier (and more budget-friendly) foods that will help your body heal. A good tip is to do the majority of your shopping from the perimeter of the grocery store than eating packaged foods you find in the center.
Another idea is to make sure you have access to good quality ingredients and snacks that work for you. I love Thrive Market for many reasons, one of which is that they only supply the best quality foods with real ingredients. They really do their homework before they even decide to sell a product to their customers.
You can select checkboxes on their site to look for items that are gluten-free and dairy-free, which is super useful so you don't have to spend tons of time scouring ingredient lists.
If you aren't familiar with Thrive Market, they have amazing gluten and dairy-free foods, as well as supplements and probiotics.
You can check out all the great things I have to say about this service, AND get a 30% off your first order AND a free gift (up to $24 value) when you sign up for either their monthly or annual plan.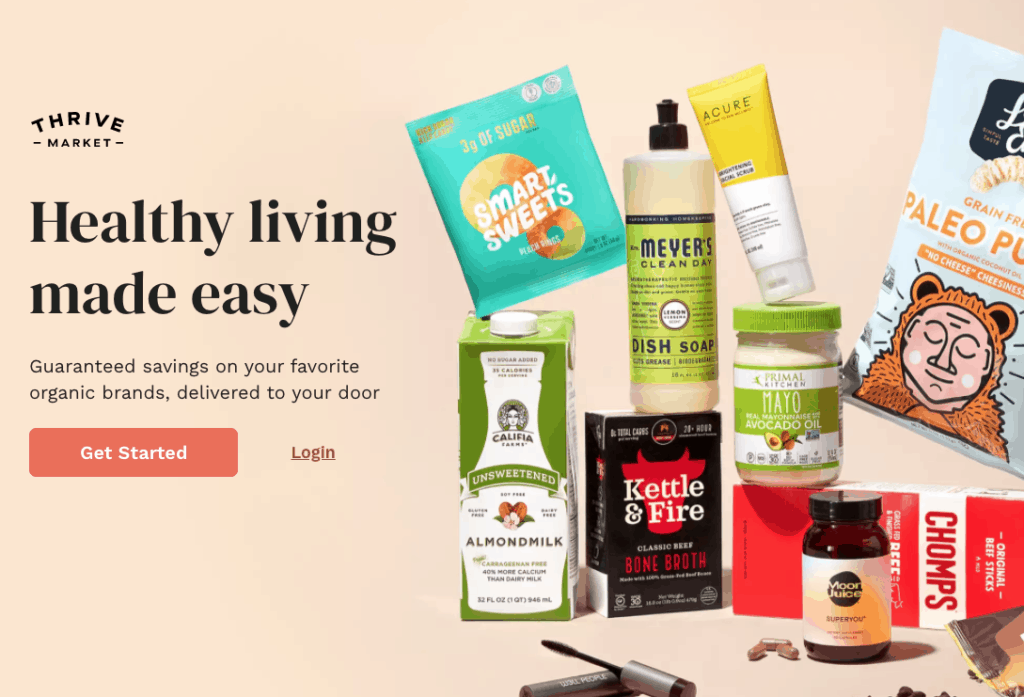 4. Find a few great resources that cater to gluten-free and dairy-free living and have an abundance of recipes you can make at home.
One the easiest ways to feel like you're not the weird person who has to change their diet is to surround yourself with others who have done the same.
Obviously, if you're here and reading this blog post – you've found at least one place! I have loads of resources and recipes to share to help you along the way.
Of course, you can also check out a few cookbooks that specialize in gluten-free dairy-free cooking, as well as websites with plenty of recipes to feel at home with the new lifestyle change.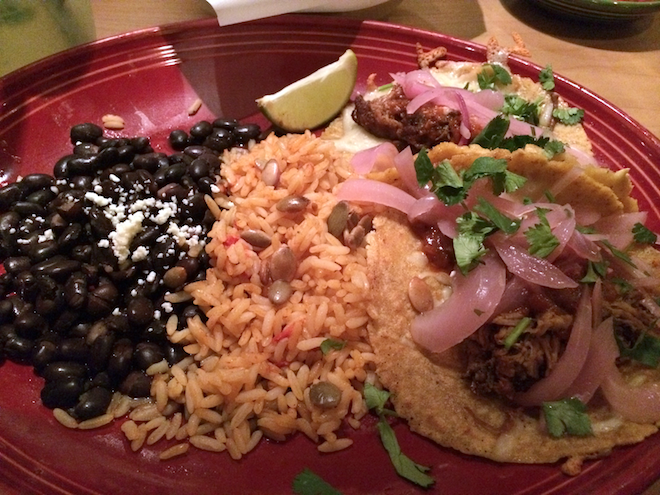 5. Seek out a few restaurant options in your area that will become your go-to places for when you want to eat out.
To this day, eating out is still one of the most difficult things about having food sensitivities. What I had to do over time was have a list of go-to restaurants, coffee shops, and even grocery stores for where I could rely on having good gluten-free dairy-free options.
I don't see food sensitivities as a death sentence, so finding some restaurants that you can find a few options and still enjoy yourself is crucial to keeping up your new lifestyle.
Try this: hop over to Yelp or other restaurant finder website for your area and type in "gluten-free." You might be surprised that there are places that will cater to your gluten and dairy-free diet. Make a short list of places to try out in the next couple weeks.
Read my 4 tips for going to restaurants on a gluten and dairy-free diet.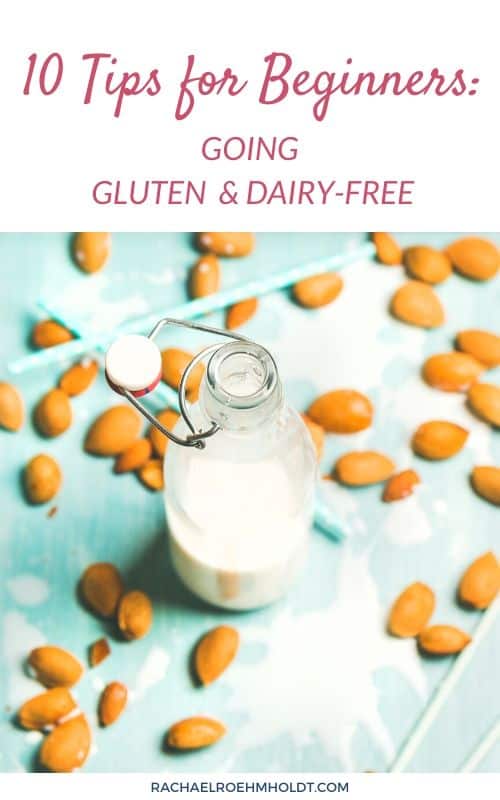 6. Become knowledgeable about gluten-free and dairy-free alternatives.
Read up on the effects of some ingredients in gluten-free and dairy-free products so you know what you're adding to your diet after taking others away.
This one I feel is important to point out, because I think many folks tend to be drawn to things like soy milk and soy products and there is extensive research that shows that soy can be an endocrine and reproductive system disruptor and cause more harm than good – especially for those with thyroid disorders.
The same can be said for dairy-free milks with carageenan, a potential carcinogen. I'm not telling you to eat certain things or not, but I do recommend digging in and doing your research before making any major shifts in the foods you'll be bringing into your life as a result of removing gluten and dairy.
Read on: Is soy gluten-free?
7. Learn about how to cope with becoming "glutened" or "dairy-ed" (aka ingesting these ingredients when you don't mean to).
Everyone's body responds differently to these two ingredients and when you take them out of your diet, your physical response will become much greater than when you were giving it a steady stream into your body.
While you may not know how big or small your reactions will be, it doesn't hurt to consult either your doctor or a few websites to find out the best ways to combat becoming "glutened" or "dairy-ed."
Read my post on how I deal with becoming glutened.
Read this post on all about gluten detox and gluten withdrawal.
8. Know the many names of gluten and dairy so you can steer clear of them.
Gluten and dairy both hide under many names, so knowing what to look for on food labels and even on restaurant menus can be a real lifesaver. I cover the comprehensive lists of the many names of gluten and dairy in my GFDF Take-Along Cards. Get to know these tricky names so you can avoid them.
O
9. Plan your menus for easy and reliable meals.
I can't tell you how many almost-meltdowns I've had while standing in my kitchen feeling like I had nothing to eat because of my food sensitivities. I've always been a menu planner, but after going gluten-free and dairy-free, this became a non-negotiable.
Plan out what meals you intend to eat throughout the week, so you never find yourself staring into the pantry about ready to cry (trust me, this can and will happen if you aren't prepared).
Read here for my full step-by-step process for menu planning on a gluten and dairy-free diet.
I offer a weekly gluten-free dairy-free recipe and menu planning service called GFDF Weekly if you'd love some inspiration and support on getting tasty healthy meals to the table.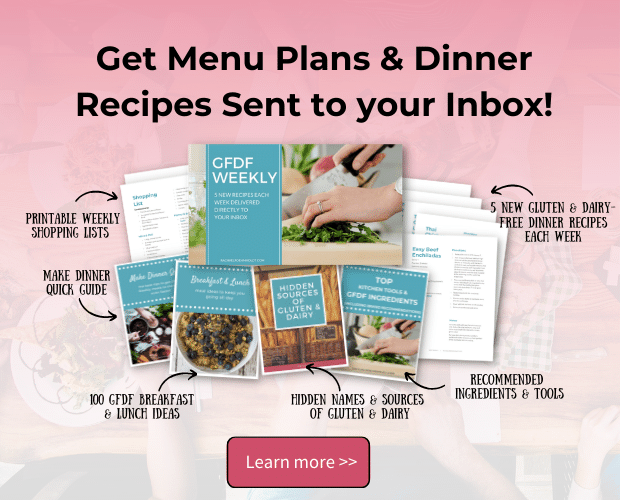 10. Embrace healthy alternatives to gluten and dairy.
I mentioned in one of the above points to do your research on packaged gluten-free and dairy-free alternatives. One thing I haven't mentioned yet is that there are plenty of ways to embrace healthy alternatives to gluten and dairy like many popular diets have already.
Seek out vegan versions of foods with dairy – they often use nuts and seeds for the creamy flavor a lot of us are after with cheese or cream.
Paleo versions of recipes are also great, because the diet is inherently gluten-free and dairy-free. I'm not advocating following a strict vegan or paleo diet, but getting inspiration from their recipes is definitely a good idea!
If you've been wondering how to go gluten and dairy-free, you might want to check out my book The Gluten and Dairy-free Diet: A Beginner's Guide.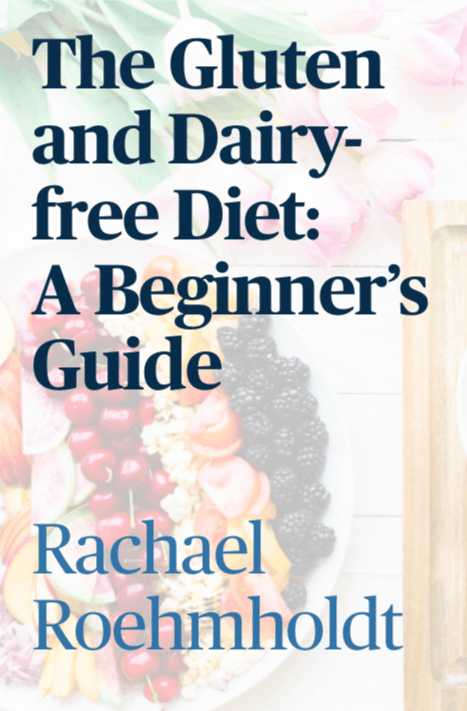 Love this post? You might also want to check these out!
Looking to learn more about a gluten and dairy-free diet? Check out these posts!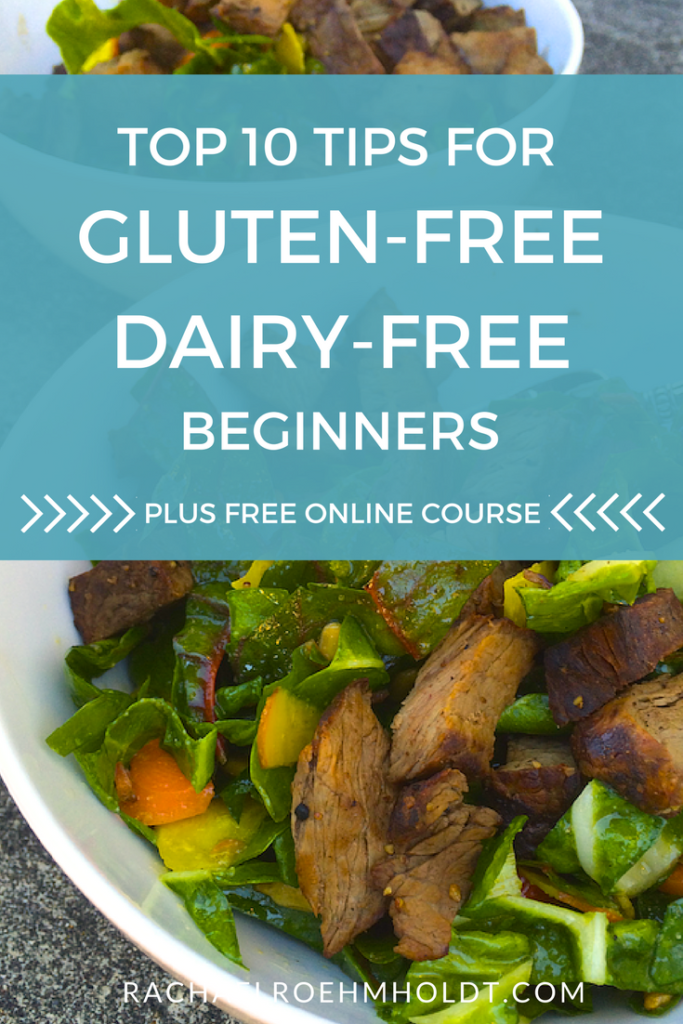 If you've been wondering how to go gluten and dairy-free, you might want to check out my book The Gluten and Dairy-free Diet: A Beginner's Guide.