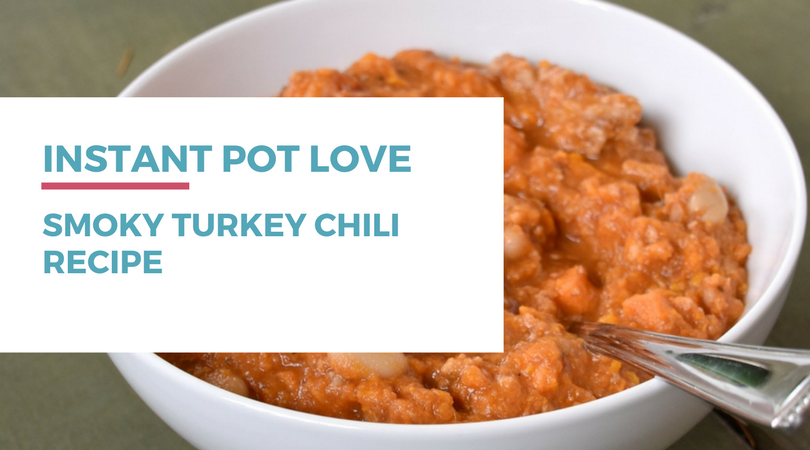 Valentine's Day is just a couple days away – and while it's fun to celebrate with the little ones, it's not exactly something I get super excited about.
But love I love love. I'm a sucker for love stories, romance, and of course, there are loads of people and things I love.
So aside from my husband, I've been crushing hard on one thing in particular. It's actually what my wonderful hubby got me for Christmas and it's been a huge game-changer in our kitchen ever since.
It's my Instant Pot. This is the one I have – the 6 quart Instant Pot Duo Plus.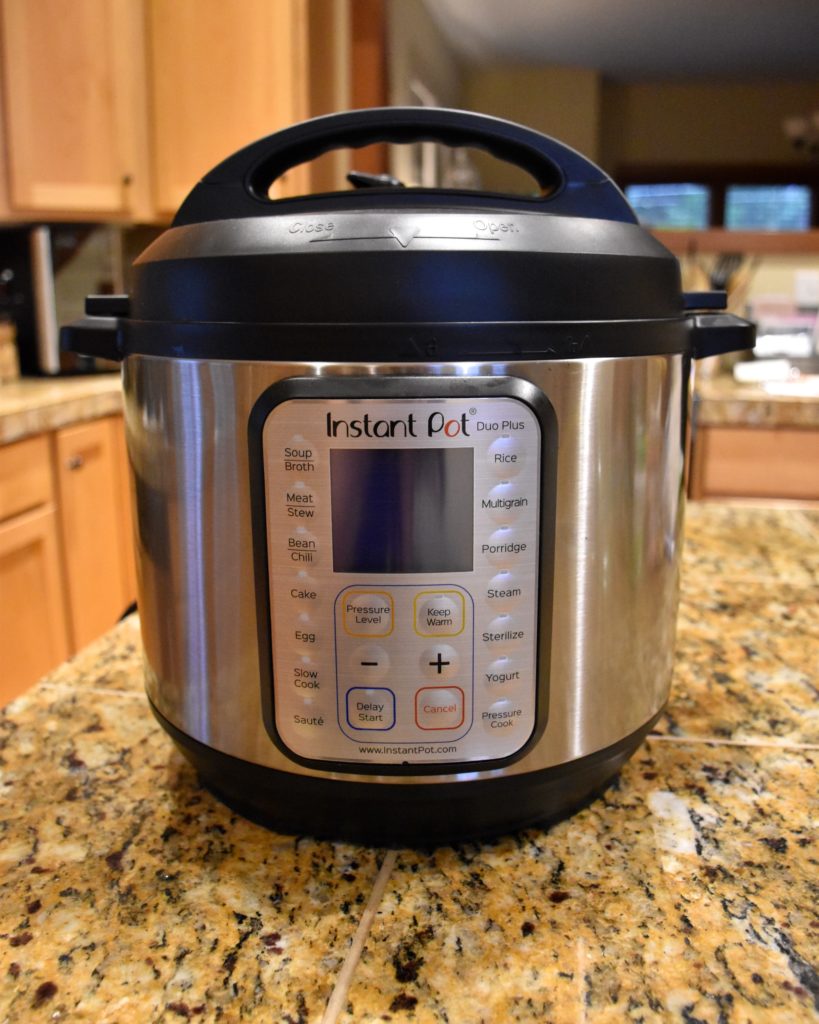 Yeah, yeah I know. I feel like everyone has been talking about them lately. They're all over online, Pinterest, and I am constantly seeing my friends talking about how great they are on Facebook.
But I'll be the first to tell you that it took a little bit more effort to get me on board with the idea, because I hate clutter. I hate having a ton of stuff in my kitchen that doesn't get used. It makes me crazy when things are all over the counters (which they always are) or cabinets filled with things that don't get much use (which they are also)…
So the only real reason I got on board with the whole Instant Pot craze was because I had ranted on Facebook in early December about how I'm a terrible slow cooker person.
That throughout all of last year, I had lost about 3 or 4 different pots of chili and soup in the slow cooker, because I either forgot to prepare the meal in time for dinner, plug it in with a whole pot of prepared food in it, or forgot to put the leftovers in the fridge – which was the ultimate disappointment. Going through all that effort only to have to throw the entire dish out was heartbreaking more than once
After I vented on Facebook, a friend of mine suggested I get an Instant Pot, because it will keep the dish (whatever it may be) warm until I get to it to put it away. It will also make noise when it's plugged in and you have to manually push buttons to get it to turn on which means me not plugging it in wouldn't be a problem.
After a few more friends chimed in and shared that they loved theirs, I finally started giving it an honest look. One of my friends said they almost only use it to make rice, which I found interesting. Another friend said they use theirs 3 or 4 times a week, which made me get super intrigued. I mean, if I could get a multi-use cooking tool that might actually REPLACE some of the other small appliances in my kitchen, then I could actually get around the idea.
So I put it on my Christmas list and my hubby sweetly bought it for me.
You can get the same one I have right here:
Of course, now I'm a convert. After the initial overwhelm of how many things it could do and how giant it was, I decided to give it a spin. And I haven't looked back.
I'm seriously in love with this thing. I've made a ton of different recipes – all of which I've found online (I'm not brave enough to try my hand at anything of my own yet).
And what do you know, literally every. single. dish. that I've made has been hands-down AMAZING.
Things like rice or a bag of beans and you think "what? It's just beans or rice."
But no, I haven't ever made rice that comes out perfect every time. Or a bag of beans done in such a short amount of time.
It really has been a game changer for me. Where I used to avoid cooking dried beans, now I'm happy to cook up a whole pound and divide them up to use throughout the week in different meals. And even though I love rice, I wouldn't make it often, because I was lazy and making rice sometimes takes longer than I wanted to spend.
But with this Instant Pot, I can have a whole pot of rice or beans done in about 20 minutes, without a huge mess to pick up (from an terribly inefficient rice cooker). It's awesome!!
So I just wanted to share with you not only my love of the Instant Pot, but to share some awesome recipes that I've tried since I got it just a few weeks ago.
I even converted one of my favorite crock pot meals into an Instant Pot meal. Honestly, I was a little nervous to try it out, because I didn't know if it would convert easily, but it was amazing. A recipe that normally cooks all day long in the crock pot was done in only a little over an hour.
Read on: Is chili gluten-free?
Read on: Gluten and dairy-free lunch ideas

Smoky Turkey Chili
Serves 4
Ingredients
1 lb ground turkey
1 15-oz can white beans (or any other beans you like)
2 cups chopped buIernut squash (I bought mine pre-cut at the grocery store)
2 cans tomato sauce
1⁄2 tsp smoked paprika
1⁄2 tsp oregano
1⁄4 tsp garlic powder
1⁄4 tsp onion powder
1⁄4 tsp salt
pinch of black pepper
Directions
Add all ingredients to Instant Pot. And no, I didn't pre-cook the turkey – I actually added it frozen, because I forgot to defrost the night before!
Set the Instant Pot to Bean/Chili setting for 30 minutes on Normal pressure.
Use the Natural Release before opening and serving.
Serve with corn chips or rice for a hearty filling meal.
Do you have an Instant Pot? Do you LOVE yours as much as I do? Comment below and share a link to the gluten-free dairy-free recipes you've made that are absolutely delicious and share-worthy!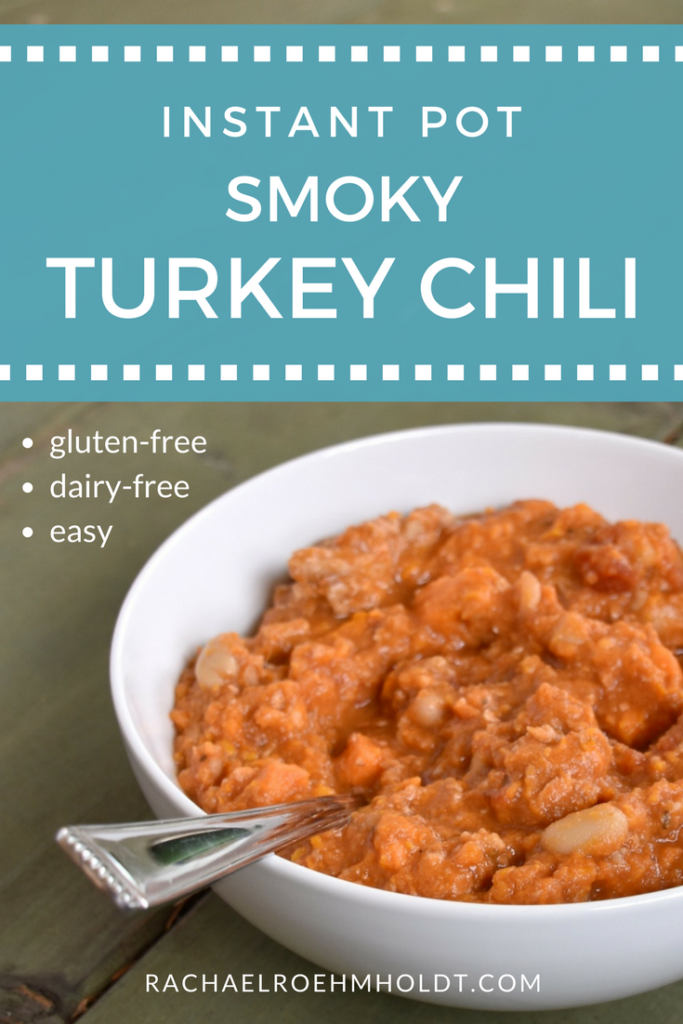 Get the FREE Gluten-free Dairy-free Shopping List
Get access to the most comprehensive - and healthy! - gluten-free dairy-free shopping list around!
Plus get 5 sample gluten-free dairy-free recipes!