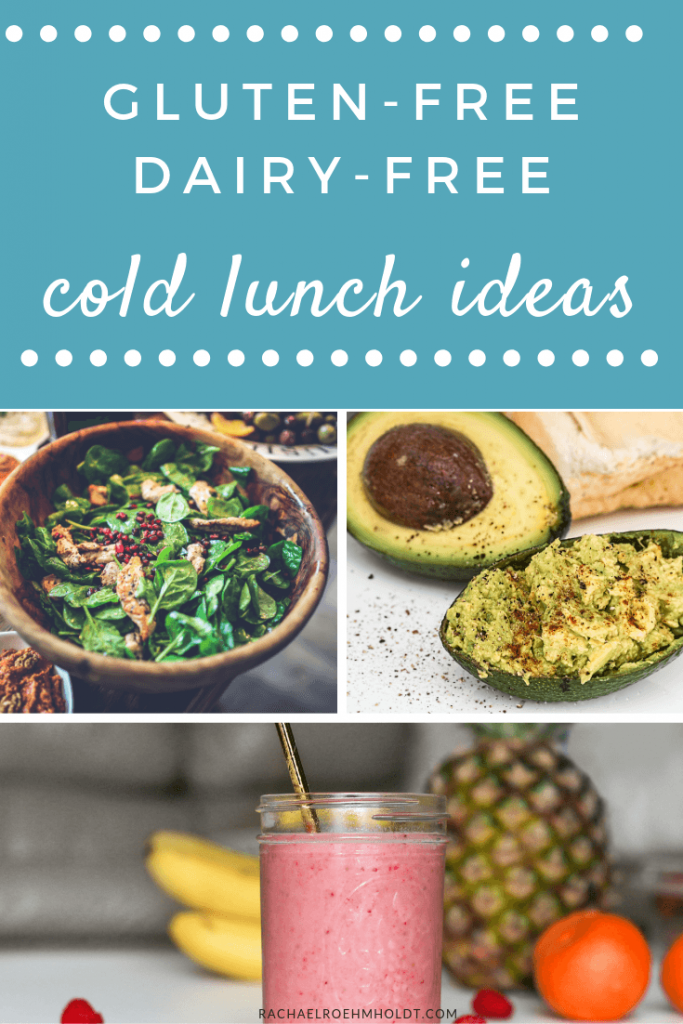 Note: I am a proud Amazon affiliate and am happy to recommend their service and products to you. Please know that as an affiliate, I may receive a small commission on the products you purchase after clicking through my links. For more info, please see my disclosure policy here.
What should you eat for lunch on a gluten-free dairy-free diet? Whether you're heading to an office, on the go a lot, or just need something to pack for a day at the beach or on a hike, these gluten-free dairy-free packable cold lunch ideas will help you get inspired.
I've always been a packed-lunch person. As a kid, I always brought my brown bag to school with sandwiches, apples, and yogurt – every single day I had almost the exact same lunch from elementary school all the way through to my senior year of high school.
I didn't like the school lunches, and I was intimidated by standing in the lunch line (don't ask me why, I just liked to stick to myself and not go through extra steps of feeding myself during such a short lunch break).
Even when I was working through college and in my corporate job, I always favored bringing food from home rather than going out to buy something. The best part about packed lunch is saving money and controlling the ingredients and foods that you bring!
Really, that's the biggest perk of all when you're on a limited diet: being able to know what's in the food you're eating and not risking going out to eat and finding a limited menu.
Gluten-free Lunch Ideas for Work
One of my very best go-to packed lunch ideas is simply bringing dinner leftovers. It's already made, you can store it in some plastic or glass storage ware and reheat it when you're ready to eat.
Another idea is homemade or canned soup or chili. Again, you'll just need a microwave for reheating and eating.
The downside is… that you'll need to have a microwave on hand to reheat. Cold dinner leftovers are far less enjoyable than hot dinner leftovers when a dish is supposed to be heated up.
Let's face it, not everyone has access to a microwave for lunchtime. So I did my best to come up with some ideas for packable cold lunch ideas that won't require any reheating.
All these gluten-free lunch ideas are perfect for work or school, are easy, healthy, and require no extra heating to enjoy.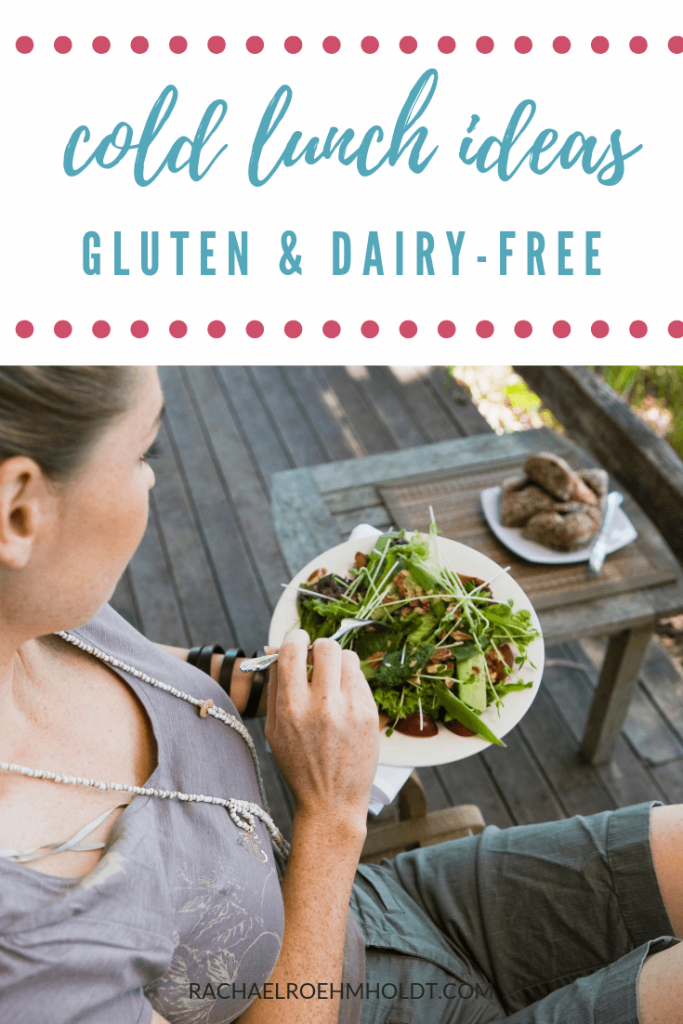 9 Cold Packable Lunch Ideas for a Gluten-free Dairy-free Diet
No microwave required!
1. Salads
Salads may be the most obvious choice for a cold packed lunch. You can mix up some greens with a protein, a healthy fat like avocado, and put on a dressing – and easy peasy, lunch is ready!
There's endless possibilities on how to make a green salad taste interesting, with adding fruit, making sure to have a variety of colors and textures, and adding bold and subtle flavors.
Here are a few gluten-free dairy-free salad recipes to try out for lunch:
Get even more gluten and dairy-free salad recipes.
2. Pasta or quinoa salads
Pasta and quinoa salads are another great option for a cold-packed lunch, because you can get creative with toppings. Whatever you'd put into a green salad, you can swap out the greens for something a little heavier like pasta or quinoa.
I love making Greek style quinoa salads and pasta salads with salami, olives, and Italian dressing. Another favorite is peanut noodles using peanut butter and soy sauce as a sauce.
Here are a few yummy pasta and quinoa salad recipes to give a try:
3. Any sandwiches on gluten-free bread
Anything you can put on a sandwich is fair game on a gluten-free dairy-free diet, as long as you use gluten-free bread. Some deli meats contain gluten or dairy as fillers, so check that the brand you buy is safe. But overall, deli meat, PB&J, most condiments like mayo and mustard, and veggies piled on sandwiches are all good options.
Here are a few gluten and dairy-free sandwich recipes to try out:
Read about gluten and dairy-free condiments.
4. Wraps with tuna, egg salad, or chicken salad
You can make any sandwich filling with tuna, egg salad, or chicken salad into a wrap by using gluten-free tortillas or lettuce wraps. I also like to use collard greens or Swiss chard as wraps to mix things up a bit too. Make your own wraps at home, then pack them with an ice pack to keep them cold until you're ready to eat them.
Here are some more great gluten-free dairy-free wraps ideas:
Read on: Gluten-free Tortillas: Types, Gluten-free Options, and Brands
Read on: Gluten-free wraps
5. Smoothies
Smoothies and shakes with protein powder are another good choice for a cold packed lunch. Mix up any greens, fruit, dairy-free milk or water, plus some extra fat like peanut butter, avocado, chia seeds, coconut oil and blend it all up in the blender.
If you feel like you need an extra protein boost to get you through, you can add some gluten-free dairy-free protein powder or some hemp seeds (3 tbsp offers 10 whole grams of protein!).
You can even freeze them in a glass jar, like these ones, and let them defrost overnight in the fridge before popping them into your lunch bag.
Try one of these smoothies as a cold-packed lunch option:
Read on: 5 Best Gluten-free Dairy-free Protein Powders
Read On: The Best Dairy-free Protein Powders and Shakes

6. Stuffed avocados
I love making stuffed avocados for lunch, because they're full of healthy fat, fiber, and protein that fill you up for a long time without needing to eat tons of it. I like to stuff my avocados with chicken and salsa, black beans and rice with some hot sauce on top, or chicken or tuna salad.
Try one of these gluten-free dairy-free stuffed avocados next time you pack your lunch:
You might also be wondering what are some good kid-friendly gluten-free school lunch ideas. I know a lot of you pack lunches for your kids and need some good gluten-free dairy-free options to send with them. Here are a few kid-friendly options that also work for adults too!
7. Bento box lunches
Bento box lunches are simply just putting delicious things together in a box and calling it lunch. I often call this "picnic style" in our house, because I normally put things in the box that we would eat at a picnic.
Things like gluten-free deli meat, gluten-free crackers, veggies, hummus, nuts, avocado, fruits, peanut or almond butter, hard boiled eggs, or gluten-free deli meat and pickle roll-ups.
It's really a very simple way of making 'lunchables' at home and gives you a variety of things to eat, rather than only having one salad or one sandwich, etc.
Check out this article for great ideas on how to pack your own gluten-free dairy-free bento boxes.
8. 'Make your own' lunch
Another good cold lunch idea for a gluten-free dairy-free diet are anything you can "make your own."
You can make your own tacos with beans, rice, and salsa in corn tortillas. Or make your own pizza with a slice of gluten-free bread, pepperoni, and Daiya mozzarella cheese.
Get creative with things you – or your kiddo – like to make on their own at home, and find a way for them to assemble them while at school or on an outing.
9. Peanut butter and jelly
What could be easier than PB&J? As long as you're eating it on gluten-free bread, you're set. If your kiddo can't do peanuts, opt for almond butter or sunflower seed butter instead. If peanut butter and jelly isn't a favorite, opt for PB & bananas or PB & honey. There's a lot of ways to get creative with this old standby.

As you can see, there are plenty of ideas for a dairy-free gluten-free lunch ideas to choose from. If you don't have a refrigerator, you can keep food cold using an insulated lunch bag and an ice pack. Check out the ones we have below.
This is the lunch bag we have – it's insulated so it keeps things cool longer – and it comes in a variety of colors, which I think is really fun. We have the plain black one since we originally bought it for my husband when he used to pack his lunch to work (he now works at home most days).
Paired with an ice pack or ice mat, you can keep food cold for a few hours as long as you're not sitting in the direct sun. We have that has come in handy time and time again. I originally got it for no more than $4 at World Market a few years ago, but you can find the same ones on Amazon in a multipack for a little more.
As for packing up food inside the lunch box, I usually just use the plastic Snapware that we've had for years and bought at Costco. We have a set very similar to this one (not the exact amount or sizes of each that I have) and use it for all leftovers and many lunches too.
About a year ago, I was interested in cutting down on my plastic usage, so I also started using these reusable bags that are dishwasher safe and reusable. Total game-changer!
What are your best cold packed dairy-free and gluten-free lunch ideas? Share them in the comments below!
Want to learn more about going (and staying) gluten and dairy-free? Be sure to check out my book, The Gluten and Dairy-free Diet: A Beginner's Guide, where I'll walk you through everything you need to know about getting started with this diet – and sticking with it for the long haul.