If you love to eat burgers, but are looking for something a little different than a hamburger bun, check out these 10 gluten-free hamburger bun alternatives.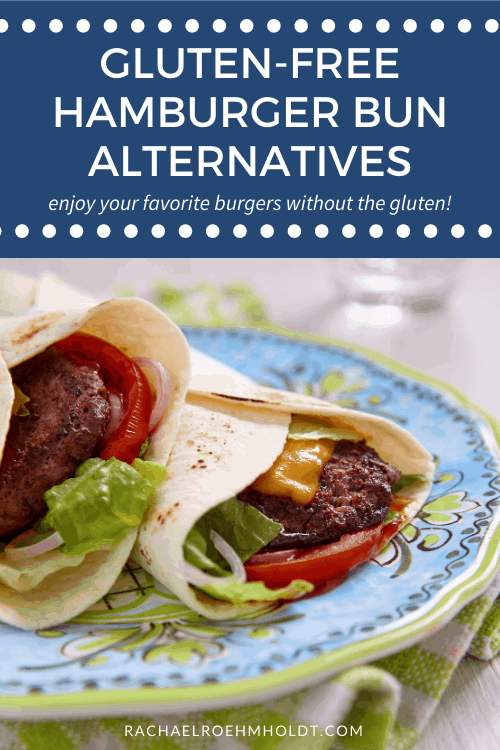 Note: I am a proud Amazon, Chomps, MunkPack, and Thrive Market affiliate and am happy to recommend their service and products to you. Please know that as an affiliate, I may receive a small commission on the products you purchase after clicking through my links. For more info, please see my disclosure policy here.
We're big burger eaters in my house. We love to make homemade burgers on our Traeger grill every summer (and throughout the year). My family loves to eat them, and I love to get creative with them.
I like to make different types of burgers by mixing up the seasonings and the meat. We make chicken, turkey, and bean burgers in addition to our standby: the standard-but-still-delicious beef burgers.
While my husband and son love to enjoy their burgers on big white bread buns, being gluten-free has taught me to get a little more creative with what I eat. I used to only like my burgers with bread sandwiching them.
Over the years I've learned that there are a ton of other options when it comes to getting the delicious burger patties and toppings into my mouth. There are many different vehicles to get those tasty flavors into my mouth aside from hamburger buns.
That's not to say that I don't enjoy hamburger buns, but sometimes I don't want to spend oodles of money on a package of gluten-free hamburger buns or make my own from scratch. Sometimes I want a burger patty and all the fixins without having to think too hard about it.
Read on: Gluten-free Hamburger Bun Recipes
Read on: Gluten-free Hamburger Bun Brands
And if I'm being 100% honest, I'm never really there for the bread. I'm usually there for everything else. I'm a HUGE pickle on my burger gal, so I'm usually there for the patty and the pickles, and everything else is just extra.
I've used a lot of different alternatives to hamburger buns over the years and I thought it would be fun to share some of them with you! These are great ideas for anyone who is following a gluten-free diet – but they are great for anyone who isn't either!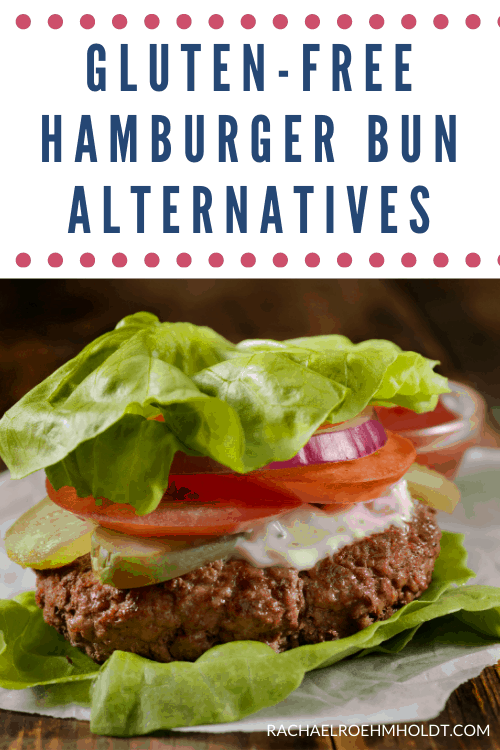 10 Gluten-free Hamburger Bun Alternatives
Try one of these next time you're out of gluten-free hamburger buns and see what you think!
1. Gluten-free Bread
If you don't have any hamburger buns on hand, try making your burger with gluten-free sandwich bread instead. It's similar in taste and texture of a hamburger bun and you likely already have this ingredient on hand. You can even toast it up for more texture if you want!
Read on: 7 Best Gluten-free Dairy-free Bread Brands
2. Lettuce Wraps
Lettuce wraps are one of my go-to gluten-free hamburger bun options, because they're quick and easy. I can easily add all my toppings and condiments and make myself a little lettuce pocket to fit it all in. I actually enjoy this idea and salad bowls over bread with my burgers these days!
3. Salad Bowls
Salad bowls are similar to lettuce wraps in that you can still enjoy your favorite burger ingredients, but without needing a head of lettuce to make it happen.
To make a burger salad, all you need to do is get some lettuce, spinach, or whatever green you have on hand, and chop it up with a cooked burger patty. Add your favorite toppings and condiments, then mix it all together and dig in!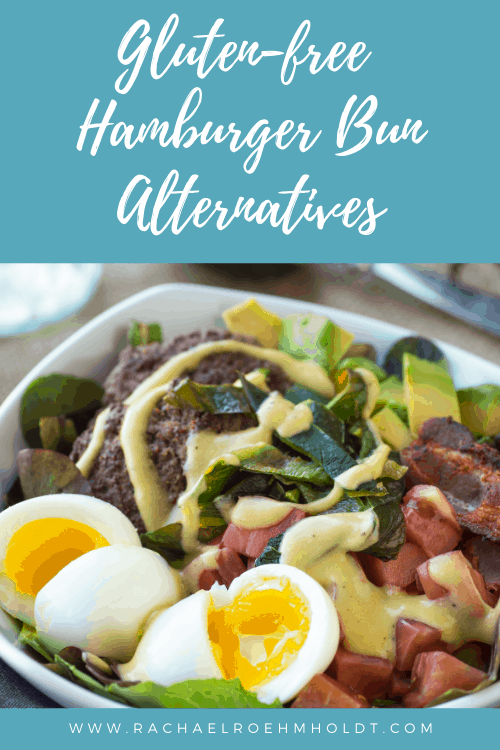 4. Gluten-free Tortilla Wraps
If you have gluten-free tortillas on hand, you can easily turn them into a burger wrap by putting all of your toppings, condiments, and a sliced burger patty in a tortilla. Wrap it up and it is ready to enjoy!
You can use specific gluten-free tortillas or corn tortillas for this idea, but corn tortillas will probably need to be heated slightly to make them pliable enough to make a wrap.
Read on: Gluten-free Tortillas: Types, Gluten-free Options, and Brands
Read on: Gluten-free wraps
5. Portobello Mushroom Buns
You can use portobello mushrooms as a hamburger bun by putting one on each side of your patty and other toppings.
Grill or roast them up with oil, salt and pepper, or maybe a little bit of tamari soy sauce, to give it some flavor. Use these as a hamburger bun alternative that doesn't require you to do any special shopping or baking.
6. Eggplant Buns
To make eggplant buns for a gluten-free hamburger bun alternative, all you want to do is slice up some raw eggplant, coat it with a little bit of olive oil, salt and pepper.
Grill or roast these for a few minutes, but not too long! You don't want to get them cooked to the point where they're mushy, but just enough texture where they've softened. Then you can sandwich in your favorite toppings, condiments, and a burger patty.
7. Red Pepper Buns
Red pepper buns are made in the same way that you would an eggplant bun. You simply use a red pepper in place of the bread that you're used to.
Use the flat sides of a pepper to make sandwiching your burger easier. You can cook them until softened slightly or you can even enjoy them completely raw if you like the extra crunch in your burger.
These will provide a ton of flavor and texture to your burger and you can still have all of your favorite toppings and ingredients in your burger without any of the bread.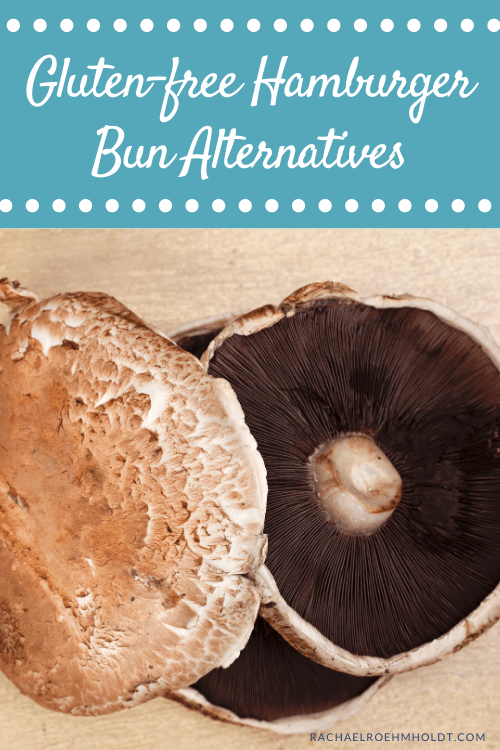 8. Sweet Potato Buns
Enjoy sweet potato buns by making them in the same way that you would eggplant buns. Slice up a sweet potato, coat it with a little bit of oil, salt, and pepper. Then grill or roast them to enjoy as a sandwich around your burger patty and toppings.
9. Collard Green or Swiss Chard Wraps
Another great idea for a gluten-free hamburger bun alternative are collard greens or swiss chard wraps. These are made in the same way that you would a lettuce wrap but you're going to use these greens instead.
If you don't like the tough texture of collard greens, you can steam them for about a minute to soften them up. You can also remove the stalk in the center to make it easier to wrap. Build your burger and wrap it up in this super healthy collard green wrap.
10. Zucchini Buns
If you have an abundance of zucchini or have large zucchinis from your garden or someone that you know, you can easily make zucchini buns for your burgers!
Slice large pieces of zucchini and grill or roast them up for just a few minutes to soften them. Don't cook them too long or they will get mushy!
Layer up your burger patty, lettuce and tomatoes, or whatever toppings you like, as well as your condiments. Then top it off with another layer of cooked zucchini and this will be a delicious and easy way for you to have a gluten-free hamburger bun without needing to make it or buy it.
If you've been on the search for a lighter option for enjoying your burgers or are simply looking for something with less effort than making your own gluten-free buns at home, I hope this roundup has been useful for you.
Next time you're out of gluten-free hamburger buns, try one of these ideas instead! Let me know in the comments which one of these ideas you'll try next!
f you loved this post, I hope that you'll share it with your friends on Facebook and pin it for future reference on Pinterest.