Find out which brands of wraps and tortillas are safe for your gluten-free diet, plus different flavors you can choose from.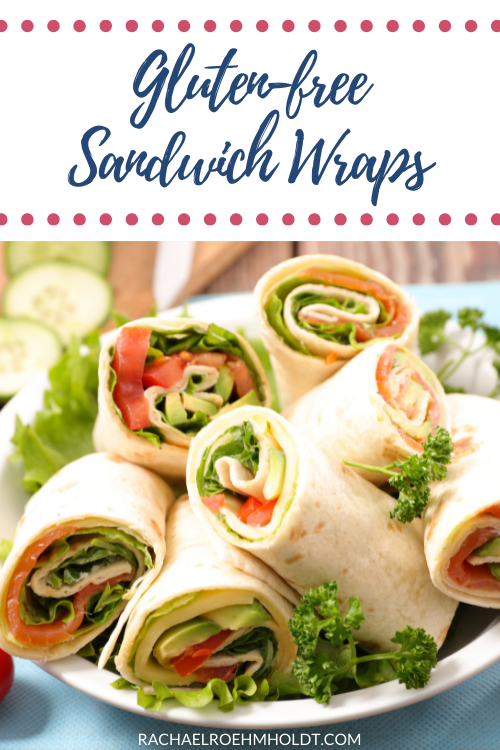 Note: I am a proud Amazon, Chomps, and Thrive Market affiliate and am happy to recommend their service and products to you. Please know that as an affiliate, I may receive a small commission on the products you purchase after clicking through my links. For more info, please see my disclosure policy here.
If you love sandwich wraps for lunch, you're not alone. There's something so simple about putting your favorite sandwich fillings into a wrap, rolling it up, and having lunch ready for you. Or if you're like my son, you like to cut them into pinwheels and enjoy bite-sized wraps.
If you follow a gluten-free diet, you have probably found yourself on this page wondering what to replace tortillas and standard wrap options with. Most tortilla wraps and sandwich wraps contain gluten, so it's only a natural fit to figure out what your other options are to enjoy an easy to make lunch and snack.
In this post, we're going to talk about the different types of gluten-free wraps and what they're made of. Hopefully, by the end of reading this post, you'll have a list to work from next time you're shopping for gluten-free wraps and can find them at a store near you.
What are sandwich wraps?
Sandwich wraps are either tortillas or similar to tortillas in that they're usually circular in shape and made from flour. They're flattened then cooked on a large griddle.
Sandwich wraps are often used to roll up and add your favorite sandwich fillings. You can make them sweet or savory, depending on what you're in the mood for.
You can enjoy deli meat, peanut butter and jelly, fruit and nut butter, vegetables, beans, and the list goes on and on. Anything you like to put in sandwiches, you can put in a wrap.
Sandwich wraps can be tortillas or similar to tortillas in that they look just like a tortilla but are made with other ingredients that change the color of the wrap. For example, spinach wraps might not look like flour tortillas, because they have a green color. Or tomato wraps will look more orange than a flour tortilla.
Read on: Gluten-free tortillas
Read on: 25 Gluten and dairy-free picnic recipes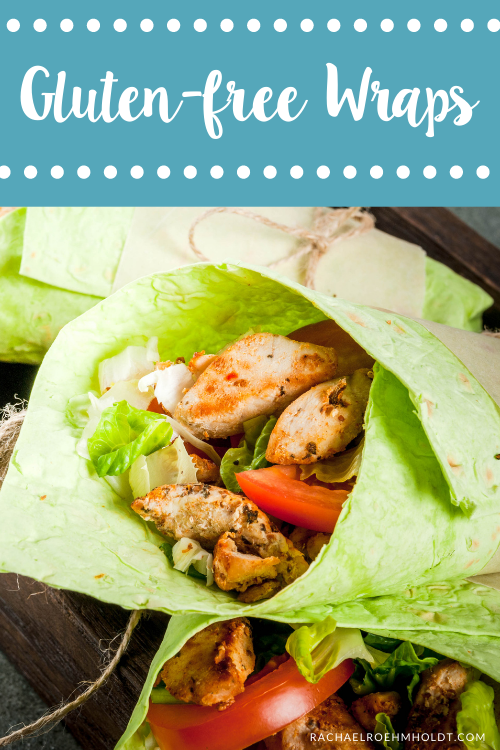 What are sandwich wraps made of?
Sandwich wraps can be made of any type of flour, but most commonly they're made from flour. Some brands make flavored sandwich wraps and these are most often spinach or tomato.
Sandwich wraps can also be made with gluten-free flours or grain-free options, like cassava flour or simply pureed and dehydrated vegetables, like the NewGem wraps. We'll go over some of the gluten-free wrap ingredients and options below.
Read on: Gluten and dairy-free lunch ideas
Read on: Gluten-free dairy-free packable cold lunch ideas
What is gluten?
Gluten is a protein found in most wheat products, and acts as the "glue" that helps to hold wheat, barley, kamut, spelt, farro, durum, bulgur, rye, and semolina together to maintain their shape.
Gluten is naturally occurring, and therefore is impossible to strip away from the grain. If a grain naturally has gluten in it, there's no way to make that food gluten-free.
Are flour tortillas gluten-free?
Flour tortillas are not gluten-free unless otherwise noted on the label of the package. Most flour tortillas you buy in the international aisles of the grocery store contain gluten as they use enriched flour made from wheat flour.
You can be sure that the tortillas that you're eating are gluten-free if they're made using naturally gluten-free ingredients, like corn or a flour that is made from only gluten-free grains, like rice flour, tapioca or potato starch.
Read on: Are flour tortillas gluten-free?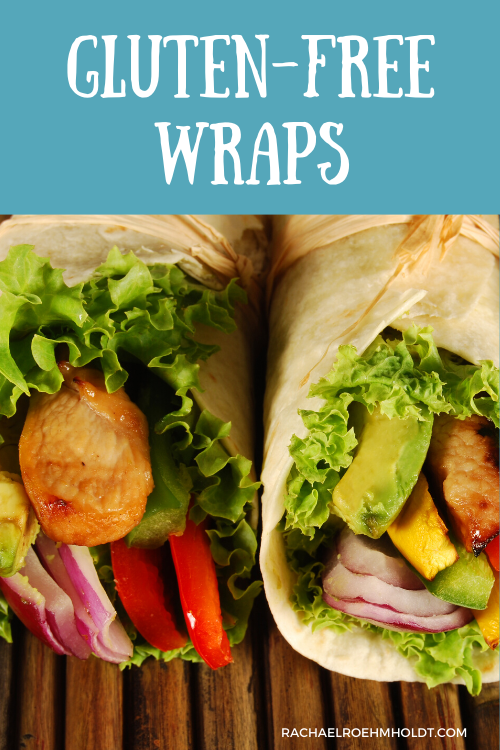 What are gluten-free sandwich wraps made from?
You can find gluten-free sandwich wraps made from a variety of different ingredients. Mostly, if you can turn an ingredient into a flour, that ingredient can be made into a sandwich wrap or tortilla.
Some of the more popular base ingredients in gluten-free sandwich wraps include brown rice, cauliflower, sweet potatoes, quinoa, chia seeds, cassava, almond flour, sesame seeds, coconut flour, and chickpea flour.
Depending on the brand and flavor, other ingredients may be added to give the wrap additional coloring and flavor. Like the different flavored wraps from Mikey's, you'll see purple wraps from purple carrots that are added to the wraps or turmeric and cumin added to the wraps from Sana Foods.
Read on: Gluten-free hamburger bun alternatives
Read on: Are chia seeds gluten-free?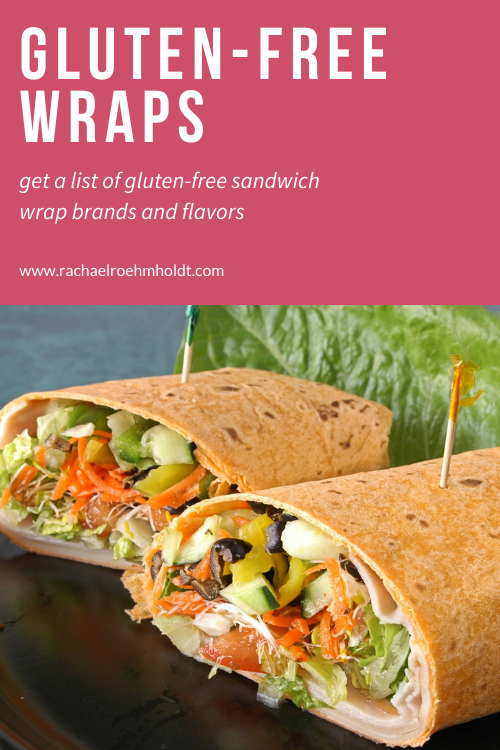 Gluten-free Wrap Brands
This list of gluten-free wraps are the brands I was able to find that offer options for folks on a gluten-free diet. These are made from a variety of ingredients, like sweet potatoes, cassava, quinoa, chia seeds, cauliflower, brown rice, almond flour, and coconut flour.
Try one or a number of different options to help you find a brand and flavor that you'd like to keep on regular rotation in your diet for quick and easy sandwich wraps.
Bfree
Sweet Potato Wrap
Multigrain Wrap
Quinoa & Chia Seed Wrap
Caulipower
Cauliflower Tortillas
Grain-free Cauliflower Tortillas
Food For Life
Brown Rice Tortillas
Exotic Black Rice Tortillas
Julia's Table
Cauliflower Wraps
Sweet Potato Wraps
Original Wraps
Super Seed Wraps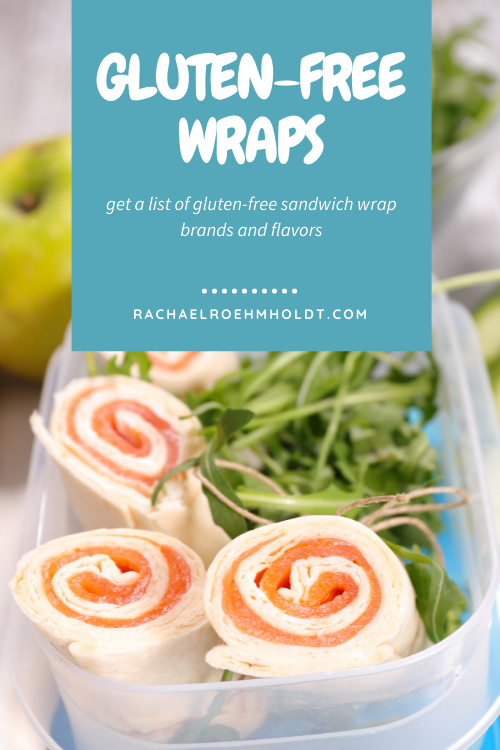 La Tortilla Factory
Cauliflower Tortillas with Cassava Flour
Gluten-free Wraps, Cassava Flour
Gluten-free Tortillas, Cassava Flour
Gluten-free Wheat-free Wraps, Ivory Teff
Maria and Ricardo's
Almond Flour Keto Tortillas, Everything Seasoning
Almond Flour Keto Tortillas, Flax and Seeds
Almond Flour Keto Tortillas with Sea Salt
Mi Rancho
Simply Nourished Gluten-free Tortillas
Mikey's
Cassava Flour Tortillas
Chili Lime Tortillas
Super Greens Tortillas
Golden Turmeric Tortillas
Purple Power Tortillas
Sweets & Beets Tortillas
Cassava Flour Burritos
Mission
Gluten-free Original Tortilla Wraps
Gluten-free Spinach Herb Tortilla Wraps
Super Size White Corn Tortillas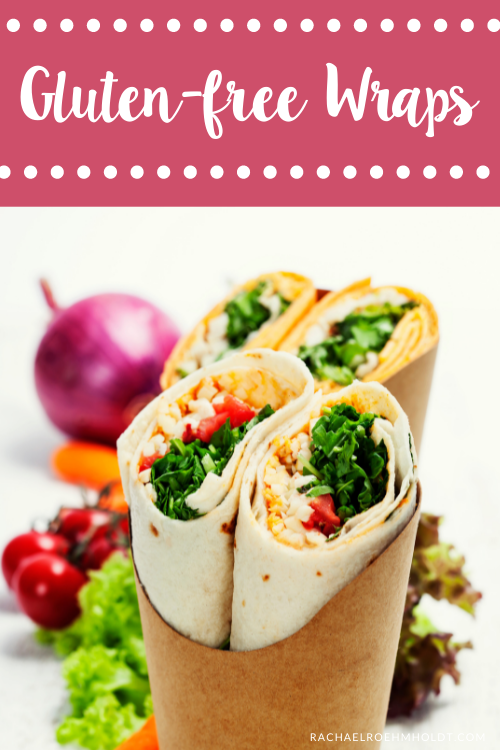 NewGem
Tomato Sandwich Wraps
Mango Chipotle Sandwich Wraps
Apple Kale Sandwich Wraps
Carrot Sandwich Wraps
Applewood Smoked Tomato Sandwich Wraps
Italian Tomato Sandwich Wraps
Barbecue Sushi Wraps
Carrot Ginger Sushi Wraps
Mango Sushi Wraps
Pineapple Habanero Sushi Wraps
Norigami
Sesame Seed Soy Wraps
Chili Soy Wraps
Poppy Seed Soy Wraps
Chia Seed Pea Wraps
Sesame Seed Pea Wraps
Potapas
Original Potato Wraps
Sweet Potato Wraps
Veggie Medley Wraps
Rudi's
Plain Tortillas
Spinach Tortillas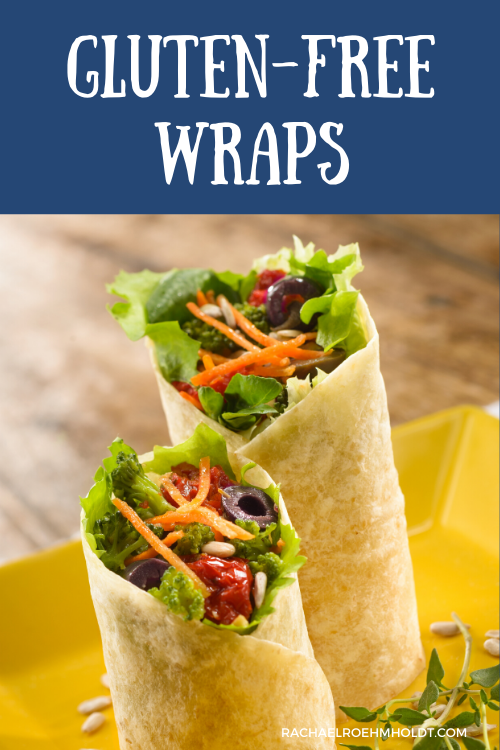 Sana Foods
Original Coconut Flour Tortillas
Large Wrap Coconut Flour Tortillas
Turmeric & Cumin Coconut Flour Tortillas
Siete
Grain Free Burrito Size
Almond Flour Tortillas
Cassava & Coconut Tortillas
Chickpea Flour Tortillas
Trader Joe's
Unbun
If you've been looking for a gluten-free wrap or tortilla option for your favorite sandwich fillings or other recipes, I hope this list has given you some great brands to go searching for next time you're at the store. Try a few different options to help you figure out which will be your go-to option for making easy sandwich wraps.
If you loved this post, I hope that you'll share it with your friends on Facebook and pin it for future reference on Pinterest.