Chicken lettuce wraps are a great option for warm weather days when you want minimal cook time, but a lot of flavor from your lunch or dinner! Try these gluten and dairy-free chicken lettuce wraps next time it's super warm out!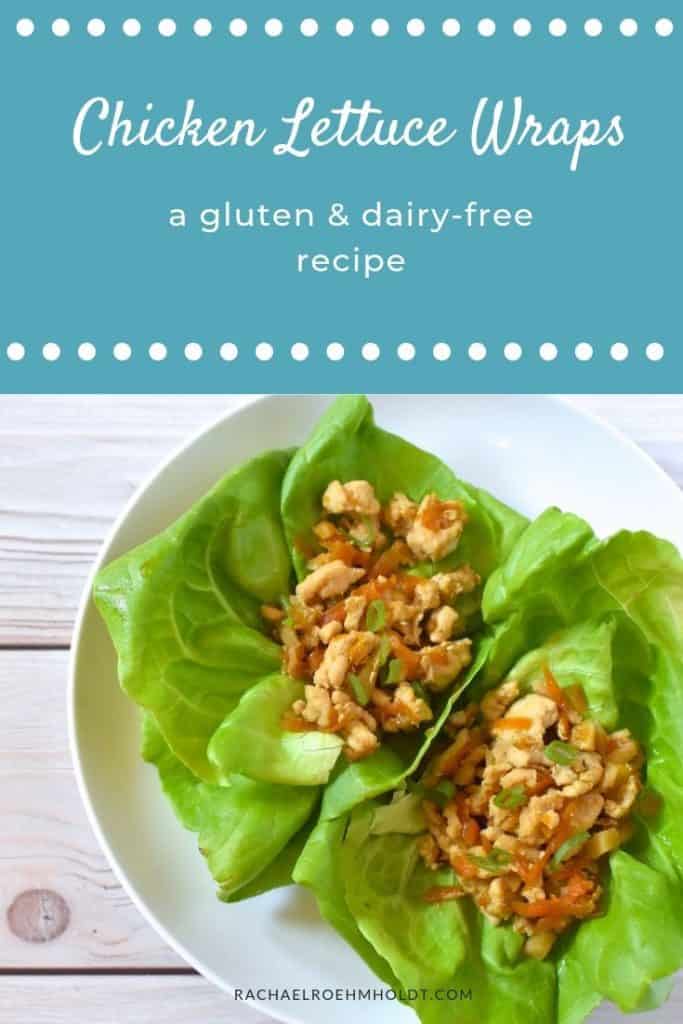 Note: I am a proud Amazon affiliate and am happy to recommend their service and products to you. Please know that as an affiliate, I may receive a small commission on the products you purchase after clicking through my links. For more info, please see my disclosure policy here.
I don't know about you, but I have a love-hate relationship with summer. I love love love the warm weather, and I hate hate hate being hot. My ideal temperature as a Pacific Northwestern gal is in the 70's, but generally not above about 81. We've been pretty lucky to only have a couple days that have been over that lately, but it's making me SO lazy. Do you get super lazy in the heat too?
Anyway, one of the big things that happens this time of year completely by accident is that I start to loathe cooking. I don't know if it's because it's so nice outside and I'd rather be busy doing something out there than inside cooking, or if it's that I don't want to warm the house up any more than it has to be. But either way, I'm always looking for quick fix dinner options during the heat of the summer…
>> Want more gluten and dairy-free recipes delivered directly to your inbox every week? Click here to find out how.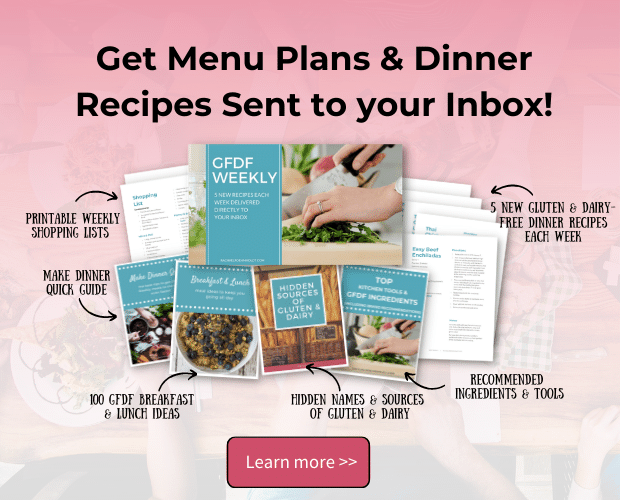 That's exactly what I have to share in this blog post! I've created these gluten and dairy-free chicken lettuce wraps for a quick and easy dinner (but they're also amazing as a prep ahead lunch option too) and had to share them with you!
Read on: Gluten and dairy-free lunch ideas
Read on: Does chicken have gluten?
Read on: 25 Gluten-free chicken recipes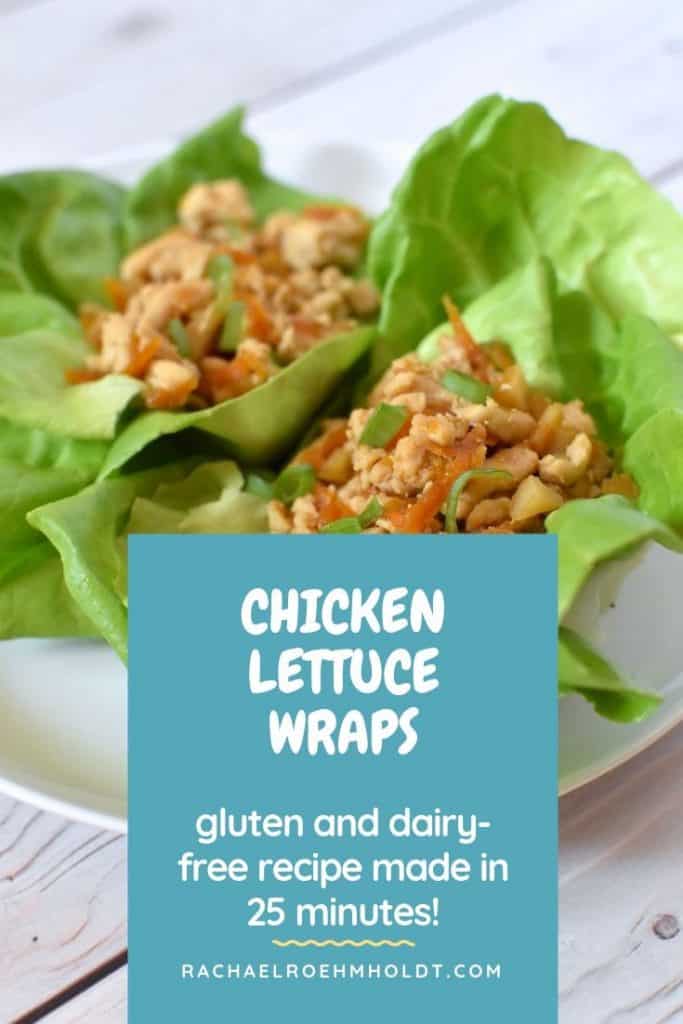 These gluten and dairy-free chicken lettuce wraps are:
Quick to make
Easy to prep
Flavorful
Crunchy
Awesome for leftovers
Whenever I make these, I always hope someone won't eat their portion, so that I can have leftovers the next day. I like to keep the meat and the lettuce separate in the fridge, so that I can easily reheat the meat and still have crisp and crunchy lettuce when it comes time to eat.
Being able to prep these chicken lettuce wraps ahead means they're great for a dinner option, a make ahead dinner idea for busy school nights, or work lunches. Like I said, the key here is to keep the meat and lettuce separate when you pack them away in the fridge.
The best part of this recipe is the sauce. It's only 5 ingredients, but full of flavor from tamari soy sauce, honey, fresh garlic, and onion powder. I like to prepare the sauce while the ground chicken is cooking to save even more time I'm having to be in the kitchen on a warm night.
Read on: Is tamari gluten-free?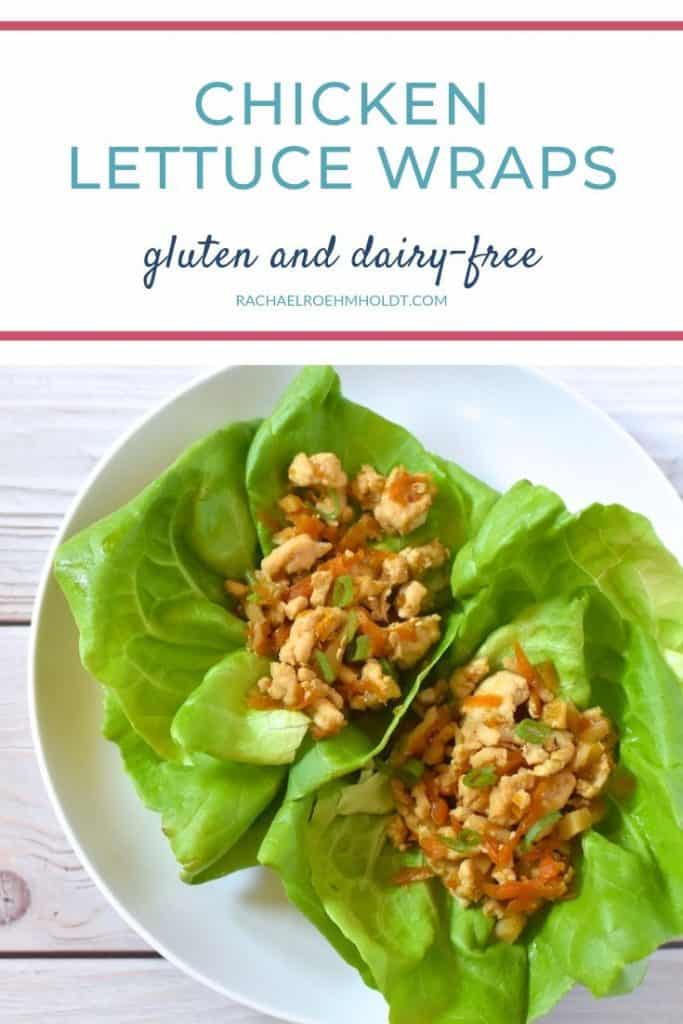 You can easily use any kind of lettuce that you like with this recipe. I chose butter lettuce for this recipe, because I like how it forms really easy cups that you can roll and hold in your hand. But if butter lettuce isn't your thing, you can use Bibb lettuce or even Romaine lettuce leaves for this. I've tried all three for different lettuce wrap recipes, and they all work great.
Since I make this as a super quick dinner option for when it's warm or as a meal prep meal, I often don't make too much of a fuss over side dishes to serve with this. We usually have plain jasmine rice that I make in my Instant Pot, or a heated frozen veggie like corn or green beans just to keep things simple.
If you love quick, easy, and flavorful meals that are just as good the day you make them as they are for leftovers, you'll love these gluten and dairy-free chicken lettuce wraps.
Yield: 4 Servings
Chicken Lettuce Wraps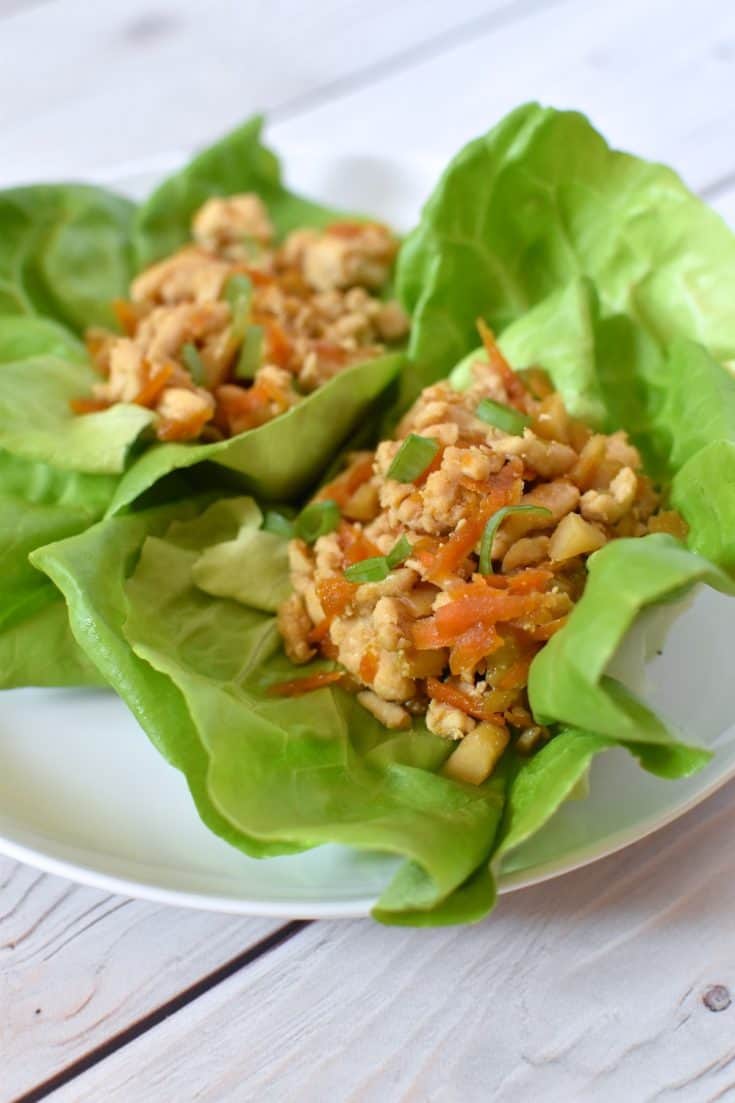 Chicken lettuce wraps are a great option for warm weather days when you want minimal cook time, but a lot of flavor from your lunch or dinner! Try these gluten and dairy-free chicken lettuce wraps next time it's super warm out!
Ingredients
1 tsp olive oil
1 lb ground chicken
1 carrot, grated
1 stalk celery, diced
1⁄4 cup water chestnuts, drained and diced
1 head of butter lettuce
Green onions, thinly sliced
1⁄3 cup gluten-free tamari soy sauce
1⁄4 cup honey
1 clove garlic, minced
1⁄2 tsp onion powder
1⁄2 cup water
Instructions
Prepare your sauce by whisking together tamari soy sauce, honey, minced garlic, onion powder, and water in a small bowl. Set aside.
Heat olive oil in a large skillet over medium-high heat. Add the ground chicken and cook through completely, about 5 minutes.
Add the carrot, celery, and water chestnuts, and cook until the vegetables have softened, about 3 to 4 minutes.
Add the sauce and simmer another 4 to 5 minutes, allowing the sauce to reduce.
Layer two lettuce leaves then pile on about ¼ cup of the chicken mixture. Repeat for all the remaining meat mixture. You can make 4 lettuce wraps, or 8, depending on how full you fill your wraps.
Recommended Products
As an Amazon Associate and member of other affiliate programs, I earn from qualifying purchases.
Next time you're looking for a warm weather meal idea or a great make-ahead lunch option, give these a try!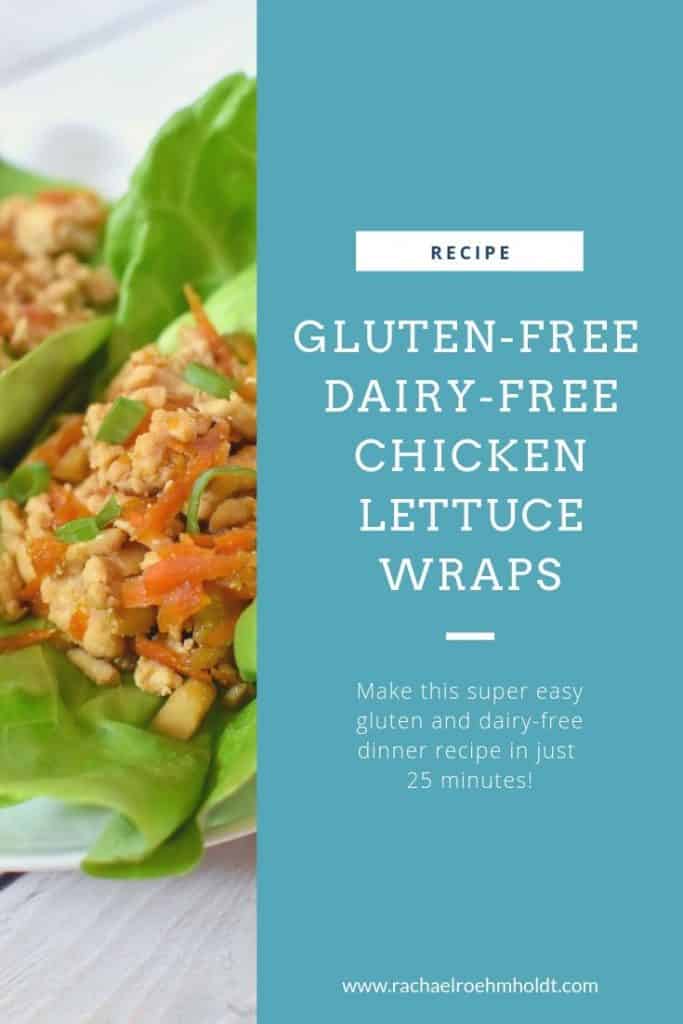 If you love this recipe, be sure to join me inside GFDF Weekly, my weekly recipe and menu planning service. Click here for more details and to sign up!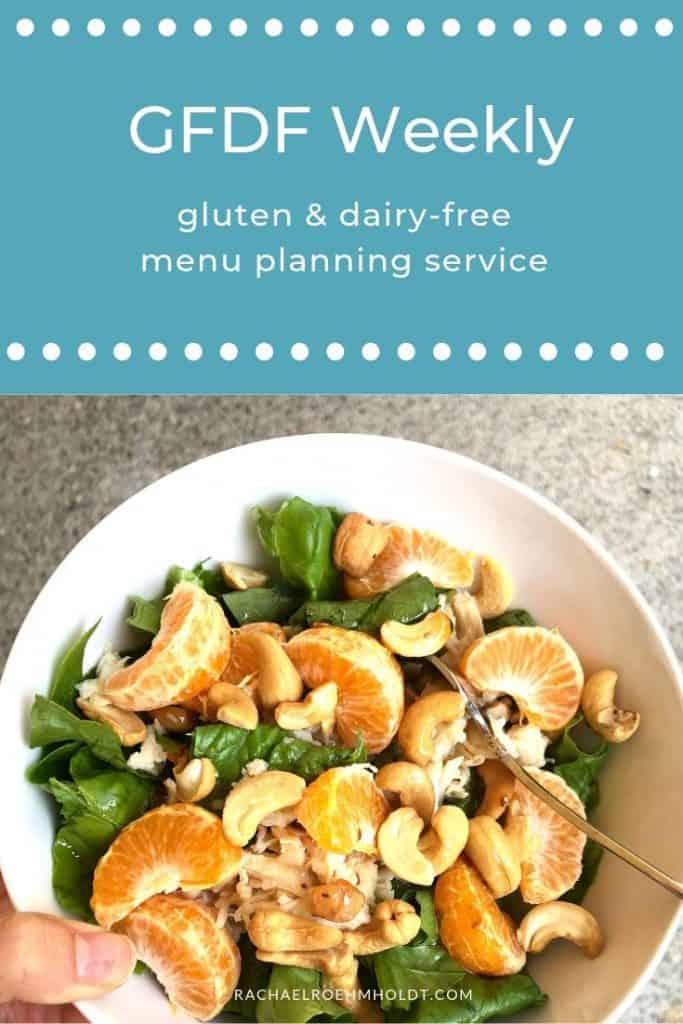 If you'd like to save this recipe for later or share with a friend, be sure to save it to Pinterest or share on Facebook.
Want more recipes and updates from me? Be sure to check out my free 5-day gluten and dairy-free menu plan by entering your details below!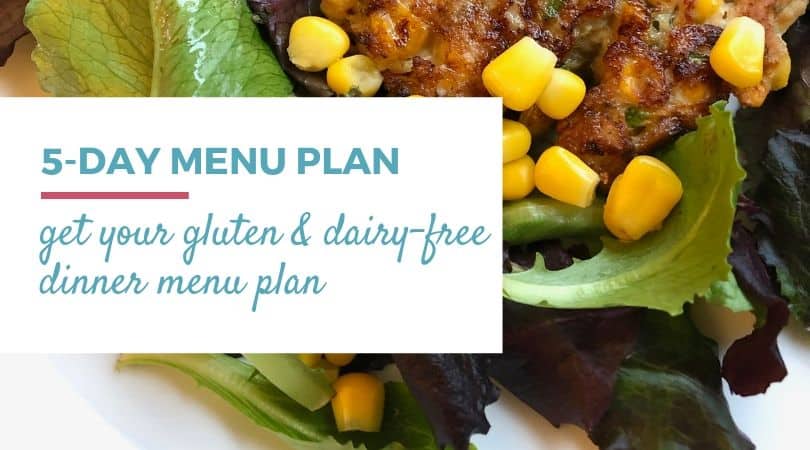 Love this post? You might want to check out these!
Find recipes and inspiration for sticking with your gluten and dairy-free diet throughout the summer months!