Find out if brown rice is gluten-free, what it's used for, and what you need to know about cross contamination when it comes to brown rice.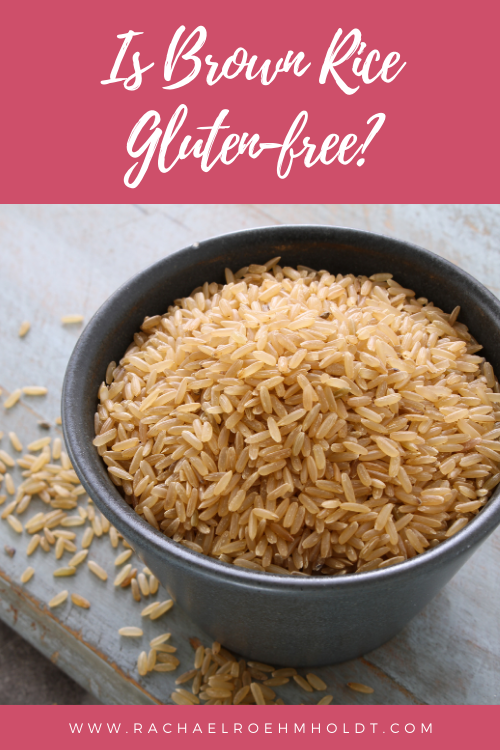 Note: I am a proud Amazon, Chomps, MunkPack, and Thrive Market affiliate and am happy to recommend their service and products to you. Please know that as an affiliate, I may receive a small commission on the products you purchase after clicking through my links. For more info, please see my disclosure policy here.
If you love brown rice, you might be wondering if this grain is safe for your gluten-free diet. Brown rice is full of fiber, vitamins and minerals and is a great addition to any healthy diet to offer a healthy carbohydrate.
Brown rice is a great ingredient to add as a side dish to many stir-fries, Asian style dishes, or other main dishes. You can enjoy it plain or flavor it using herbs, stock, and vegetables.
You can make this ingredient sweet or savory, depending on your need for it. Or turn it into a main dish, like a rice casserole, fried rice, or rice porridge.
What I really love about brown rice is that it's budget friendly and easy to find at most grocery stores – and even Costco. Buying a large bag of brown rice can last my family an entire year, and we use it at least every other week in our cooking.
Read on: Is fried rice gluten-free?
What is brown rice?
Brown rice is a whole grain. Being a whole grain means that it has all three parts of the grain intact: the bran, germ, and endosperm.
White rice and brown rice come from the same whole grain, but white rice has had the bran and germ removed. The remaining white rice is the endosperm, the starchy carbohydrate of the grain.
Brown rice is said to be healthier, because it is a more "complete" food. It has carbohydrates from the endosperm, fiber from the bran, and nutrients from germ.
When all three parts of the grain are together, it takes the body more time to digest, allowing you to remain full longer as well as keeping your blood sugar more stable as it breaks down in your body.
Instead of getting only a shot of carbohydrates in your system allowing your blood sugar to spike then drop quickly, your body is given nutrients and fiber to break down, making it a slower process for your body to digest.
This slower process allows you to stay full longer, thus a healthier choice, so you aren't reaching for more food more quickly.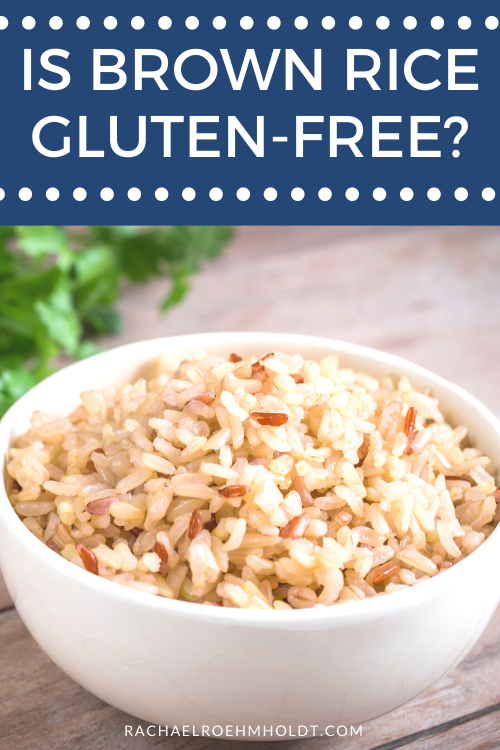 What is brown rice used for?
Brown rice, like most rice, is an extremely versatile food and ingredient. You can enjoy it as a side dish, cooked into a one-pot meal like stir-fries or casseroles, breakfast porridge, or even desserts, like rice pudding.
Brown rice can also be ground into flour and used in all kinds of baked goods, like pancakes or cookies. It's often added to gluten-free flour blends and used in gluten-free ramen noodles. You can also find brown rice syrup, which is a caramel-tasting natural sweetener that is derived from brown rice.
What is gluten?
Gluten is a protein found in most wheat products, and acts as the "glue" that helps to hold wheat, barley, kamut, spelt, farro, durum, bulgur, rye, and semolina together to maintain their shape.
You can find gluten in whole grains, but also in many processed foods as well. If you purchase wheat bread, there will be gluten in it, because wheat by nature has gluten.
Read on: What is gluten in food?
Is brown rice gluten-free?
Brown rice is naturally gluten-free. However, it's important to keep in mind that while brown rice contains no gluten itself, other ingredients that are added to a recipe will also need to be gluten-free in order to keep it that way.
For example, if you enjoy brown rice with stir-fry, be sure to use gluten-free tamari soy sauce instead of traditional soy sauce that contains wheat.
Read on: Is rice gluten-free?
Read on: Which whole grains are gluten-free?
Read on: Is white rice gluten-free?
Read on: Is basmati rice gluten-free?
Read on: Is jasmine rice gluten-free?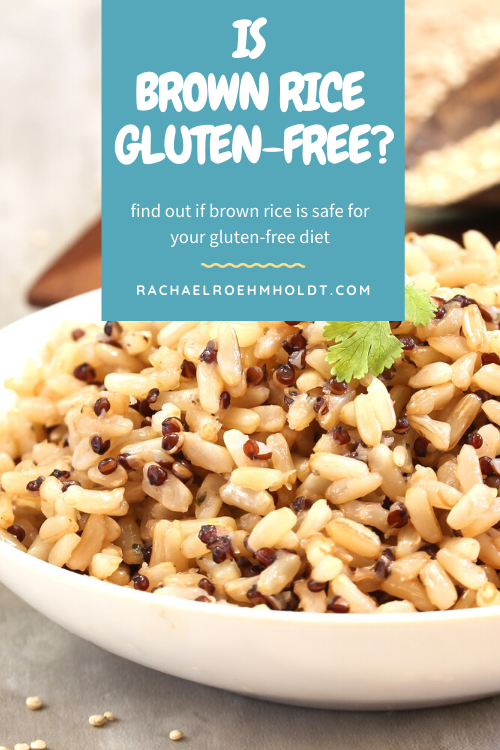 Brown rice and gluten
The big take-away with brown rice and gluten is that while it is naturally gluten-free, you'll want to be aware that it is susceptible to cross contamination with gluten.
Oftentimes, brown rice and other gluten-free grains are processed on the same machinery and in the same facilities as other gluten-containing grains, making the possibility of cross contamination high.
If you are sensitive to even tiny amounts of gluten, you'll want to avoid buying rice from bulk bins at the grocery store. Choose only rice that comes in a package that has been processed on a dedicated gluten-free line.
If you follow a gluten-free diet, I hope that this post has helped you feel at ease with adding brown rice to your diet.
As long as you buy brown rice in a package with a gluten-free label or a note that indicates it has been manufactured on a dedicated gluten-free line, you can be sure it's safe for you to enjoy regularly.
If you loved this post, I hope that you'll share it with your friends on Facebook and pin it for future reference on Pinterest.
Love this post? You might also want to check out these!
Find out if your favorite foods and ingredients contain gluten with these posts!